NotificationX Pro offers you to showcase the most popular eLearning platforms LearnDash course enrollments on your website using Growth Alert. It comes with ready templates with a full customization facility to showcase your LearnDash course enrollments with days count on the website. 
Check out the guideline to see how to configure NotificationX Growth Alert For LearnDash and make your live notifications standout below:
Note: NotificationX Growth Alert is also available for another popular eLearning platform Tutor LMS. You can check out the full configuration process here in this detailed doc. 
Step 1: Go To 'All NotificationX' Dashboard #
Make sure you have installed & activated NotificationX Pro plugin on your WordPress website. If you have already done it, you are then all ready to configure this NotificationX Growth Alert. 
First, navigate to NotificationX → All NotificationX dashboard.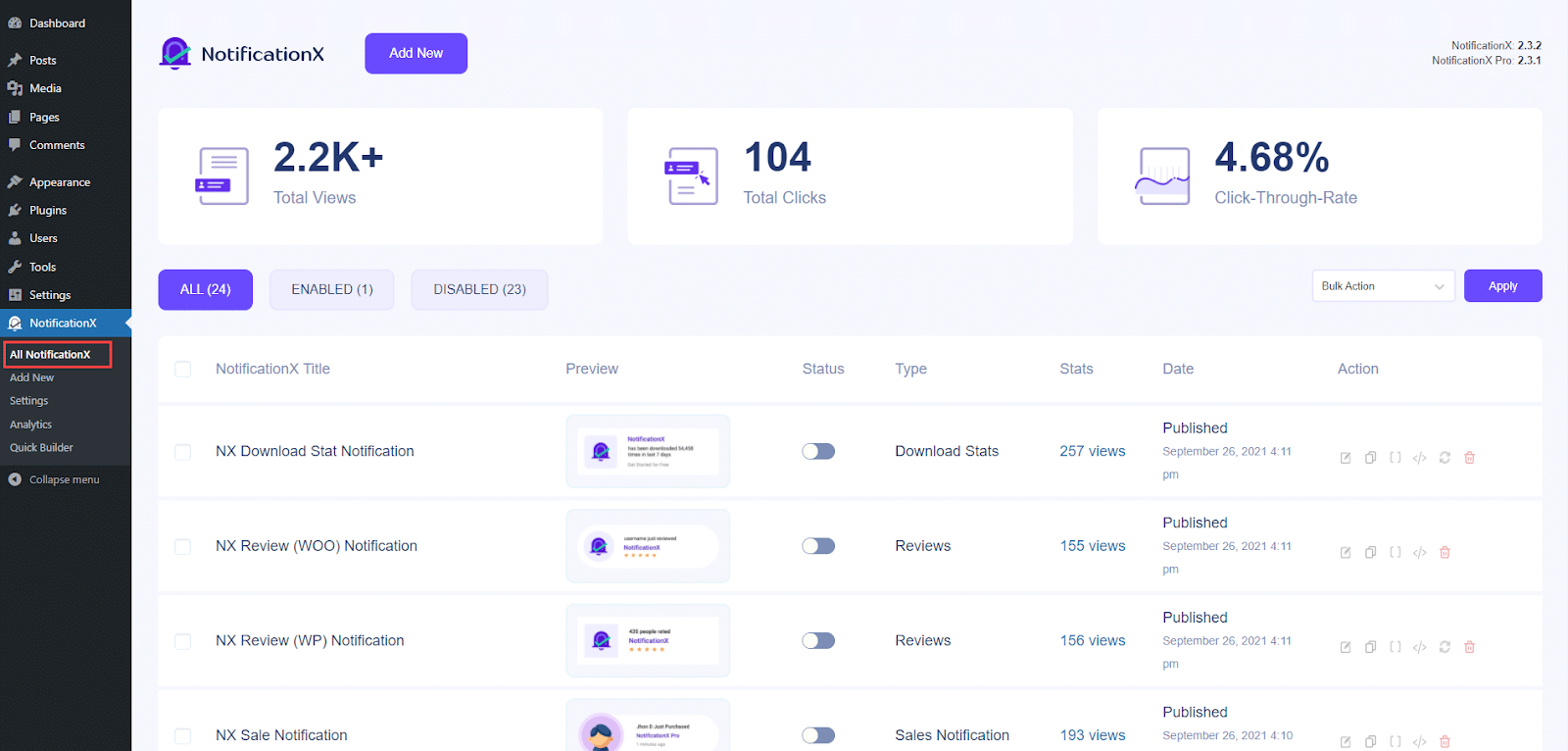 Step 2: Pick The Notification Type & Source  #
First, navigate to your NotificationX live notification 'Source' tab. Here pick Notification Type → Growth Alert as mentioned in the above step and Source → LearnDash or LearnDash. For this documentation, we will choose 'LearnDash' as our source.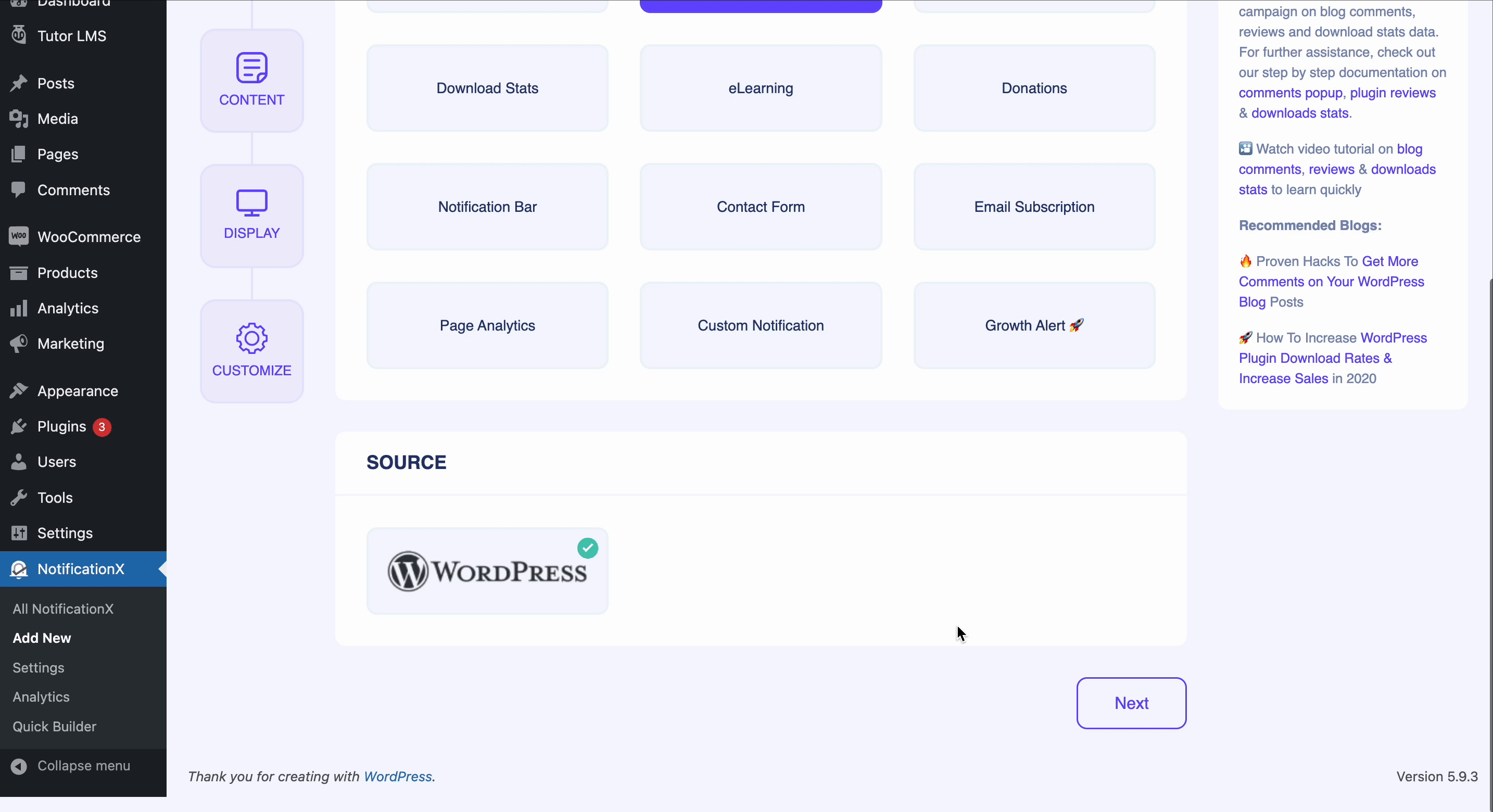 Step 3: Choose Your eLearning Theme #
The process is quite similar, first, you have to choose the required NotificationX Growth Alert  'Course Enrolled theme` from the 'Design' and hit the 'Next' button.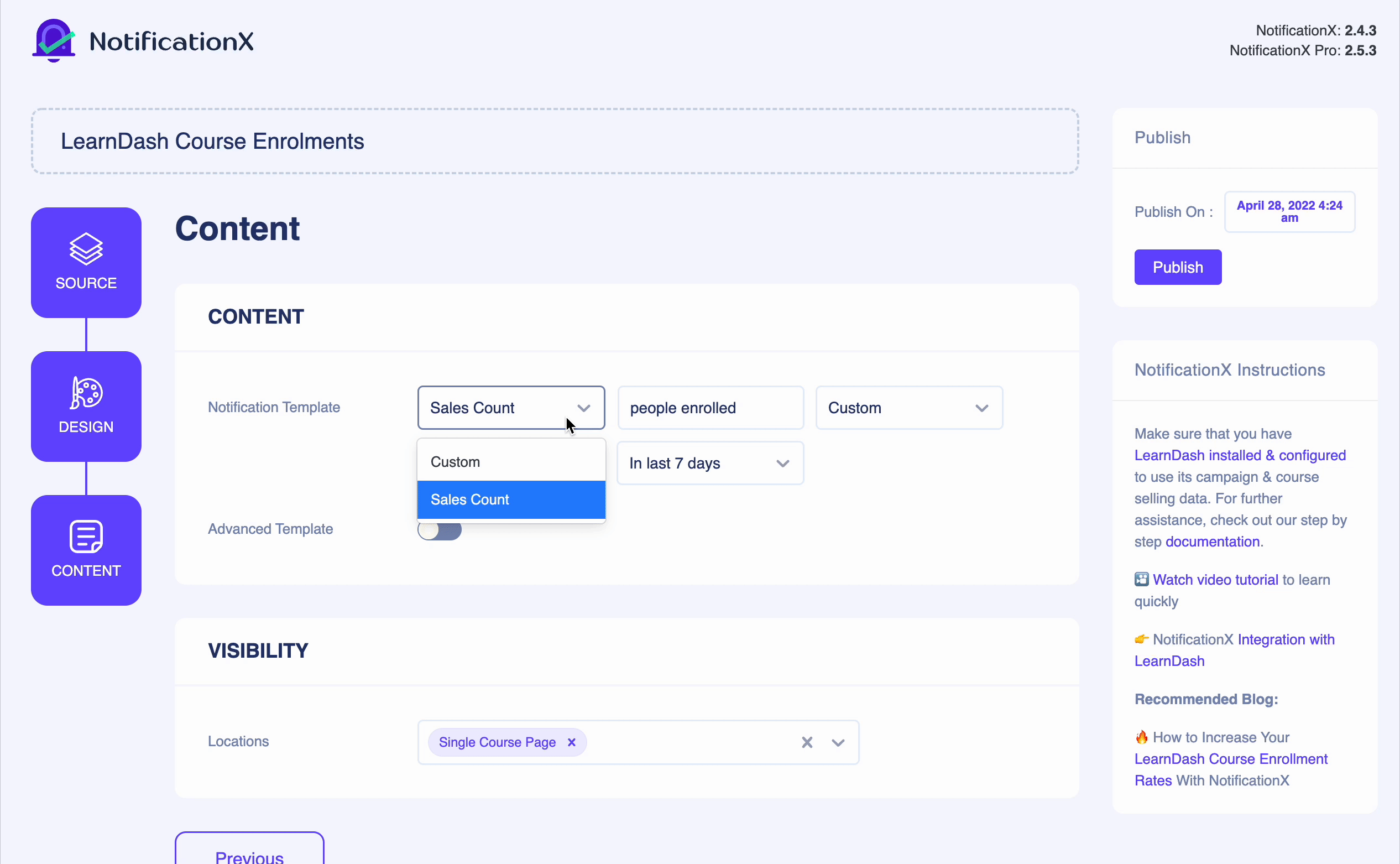 Step 4: Configure Content & Visibility #
Afterward, go to the 'Content' tab to customize the default content of this LearnDash single course page notification template. Customize the eLearning theme as per your preference.
Note: You can change the locations of your growth alert notification from the 'Visibility' option.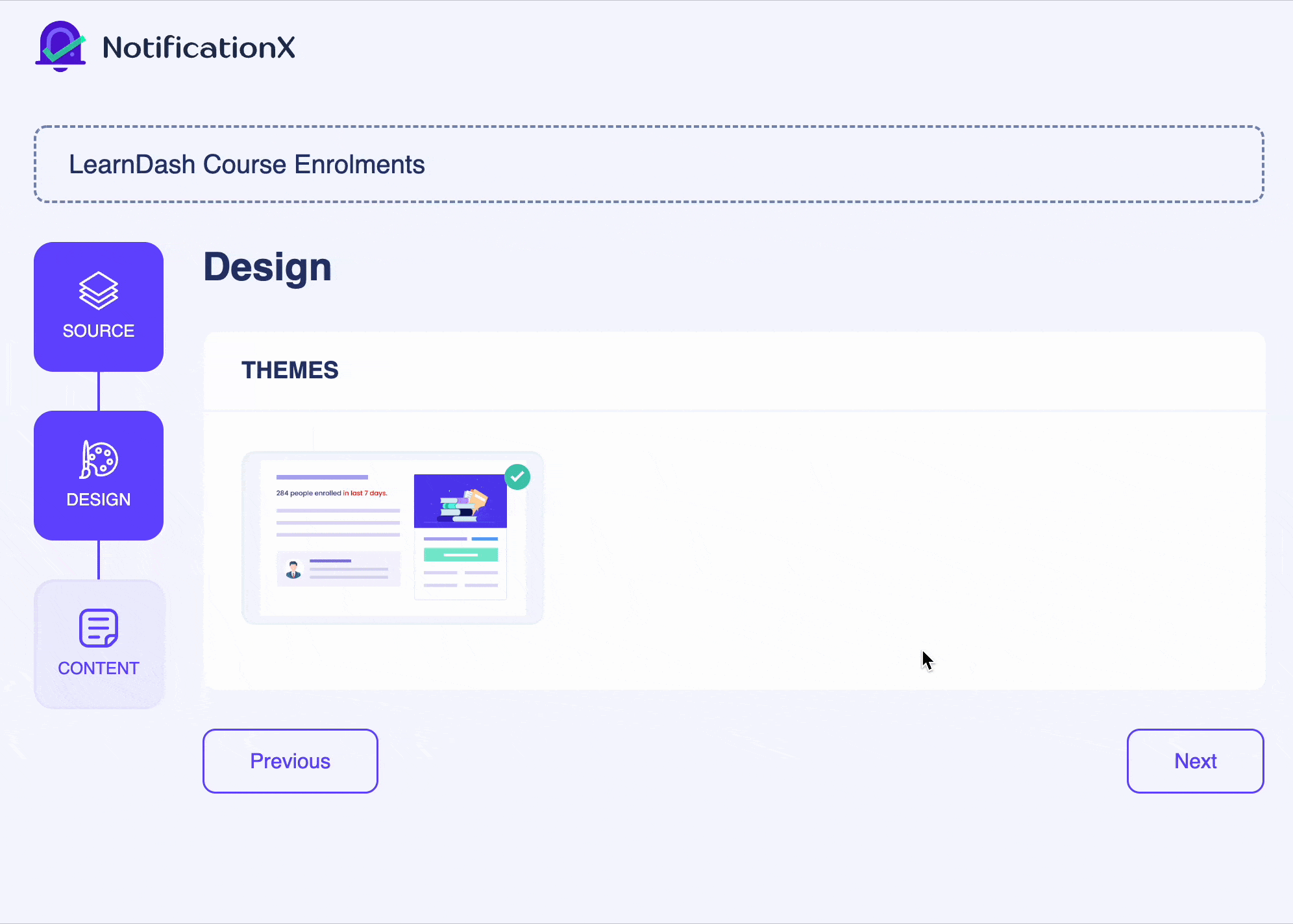 Similarly, if you are using NotificationX Pro, you can add a custom design to your NotificationX Growth Alert template just by configuring the 'Advanced Template' option.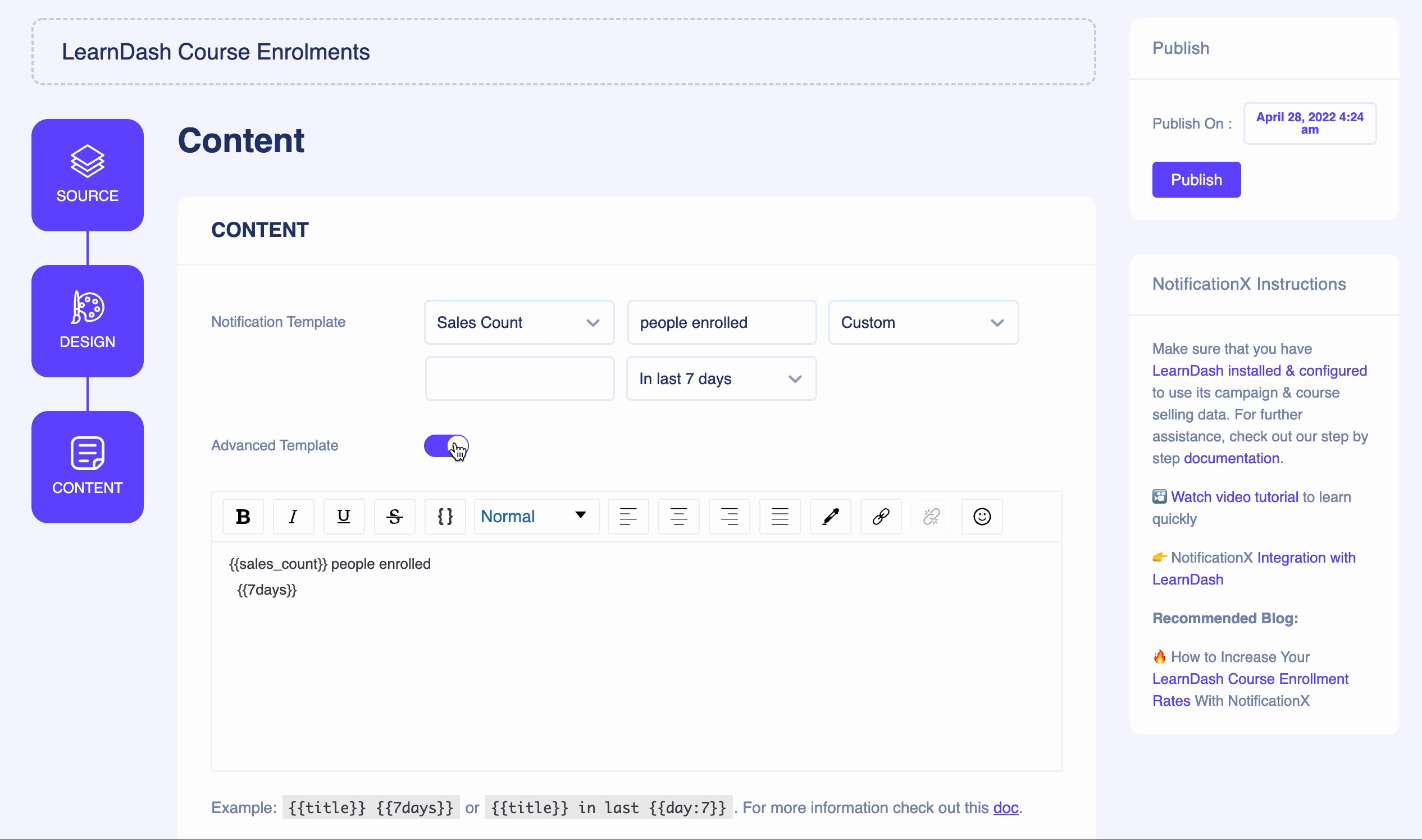 Final Outcome:  #
After making all the changes, hit the 'Publish' button and check how your NotificationX Growth Alert eLearning theme appears on the website.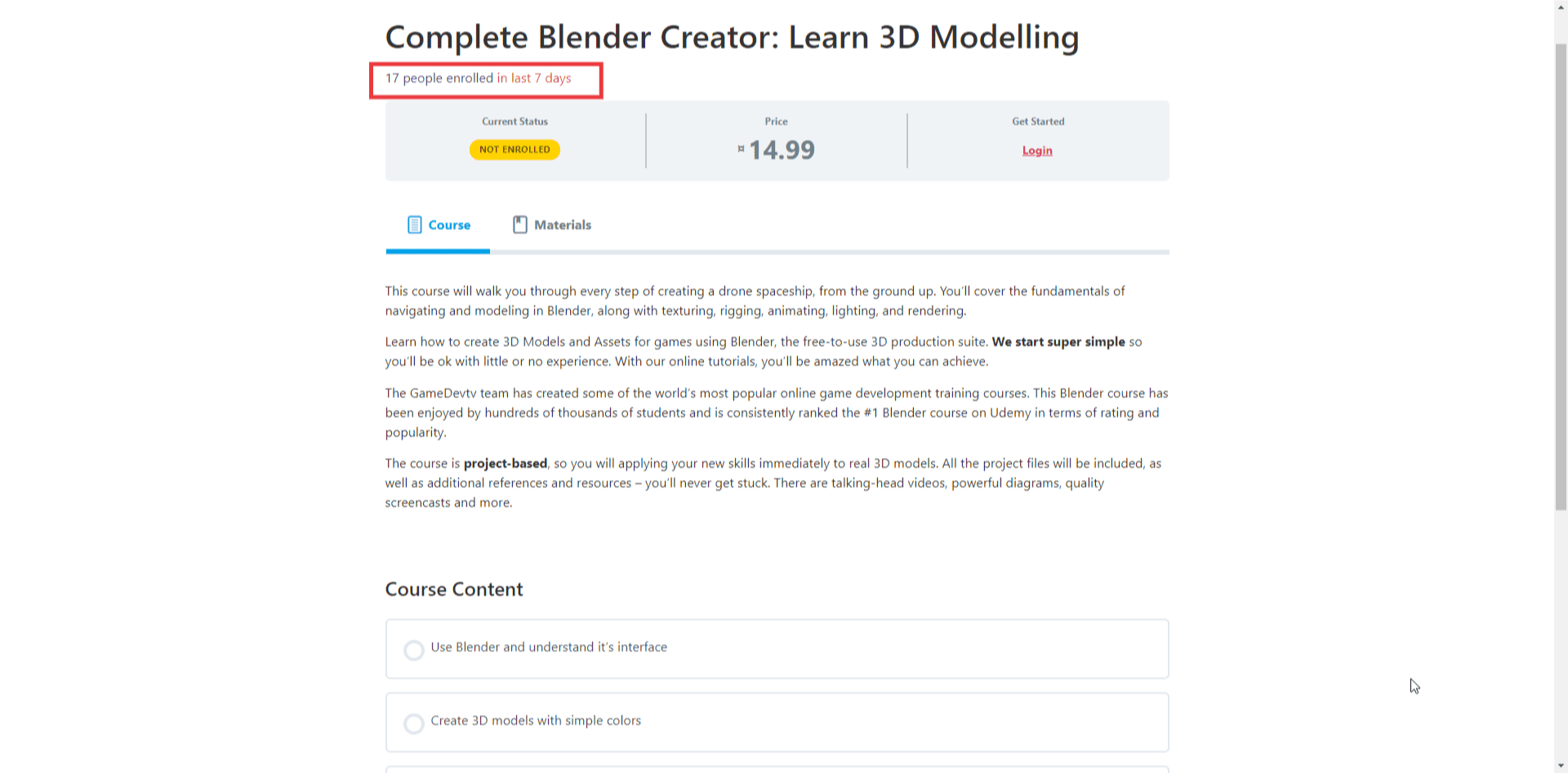 That's it! This is how easily you can configure the NotificationX Growth Alert for LearnDash to showcase your live course enrolment notifications more interactively on the website. 
Getting Stuck? If you face any issues, you can contact our Support Team.