If you are thinking about improving your customer experience, then optimizing the conversion funnel could be a great idea. Whether you have an eCommerce website or a blog, optimizing your funnel can help to get more conversion rate for your business. So, let's dive into this blog to get an in-depth idea of a conversion funnel for WordPress websites.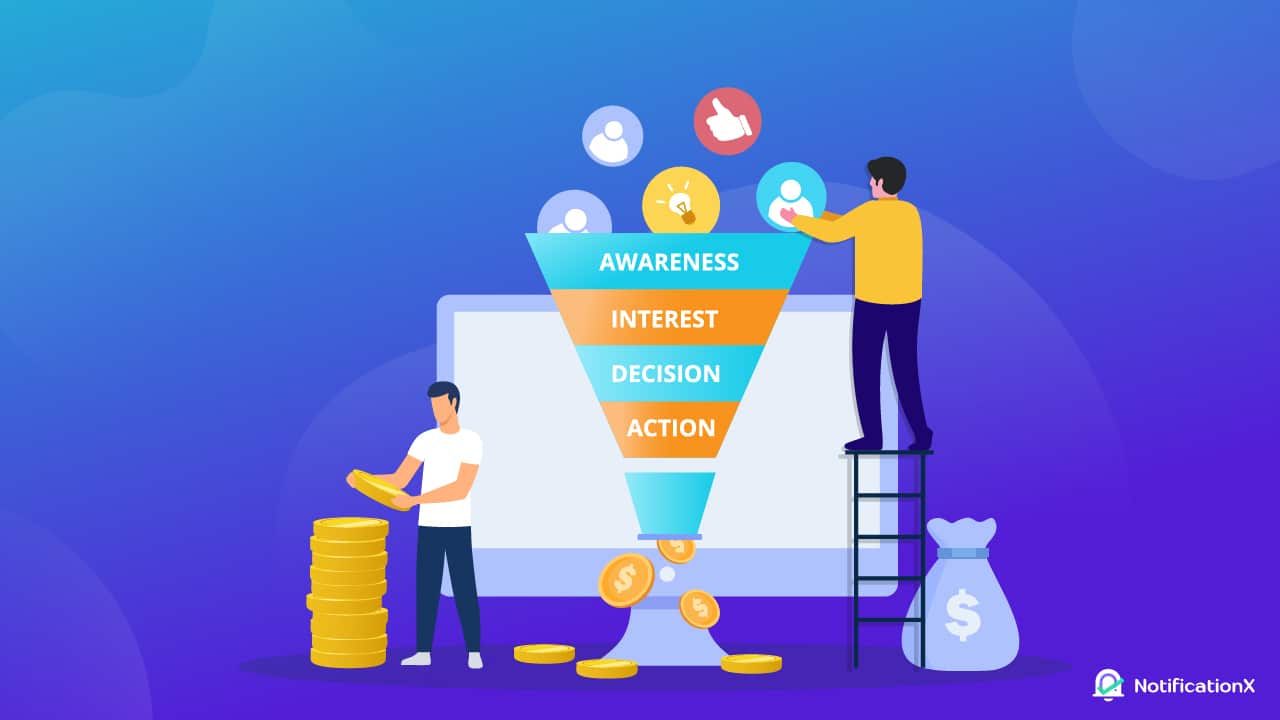 💡 Understanding The Conversion Funnel: Why You Should Care
The conversion funnel is an eCommerce term that helps to visualize the process of how your customers or users are making purchases. Also known as the click funnel or sales funnel, it showcases the needs of your site visitors. Thus, if you want to improve the conversion rates that you are getting, the funnel can help to achieve that. Here is why a conversion funnel is important to any business:
⭐ Track Your Customer Behavior
A conversion funnel comes in handy when you want to improve your customer experience. With a funnel, you can analyze and track your customer behavior and learn about them in detail. In this way, you can craft your perfect copy that your customer can not ignore. Resulting in a higher conversion rate for your business.
⭐ Increase Your Conversion Rates
If you are thinking about growing your business, conversion funnels help you in many ways. It can visualize your customer journey and find room for improvement. Thus, you can improve them and grow your business faster, and get more conversion rates.
⭐ Improve Your Customer Retention
Conversion funnels help you to analyze customer preferences and track their activity. When you have a ready funnel for your business, you can increase customer retention and win back your customers.
✨ 4 Stages Of Conversion Funnel
The conversion funnel stages can be different according to different products or services. Based on the 'AIDA' model, the conversion funnel is divided into 4 parts. Each of the parts is extremely important for converting your audience into customers. Now, let's have a look at them.
🔵 Awareness
The first stage of the conversion funnel is awareness. This part of the funnel is where you attract potential visitors to your website. It could be organic traffic which you can get from search engines, running paid campaigns, or from social media, your acquisition tactics are called awareness.
At this part of the funnel, your potential visitors notice your brand, and with the right information, they can be converted into the next stage of your funnel.
🔵 Interest
Once a potential visitor finds your website and comes to your website now the second stage begins. On this part of the funnel, the customers usually research their options. They would like to know more about the product or service that you are offering. So, the stage of the conversion funnel is crucial to gain the trust of your customers.
🔵 Decision
When your visitors are done with their research and made their choice, the decision stage begins. At this stage, your visitors are ready to purchase the product or service that you are offering. When your customers are ready to purchase your product, you should send them to checkout the process as soon as possible.
🔵 Action
The action stage is the last part of a conversion funnel. The action stage begins when your visitors complete the checkout process, and become your customer. From here, you can turn them into returning customers and build a long-lasting relationship with them.
⭐ Tips To Optimize Conversion Funnel For WordPress Sites
If you have a WordPress website and want to improve your conversion funnel here are some best practices you should follow.
⭐ Speed Up Your Page Load Times
When it comes to optimizing your funnel, you need to improve your page loading times. After the awareness stage, if someone is interested in your product and service comes to your website and finds it slow and not loading fast they might lose interest and switch to another website. Therefore, if you want to increase the conversion rate, you need to speed up your landing page speed.
⭐ Reduce Cart Abandonment Rate
Once a visitor comes to the final stage of your conversion funnel and leaves without making the purchase is called cart abandonment. You need to keep a close eye on your cart abandonment rate. You should find the reasons behind cart abandonment and keep the ratio as low as possible.
⭐ Streamline Workflow With Marketing Automation
When you are running a business online, it is hard for you to send follow-up emails to your customers. However, with marketing automation, you can easily send follow-up emails to your customers and save a lot of time. So, you can free up your time and use marketing automation for these repetitive tasks.
⭐ Maximize Your Profits With Upselling
Upselling is an amazing marketing technique to boost your revenue. You can integrate an upselling strategy into your conversion funnel and increase your order values. In this way, your total revenue will be higher than before.
⭐ Analyze Your Funnel Analytics
When you set up a conversion funnel for your website, you need to analyze each part of it to find the areas for improvement. With funnel analysis, you can find out your customer behavior and optimize it accordingly. In this way, your conversion rate will increase and you can grow your business faster.
⭐ Test & Refine Your Conversion Funnel
When you set up a conversion funnel, you can understand that there could always be room for improvement. Therefore, you need to test the different parts of your funnel and determine which is performing better for your business. For example, you can test the CTA buttons of your landing pages to see which one is working for you.
⚡ Improve Your Conversion Funnel & Optimize Customer Experience
Conversion funnels can help a business thrive and optimize its customer experience. Once you analyze your customer data and think about improving the experience, you will have a better chance of making more conversions. So, don't wait anymore. Optimize your conversion funnel and convert more visitors into customers.
Did you like this blog? If you do, please đăng ký vào blog của chúng tôi for more marketing tips and tricks. Also, don't forget to join our Cộng đồng Facebook and share your thoughts.