Want to keep the subscribers and customers of your business engaged constantly? If yes, setting up automated drip notifications on your WordPress website can be the perfect solution. It can help you deliver regular push alerts, onboarding emails, sales offers, and more to your website users easily.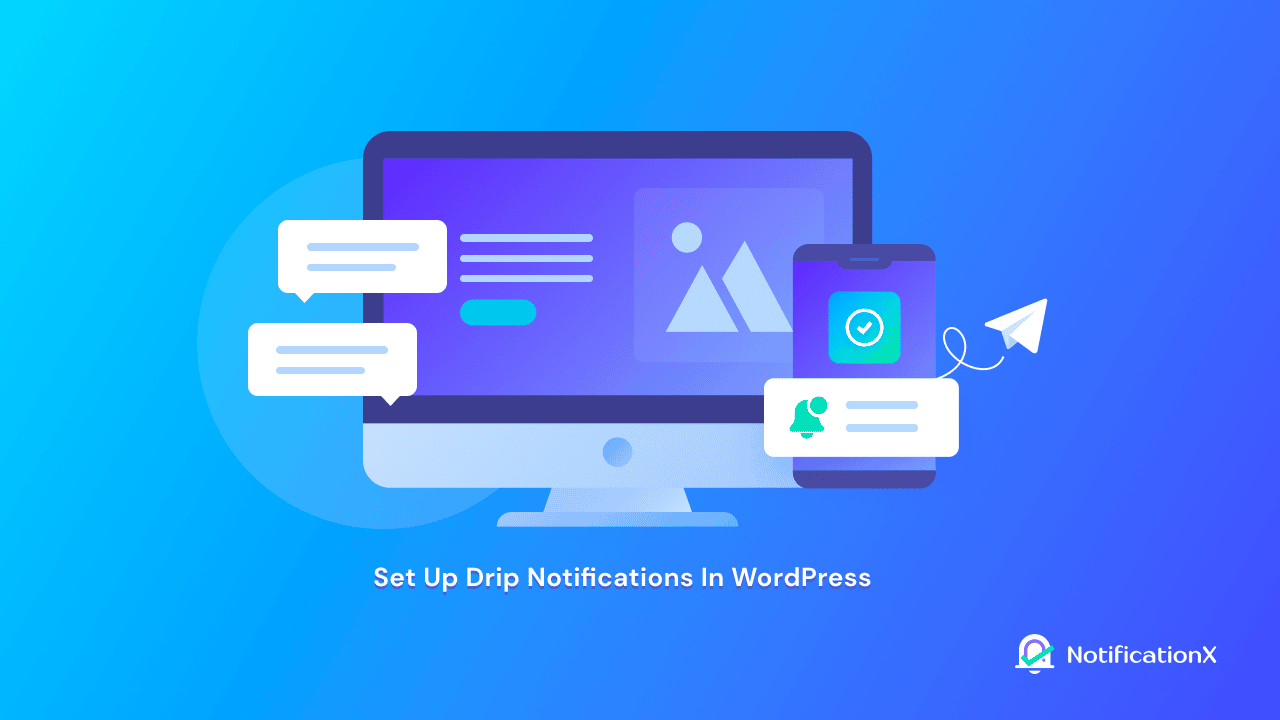 To help you understand what these drip notifications are, how they work, and how they are easily set up in WordPress, we have prepared this complete guide for you. If you're interested to learn more and grow engagement, dive right in and find out.
A Quick Overview On What Are Drip Notifications?
To begin this complete guide, first, let's start with what we understand about drip notifications. These are a series of automated, short messages which you can dispatch to your website visitors, leads, potential customers, or subscribers over a certain period of time. Usually sent in the form of push notifications or targeted emails, they're routinely triggered at regular, predefined intervals instead of being sent out all at once.
Utilizing drip push notifications is an effective method to nurture leads and convert them to paying customers over time. This results in improving customer retention rates, boosting customer loyalty, and increasing conversion.
Difference Between Drip Notifications & Popup Alerts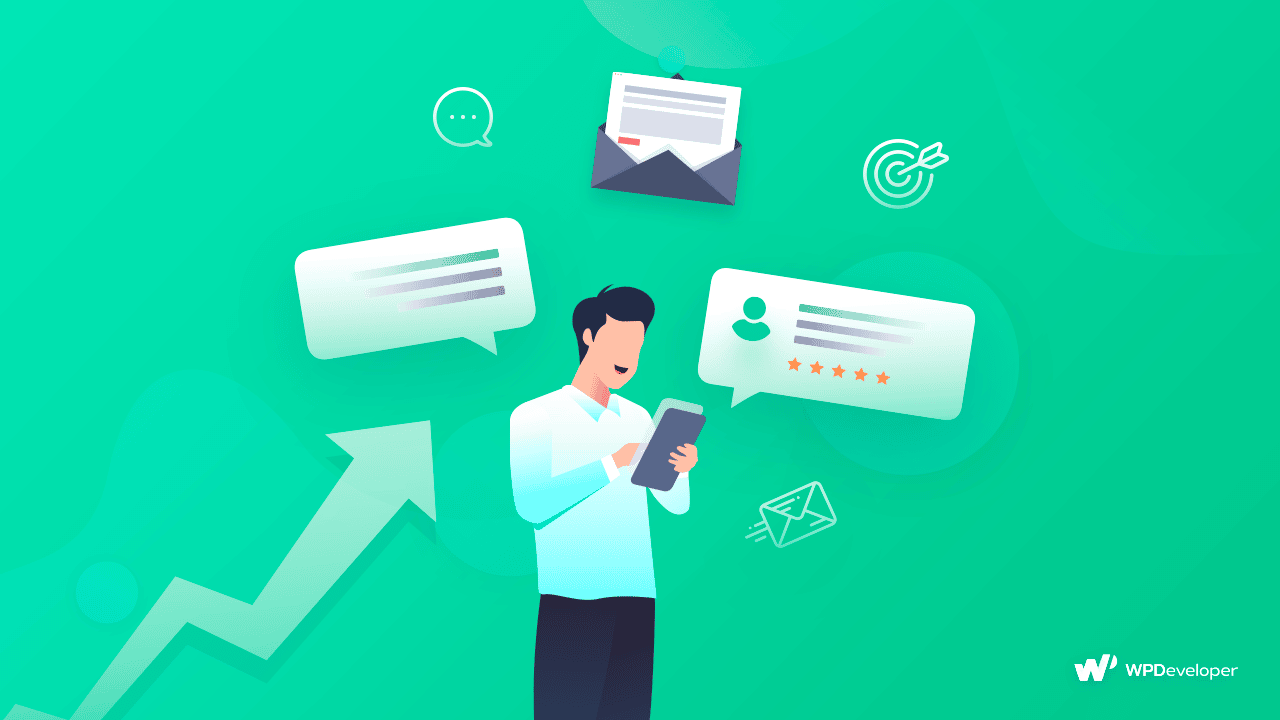 It might be easy to confuse drip push notifications with regular popup alerts on a website, but for any marketer, it is important to know that these are not the same. drip push notifications and popup alerts are two different concepts used for two different functionalities.
Popup alerts are displayed according to pre-set timings only when a lead or a customer visits a web page or product page and has spent some time browsing around your website. Some of these can be regular popup alerts appearing on the corners of your site screen, while others can take up full-page dimensions like exit intent popups in many business websites. However, push notifications are nothing of the type. 
Campaigns using push notifications start after a lead has been obtained. Additionally, push notifications stay in your browser for a considerable amount of time and don't interfere with your users' use of any other applications. Mobile push alerts are simple, engaging, incentivized, and non-intrusive, in short.
What Goals Can You Achieve With Drip Push Notifications?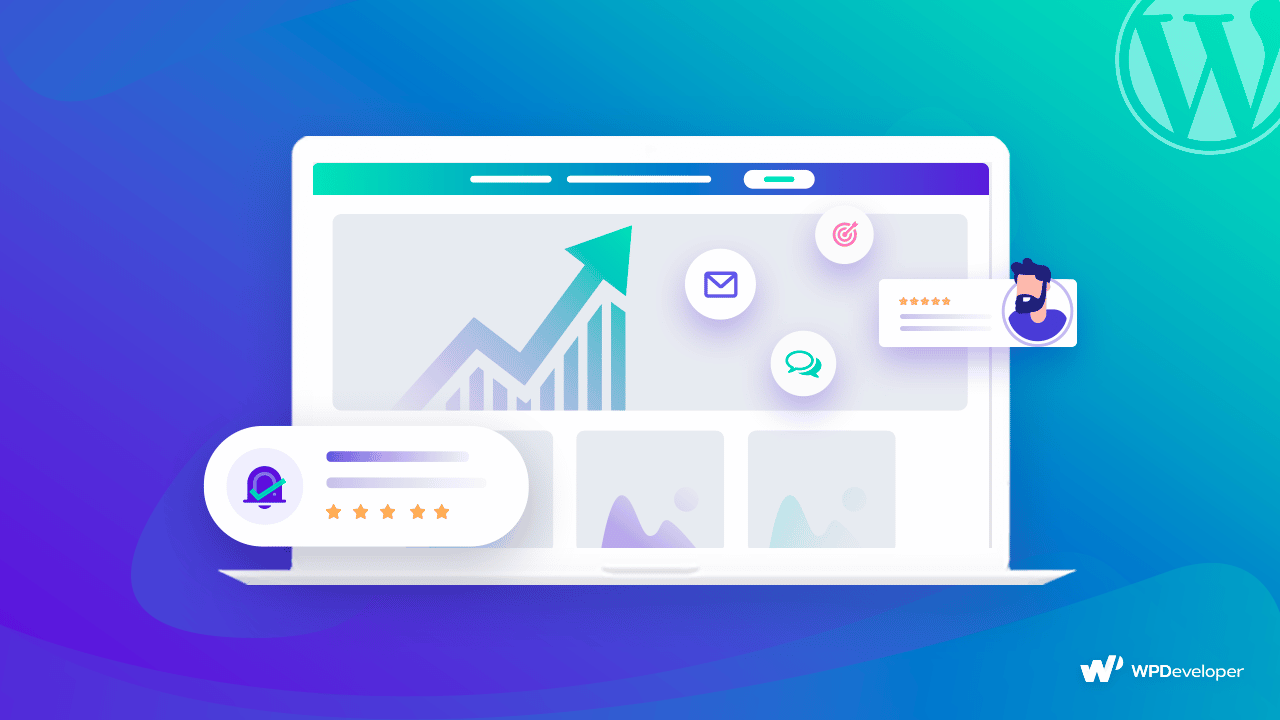 Now that you understand what drip notifications are, let's take a closer look at how these can further benefit your company. They can be a beneficial marketing tool at every point of a customer's lifecycle.
🔔 Immediately connect with your target audience
🔔 Build a stronger relationship with potential customers
🔔 Immediately connect with your target audience
🔔 Track how your leads respond to the drip notifications
🔔 Boost click-through-rates & conversion rates
Which Types Of Businesses Can Benefit The Most From Drip Notifications?
In general, you can use drip notification campaigns to promote a product, get extra page views, improve gross sales, and build a strong relationship with customers over a certain period of time. Moreover, these types of drip-feeding push notification contents can be very effective for different businesses if utilized properly. Let's take a look at a few examples of how it can work in these businesses:
💼 Series Of Messages For Membership Or Subscription Sites
Drip content alerts or push notifications work perfectly with membership sites as messages can be broken down and shared in parts exclusively with paying members or subscribers specifically. You can set up a series of drip messages to selected members to be sent over a period of time or on a specific date. Any new members that join the program will only have access to the first lesson.
💼 Courses & Lessons For LMS System & e-Learning Websites
If you're a course creator on LMS systems or a teacher running an eLearning website, you can implement a content-dripping campaign by creating and sharing lessons with students one by one. By doing this, they're more likely to finish the entire course material and continue to be interested in your program over the entire course.
💼 Cart Abandonment Emails Or Texts For eCommerce Businesses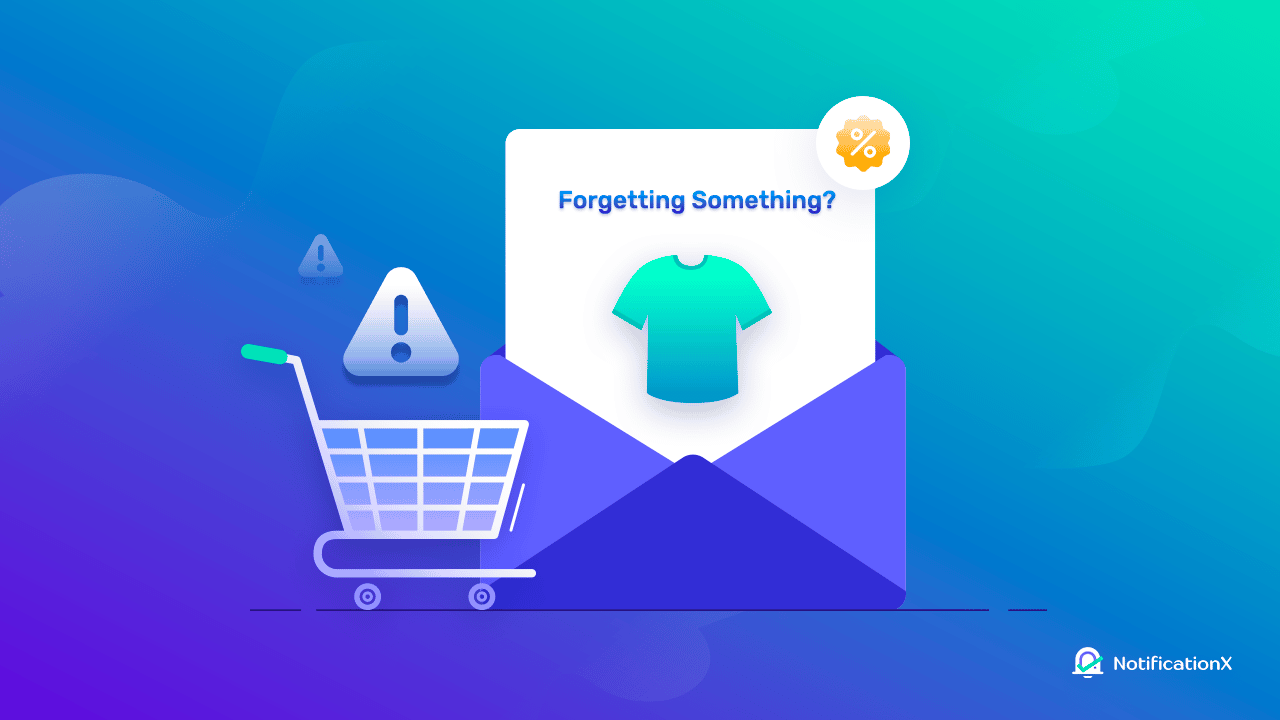 If you run a WooCommerce business website, you can maintain a pre-made list of emails or messages that you want to push to leads who abandon their carts before purchasing. These can actually help visitors to engage and convince them to complete their buying. You can also add special discounts to these drip messages for more effectiveness. It will instantly help you to get higher click-through rates and conversions.
Qualities Of An Excellent Automated Drip Notification Tool
Now, which WordPress tools can be perfect to help you create, execute and track automated drip notifications? Here is a list of the top criteria that the tool must have:
🎯 User-friendliness with an easy-to-use interface
🎯 Excellent targeting capabilities & analytics facilities
🎯 Compatibility with a range of web browsers and mobile devices
🎯 Marketing automation features to send regular drip notifications
🎯 GDPR compliant and track the automated drip notifications
When these things come together, it will allow you to grow your business. So, based on these criteria, here are the best push notification software for WordPress.
Top 2 Plugins With Built-In Drip Notifications Features
While there are many WordPress plugins and solutions that let you set up and configure push notifications for your business, only a few allow you to set up automated drip notifications. And to make the search easier, we have researched the market and found the top 3 that can be perfect for you:
🔔 PushEngage

The easiest way to set up automated drip push notifications in WordPress is to use the plugin PushEngage, developed specifically to help create and send such alerts to their users. With smooth compatibility with multiple web browsers, this tool can help you engage targeted visitors, leads, and customers easily.
Along with multiple outstanding features to send interactive push notification alerts, it comes with exclusive features to set up automated drip notification campaigns in just a few clicks. PushEngage will help you enable and send drip content alerts to all subscribed users or to already listed/segmented users.

Source: PushEngage
With it, you will also be able to customize the frequency of the drip content alerts and decide whether the series of notifications will be sent at intervals of 10mins, 1 hour, or 1 day. You can even enable UTM variables for tracking the performance of the automated drip notification campaign and get complete analytics. For a further step-by-step guide on how to set up this useful feature in WordPress using PushEngage, check out their documentation.
🔔 PushAlerts

Another WordPress plugin that is suitable for setting up, scheduling, and sending automated drip notifications, is PushAlert. With its exclusive feature to set up a welcome drip campaign, send a series of push notifications to your subscribers, customers, and more. With these, you can automate customer onboarding, and direct the way they navigate your website.
The first drip notification will be sent out to web visitors as soon as they subscribe, by default. You can customize all the other settings and set up your own drip push notification alert. For detailed information, check out their documentation.
Drip: Best Email Marketing Tool To Set Up Automated Drip Alerts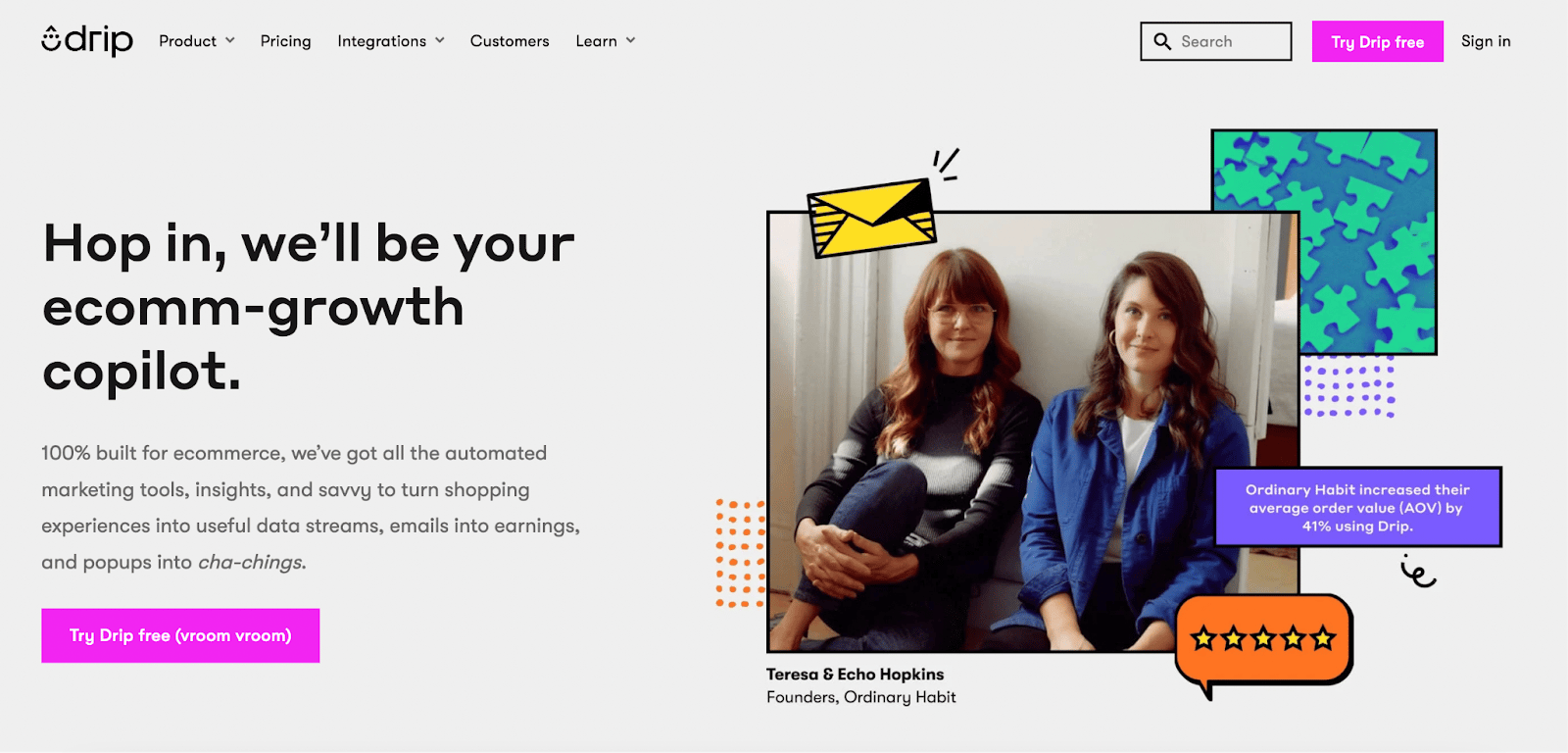 Other than the WordPress plugins mentioned above, you can also use exclusive Email Marketing tools to set up automated drip notification alerts for your website with ease. And our top choice of this solution is Drip: The eCommerce Revenue Engine.
It enables you can add contacts to your drip campaigns directly from your WordPress website and then push email and SMS your leads. To make setting up drip content alerts for your business, this tool lets you integrate itself with various outstanding plugins, such as HubSpot, WPForms, Fluent Forms by WPManageNinja, and more.   
🔗 Integration With HubSpot
You can connect and synchronize the email marketing tool, Drip, to the HubSpot CRM software on your WordPress website without any time-consuming, manual data entry. Once that is done, you will find two-way synchronization where information is shared between the two solutions in real-time that can be set up with extraordinary, ready field mappings.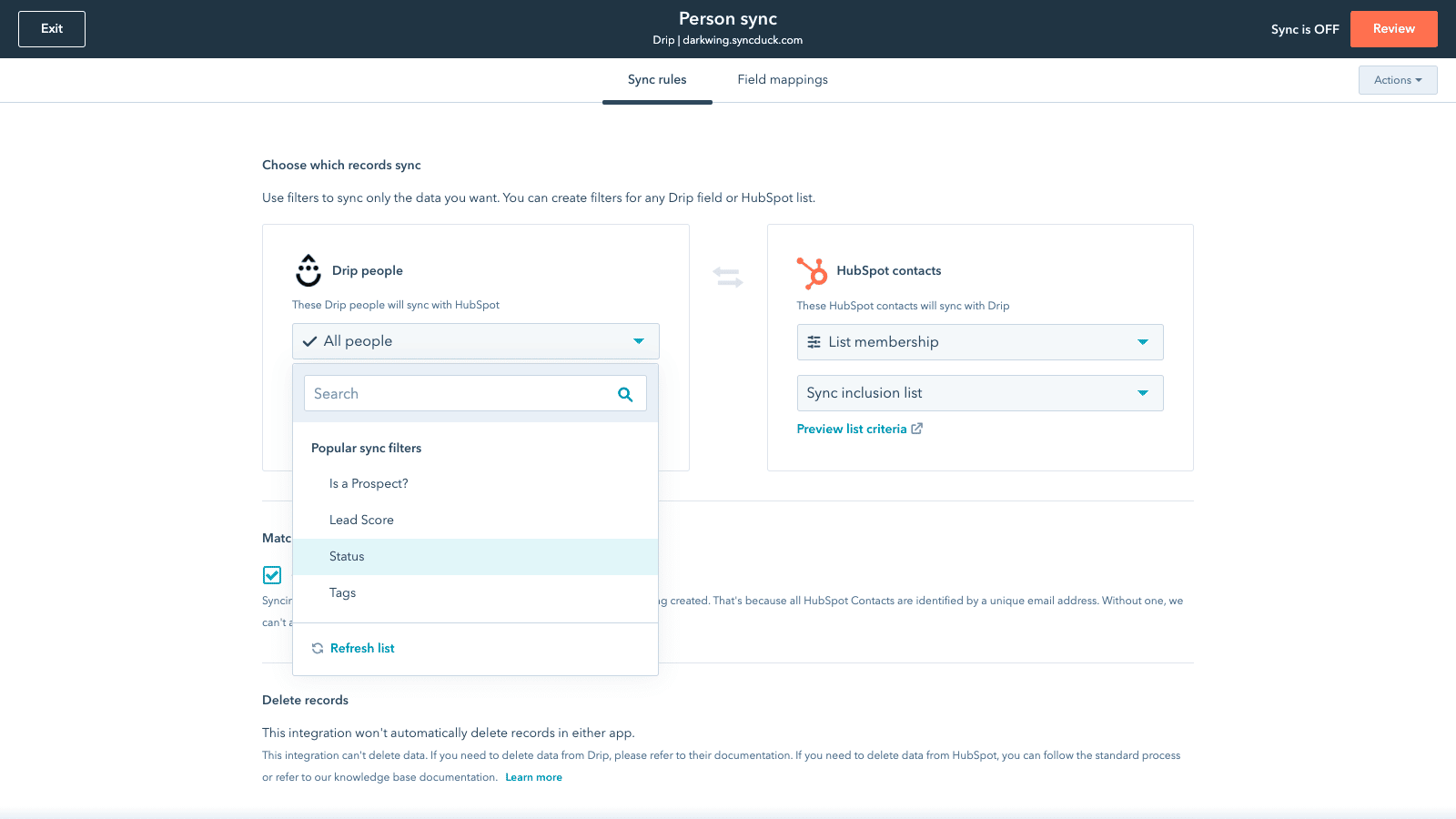 Nguồn: HubSpot
Afterward, you can easily set up the email marketing tool to send out custom, automated drip notifications in just a few clicks. More details to help you out from right here.
🔗 Integration With WPForms
You can also use this email marketing tool via a smooth integration with WPForms which will power up the tool with unique features. This will help you create drip signup forms in WordPress and integrate them with the Drip Software tool with an API key in a few clicks.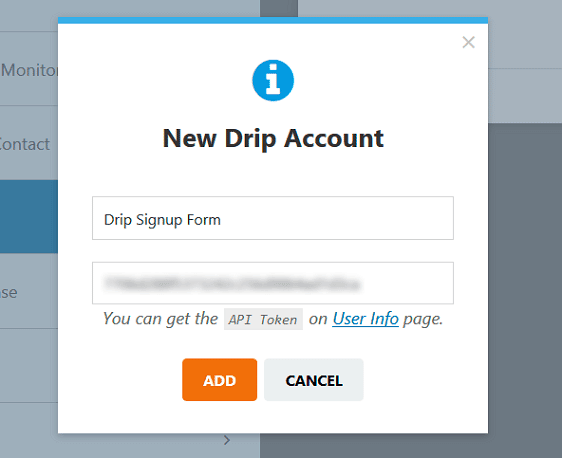 Source: WPForms
If you are wondering why you will be using signup forms, then be noted that with this feature, you are allowing your leads to decide whether they want to receive push notifications from your business. It's an excellent way to show your potential customers and subscribers that you respect their preferences.
Afterward, you can configure the drip content alert just the way you need by adding or changing subscriber lists, updating form settings, and setting up drip notification form confirmations. Finally, once satisfied with your customization, you will have to embed the drip subscription form onto your website. And that's it – drip signup forms will be created and as soon as a lead subscribes, drip notification alerts will be sent out according to your customizations.
🔗 Integration With Fluent Forms By WPManageNinja
And finally, we have another seamless integration of the Drip email marketing tool. This time it is with the WordPress solution, Fluent Forms by WPManageNinja. Using the form plugin, you can collect customer information and then instantly add the data to your Drip list automatically. It makes it really easy to send out regular newsletters to your leads.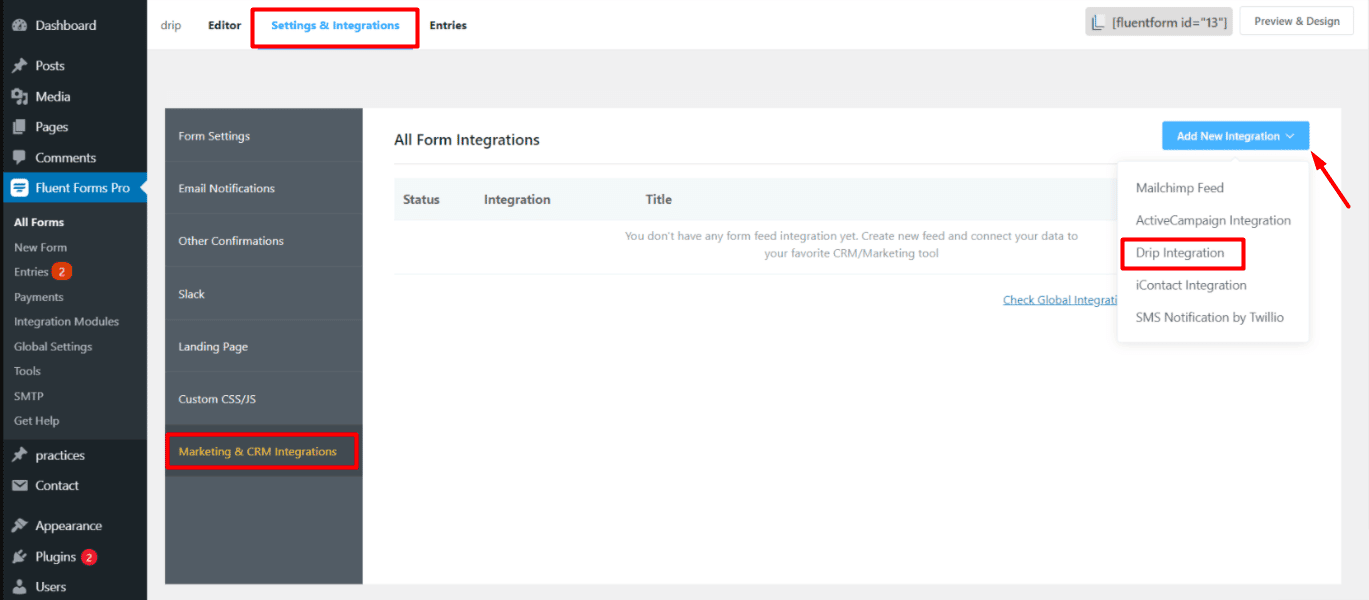 Source: WPManageNinja
You need to activate the Drip Module on your website and connect with the Drip API token & project ID. Then, you will need to set up the integration feed and map input fields as necessary, customize the feature, and turn on Drip Module when you are satisfied with the settings. For more details, you can check out the documentation here.
Effortlessly Grow Engagement With Regular Drip Notifications
We hope this complete guide was helpful in understanding what drip content alerts are and what easy methods are available to set these notifications up on your WordPress website. If you use any of these solutions for your business, do let us know by commenting below – we would love to hear about your experience. For more helpful information like these and other exclusive tips on how to grow your business, đăng ký các blog của chúng tôi hoặc tham gia thân thiện của chúng tôi Cộng đồng Facebook now.