We have super exciting news to share – NotificationX has unlocked another milestone in an astoundingly short time and now has 30K active installs in the WordPress repository. This simply means NotificationX is powering up 30,000+ businesses and marketers to boost conversion rates, a big thanks to you all! 🥳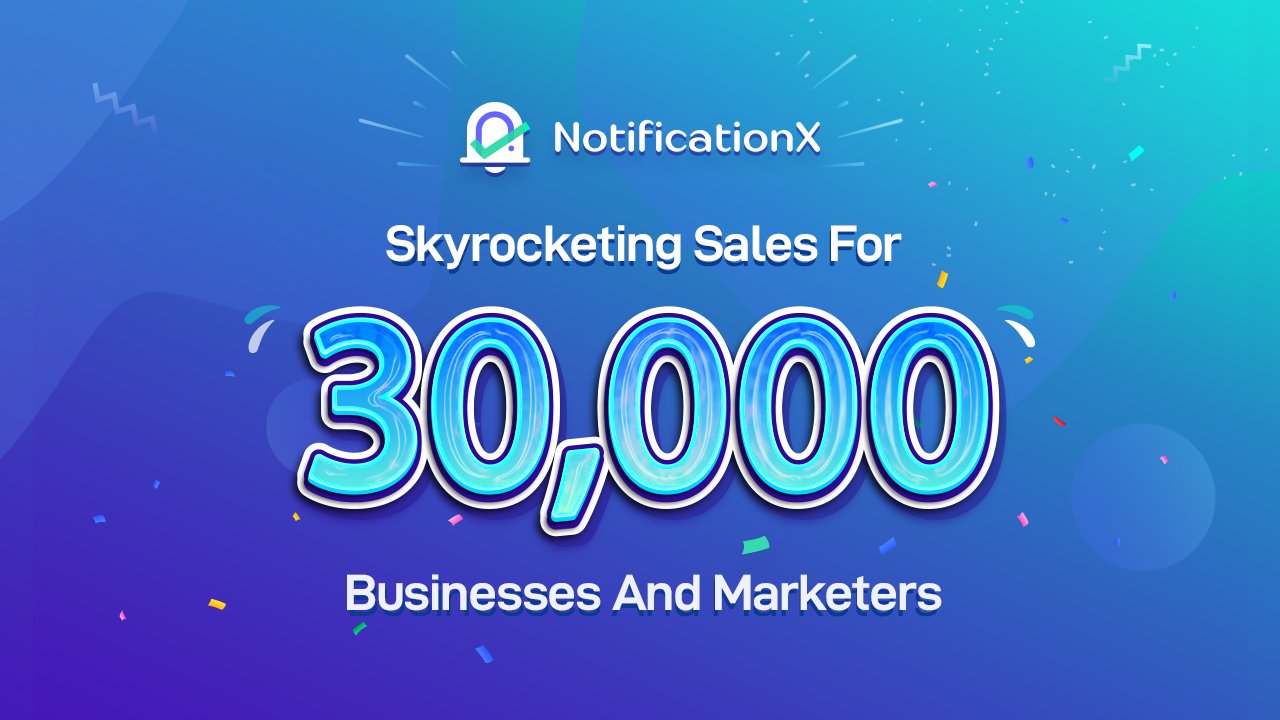 Only a few months ago we were celebrating our 20,000 active users milestone. Unlocking yet another big milestone in less than 6 months is a great achievement for our team
And none of it would have been possible without the constant love and support we have received from web creators like you. We are immensely grateful to this entire community; thank you for helping us come this far. 
Skyrocketing Sales For 30,000 Businesses Worldwide
Since its launch in late 2019, NotificationX has become popular as the ultimate FOMO & social proof marketing plugin for more than 30,000 eCommerce businesses worldwide due to its various notification types, advanced features, seamless integrations, and much more. 

We aim to help businesses skyrocket their engagement and boost conversion rates by encouraging website visitors to become paying customers. And during this short time, we have tried to make NotificationX the fastest, lightest, and most optimized plugin and bring in tons of new features with every update.
With each update of NotificationX, we have included some popular requests from the community, gaining trust from users worldwide. With 30K active installations, this social proof marketing plugin has garnered recognition from, been featured in, and recommended by some of the top publications in the industry.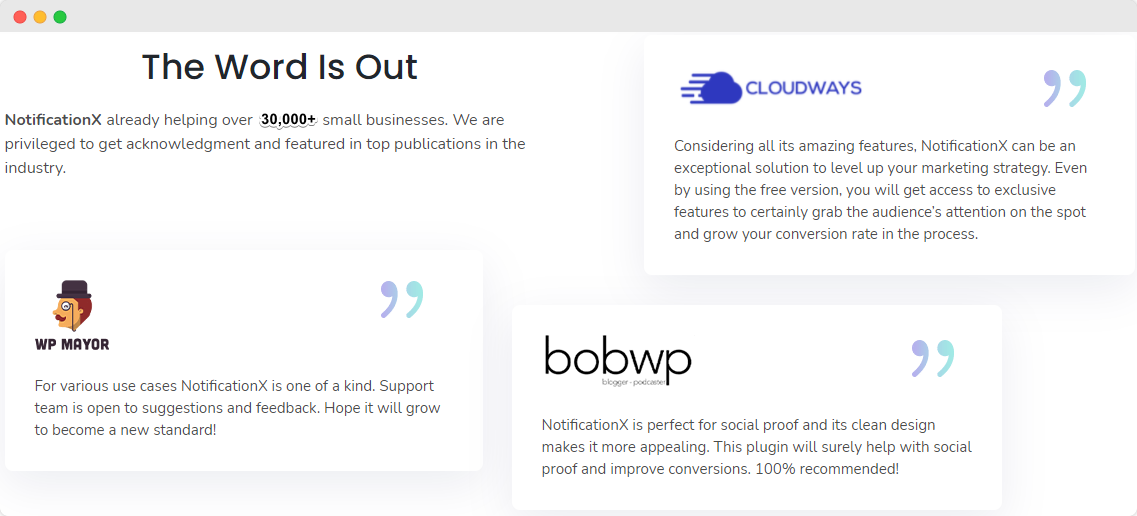 Let's look back at our journey so far and get a quick overview of some of the most important features we've introduced to boost your conversion rates, and goals we've achieved today as we celebrate this amazing achievement of 30K active installs with you.
Most Powerful FOMO Marketing Plugin With Advanced Features
From the very beginning, NotificationX has aimed to boost your website's growth with its outstanding FOMO marketing strategies and notification alerts. You can effortlessly take your business's social proof and credibility to newer heights of success, with just a few clicks and simple steps, all while boosting sales immensely.

⚡Improved Performance & Query Optimization With NotificationX 2.0
As mentioned earlier, we are constantly trying to improve and provide you with the best user experience. And so, quite recently, we have introduced our latest update – NotificationX 2.0, developed with unmatchable query optimization, many new and improved features, a rebuilt user interface, and so much more. 
Our amazing team has been solely dedicated to making this ultimate marketing plugin more robust than ever before with improved performance and maximum query optimization.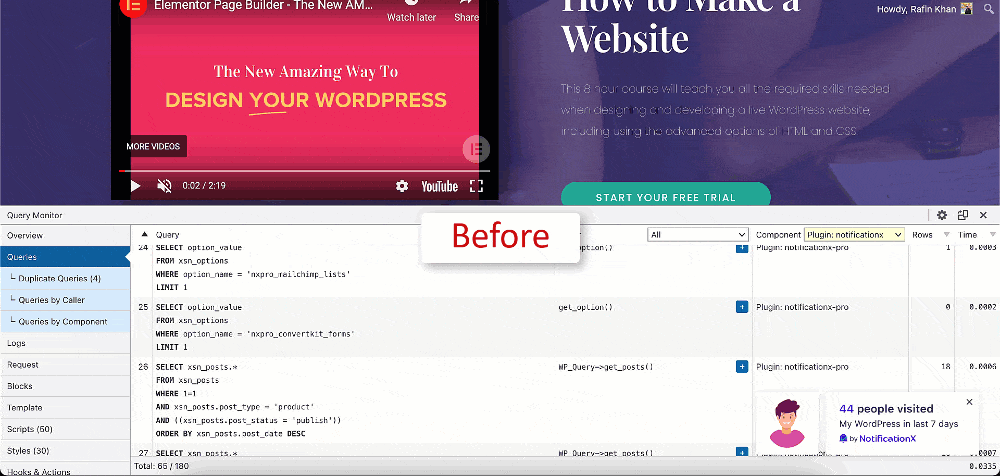 We have fully maximized query optimizations, created new tables in the database, and removed duplicate queries with this latest update. And these changes have massively reduced the number of queries and load time on both the backend and frontend of websites when the notification alerts load. 
There are now a much lower number of requests and faster response times, making NotificationX very robust, light, and powerful. We will get back to the other updates of NotificationX 2.0 in just a bit, but if you want to learn more about our unmatchable query optimization, check out our blog on our latest update here.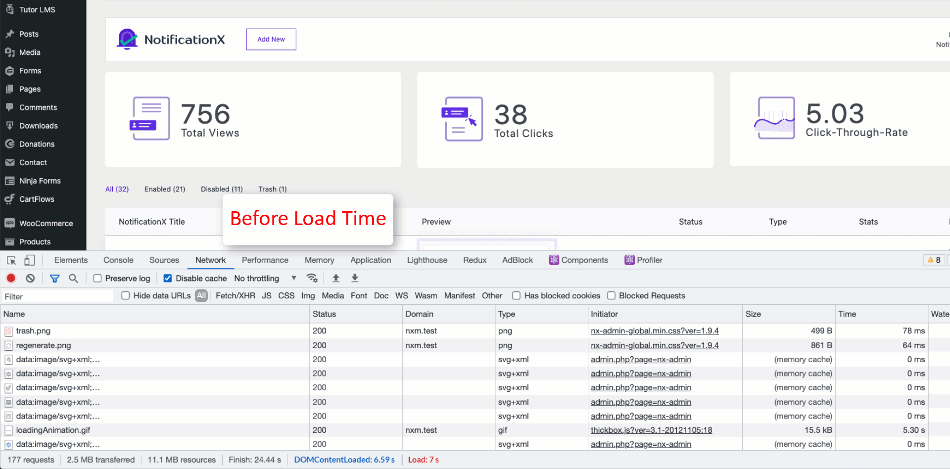 With these latest improvements to the code structure, NotificationX 2.0 is now a robust API-based application. We have also reduced the server-end process to get faster responses so that you can instantly create notification alerts and boost conversion rates and your website's social proof without delay. 
🏆 Better User Experience With Redesigned & Revamped User Interface
Over time, we have constantly developed NotificationX to improve and enhance your user experience more than ever before. And so, with the latest update, NotificationX 2.0 features a fully rebuilt, redesigned, and revamped user interface that provides improved performance, faster loading times, and smoother, easier navigation.

We have completely redesigned the entire plugin user interface by switching to ReactJS while using WordPress's default REST API to make the process of creating notifications incredibly easy for our 30K active installed users. The revamped plugin interface of NotificationX 2.0 lets you effortlessly navigate through the step of creating notification alerts from the same interface with just a few clicks.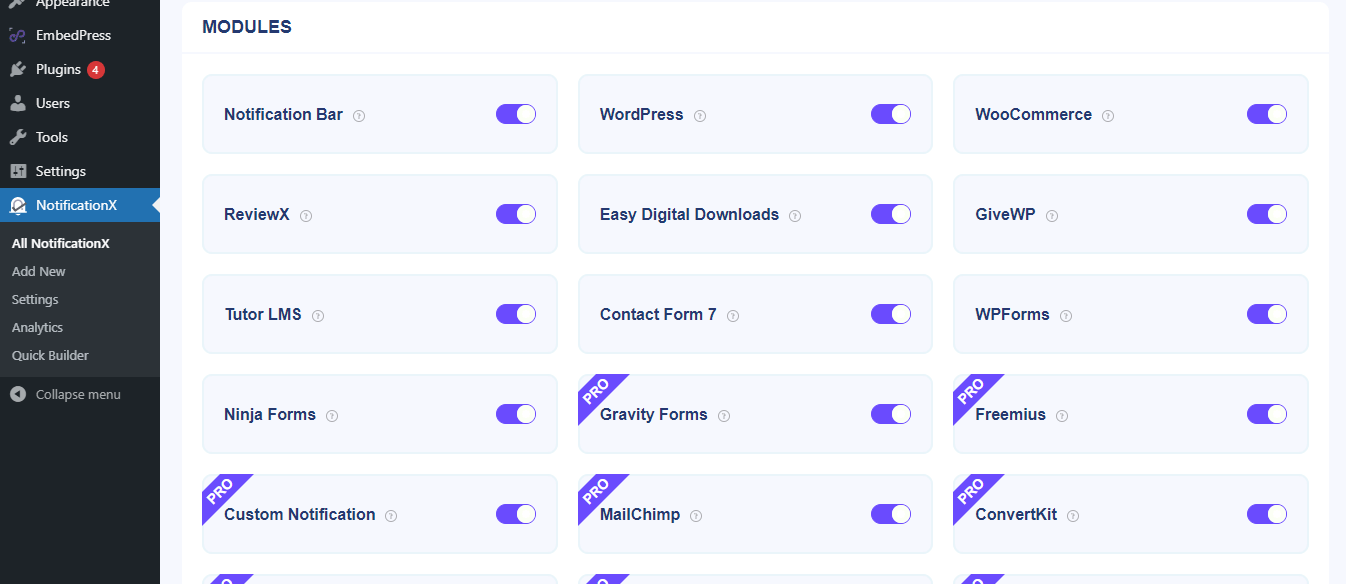 The settings interface with its different tabs also got its designs revamped with our latest update, making it easy for you to navigate through and configure the various integrations and features. In just a few steps, you can get your website running with outstanding popup notifications and engage users.
That's not all; to further help our users save time and boost efficiency, we have also switched up the design for the advanced Quick Builder of NotificationX 2.0. With just a few clicks, you will be able to create stunning, fully functional, and responsive notification alerts in 4 easy steps.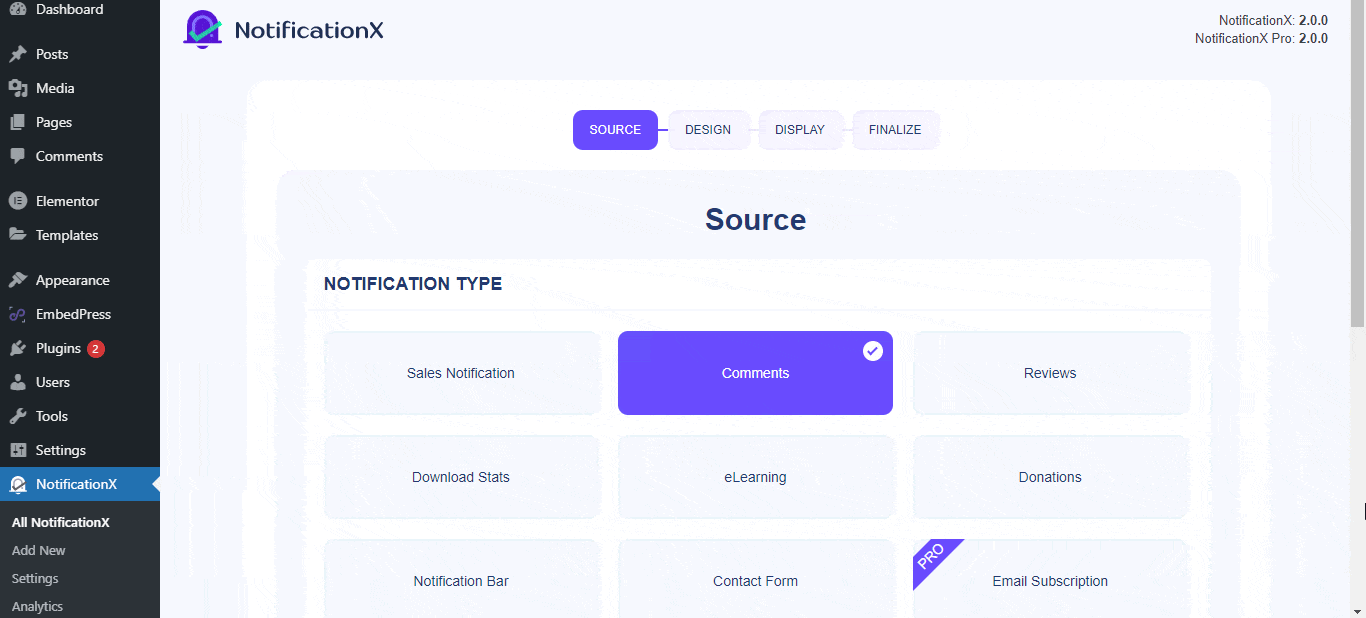 🚀 Completely API-Based Application With 15+ Powerful Integrations
NotificationX provides real-time notification alerts from your website users, instantly validating significant claims about your site or products to your potential users.
As mentioned earlier, with the latest NotificationX 2.0 updates, the improvements made to the code structure of the plugin and reduced server-end processes have made it a robust API-based application. 

Being an API-based application now, you can seamlessly integrate with 15+ powerful and popular solutions such as Zapier, WooCommerce, Easy Digital Downloads, and more without any delay. Check out our documentation to get detailed, step-by-step guides on how to easily create notification alerts for each of these platforms and websites seamlessly.  
🤝 Custom User Roles & Permissions To Manage Your Team
Here at NotificationX, we understand that among our growing community of more than 30K active installed business websites, there might be few with multiple users. And so, we have developed and introduced the premium, advanced feature 'User Role Management' to allow you to set custom roles and permissions for each user. 

With the latest NotificationX 2.0 updates, this impressive advanced feature has been improved and developed to give complete control over providing access to your site's multiple users and set them your preferred roles without any hassle. You will be able to decide who can create and edit and check the data and analytics of the notification alerts on your website.
📊 Advanced Performance Measurement With Built-In Analytics
NotificationX 2.0 PRO has also been developed to enable you to monitor the performance of your marketing campaigns and notification alerts with absolute accuracy. The advanced, built-in analytics tool gives you insightful data on how many visitors have seen your notification alerts, your click-through rates, and much more in a beautiful graphical layout.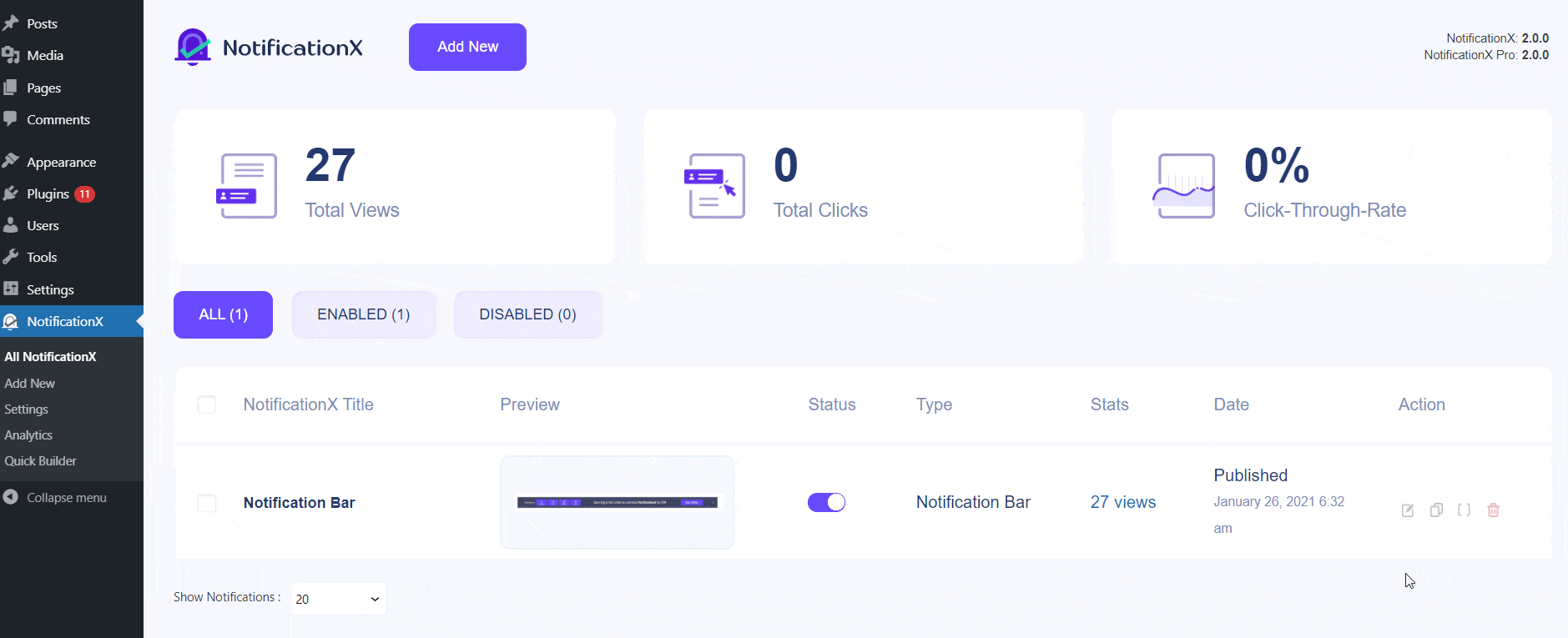 It is now relatively easy to set your analytics and reporting preferences from the NotificationX Settings and choose how to view or receive the detailed reports. You can set your preferred email ID, the reporting frequency, and more. 
With the latest NotificationX 2.0, we ensure you proper, accurate counts and updates for each view of your notification alerts and clicks with our built-in analytics tool.  
🎉 Exclusive New Features & Improvements To Customize Notifications 
With the ultimate WordPress FOMO solution for WordPress, NotificationX, you also get exclusive, advanced features that you can configure directly from the plugin user interface with a few clicks. These additional features have been developed and improved over time and can efficiently fuel up your notification alerts to take your website to newer heights, boosting engagement instantly. 
🎯 Use Elementor To Display GDPR Cookie Consent Notice With Ease
NotficationX has always been perfectly compatible with Elementor, to help eCommerce businesses and users of this popular page builder create social proof popups in Elementor. To take things a step further and help our community of 30K active installations, NotificationX enables its 30K active installers to create custom WordPress notification bars in Elementor without the need for any codes.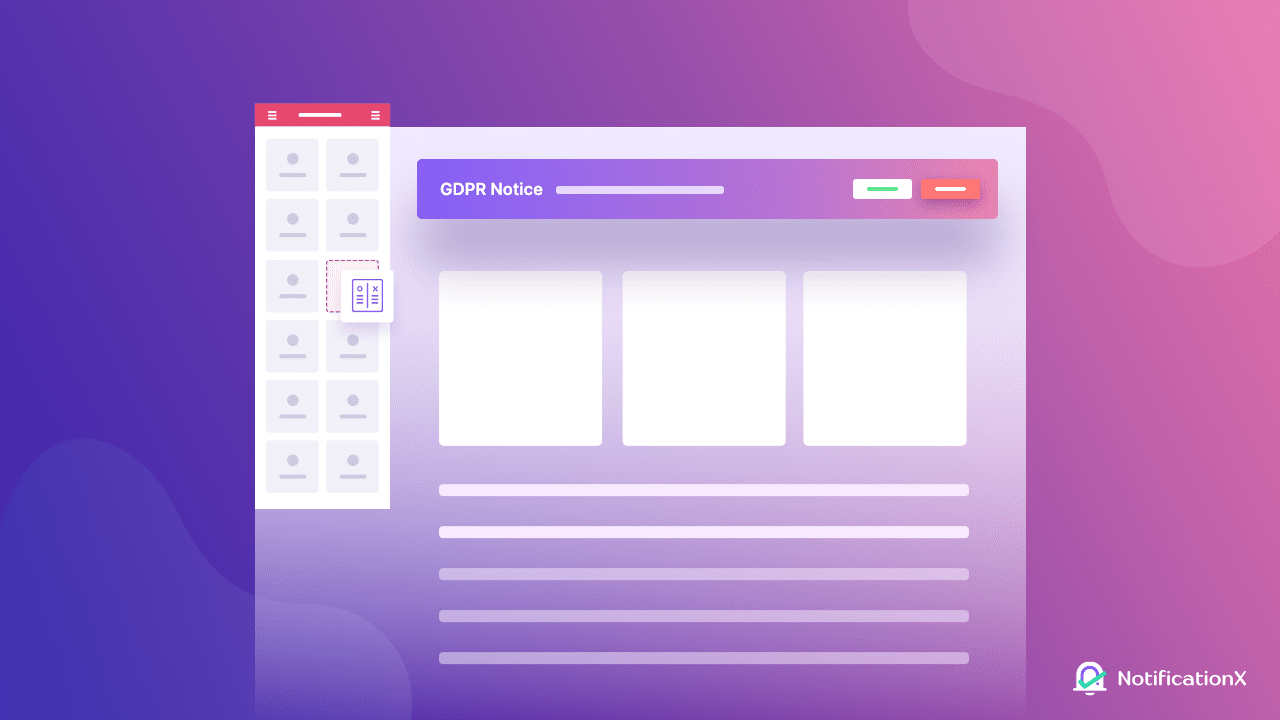 NotificationX also enables you to display GDPR cookie consent notice for the notification bars you create using Elementor. With the help of this useful feature, you ask permission from customers to collect and store their data and gain their trust further.
🎯 Configure 'Random Order' To Easily Manage Multiple Notifications
NotificationX 2.0 PRO also introduces you to the premium 'Random Order' feature for most notification sources. If you have multiple notifications configured on your WordPress website, you can easily enable this feature to randomize the order in which the notifications are displayed.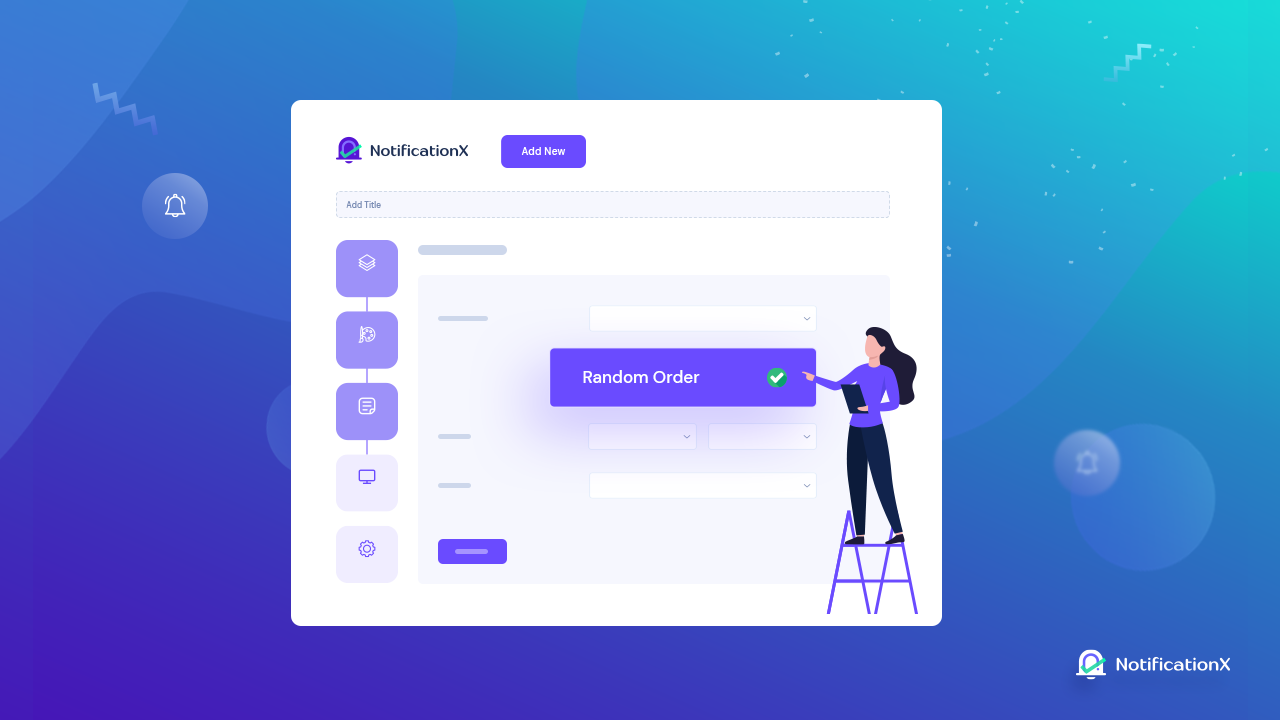 And with that, we conclude our list of some of our most significant and popular new features, the revamps and updates, powerful improvements, and minor fixes introduced with NotificationX over the years. 
There are many more advancements that we have already brought and are still planning to develop in the future. If you want to learn more about this powerful plugin, check out this blog and take your business to the next level. 
Boosting Conversion Rates For 30,000 Rising Businesses
Reaching 30K active installations in such a short time is a major achievement for our team here at NotificationX. We are extremely grateful to each one of our happy users for helping us reach this incredible milestone. Thank you for being a part of this incredible journey so far, and using this ultimate FOMO marketing tool to boost conversion rates on your website. 
We have many new features and improvements planned for the future of NotificationX. We hope you'll stick around or become a new member of our growing community as we continuously try to bring more content sources, advanced features, and improvements if you're not already.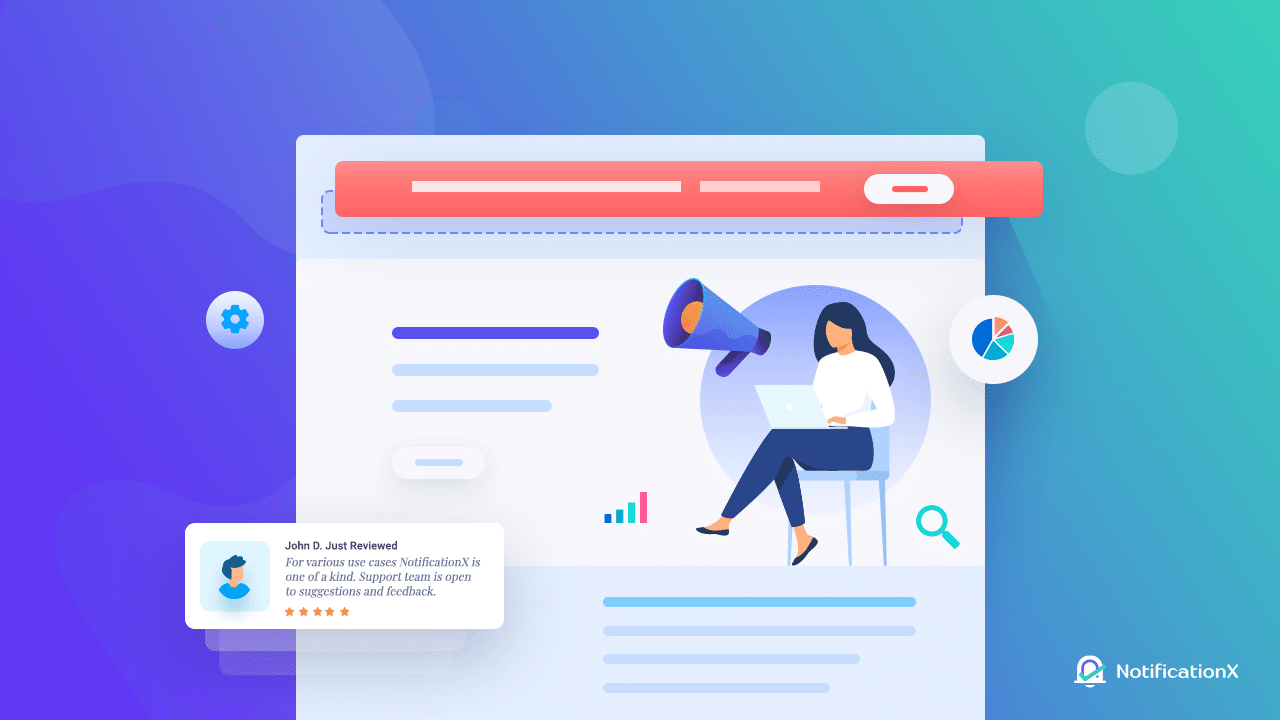 🎁 Grab Exclusive Offer To Celebrate This Happy Moment
Try out NotificationX 2.0 PRO to get access to all the premium features and boost conversion rates with a whopping 30% discount on our Business plan or Lifetime Unlimited plans. Simply use the coupon code 'NX30K' during checkout and skyrocket conversion rates on an unlimited number of WordPress websites.
If you have any suggestions or integration requests, please let us know in the comments below or reach out to our support team; we would be happy to know your feedback. Subscribe to our blog or join our friendly Facebook Community for more updates, tutorials, and tips and tricks.