Have you been using NotificationX to skyrocket your websites' engagement rates? Then you will be delighted to know that we have just released our latest update – NotificationX 2.0, to help you take your social proof marketing to newer heights. You'll get everything you need to boost your website's ranking and credibility with unmatchable query optimization, a completely revamped user interface, and much more.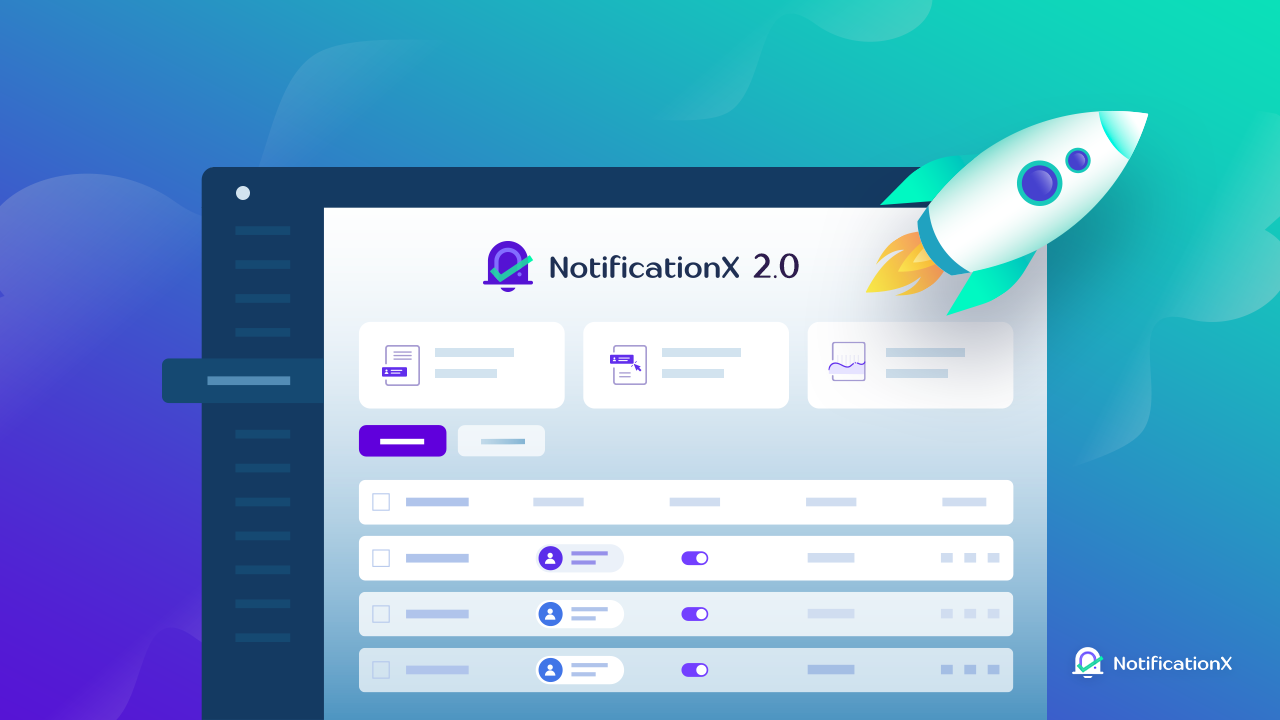 NotificationX is the ultimate social proof & FOMO marketing tool for WordPress and has always aimed to boost your website's growth and conversion with its perfect FOMO marketing strategies. Now, with its latest updates, this robust API-based application hopes to take your WordPress website's social proof and credibility to newer heights.
From a rebuilt code structure that ensures better performance and improved experience with maximized query optimization, a revamped user interface, to minor fixes and more, NotificationX 2.0 comes with many updates and improvements. So, without further ado, let's dive in and take a closer look.
A Revamped User Interface For Improved Experience
NotificationX 2.0 targets to enhance your user experience more than ever before. And so, it brings you a completely redesigned and revamped user interface for better performances, faster loading time, and smoother, easier navigation.

This time, we have switched to ReactJS to rebuild our entire plugin interface, while using WordPress's default REST API. As a result, the performance of NotificationX 2.0 has improved massively and the different sections and tabs of the revamped user interface load instantly with each click.
The revamped user interface is incredibly easy to use and user-friendly, too, so that you can navigate through the steps of designing stunning notification alerts effortlessly. The settings page with all of its different tabs has all got a revamped design as well, making it easy for you to navigate through. In just a few steps, you can get your website running with outstanding popup notifications and engage users.
A Redesigned Quick Builder To Create Notifications Instantly

The Quick Builder lets you save time and boost efficiency by creating stunning notification alerts with just a few clicks. And this time, with NotificationX 2.0, we have revamped and redesigned our Quick Builder to help you with the navigation even further.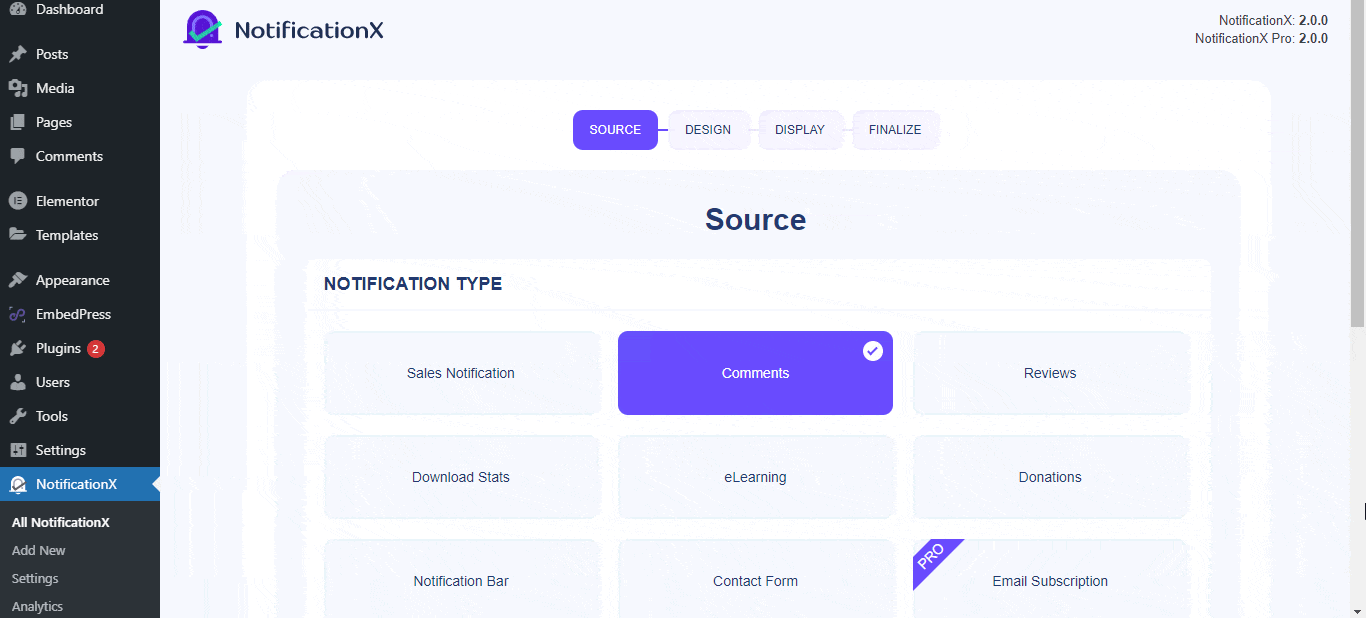 When you create notification popups with the Quick Builder, you'll get access to a completely revamped 'Source', 'Design', 'Display', and 'Finalize' tab. With 4 easy steps, your popup alert will be ready to be published on your site.
Query Optimization For Maximum Performance Improvement
Previously, NotificationX was developed while using the default custom post types offered by WordPress. But it would result in a number of metas being created at times which would then lead your MySQL database to go down or crash.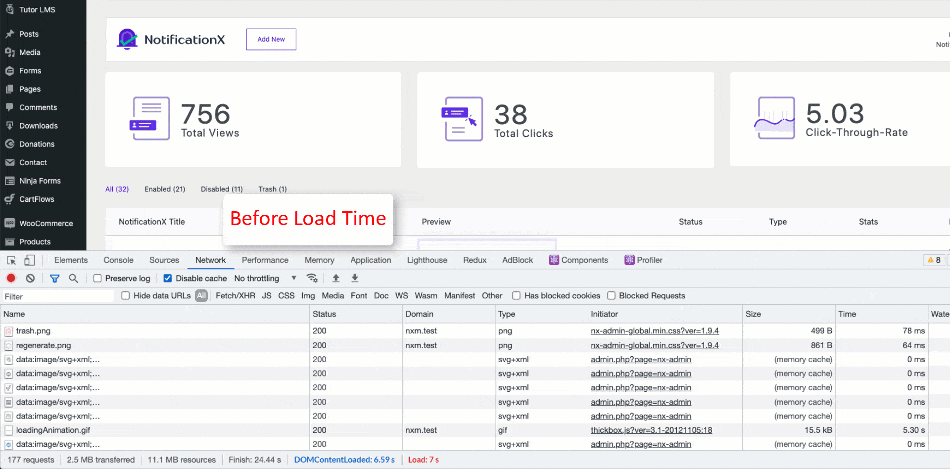 If you take a close look at the image above you'll be able to see the load time for NotificationX before 2.0 and what it is now. While it was quick earlier as well, we thought the load time is still not fast enough and could be improved much more. So with NotificationX 2.0, we decided to look further into this matter and maximize our query optimization.
With the introduction of NotificationX 2.0, we have created new tables in database for NotificationX.  Now with our query optimization & removal of duplicate queries, the load time of NotificationX 2.0 has reduced massively and it is evident by the much faster response times.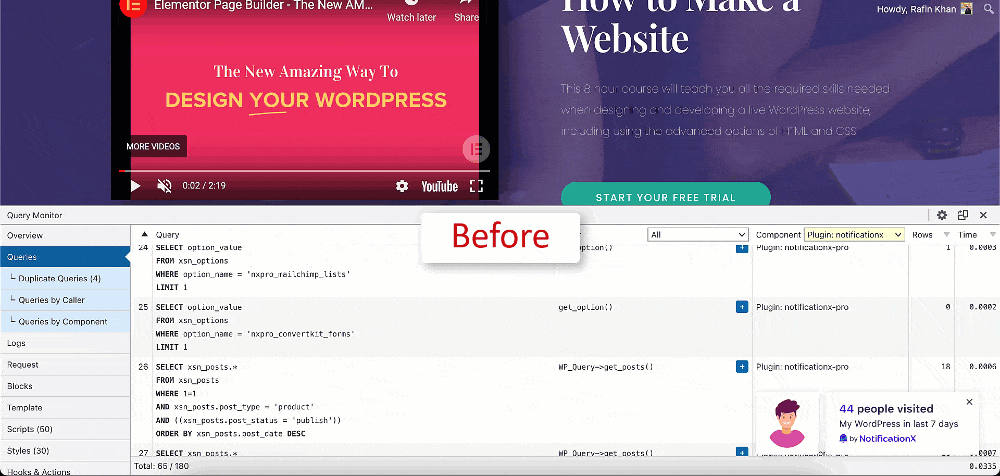 Along with this, we have also seen major improvements in the frontend of the websites when the notification alerts load. From the image above, we can clearly see how much the queries have been optimized with the latest update of NotificationX.
Both the number of queries and the load time for the notification alerts on the frontend have decreased. As we can see from the image below – there are fewer requests and a much faster load time with NotificationX 2.0.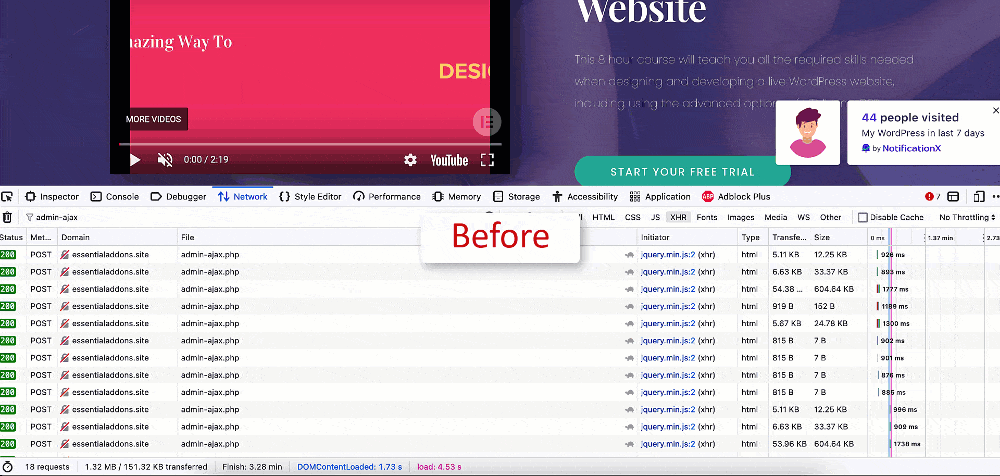 A Robust API-Based Application For Faster Response Time
With the improvements made to the code structure of the plugin, NotificationX 2.0 has become a totally robust API-based application now. We have also reduced the server-end process to get a faster response and make NotificationX completely robust so that users like you can instantly create notification alerts and boost your website's social proof, without delay.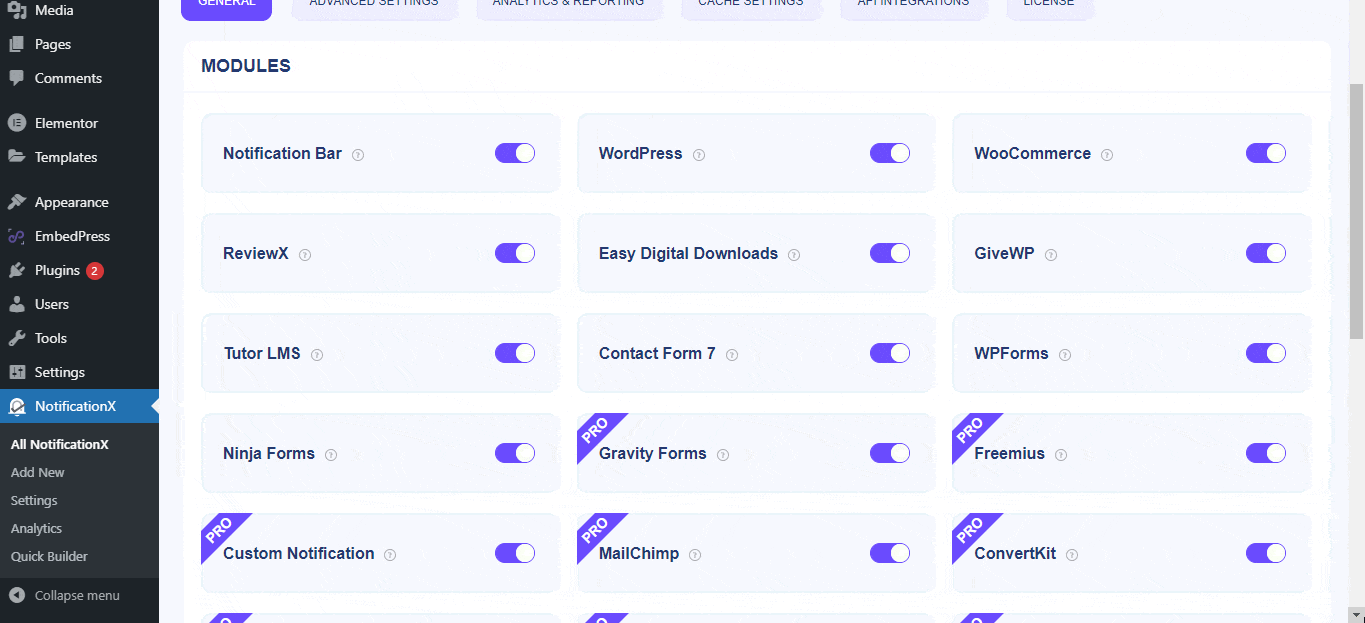 Since NotificationX 2.0 has become a lightweight, robust API-based plugin from the recent updates, we now have total flexibility to insert data through integrations with third-party platforms or sources in the future. All you have to do is enable the corresponding sources from the 'General Settings' page and insert the API KEYs in the 'API Integration' page. 
Currently, NotificationX 2.0 offers more than 15+ integrations with third-party platforms and sources. Besides this, in terms of the development process, we can bring new integrations quite easily from now on as well in the future without any development hassle. 
Seamless Performance With Many Improvement & Fixes
While we are continuously trying to bring you new features and sources, we have also tried to fix all bugs and issues that you might have encountered with NotificationX previously. Our aim is to give you the easiest and most efficient ways to create stunning popup notification alerts, and therefore, we have tried to bring some major improvements. Let's take a quick look at a few: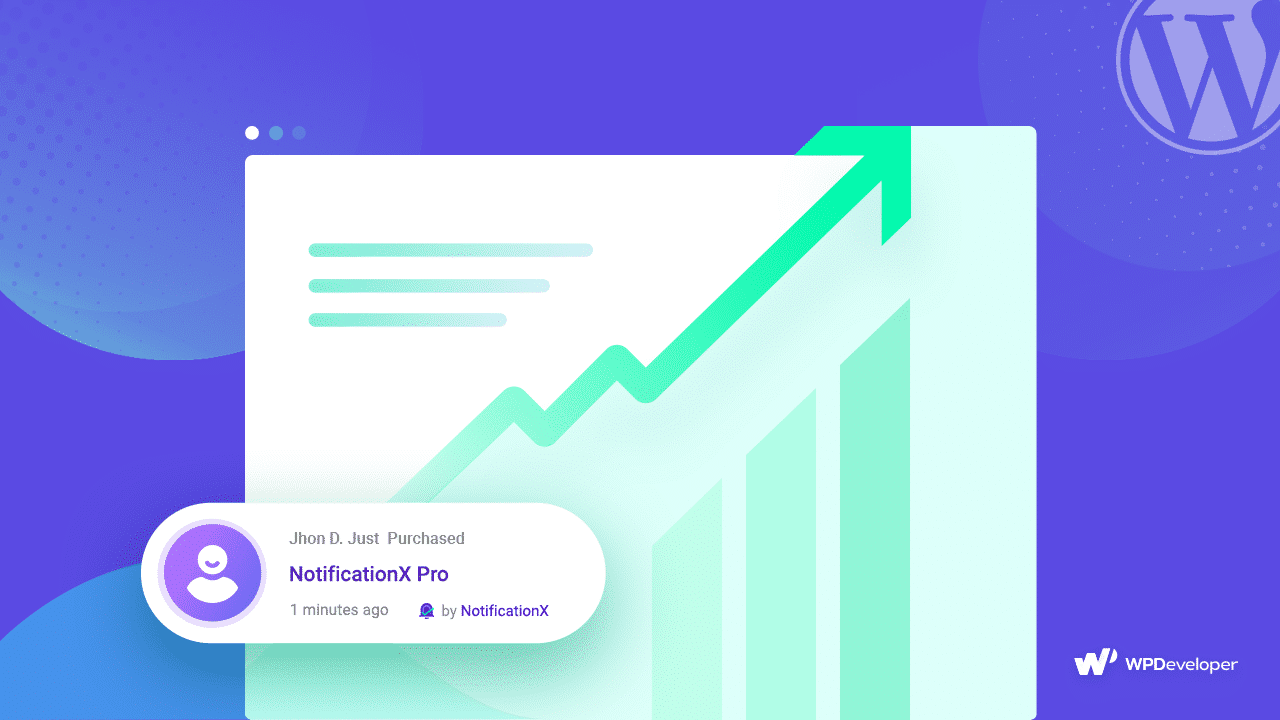 🎯 As mentioned earlier, we have completely revamped the NotificationX plugin to improve its performance. So, if you have ever had any problems with your dashboard slowing down or faced any timing issues while displaying the popup alerts, worry no more. All of these issues have been looked into and fixed to ensure you get a seamless performance with each use. 
🎯 We were made aware that the notification alert for WPForms was not showing properly after submission through AJAX. This time, with NotificationX 2.0, we assure you there will be no such problems.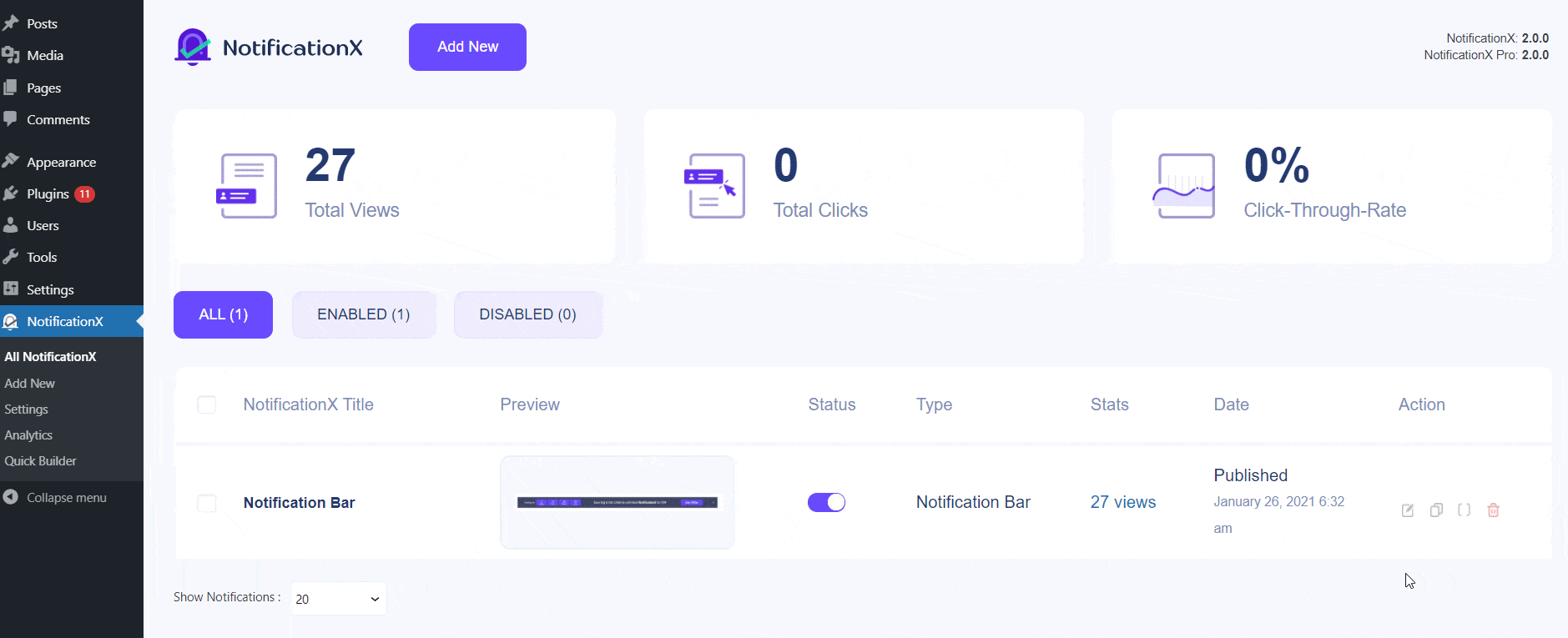 🎯 NotificationX PRO enables you to monitor the performance of your social proof marketing campaigns. It brings you a built-in analytics tool to help you get insightful data on how many visitors have seen your notification alerts, your click-through rates, and more in a beautiful graphical layout. 
With NotificationX 2.0, we ensure proper and accurate counts and updates for each view of your notification alerts and clicks with our built-in analytics tool.  

🎯 NotificationX Pro also lets you seamlessly manage multiple notification popups on your WordPress website using the 'Global Queue Management' option. Enabling this feature lets you display different types of notification alerts in the same section of your website without having to worry about setting up their timing. 
Now, you can instantly enable this premium option for 'Custom Notification Alerts' without a worry of any issues. Regardless of how many custom alerts you create on your website, they will all be displayed smoothly, one at a time with the 'global queue management' feature.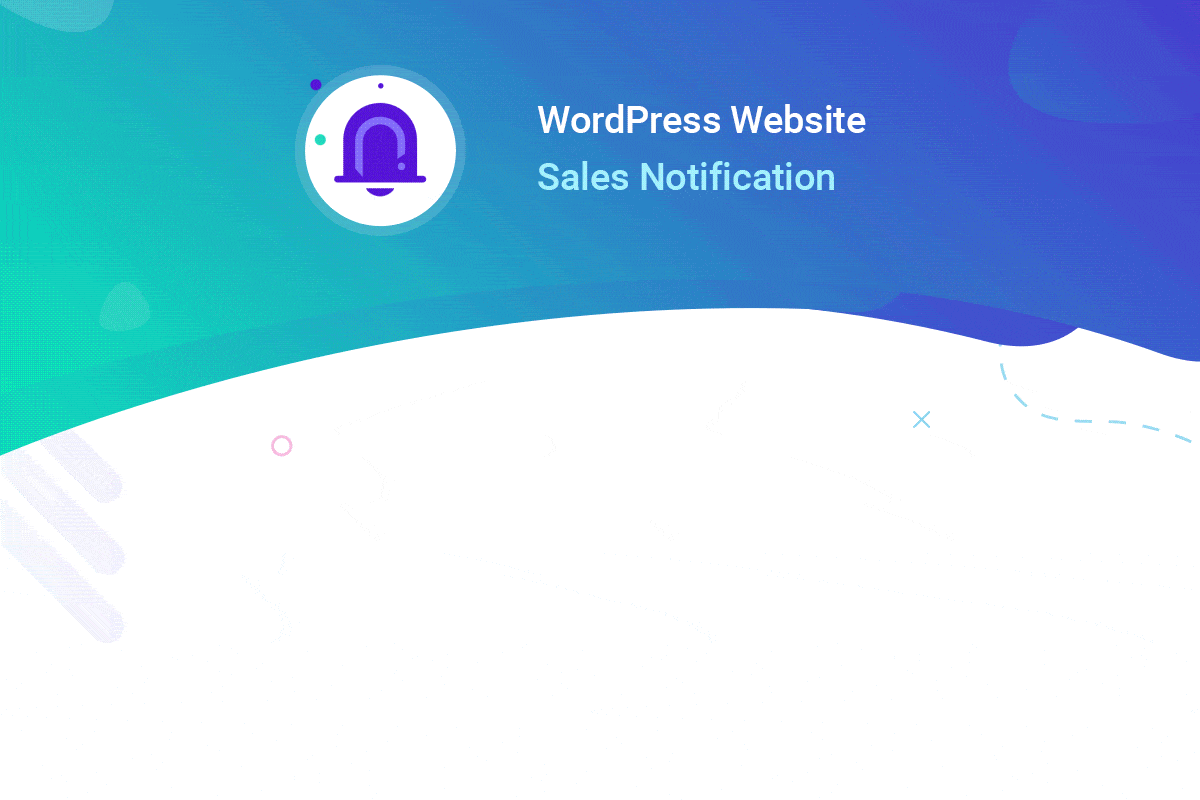 🎯 With NotificationX, you can easily design and modify fascinating notification bars with the Elementor page builder with ease to display important notices or special offers on your website to grab your visitors' attention immediately. 
With NotificationX 2.0, we wanted to provide you with more flexibility, and therefore, we have introduced 'Countdown Timers' for notification bars with Elementor, which you will find from the 'Content Tab'. You'll also get the option to turn on a premium 'Evergreen Timer' feature to make the best use of FOMO marketing strategies. 

🎯 NotificationX 2.0 PRO also introduces you to the premium 'Random Order' feature for most notification sources. If you have multiple notifications showcased on your WordPress website, you can easily enable this feature to randomize the order in which the notifications are displayed. 
And with that, we conclude our list of all new features, revamps, major improvements, and minor fixes for NotificationX 2.0. If you want to learn more about this powerful plugin, check out this blog and take your business to the next level. 
Skyrocket Your Website's Conversions By Upgrading To NotificationX 2.0
So what are you waiting for? Quickly update to NotificationX 2.0 and start creating stunning notification alerts that you can show in real-time and instantly take your WordPress website to newer heights of engagement. Subscribe to any of our premium plans to get access to all advanced features and sources instantly. 
If you have any suggestions or want to see a source of your preference as our new feature, please let us know in the comments below or reach out to our support team; we would be happy to know your feedback. For more updates, tutorials, and tips and tricks, subscribe to our blog or join our friendly Facebook Community.