If you are running an online store, getting the right amount of traffic to your website and boosting conversions can be a challenge. But with WordPress marketing plugins like NotificationX, growing your business can be made much easier. 
Today, we are thrilled to announce that more than 20,000 eCommerce businesses are using NotificationX to increase their sales.
This is a very important milestone achievement for our team, and we are truly grateful for the support we have received from the community. And to celebrate, we have an exclusive surprise for you at the end of this post! 
But before that, let's take a quick recap on our journey so far.
Helping Businesses To Grow With FOMO & Social Proof
NotificationX is brought to you by WPDeveloper, the same team behind popular WordPress products like Essential Addons for Elementor, BetterDocs and Templately. With more than 3 million happy users who are delighted with our products, our goal has always been to enhance your experience with WordPress by introducing innovative solutions. 
That's why we came up with NotificationX, a powerful WordPress marketing plugin that will help you skyrocket your sales and grow your website using social proof and FOMO (Fear Of Missing Out).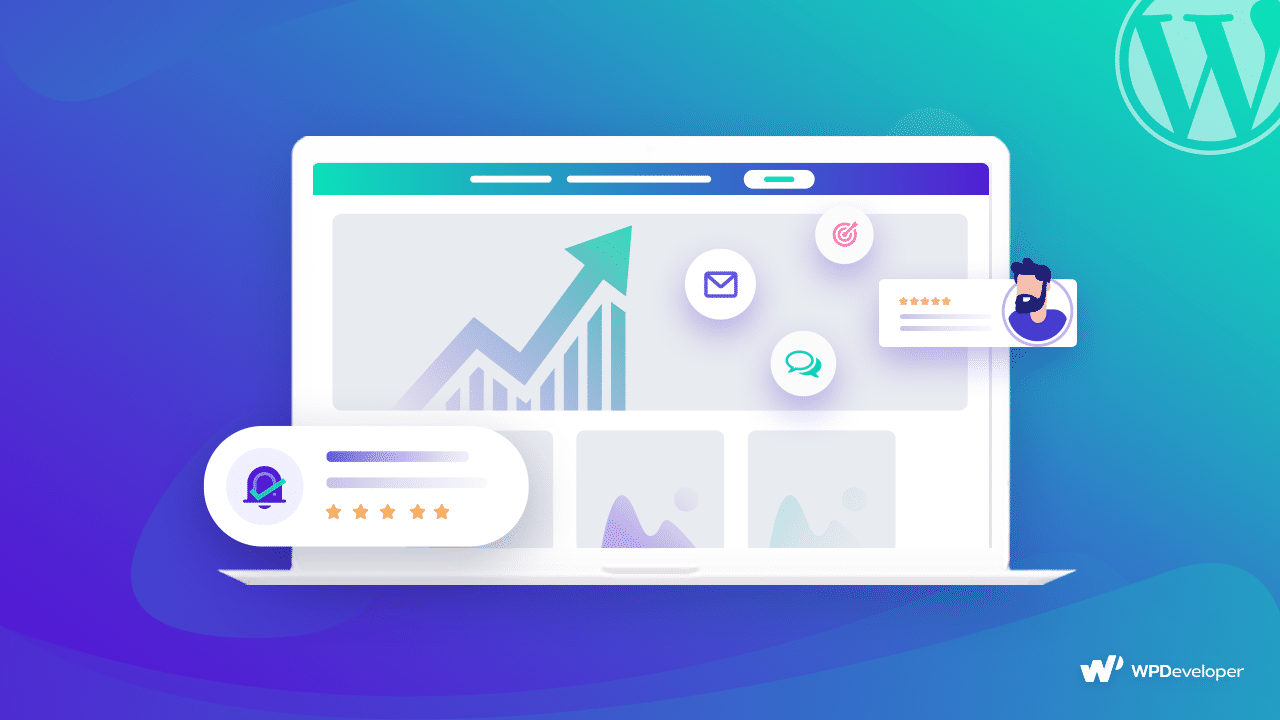 FOMO  is a psychological marketing technique that encourages customers to purchase your products by creating a sense of urgency in them and making them feel like they will miss out on a great offer. On the other hand, social proof marketing involves showing potential customers that other people are also interested in your products. 
By using these tried and tested marketing techniques, NotificationX helps you boost your sales by displaying attractive notification popup alerts every time someone makes a purchase, leaves a product review or subscribers to your mailing list, and more.
Milestone Achievement: NotificationX Is Trusted By More Than 20,000 eCommerce Businesses
Since the beginning of our journey back in 2019, we have been working hard to help eCommerce businesses and other WordPress users to grow their website and achieve the conversion rates they aimed for.
Over time, with the support of our beloved community and the hard work of our team members, we added tons of features to NotificationX, including some popular requests from the community.
Today, with the support for several different kinds of notification alerts and seamless integrations with more than 15 different WordPress plugins, NotificationX is the ultimate marketing plugin trusted by more than 20,000 eCommerce businesses. Take a look at some of these websites below.
That's not all. NotificationX has also received tremendous support from the community since the beginning of its journey. Here are some kind words from some of our happy users around the world, who are delighted with NotificationX and have been using it to grow their WordPress websites.
It's a well designed plugin that will increase the trust level on the website and boost conversions. I liked the flexibility on creating your own custom design and the multiple available choices for sources. It's straightforward, simple to use it and it does a great job!
I would say that's an amazing experience using this plugin on my website! The team behind the plugin is proactive to add more and more value and services. The plugin is pretty easy to use! I hope this would add more features with respect to E-commerce Market fit. Highly recommended for people who want to have a social proof for their customers. easy way to increase conversion
Cool plugin, works great and it is super useful even in a free version – which is not something to see around these days. Support team behind is very responsive as well.
Recognition From Top Publications In The Industry
Not only is NotificationX being trusted by more than 20,000 eCommerce businesses, it has also garnered recognition from renowned publications in the industry including Cloudways, WPMayor and many more.
If you want to experiment with notification alerts on your WordPress site, NotificationX is the slickest way I've seen. The designs are modern and nice-looking right out of the box, and I like how it supports different notification types, which makes it work for an eCommerce store, blog, WordPress theme/plugin shop, and more.
We are very lucky and honored to have been featured by these renowned names in the WordPress community. Comments and reviews like these drive our team to do better and keep trying to improve NotificationX for all WordPress users.
How NotificationX Can Boost Sales & Conversions Rates For eCommerce Businesses
Whether you are running an online electronics store, clothing store or selling digital products, you can always count on NotificationX to power up your website and boost sales with FOMO and social proof marketing.
This advanced WordPress marketing plugin helps you get the conversions you desire for eCommerce business by helping you gain the credibility and trust of your site visitors. Here's what you can do with NotificationX.
👉 Live sales popup alerts for WooCommerce, Easy Digital Downloads and More.
👉 Comment notifications for boosting engagement on your posts and pages.
👉 Review teasers and popups for WooCommerce products.
👉 Email subscription notification alerts for MailChimp, ConvertKit & much more.
👉 Seamless integrations with Google Analytics and other popular tools.
👉 Customizable WordPress opt-in bar with Call-To-Action buttons.
👉 Dynamic evergreen countdown timer to create urgency.
👉 Display downloads stats for WordPress plugins & other digital products.
👉 Showcase popups for Form Submissions Through NinjaForms, WPForms & More
👉 Built-in Analytics & Reports feature to get useful insights.
New Features With NotificationX To Skyrocket Growth
In addition to these features, we have been working hard to make NotificationX the ultimate social proof marketing plugin for all WordPress users. With this goal in mind, we have introduced several new features and updates to enhance your experience with NotificationX.
Integration With Elementor For Creating Notification Bars
NotfiicationX has always been perfectly compatible with Elementor, one of the most popular drag-and-drop pagebuilders for WordPress, so that eCommerce businesses could easily create social proof popups in Elementor.
To help you take things a step further and skyrocket your sales, NotificationX now lets you create custom WordPress notification bars in Elementor. This means you can now create beautiful, eye-catching opt-in bars for your WordPress website without any coding, and design them any way you want in Elementor.
Display GDPR Cookie Consent Notice Instantly Using Elementor
Besides being able to design your WordPress notification bar just the way you want in Elementor, you can also use NotificationX to display GDPR cookie consent notice in Elementor. This is a very useful feature for eCommerce businesses as it lets you ask permission from customers to collect and store their data.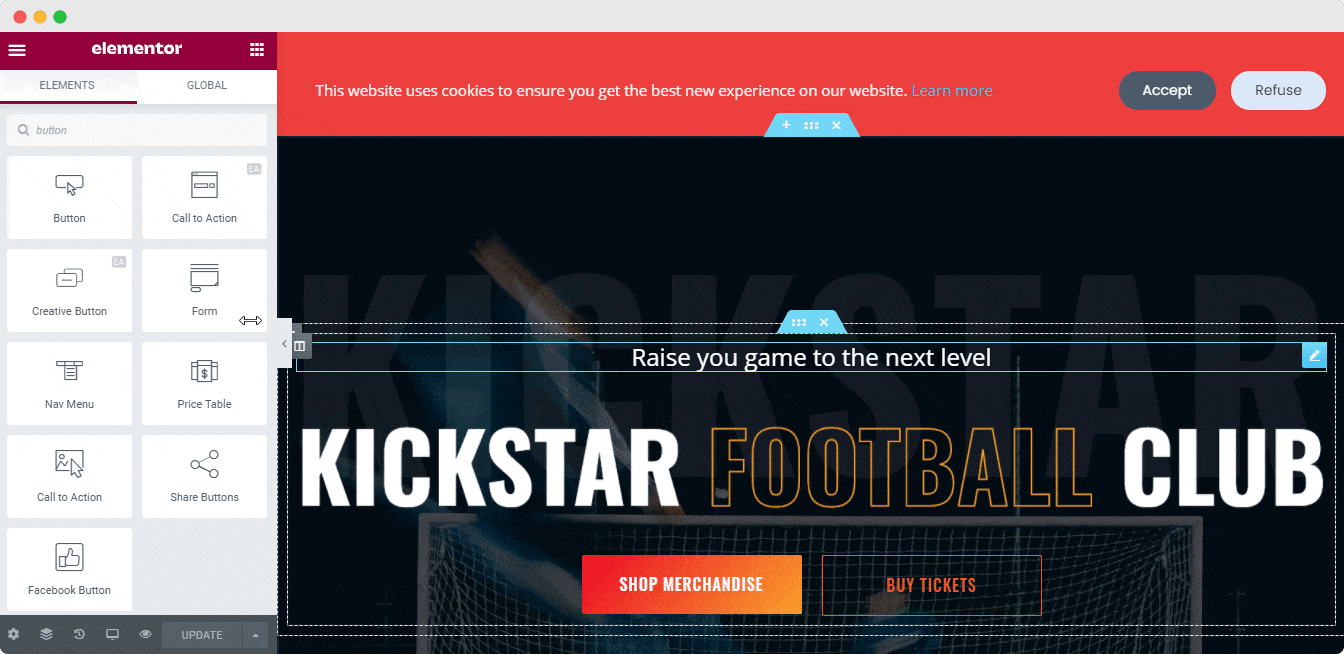 Dynamic, Evergreen Countdown Timer For Building Urgency
In addition to being able to create your own custom notification bars in Elementor Theme Builder, NotificationX Pro lets you add a dynamic evergreen notification bar to help you leverage FOMO marketing tactics and boost sales. These notification bars contain an evergreen countdown timer that displays a unique countdown time for each visitor, instead of a fixed countdown timer. You can check out our tutorial here to learn more about this powerful feature.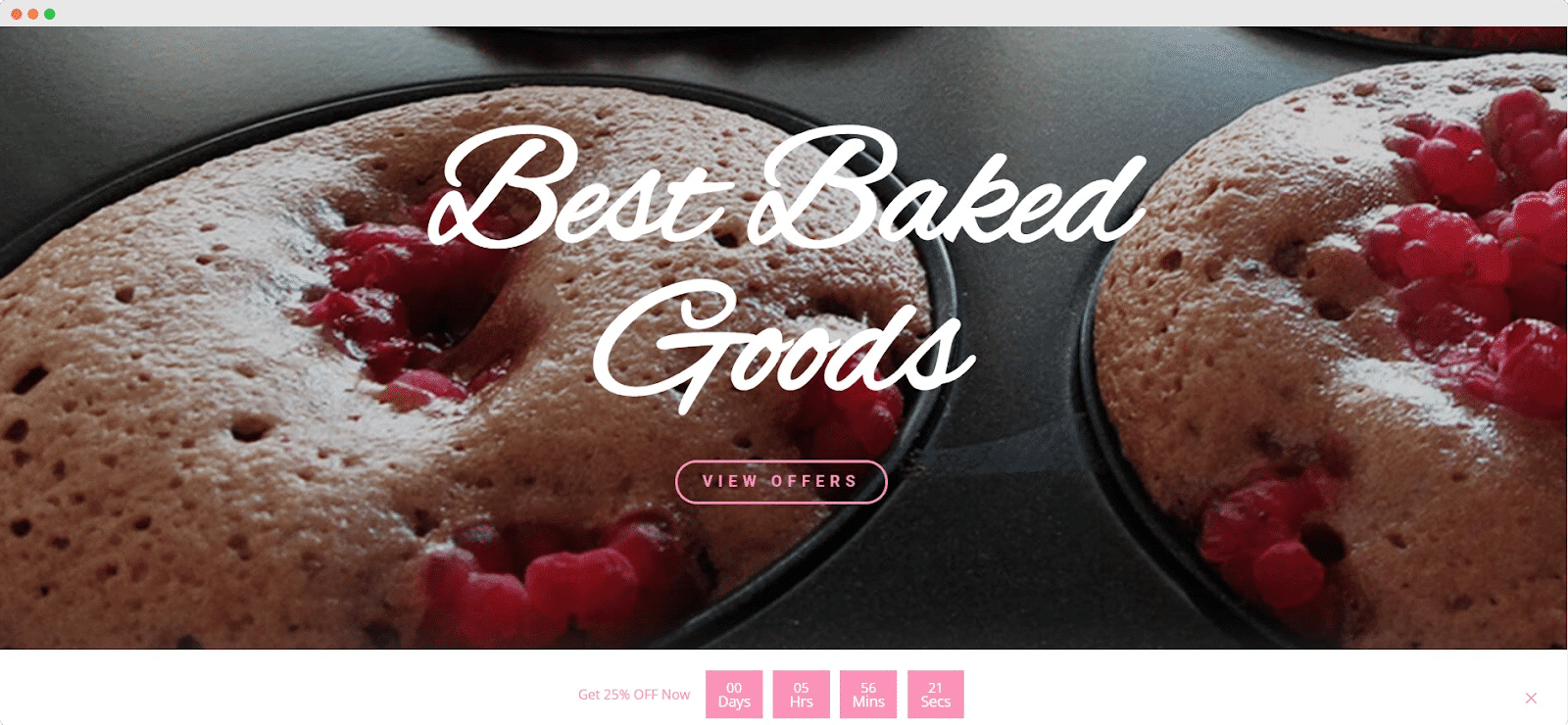 Centralized Queue Management System For Notification Popups
To give you more flexibility and help you manage multiple social proof popup alerts with ease, NotificationX gives you a centralized queue management system that you can configure easily to your preferences. This will make sure that different notification alerts do not overlap with one another, and are displayed properly in sequential order.
Power Up With NotificationX Pro & Save 20%
Ready to supercharge your WordPress website? Then grab an exclusive, limited time only discount offer on NotificationX Pro today, and save 20% on all advanced features. Simply use the coupon code "NX20" during checkout and get ready to power up your WordPress website with NotificationX. 
Take a look at what you can get with NotificationX Pro.
Seamless Integrations With Zapier, Freemius, Envato, & More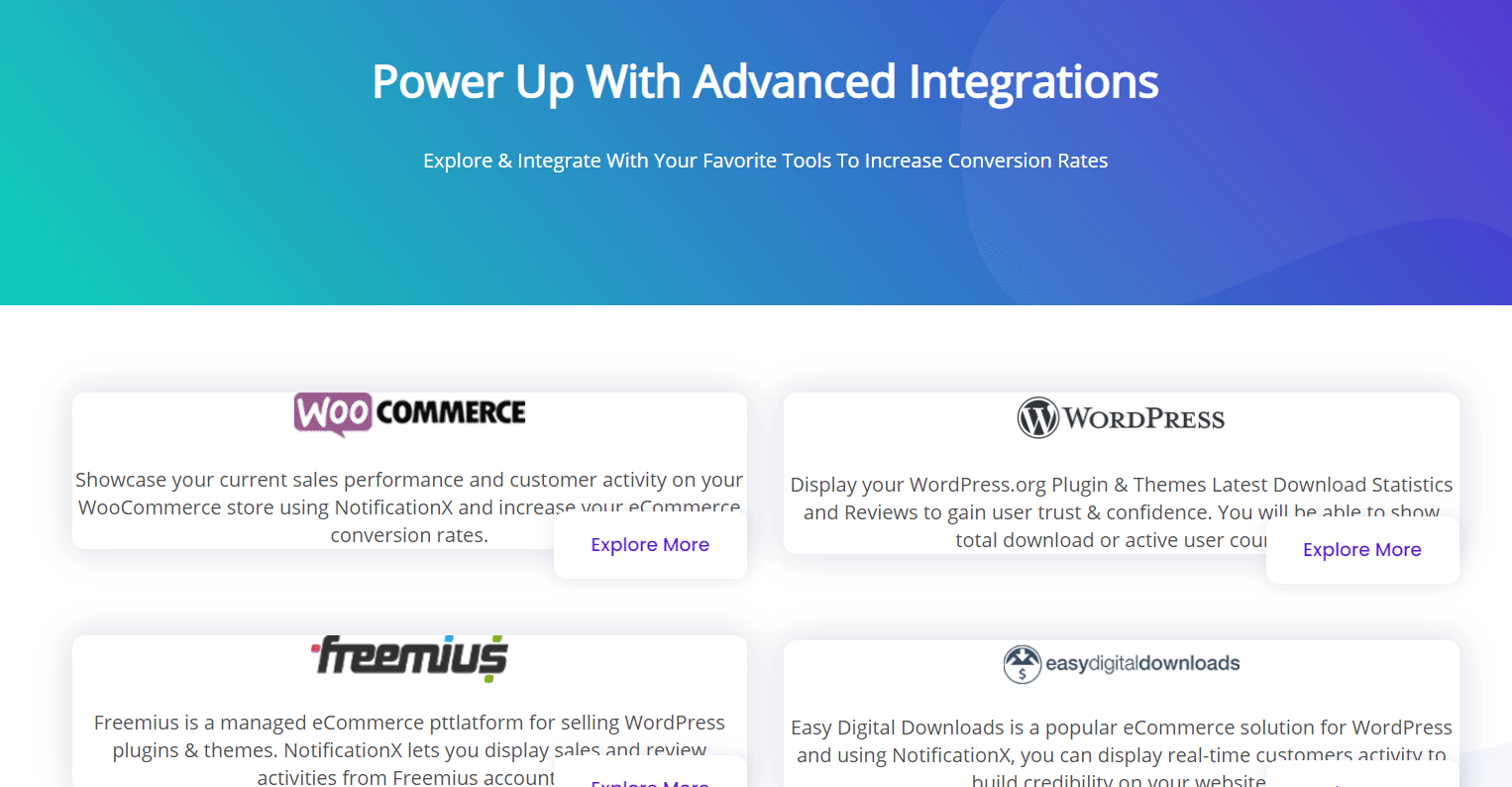 Evaluate Campaign Performance With NotificationX Analytics
Monitoring the performance of your social proof marketing campaigns is important for every eCommerce business. To help you do that with ease, NotificationX Pro comes with a built-in Analytics tool that will give you insightful data on how many visitors have seen your notification alerts, your click-through-rates and more in a beautiful graphical layout.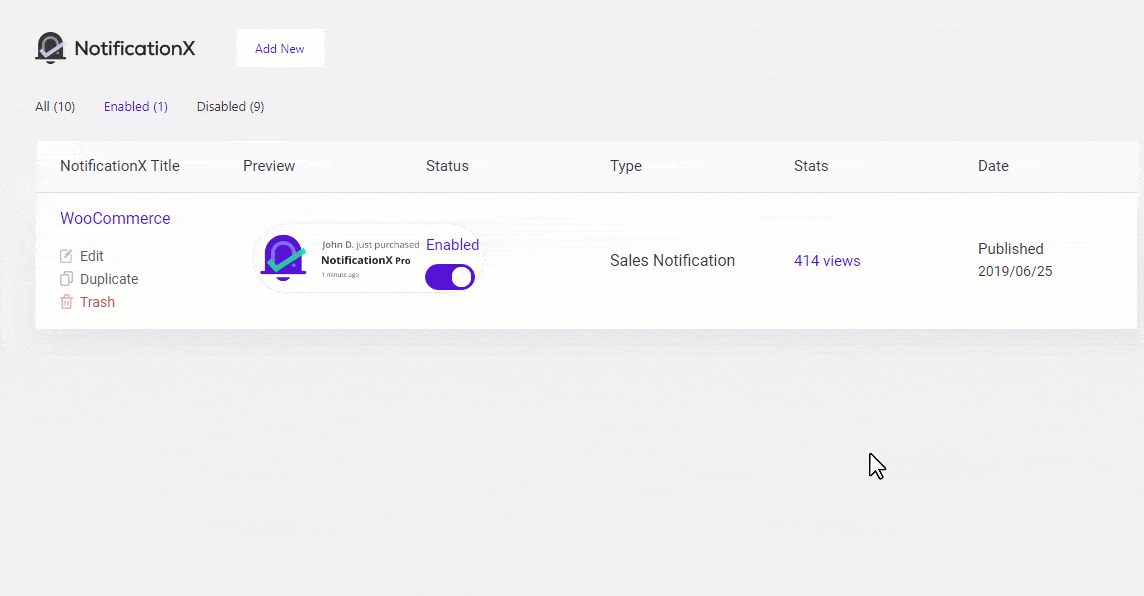 Build Custom Notifications With Sound Alerts For More Flexibility
If you want to build your own custom notification popup, you can do that in less than 5 minutes with NotificationX Pro. This will give you more flexibility in deciding how you want to make your notification popup alerts. You can also add sound alerts for your notification popups to instantly grab your site visitor's attention.
Connect With Google Analytics To Show Visitor Counts
If you want to go a step further with your social proof marketing campaigns, then you can always connect NotificationX with Google Analytics to display real-time visitor counts to your website. For instance, you can show how many people have viewed a certain page or offer on your website, and thus gain credibility and create urgency at the same time.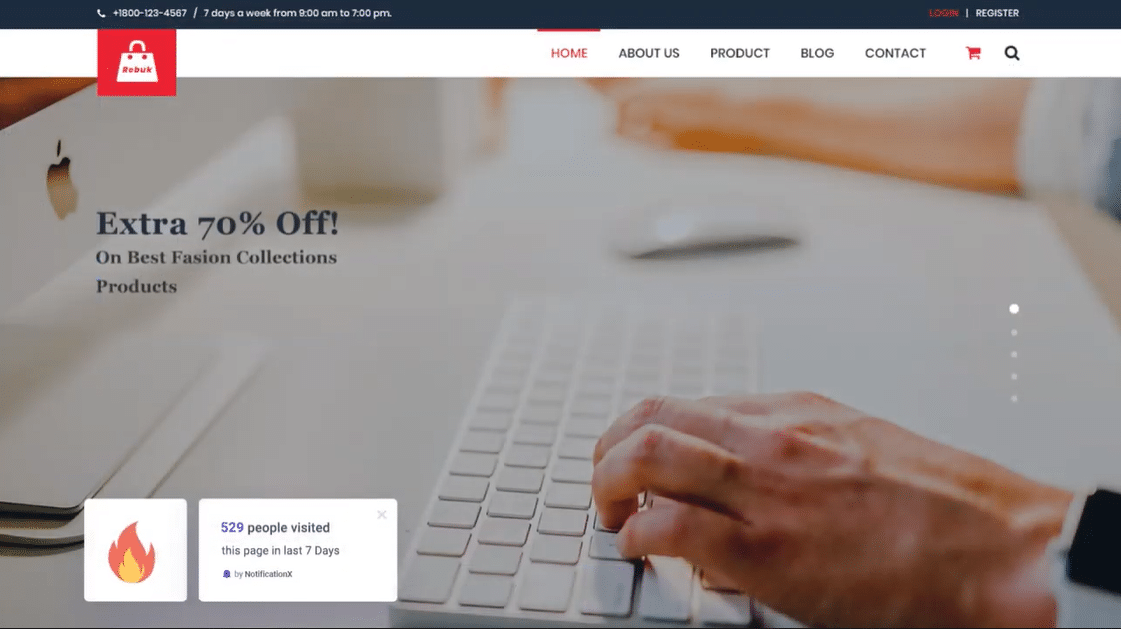 Display Custom Geolocation Based Social Proof Alerts
You can even display geolocation based data in your social proof popups to show potential customers that people from different locations are visiting your website, purchasing your products or subscribing to your emailing list with NotificationX Pro.
Want to unlock all of these features and supercharge your WordPress website? Then grab NotificationX Pro and save 20% with the coupon code "NX20".
Don't forget to share your thoughts with us in the comments below. We are always working hard to improve your experience with NotificationX, so feel free to contact our support team to let us know your feedback. You can also connect with us by joining our friendly community on Facebook.