No matter what kind of online business you are running, using attractive notification bar is a great way to boost sales for your business. With NotificationX, you can now instantly create eye-catching evergreen notification bar with a dynamic timer to showcase exclusive promotional offers to potential customers. This is an amazing technique that creates a sense of urgency in your website visitors and thus helps you boost your sales.
What Is A Notification Bar?
A notification bar is a small banner usually placed at the top of your page or at the bottom. It is used to quickly and instantly grab your visitors attention to a particular news such as a product offering, discount, sales, or any kind of notice.
Although this blog post focuses on how a website notification bar can be used for sales promotion purposes, you can also use notification bars for other things such as:
Asking site visitors to subscribe to your newsletter

Notifying customers about business hours, shipping information or other updates

Providing quick contact information such as phone numbers

Updates related to your products or services
To give you an idea of all the ways you can use notification bars, check out how these brands are using notification bars on their websites for different purposes
Why Should You Use Countdown Timers with a notification bar?
Countdown timers and notification bars are an excellent way to boost sales on your WordPress website by helping you instantly grab your visitor's attention. With a beautifully designed notification bar, you can showcase your sales promotion offers or discounts in a more creative way and display them anywhere on your website.
On the other hand, adding a countdown timer to your notification bar can help you influence your site visitors to make a purchase decision. By adding an animated countdown in your notification bar, your site visitors will know that your offer is for a very limited time only. This will make them feel a sense of urgency to quickly take advantage of your promotional offer before time runs out. This type of marketing tactic is used by many businesses, and it is known as FOMO marketing, or Fear Of Missing Out marketing. 
Evergreen Timers Vs. Fixed Countdown Timers: What's The Difference?
There are two types of countdown timers — fixed countdown timers and evergreen timers. Fixed countdowns typically display the time period left before a sales promotion offer expires. 
For example, if you are displaying a timer for a sales offer that ends on August 31st, a fixed countdown timer will only be counting down to the days or hours left till August 31st which is when your sales offer will end.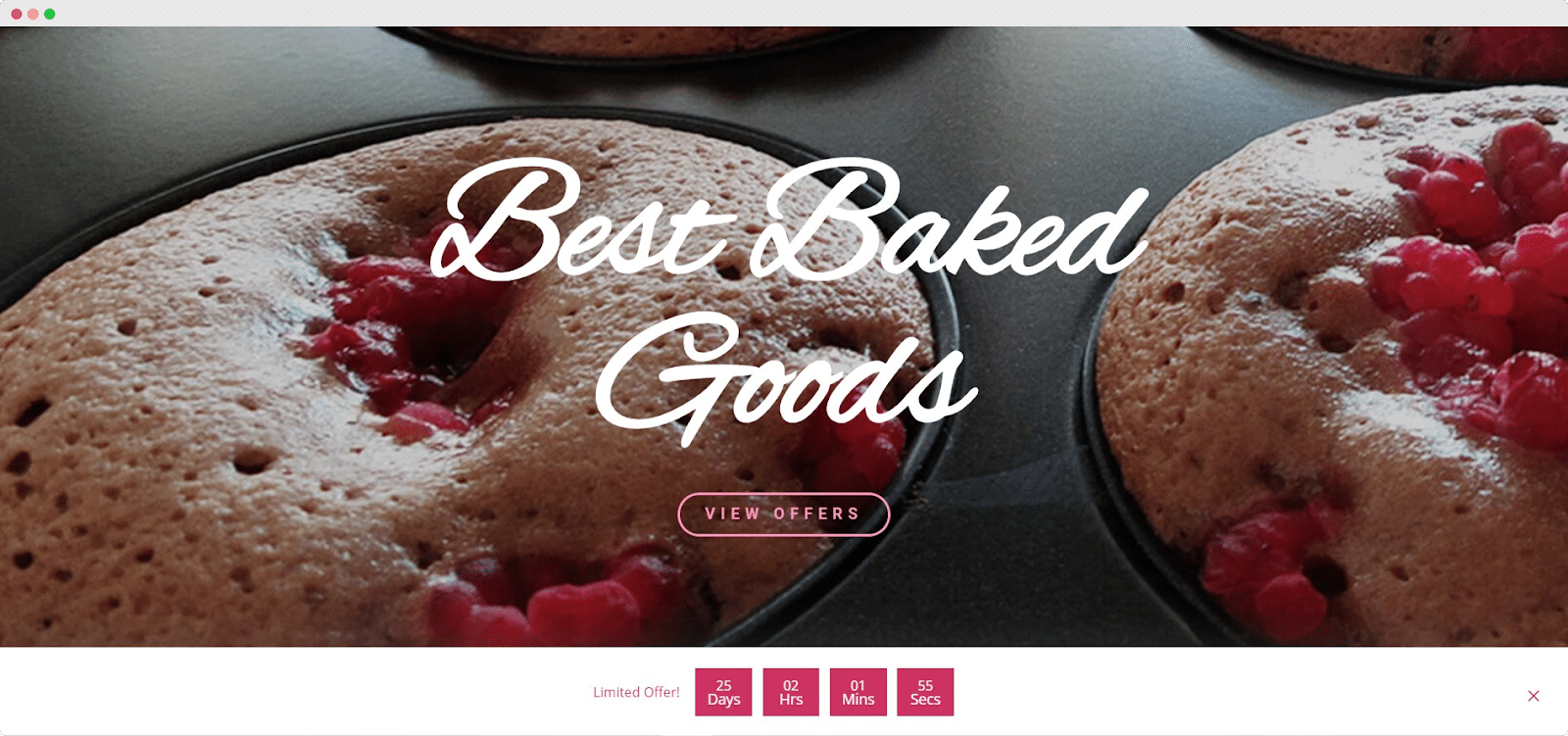 In case of evergreen timers, what happens is that it uses cookies as trackers and starts the timer as soon as a potential customer visits your website for the first time. This means that the countdown displayed will be unique for every visitor. For this reason, the evergreen timer is a powerful marketing tool, and is often called a dynamic timer.
While both types of countdown timers are great for boosting sales, evergreen timers are more dynamic and might be more useful to create a greater sense of anticipation or urgency in potential customers. So in that sense, one can argue that evergreen timers are better than fixed countdown timers. Ultimately, it depends on you and the marketing strategies that you want to use.
Creating Notification Bar In WordPress: Step-By-Step Guide
If you want to get started with creating your own notification bar in WordPress, then you're in the right place. The easiest way to do this by using NotificationX, most popular FOMO marketing solutions trusted by over 20,000 businesses powered by WordPress.
With this powerful WordPress marketing plugin, you can design and implement successful marketing campaigns, enjoy seamless integrations with more than 14 popular solutions, gain credibility for your e-Commerce store by displaying product review popups, and much more. 
That's not all, you can also display beautiful notification alerts for sales, comments and even get useful insights from the Analytics feature.
In this tutorial however, we will mainly focus on how you can create a stunning notification bar for your WordPress website by using NotificationX.
How To Create Evergreen Notification Bar On WordPress To Boost Sales
Now that you know all there is to know about using countdown timers to increase your sales, you might be wondering how you can create an evergreen notification bar on your WordPress website. It's quite easy to do actually–all you need is NotificationX and you will be able to create your own evergreen notification bar to show a dynamic timer without any coding.
Step 1: Install NotificationX PRO For WordPress
To get started, you will need to install and activate NotificationX FREE & PRO plugin for WordPress. All you have to do is navigate to Plugins→ Add New from your WordPress dashboard and type 'NotificationX' in the search bar. Simply click on 'Install' and later 'Activate'. Then you will need to install and activate NotificationX PRO to get evergreen notification bar.
Step 2: Create Your Own Notification Bar
After you are done installing and activating NotificationX, you can start creating your own notification bar which you can do by navigating to NotificationX→ Add New.
This will take you to a new page where you can choose 'Notification Bar' as your source as shown below..
Next, you can pick a design for your notification bar going to the 'Design' tab. Choose the layout and change the colors, typography, position and much more to make your notification bar look unique and attractive to site visitors.
Step 3: Configure Evergreen Timer In NotificationX
Now here comes the fun part. After you are done designing your notification bar, you need to configure the content and enable evergreen timer in NotificationX. Just head over to the 'Content' tab and check the 'Enable Countdown' box. Afterwards, toggle the 'Evergreen Timer' option to enable it
Just like that, you have enabled an evergreen notification bar to show a dynamic timer on your WordPress website using NotificationX. You can further configure the content of your evergreen notification bar by adding countdown text, changing the time rotation, set up random times for your countdown, a daily time reset and much more.
When you are done you should be able to see a stunning evergreen notification bar with a dynamic timer on your website. Isn't it amazing?
As you can see, it takes no time at all to create an amazing evergreen notification bar to show a dynamic timer and boost sales if you have NotificationX. We hope you find this tutorial helpful and easy to follow. For any difficulties, don't hesitate to contact our support team for further assistance or join our Facebook community to connect with other WordPress users.