Com NotificationX PRO, you can easily display Google Reviews on your WordPress site to increase your online credibility. On your WordPress site, you can generate beautiful Google Review popups to keep your site visitors engaged. Check out the guideline below to see how to display Google Review alerts using NotificationX on any WordPress site.
Nota: Assegure-se de ter collected your API key from Google Console. For more follow this documentation. 
Configure Google Reviews With NotificationX #
Now follow these steps to easily integrate Google Reviews with NotificationX. Here you can get the newest 5 Google reviews or the most relevant ones as per your wish.
Step 1: Go To the 'Settings' From Dashboard #
Assegure-se de ter installed & activated the NotificationX Pro plugin on your WordPress website. If you have already done it, you are then all ready to explore the Google Review alerts easily. From the 'Configurações' tab, you have to enable 'Google Reviews'.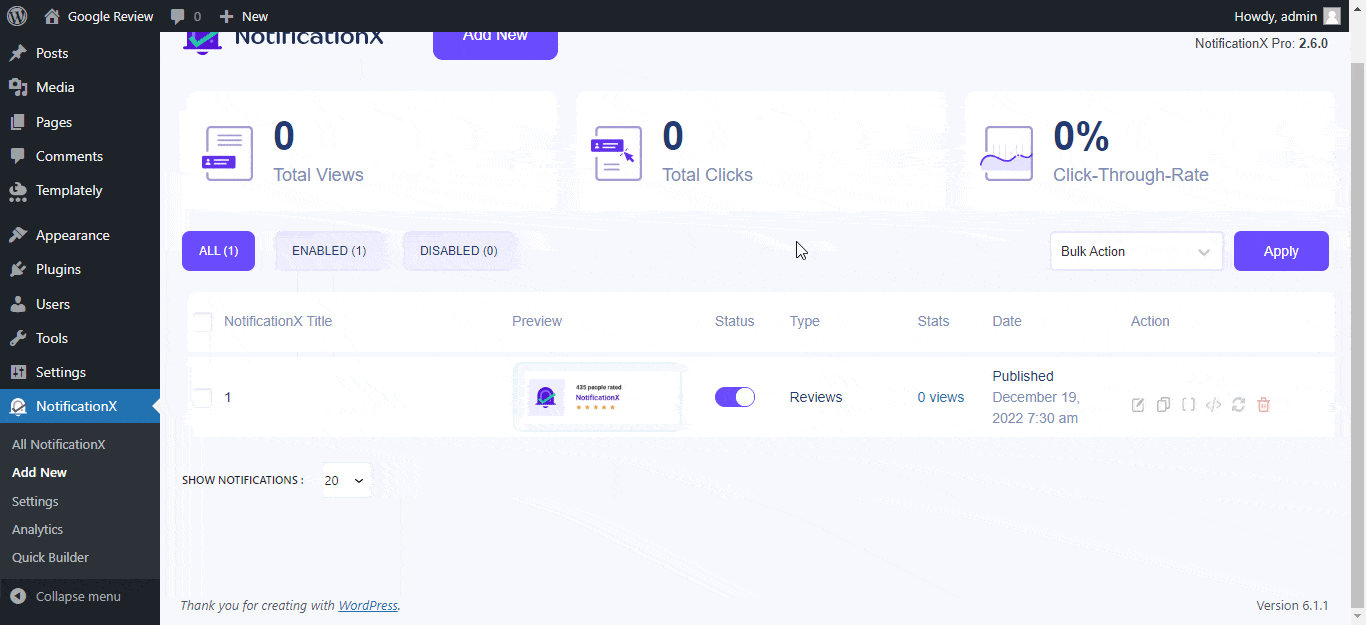 Step 2: Validate Google Review API Key #
Now the API key you have gotten from the console, we have to integrate and validate it with NotificationX. Go to the 'API Integration' page, paste your key and click validate. 
Step 3: Go To The 'Add New' From Dashboard #
Now you have to add alerts from the dashboard. Navigate to Notifications→Add New, from there click on 'Avaliações' and choose Google as your source.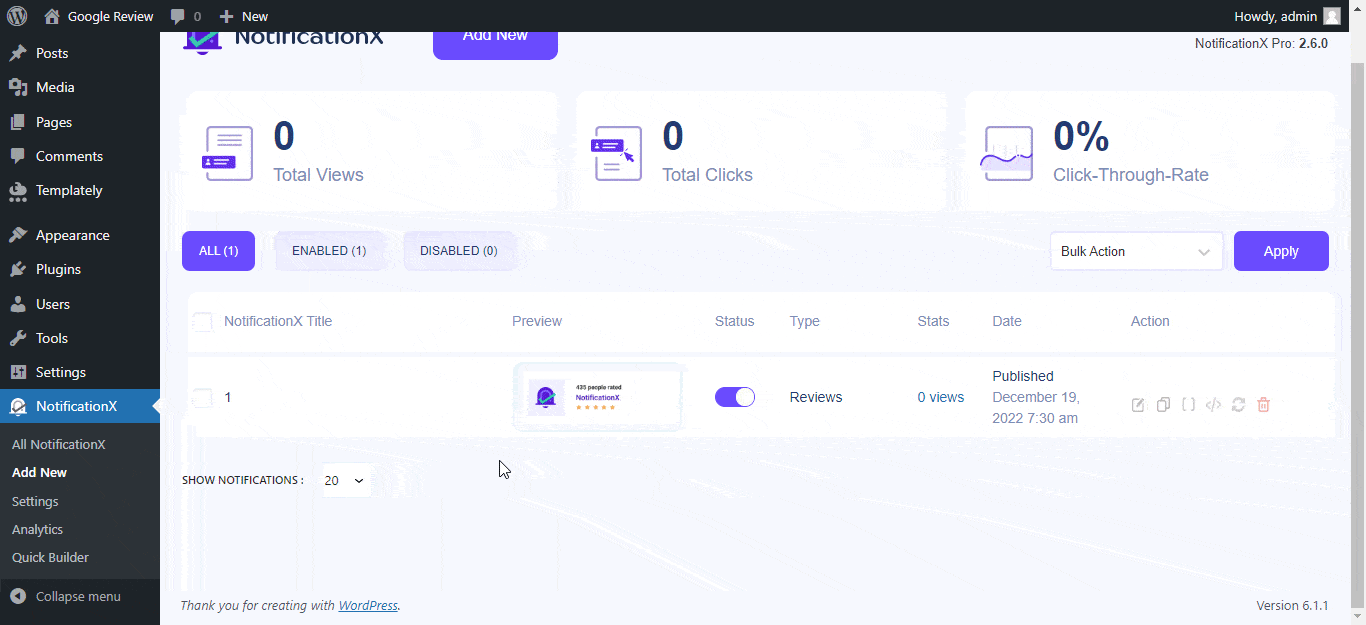 Step 4: Choose Google Review Theme #
De 'Projeto' escolha qualquer tema de notificação que você deseja. Se você habilitar o 'Design Avançado' opção você pode ajustar o formulário 'Cor de fundo', e 'Cor do texto'com infinito'Fronteira' opções de personalização. 
Debaixo de 'Tipografia' você pode definir seu tamanho de fonte preferido para os textos. Além disso, você pode personalizar o posicionamento de suas imagens facilmente.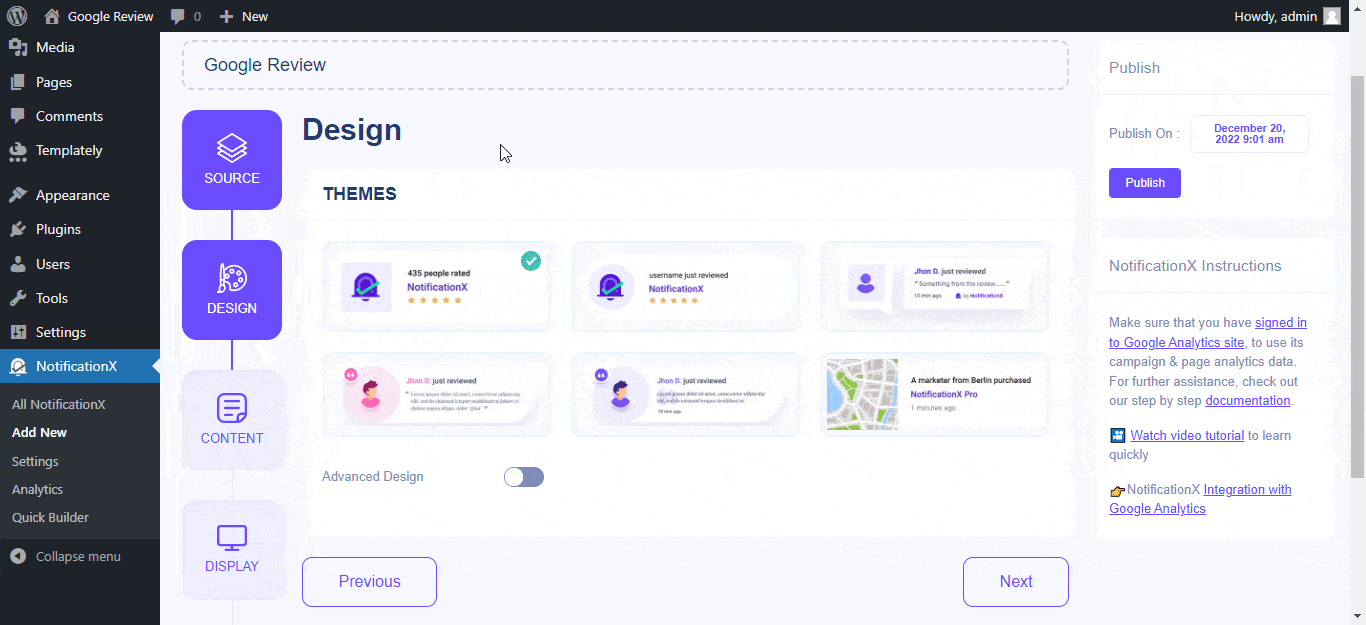 Step 5: Set The Google Review Content #
To change your review content, go to the 'Conteúdo' tab and you will have many advanced options to customize your review. From there you can select your Review and customize the Notification Template. In the Place Name field, set your desired location and Google will automatically detect the area. You can easily sort out your reviews based on 'Most Relevant' ou 'Newest' reviews. 
If you enable the 'Modelo Avançado' option you can manually add attributes to your review. Activate the 'Random Order' option to display notifications in random order.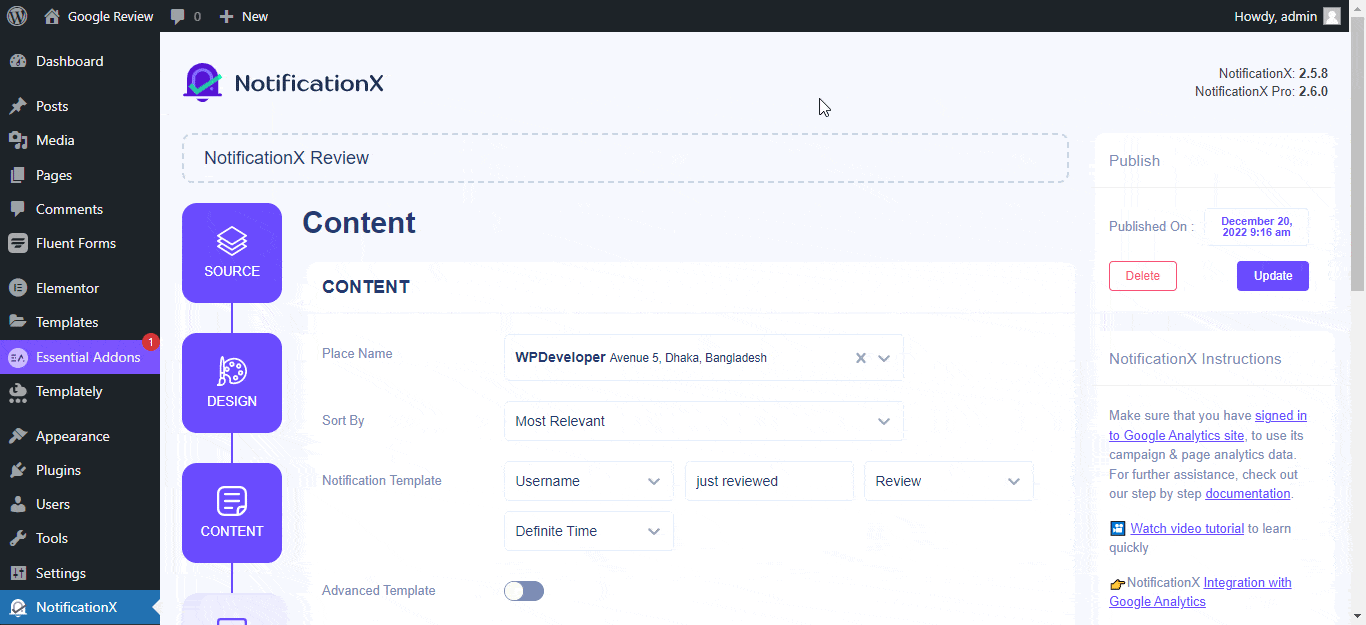 Step 6: Customize The Google Review Display #
Debaixo de 'Exibição' tab, you can either upload any image or showcase the default images. You can set the visibility of your notification anywhere you want with proper display conditions.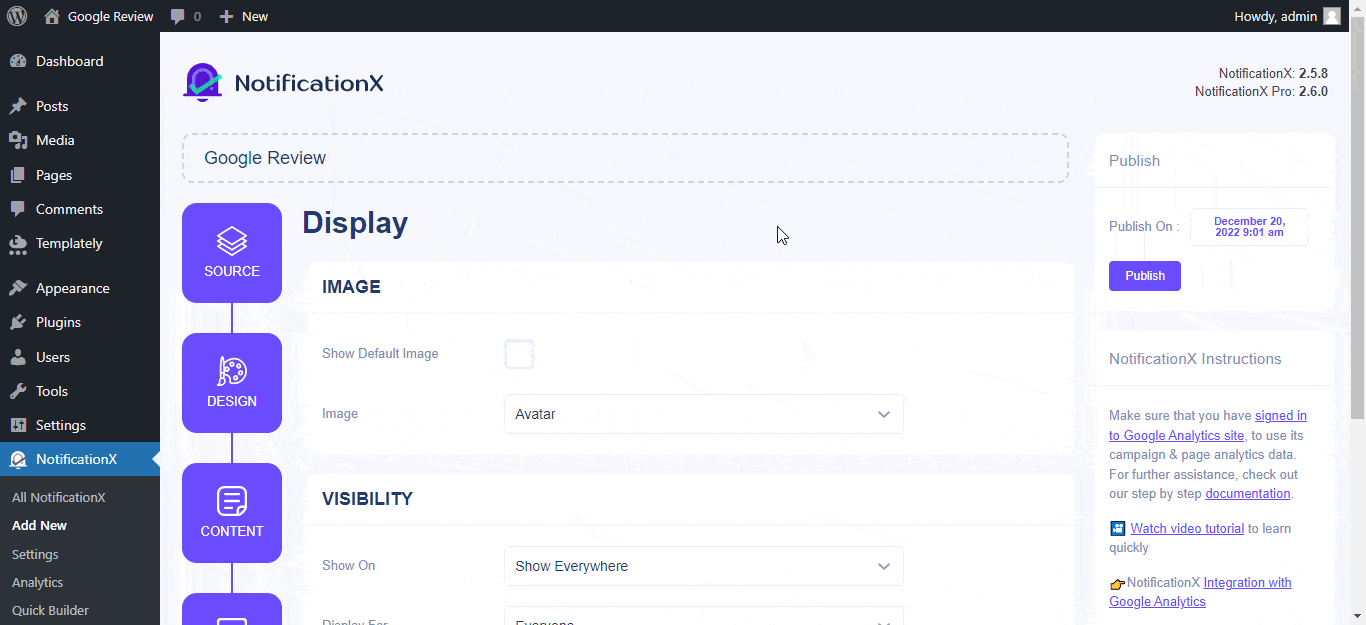 Step 7: Configure The Google Review Settings #
De 'Customizar' tab, you can change your Google Review 'Aparência', 'Gestão de filas', 'Cronometragem', 'Sound Settings', etc com facilidade.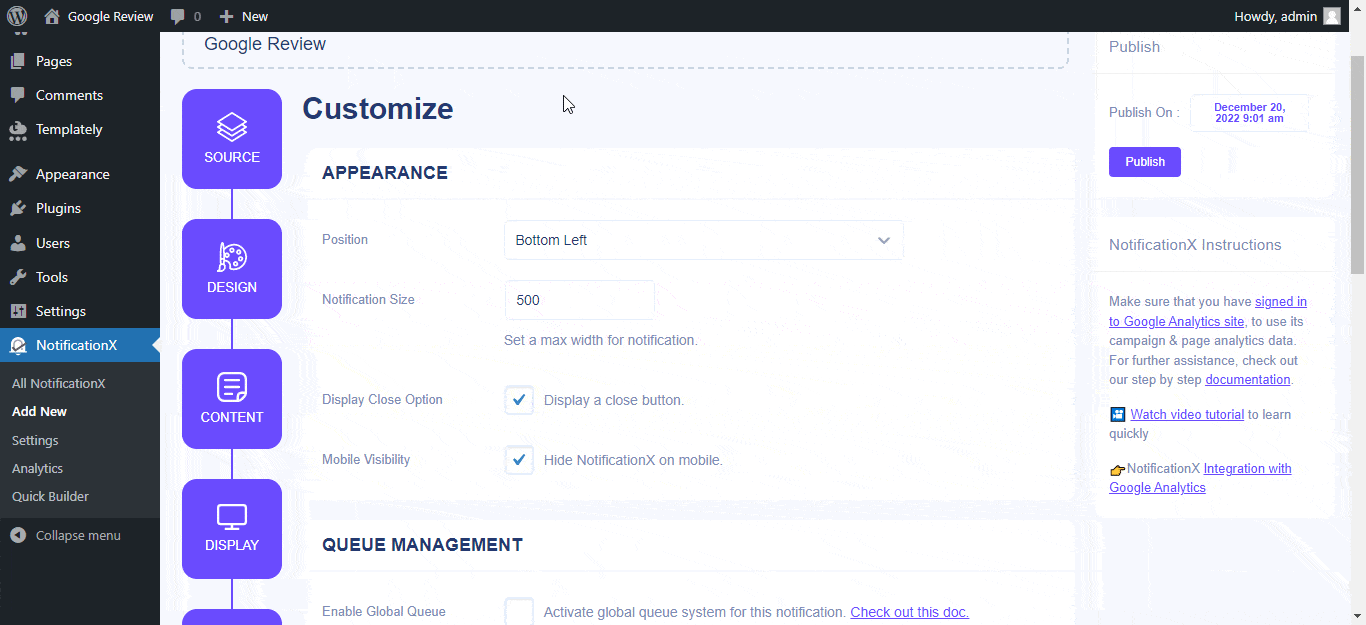 Resultado Final #
By following these mentioned steps and a bit more modifying, this is how you can display single, or multiple, Google Review alerts using NotificationX.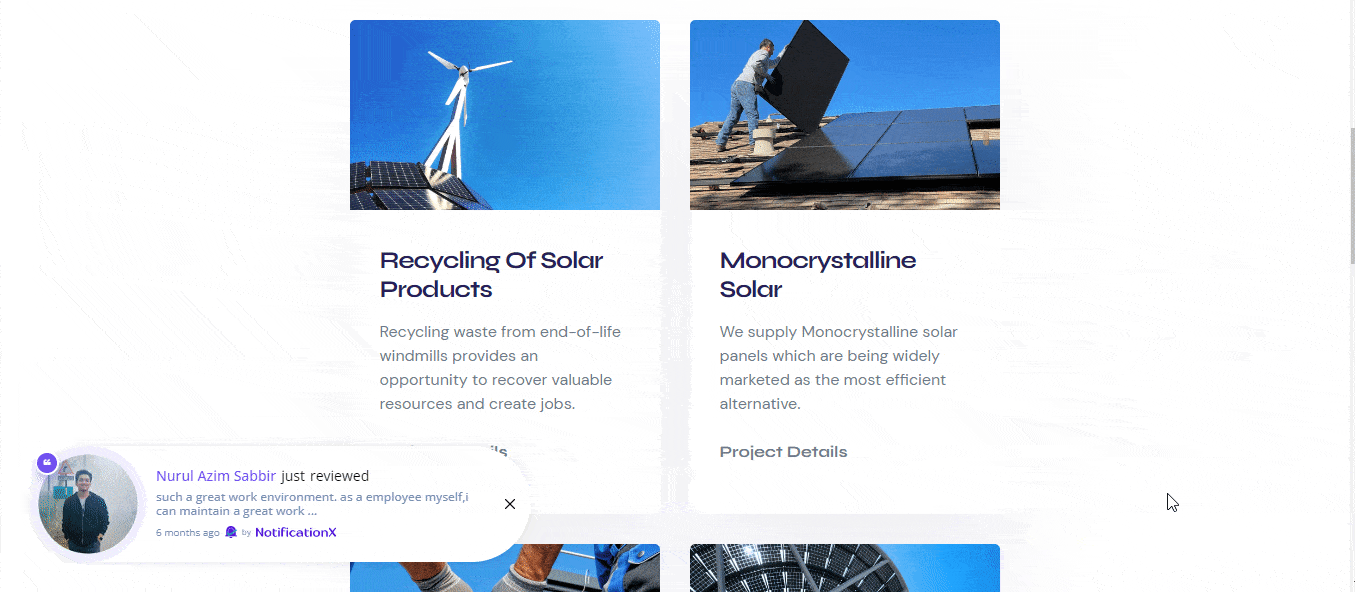 Se você enfrentar qualquer problema ou precisar de mais assistência, sinta-se à vontade para entrar em contato com nosso Equipe de Suporte.