Would you be surprised if we told you that more than 70% of online shoppers tend to abandon their shopping carts right before checkout? And it doesn't just stop there – in recent years, this percentage has been increasing exponentially, causing businesses to lose a large number of sales and potential customers. But, not to worry, because with the help of Cart Abandonment Emails there's still hope left to win back lost customers and ensure a boost in conversions.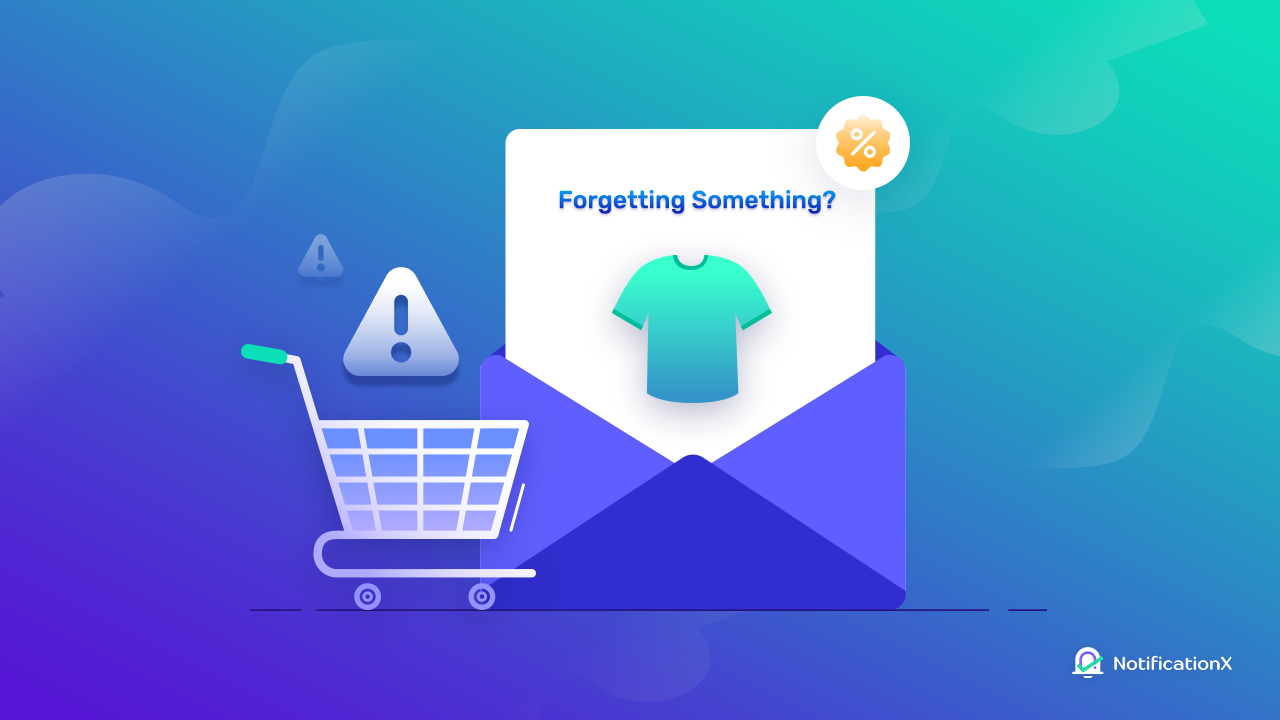 As of last year [2022], the average cart abandonment rate around the world raised to an astounding 84.24% in some industries. This implies that in most cases, 3 out of 4 customers will explore your store, add their desired products to shopping carts but never complete their purchase. But this is where Cart Abandonment Emails come sweeping in to help your business – they are a tried, tested, and successfully proven method to not just reduce bounce rates, but also boost revenues for many renowned companies worldwide.
To help you understand what is abandoned cart emails, how they work to bring back lost customers, and how you can craft them successfully – with this blog, we bring you an entire walkthrough guide.
How Do Cart Abandonment Emails Win Back Customers?
So let's start from the very basics. Abandoned Cart Emails are follow-up emails sent to customers who had previously added products to their shopping carts while browsing through your eCommerce store but have failed to or simply did not continue to check out. These emails are a remarkably effective strategy to use to boost customer retention, as it helps to remind customers of what they have left behind and convince them to return to complete their shopping.
Studies from last year have also shown that abandoned cart emails can lead to an average conversion rate of 18.64%, meaning that it has been proven that lost customers have actually returned to what they had left off.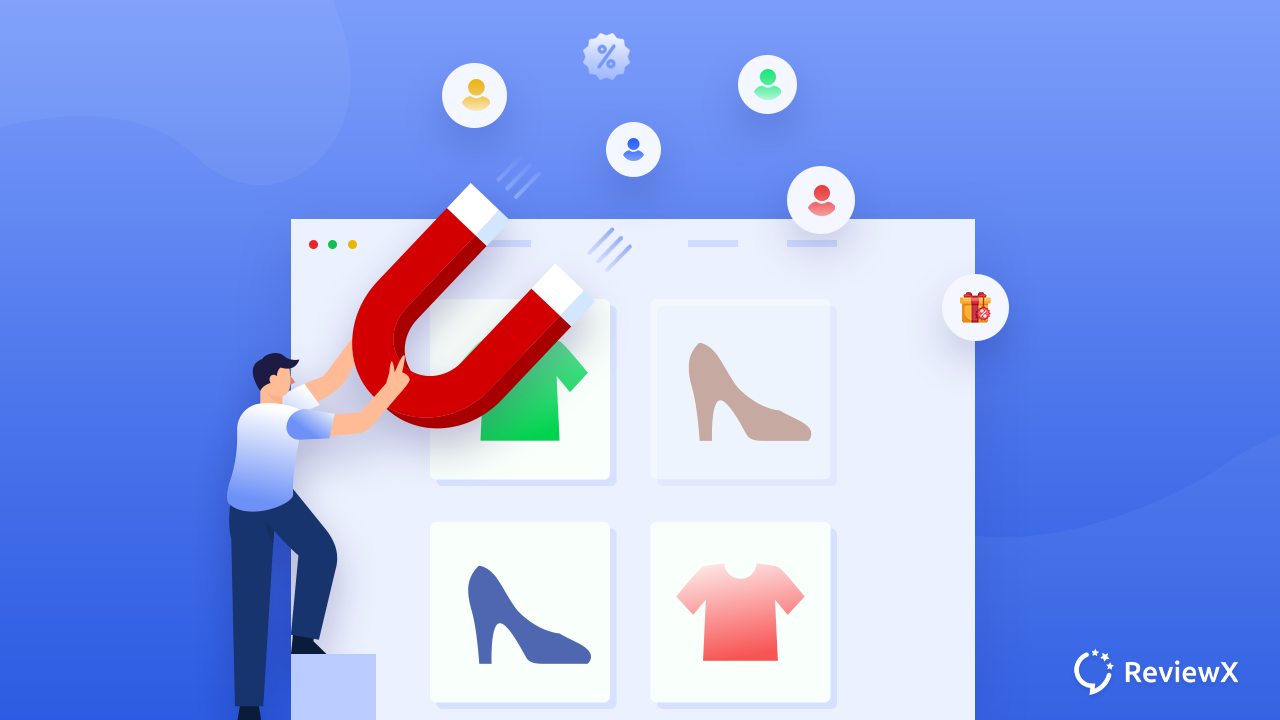 But the abandoned cart emails are not easy to craft because the lost potential customers had already ditched their cart without purchasing. So these emails need to be catchy, engaging, and convincing enough that lost customers or website visitors are compelled to click through and convert.
Best Practices To Follow When Writing Cart Abandonment Emails
Gaining attention through the cart abandonment emails is an essential component of getting your customers to take action. So in this section, we will talk about the top 7 best practices to follow when your draft and send out the emails to win back customers successfully.
⏰ Organize A Series Of Remainder Emails For The Best Results
First, off the batch of best practices, we suggest you craft and organize a short series of cart abandonment reminder emails for the potential customers that you have lost. While a single cart recovery email can boost your conversions, sending more than one follow-up email are sure to be much more effective. We recommend a series of at least 3 to 4 emails that are sent at pre-determined time intervals.
The first email can be a just gentle reminder that the customer has not completed their purchase and should be sent within the first hour of cart abandonment. Then a second and third can be delivered in the next 2 days that follow with an aim to induce urgency and more detail of the goods left behind. And, for those customers who still don't convert, a final cart abandonment email can be crafted especially to persuade them with an incentive to complete their purchase, such as free shipping or an exclusive discount just for them.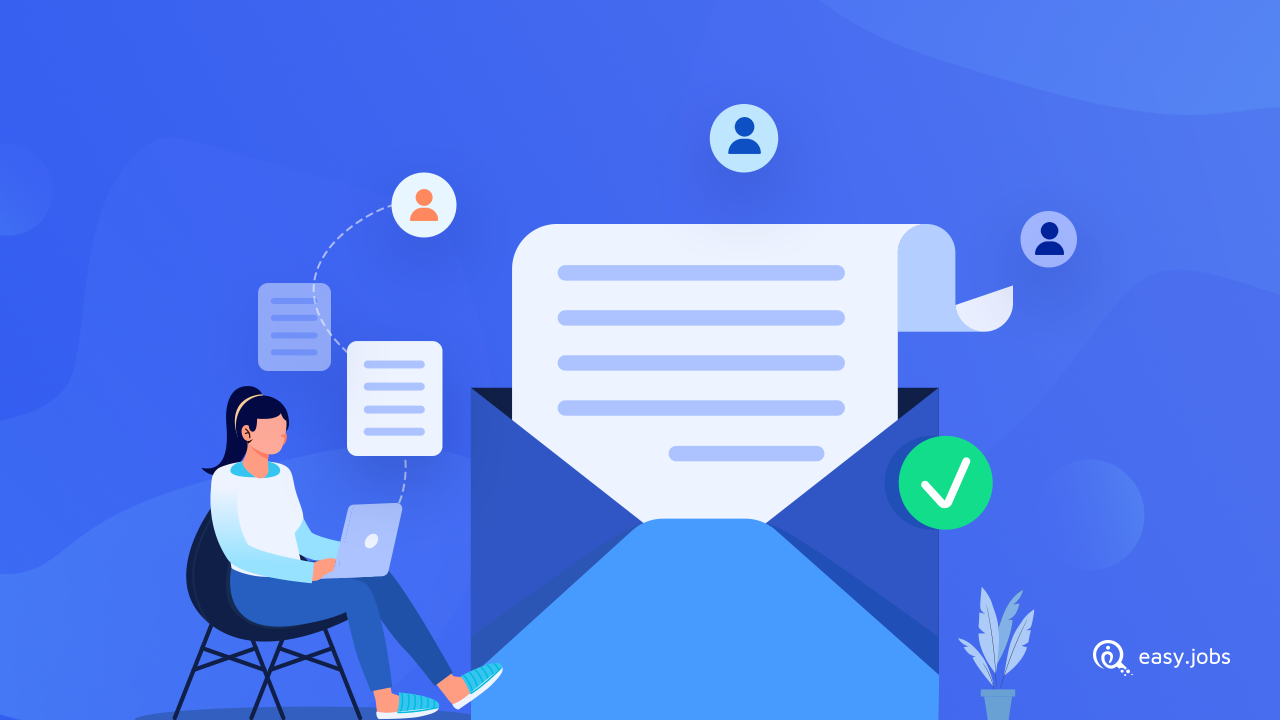 But make sure the 4th and final email is sent at least a week after the cart has been left at the checkout. You do not want to intimidate or pressurize your lost customers with too many reminders – so make sure to time the emails properly and keep to a minimum number.
💣 Increase Open Rate With A Killer Subject Line & Preview Text
Now that, the frequency of the emails is out of the way, let's discuss how you can craft your cart abandonment emails to grab attention. And the first thing is that customers notice when they receive the cart abandonment email is the Subject Line, and a surprising 64% of users decide if they will open an email based on this alone. Which can get quite tricky.
Do not be afraid to be creative with the subject line because it needs to be exciting or intriguing enough to compel the email receivers to open the email and click through. And if you want to be noticed in the sea of emails in someone's inbox, you need to make the text instantly attention-grabbing. You can even try to provoke emotions in your customers by crafting light-spirited and humorous subject lines, ones that generate a fear of missing out, or even lines that bring a sense of excitement – anything that gets the customers interested to continue reading.
And if you are sending emails in a series, make sure the customers do not receive multiple reminders with the same subject line; create at least 4 separate ones for each stage of the cart abandonment email campaign. So make sure to take time to lay out a killer subject line for the best results.
🛍️ Interactively Remind Shoppers Of What They Have Left Behind
Now, take a minute to think – suppose you had gone window shopping and looked around for a while in a store, considered buying a product but had to leave without purchasing it. Unless that product had REALLY caught your eyes or is an absolute necessity for you, are you likely to remember the product after a couple of hours or at the end of the day? No, right?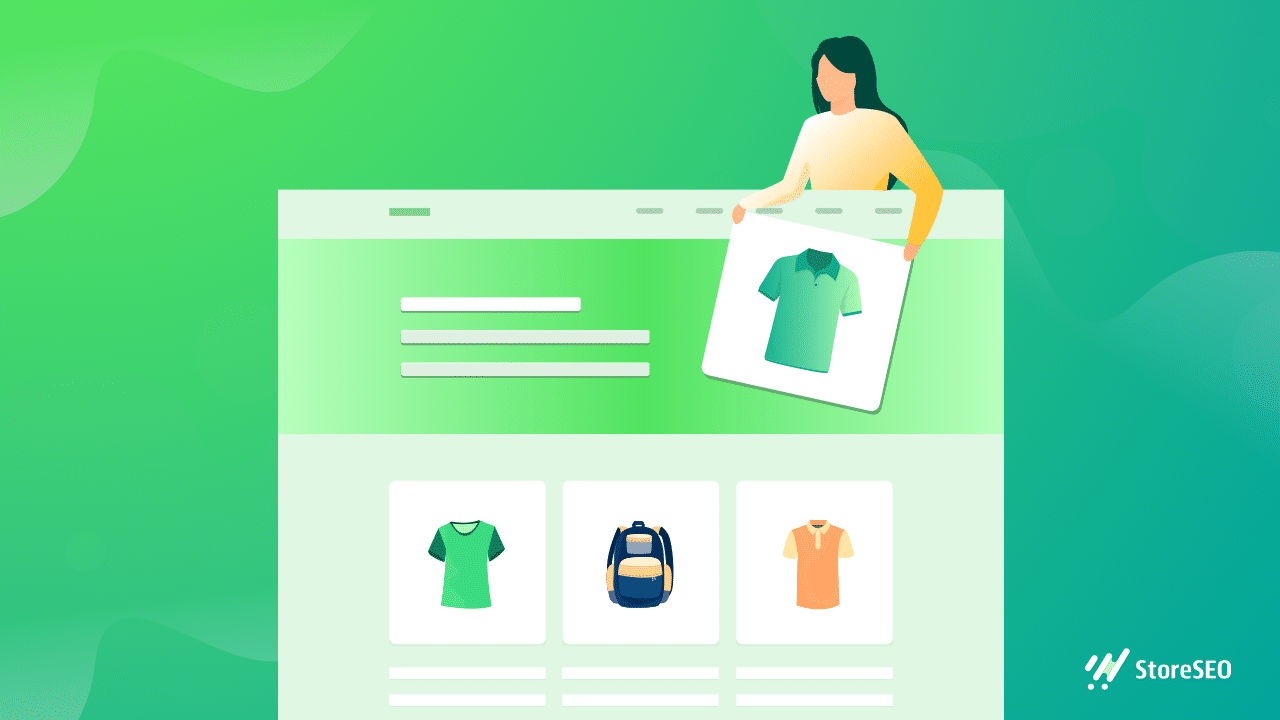 It's the same for online shoppers who abandon their cart on your eCommerce or business website. So, one way to get the lost customers to return to your store and take action is to include exclusive images of the items they left behind in their carts as the central part of your cart abandonment email. It adds a creative visual element that instantly reminds your customers of their almost purchased goods. It gets even better if you can include dynamic, engaging graphics if the abandoned cart contained more than one item.
Also, remember to include more details about the products in the cart, such as pricing, sizes, colors available, delivery costs, and more, to help shoppers make their final purchase decision.
✍️ Write A Compelling Email Copy That Grips Attention Instantly
As mentioned earlier, you have to remember that your cart abandonment email will be in a sea of hundreds of emails in your customer's inbox. So, even if the subject line gets them to open your email, the content inside MUST be gripping enough that the shopper reads through to the end and takes action.
The best way to get your users to feel connected to your email content is to personalize it in a way that tells the customer that the email was written specifically for them because you want them to complete their purchase. This is because users in different customer life-cycle might have abandoned their cart for different reasons. And it would not be right to send first-time abandoners the same email as repeat abandoners. Therefore, a good strategy here would be to try to keep your email copy personalized, engaging, and conversational.
Again, if you are sending a series of emails, remember to keep the content of each different while still including all the important information. That way, the emails will be much more effective in keeping your users engaged and bringing them back to their abandoned carts.
🚨 Use FOMO Marketing Tactics & Social Proof To Create Urgency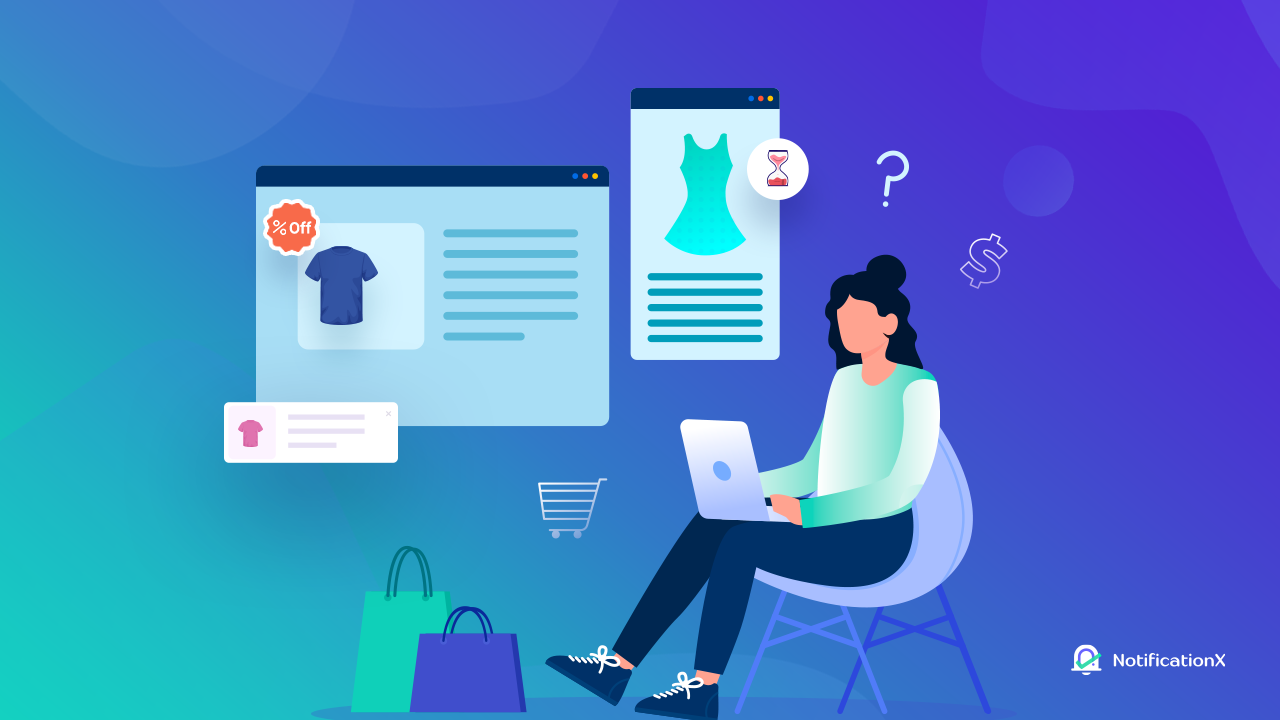 Another strategy to use in your emails is to create a sense of urgency with the help of FOMO marketing tactics. Alert the potential customers that the products that had previously been added to their cart are running out of stock due to popularity and that they might lose their chance to grab them if they do not take immediate action. You can also make a great impact by telling the customers that the items in their shopping cart have been reserved especially for them, but only for a limited time.
Another effective and proven strategy that you can use to increase the chances of generating more sales from your abandoned cart emails is to include social proof using short reviews and ratings from real users. If they realize the goods or services that they have left behind are popular among other customers and are of high quality, the abandoners are sure to return to complete the purchase in fear of missing out.
🎁 Convince Users To Take Action With An Irresistible Incentive
As you can easily tell, without a doubt, offering exclusive incentives to always a successful strategy to use to win and bring back lost customers. However, the question remains – when should you add such special offers?
Our recommendation, in this case, is that when you have already sent two or more abandoned cart emails with no response from shoppers, only then should you dish out a special offer that customers just cannot resist. This should be added with your last attempt to win customers back.
Among all the different types of incentives you can choose from are: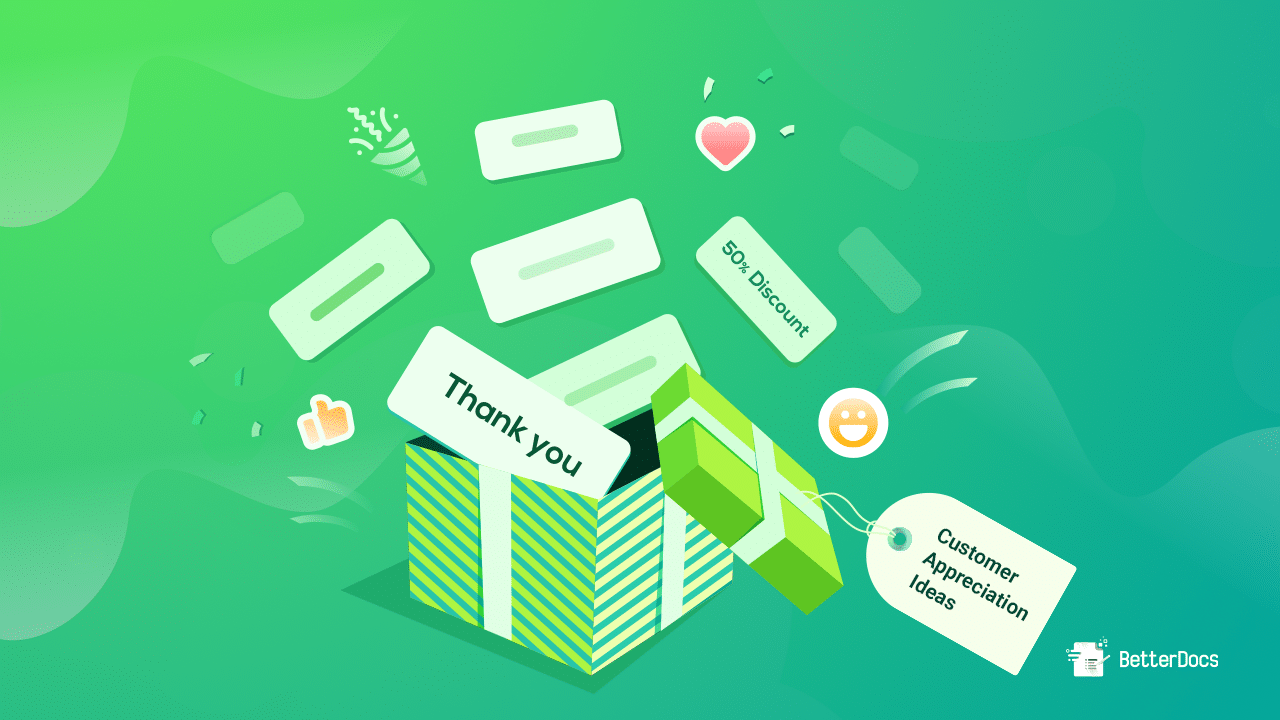 🎯 Discount Coupons
🎯 Free Shipping
🎯 Complimentary Gifts
🎯 Money-Back Guarantee
🎯 Loyalty Program Incentives
🏆 End With An Unmissable & Engaging Call-To-Action Button
And finally, the most important part of your cart abandonment email – the call-to-action button or CTA. None of the other strategies would work if you do not include one CTA that the customers can follow to return back to their cart or directly to the checkout page of your eCommerce store.
For best practices, do not phrase the CTAs with words like 'buy'. Instead, make the call-to-action buttons interesting or engaging, and ask the shoppers to complete their shopping or to simply return to what they had left.
The Right Time To Send The First Cart Abandonment Email
Now, that would be our top 7 best practices to follow when drafting out the best cart abandonment email to win back lost customers. But we are not at the end of our guide yet.
You might be wondering why we had mentioned sending the first email exactly after an hour and why not earlier or the next day from the cart abandonment. Well, we have some proven statistics to add here to answer just that. Research has shown that reaching out to customers with reminders:
🎯 In less than an hour leads to an average of 3% conversion.
🎯 An hour later ensures at least an average 6.3% conversion.
🎯 A day later lowers the average down to a 2.5% conversion rate.
Successful Email Samples Proven To Boost Sales & Revenue
With the best practices and strategies up your sleeve, now let's look at some Abandoned Cart email examples that have proven to boost revenue for renowned brands. We have found 5 examples that have not only followed the strategies mentioned above but also are very unique in their formatting.
Let's start this list with a great abandoned cart email sample from Google, which includes every element needed to win customers back. It features a brilliant color, catchy copywriting, clear and detailed information about the product left in the cart, and an unmissable call-to-action button. But not only that, it successfully creates a sense of urgency through the highly creative copywriting and also brings an incentive by letting customers know that they will receive free shipping for all purchases.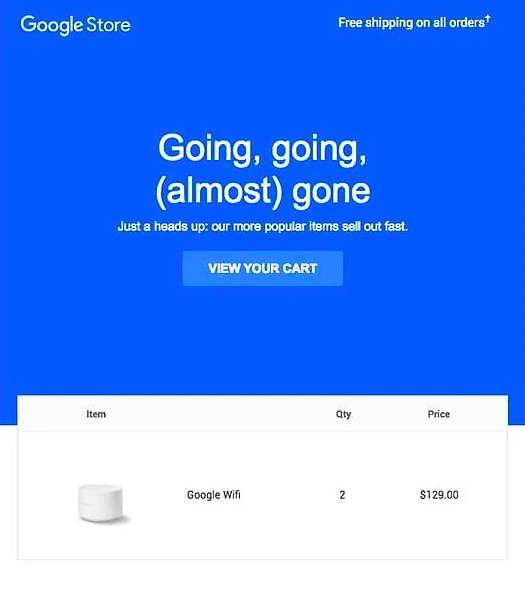 Source: HubSpot
Next up, we have an example from Adidas. Tell us what's the first thing you noticed about their email copywriting? The bold header – 'Is Your Wifi Okay?' we are sure. It not only makes your email copy highly engaging and interesting but also adds social proof with eye-catching ratings and reviews.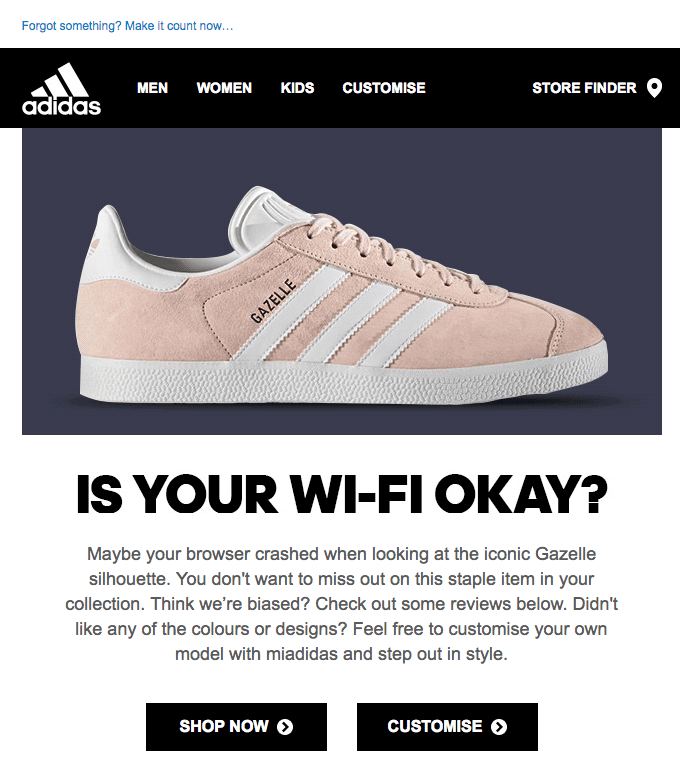 Source: Growcode
Here's a perfect abandoned cart email example from the company, Thrive Market, that keeps its email copy short and minimalistic. However, it tells potential customers exactly how much they will be saving if they purchase from the brand as compared to others. Also, it displays green call-to-action buttons which automatically bring out a striking contrast against the otherwise neutral or white background. They also offer a coupon code that gives customers that final nudge of encouragement to return to the shopping cart and complete the purchase.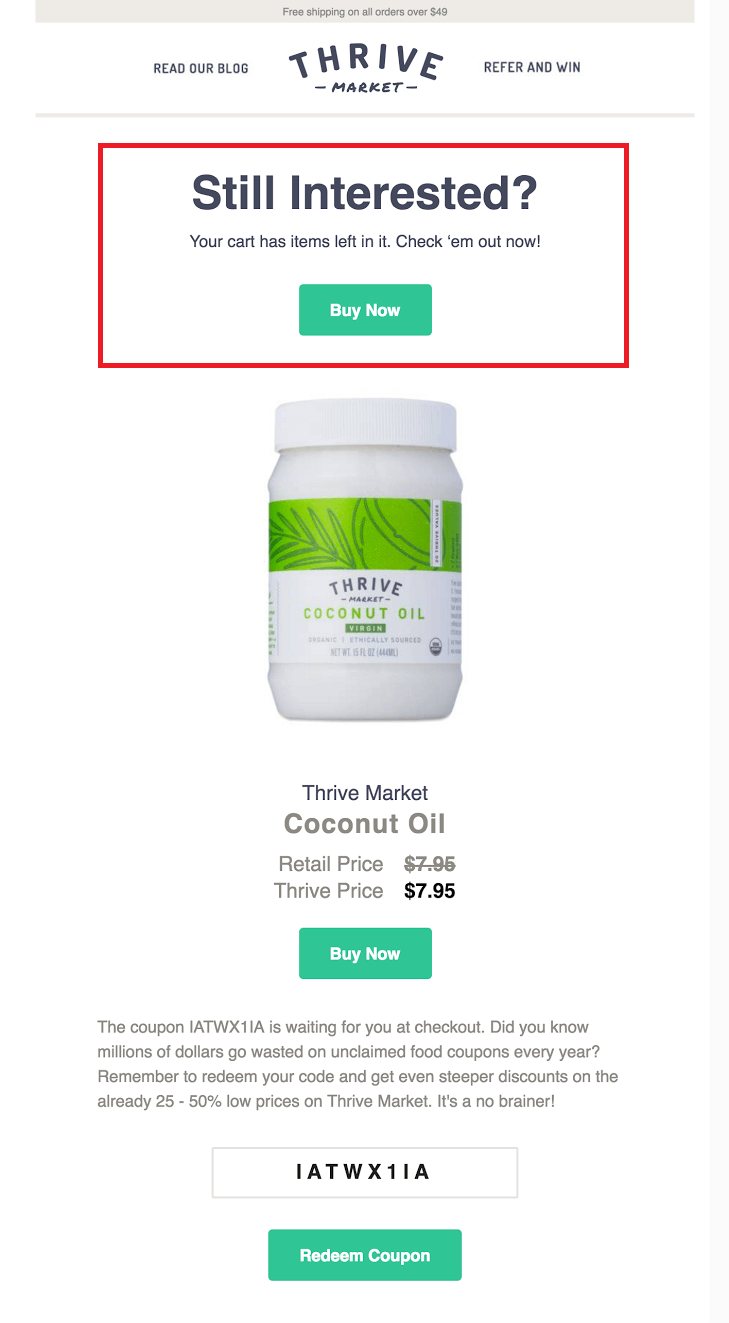 Source: Moosend
The cart abandonment email example we have from Puma, on the other hand, is very unique and shows the brilliant design and striking colors that instantly catch readers' eyes. The color contrast of the call-to-action button stands out from the background. It also gives the users a soft nudge of urgency by telling them that the products left behind will not stick around for long.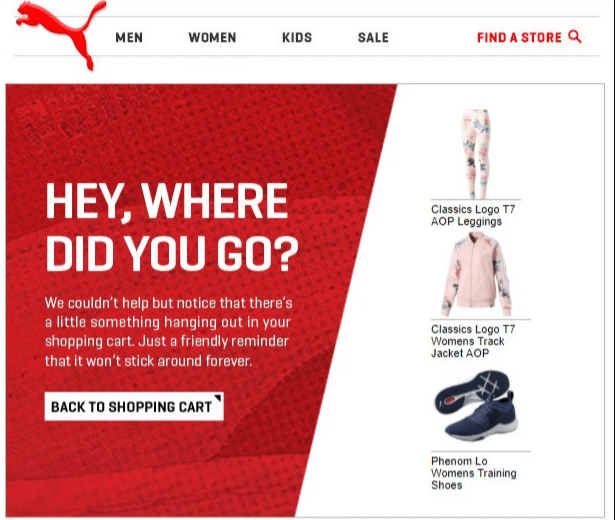 Source: HubSpot
And to end the list, we have Casper giving its potential customers a laugh with the playfully humorous headline 'Come Back To Bed'. It instantly sets the email apart from all the others we have seen so far and from the rest that are sent out from the brand's competitors. It also uses a minimalistic design, strong social proof, and engaging call-to-action buttons.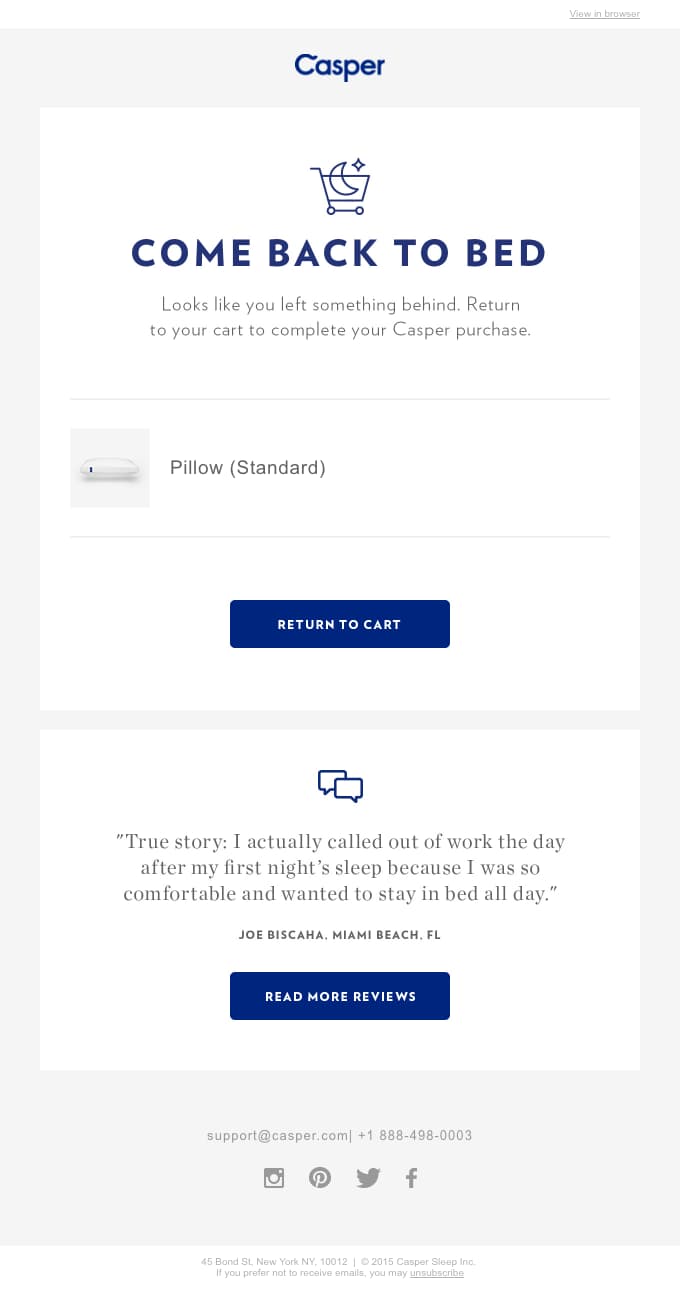 Source: Reallygoodemails
Bring Back Customers & Grow Your Conversion Rates Instantly
And with that, we would like to conclude our complete guide on how to win back customers with the best Cart Abandonment Emails. We hope this blog was a help to you. Let us know if you use any of our suggested strategies, or if you have any others that we could learn from; feel free to comment below and get in touch with us.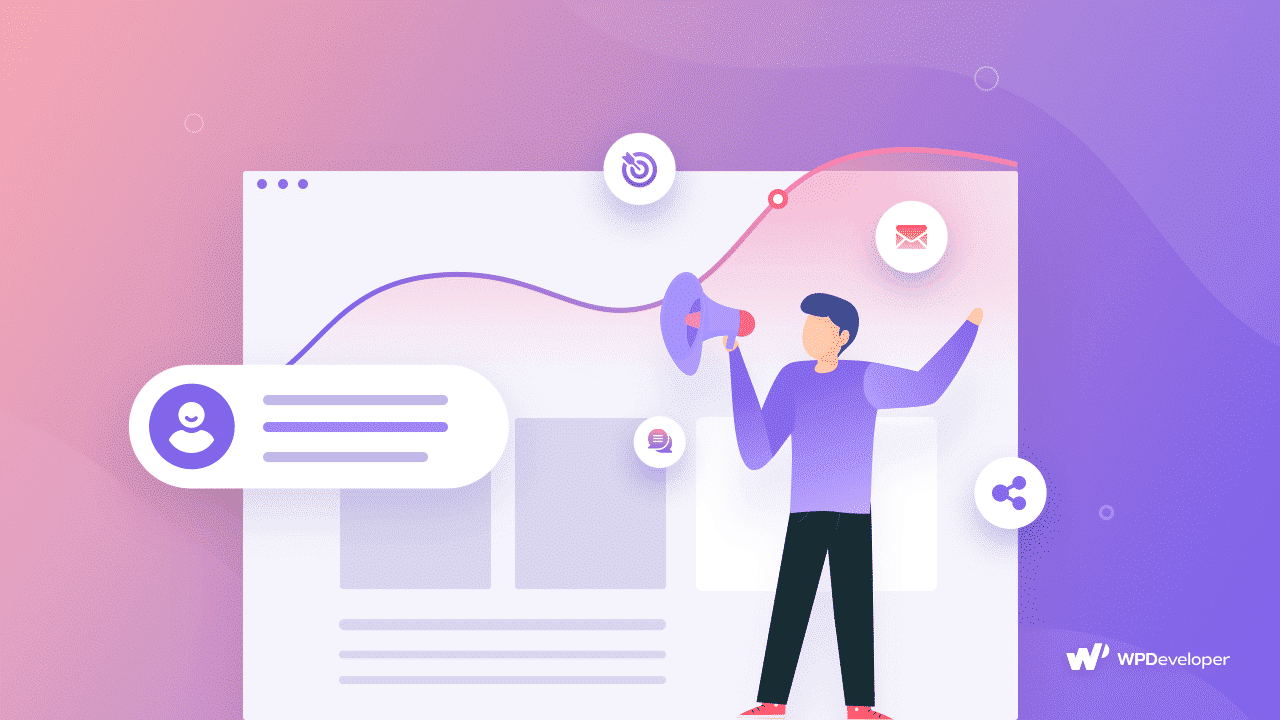 For more such useful guides, the latest news, or more, subscribe to our blog. Do not forget to join our friendly Facebook Community, and connect to other eCommerce business owners, marketers, or WordPress enthusiasts, just like you!