Freemius is one of the most popular eCommerce solutions for WordPress products. So if you want to boost sales on Freemius & increase earning from your product, you can display Freemius sales notifications anywhere on your website. This will help you gain credibility from potential customers, who will see that others are purchasing and will feel encouraged to do the same.
Freemius is a powerful e-commerce solution designed to help you sell your premium WordPress plugins and themes. It comes with tons of amazing features to help you boost sales and grow your business with valuable insights.
For instance, Freemius sends automatic, customizable surveys to your users to get their feedback whenever they purchase your plugins or themes. It also comes with a built-in email feature which allows you to notify users about plugin updates and important announcements. You can even set up software licenses, subscriptions, automatic updates and more.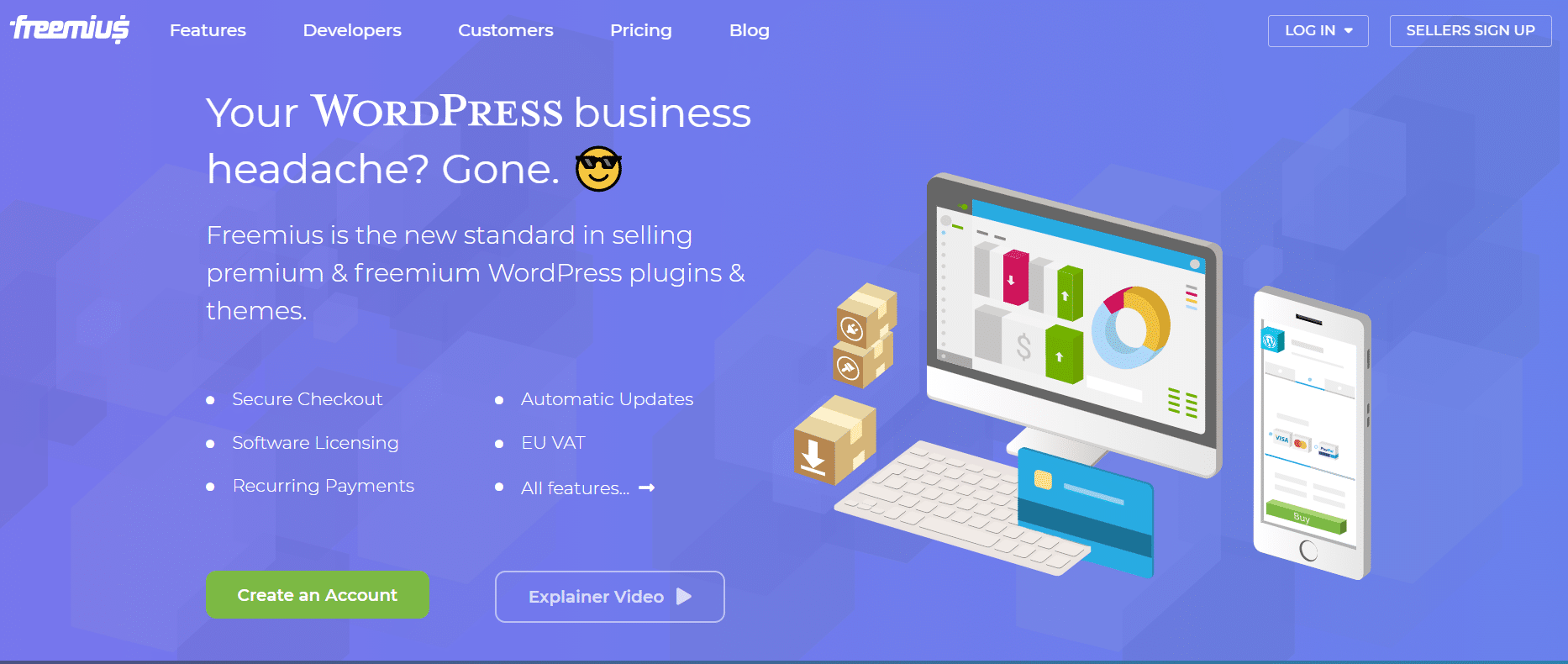 Freemius will also handle other essential processes of your business such as support for EU VAT compliance, sending automated emails for cart abandonment recovery and integration with payment gateways like Stripe. Because of these reasons, Freemius is a powerful platform for anyone who wants to sell their WordPress products. That's why you should try to boost sales on Freemius if you want your WordPress plugins and themes to perform well in the market.
How Can You Boost Sales On Freemius Using Live Sales Popups?
Although Freemius is a powerful eCommerce solution, you will still need to come up with successful marketing campaigns to boost your sales on Freemius. And one such marketing campaign is by leveraging your current sales on Freemius. 
It is human nature to want to follow other people. When we see that others are purchasing from a particular business, we feel more encouraged to do the same. You can use this to your advantage by implementing a marketing strategy known as social proof.
All you have to do is create and display live sales popups on your website whenever someone makes a purchase on Freemius. By showing your website visitors that other people are purchasing your products, you can gain their trust and encourage them to make a purchase as well. This way, you can leverage the purchases made by your current customers to boost sales on Freemius with live sales popups.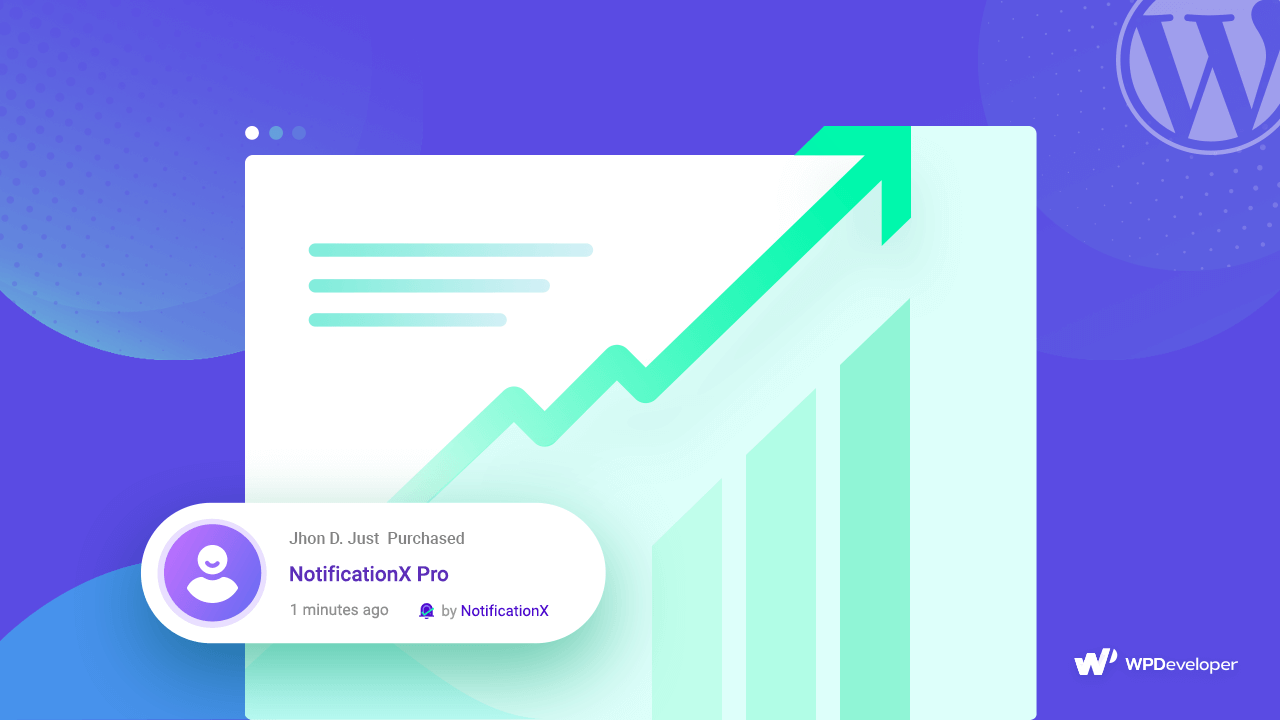 So how can you create and display live sales popups without too much hassle? The easiest and fastest way to do this is by using NotificationX.
NotificationX is the ultimate social proof solution for WordPress. With this powerful plugin, you can instantly create stunning notification alerts for sales, comments, reviews, ratings, and much more. 
Over 30,000 businesses trust NotificationX to skyrocket their growth and boost conversions, Check out how some of them have used NotificationX to boost sales with popup alerts.
It comes with seamless integration with many popular WordPress solutions, including Freemius. This means that with NotificationX you can create attractive sales popup alerts every time someone makes a purchase on Freemius and then display these popups on your website. Without further delay, let's dive in and find out how you can  boost Freemius sales with NotificationX.
Watch The Video Tutorial Here
How To Use NotificationX Integration With Freemius
In order to boost sales on Freemius by creating live sales popups in NotificationX, you need to first connect your Freemius account with NotificationX by getting some keys from your Freemius Profile. Log in to your Freemius account, click on 'My Profile' and scroll down the page until you find the following keys:
✔️ ID
✔️ Public Key
✔️ Secret Key
Once you have copied these keys, go to your WordPress dashboard and navigate to NotificationX–> Settings–> API Integrations. From here, click on the 'Freemius Settings' tab and insert the respective keys from your Freemius Profile. Once you have added your keys, you only have to click on the 'Connect' button.
With these easy steps, you have connected your Freemius account with NotificationX. You are now ready to start creating live sales popups in NotificationX to boost sales on Freemius. Just follow these step-by-step guidelines below, and you'll be done in no time at all.
Step 1: Add A New Sales Notification
From your WordPress dashboard go to NotificationX→ Add New and create a new notification. From the 'Source' tab, set your notification type to 'Sales' and the source as 'Freemius'.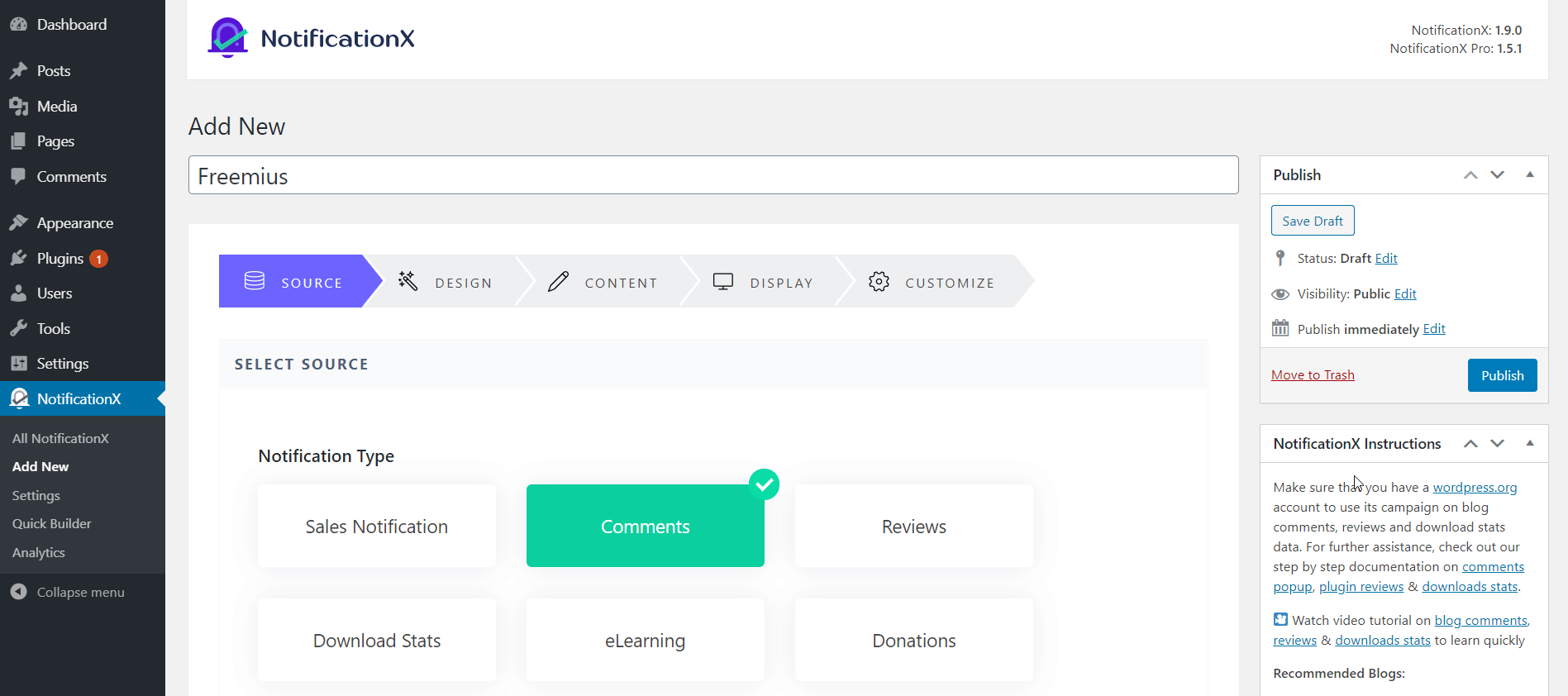 Great job! You have created your sales popup. Now it's time to add your own content and customize the design and appearance of your live sales notification alert.
Step 2: Configure The Design & Content Of Your Sales Popup
In this step, we are going to show you how to choose the basic design of your live sales popup. From the 'Design' tab in NotificationX you will see several options. Pick any of the options that you like. For further customization, you can click on the 'Advanced Design' button to change the background colors, typography and much more.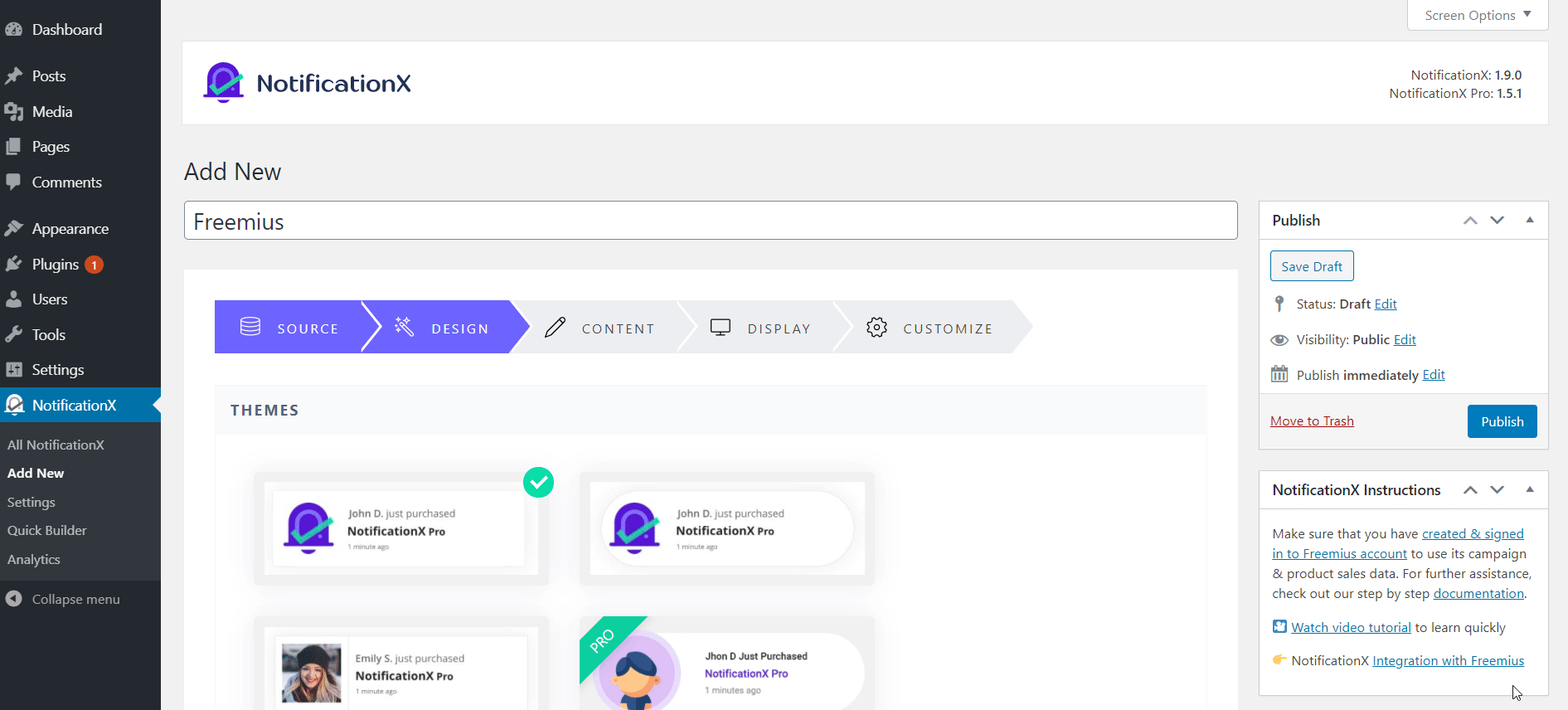 You can also add a border and add styling to it to make the entire layout more appealing. If you want you can also style your image shape and adjust the image position for the sales popup too.
Next, move on to the 'Content' tab and add your own content for your live sales popup. You will see many different options here. Choose your 'Item Type' and configure the 'Notification Template' to display recent sales notifications. You can choose to display the name of the product and who purchased it as well.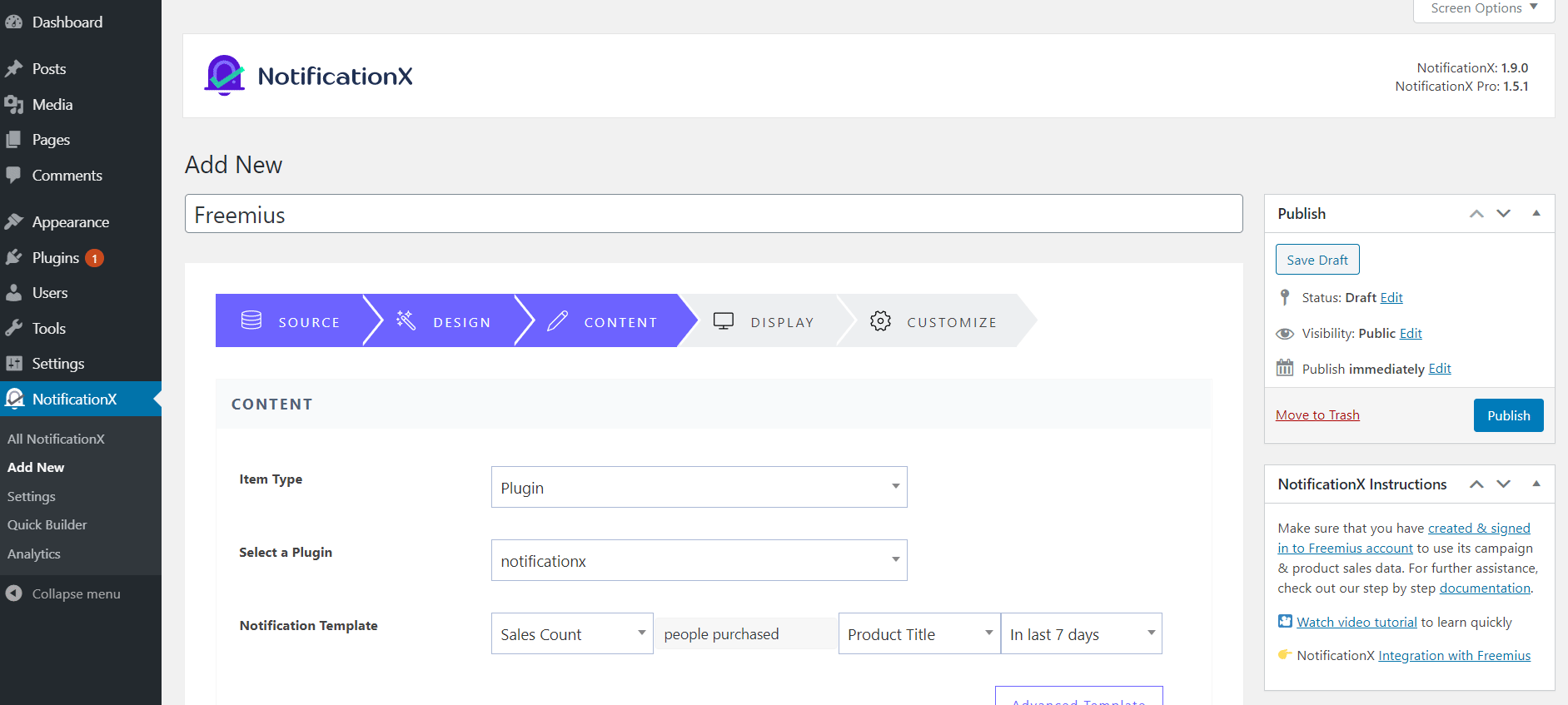 Further down the page you will see several options under 'UTM Control' which allows you to set your campaign type, medium and source as well.
Configure these settings in any way you want. Once you are done, it is time to choose where you want your live sales popup to be displayed.
Step 3: Set The Display Options & Customize Your Sales Popup
From the 'Display' tab in NotificationX, you can specify on which areas of your website you want your sales popups to be displayed. You can choose to show a default image for your live sales popup, or set a featured image instead. The options under the 'Visibility' section in this tab lets you choose whether to display the sales popup for everyone and on every page, or for specific users on specific pages.
It is up to you to decide where you should be adding your live notification alerts to boost sales on Freemius. Some people see better results when displaying sales alerts on the product pages, while others prefer displaying them on every page. Either way, you have the flexibility to choose where to display your popups in NotificationX.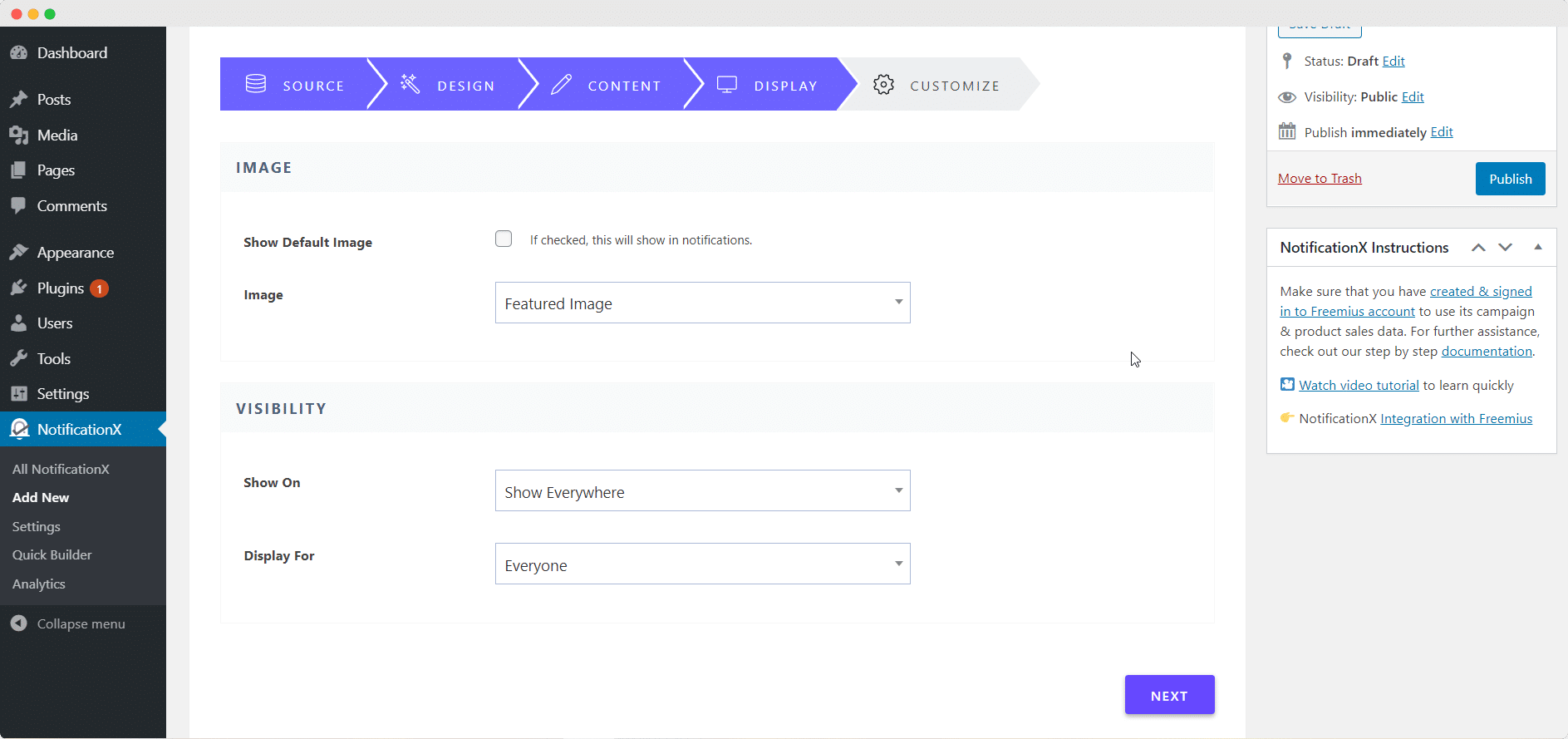 Similarly, from the 'Customize' tab, you can adjust the position of your sales popup, choose how long to display it, enable queue management, and even control the delay timing between each popup.
Play around with these settings until you are happy with how your sales popup appears. When you are done, just click on the 'Publish' button and you are ready to go. Your sales popups will now appear on your website according to your settings. 
Take a look at the live sales popup for Freemius that we created in this tutorial below.
So now you know how to use social proof as a growth hack to boost sales on Freemius. All you have to do is create eye-catching sales popups in NotificationX and gain the trust of your potential customers. If you want, you can go one step further and display Freemius reviews using NotificationX as well to gain more credibility.
Try NotificationX today, and let us know your experience in the comments below. For any difficulties, feel free to reach out to our support team. Or, join our amazing Facebook community to connect with other WordPress enthusiasts like yourself.