In modern times, email marketing is counted as one of the best digital marketing techniques. And WordPress has made it more suitable for every marketer with its bundle of free email marketing plugins. If you are looking for some free WordPress plugins for email marketing, then you're exactly in the right place.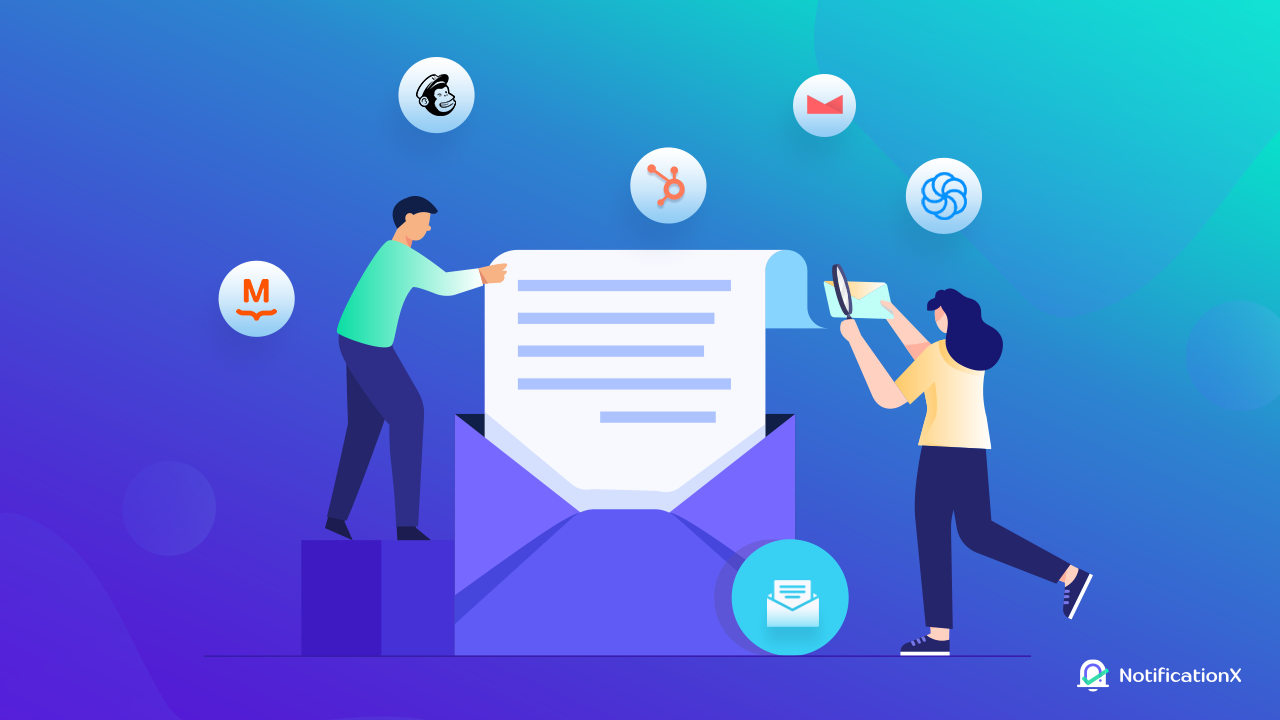 What Is Email Marketing? 3 Reasons To Add Emails To Your Strategy 
Nowadays, almost everyone has an email account for various purposes. Genuinely speaking, people can not live without it in this digital world. As it becomes everyone's part of life, marketers are not shying away from taking advantage of this. And, that's where email marketing comes in.
Email marketing is a very effective marketing technique where sending emails to prospects and customers can bring you more success in your business. Let's have a look below at 3 reasons you should keep email marketing in your marketing strategy. 
1. Email Marketing Is Quite Affordable
It is so affordable. You can send emails to anyone without any cost. Even if for marketing purposes, when you need to send a bundle of emails at once, there are thousands of email marketing services available in the market who dedicatedly serve in a very low margin where you barely need less than a penny for each message. 
As an example, MailChimp allows you to send up to 12,000 emails per month for free and 2000 emails daily. If you need more emails to send, you can upgrade to the premium version. So you can see how affordable email marketing is via 3rd party services.
2. Easily Reach A Wider Audience 
By creating a powerful email copy, you can easily grab the attention of your target audience. It is one of the best ways to stay connected with them and reach them in real-time. It can boost user engagement, drive traffic to your website, turn prospects into customers, as well as turn one-time buyers into loyal fans. 
3. Boost Your Brand Awareness
Last but not least, email marketing can increase your brand awareness. By promoting your products and services, you can build a relationship with the targeted audience and that can make people build engagement with your brand. Thus you can promote your brand via this marketing technique.
What To Look For When Choosing Best Email Marketing Plugins?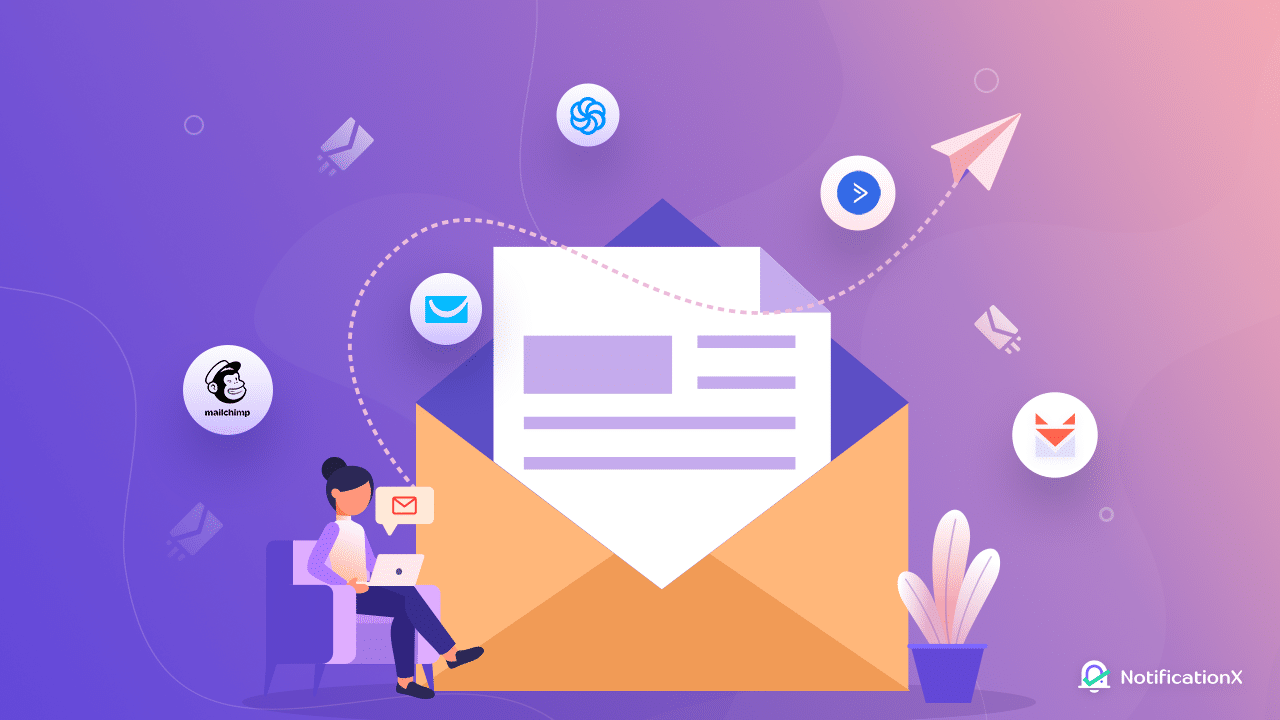 There are thousands of email marketing plugins available in the market. Among them, finding the best one for your business is quite challenging. That's why you have to be very clear about your demand. Besides the plugin features, you have to be careful in many criteria for using it with ease. 
Instead of picking one randomly, you can check out the below lists that might help you to get the good one for your business. Don't forget to check these points before choosing an email marketing plugin for your WordPress website. 
👉 Active Installations 
👉 Reviews & Ratings
👉 Ease Of Use
👉 Updates & Compatibility
👉 Support & Documentation
Best 5 Free Email Marketing Plugins For WordPress In 2023
Creating a powerful email marketing plan helps you reach and connect with your target audience. Before that, you need a good email marketing tool that can help your business to reach consumers easier than ever. Below are the best 5 free WordPress plugins that can boost your business by email marketing. 
1. HubSpot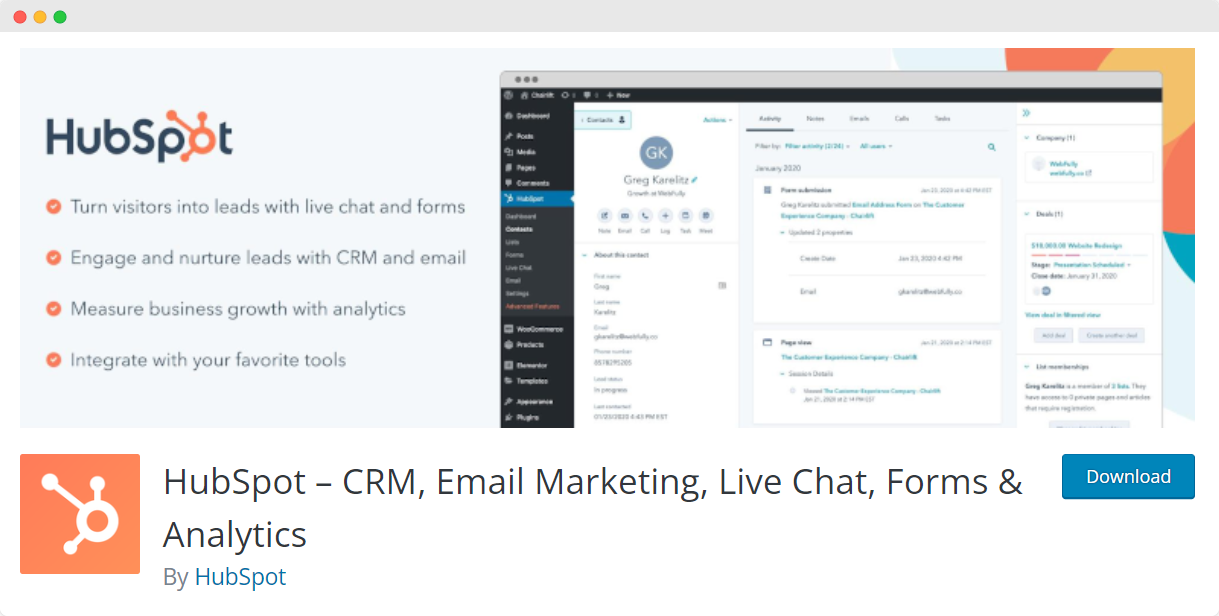 A very renowned name to every digital marketer is HubSpot. It is one of the most powerful and easy-to-use email marketing plugins on WordPress. It helps you to turn your audience into leads, convert them into customers, and measure your business growth.
Its easy-to-use email builder allows building beautiful and responsive newsletters to send to your contact database. It works on the drag and drop technique which is super convenient. HubSpot has 20+ pre-designed beautiful templates. You can use them or can create your own.
This plugin helps you to grow your business better. Besides the email marketing opportunity, HubSpot supports CRM, live chats, forms, and analytics also. This is a free plugin so you don't need to worry about costs. 
2. MailChimp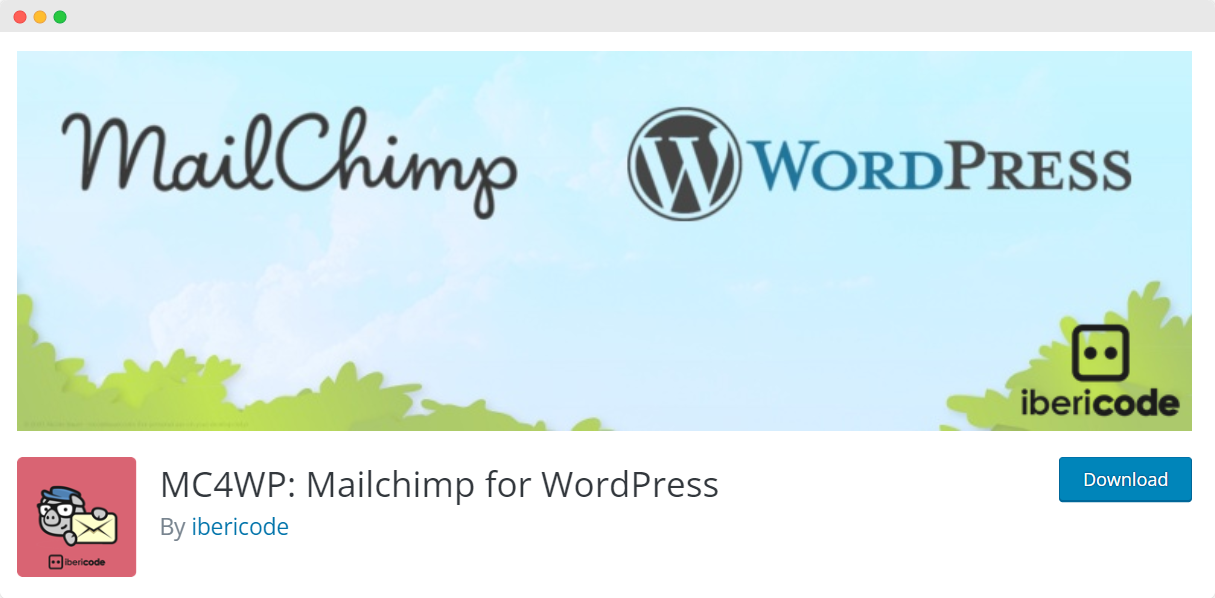 One of the most popular WordPress email marketing plugins is MailChimp. This plugin allows you to easily run email campaigns and send them to your subscribers. It helps to grow the contact list and design a more engaging newsletter effectively.
MailChimp is very popular because of its user-friendly interface. By the way, to use this plugin, you need to also use the MailChimp email marketing service. Besides the free plans, there are also available premium versions which you can upgrade at any time. 
It sends automatic notifications when a new subscriber signs up. MailChimp also allows creating beautiful forms and easy integration with existing forms of your site. It provides you with a wide range of awesome features so that you can grow your MailChimp lists and write better newsletters.
3. MailPoet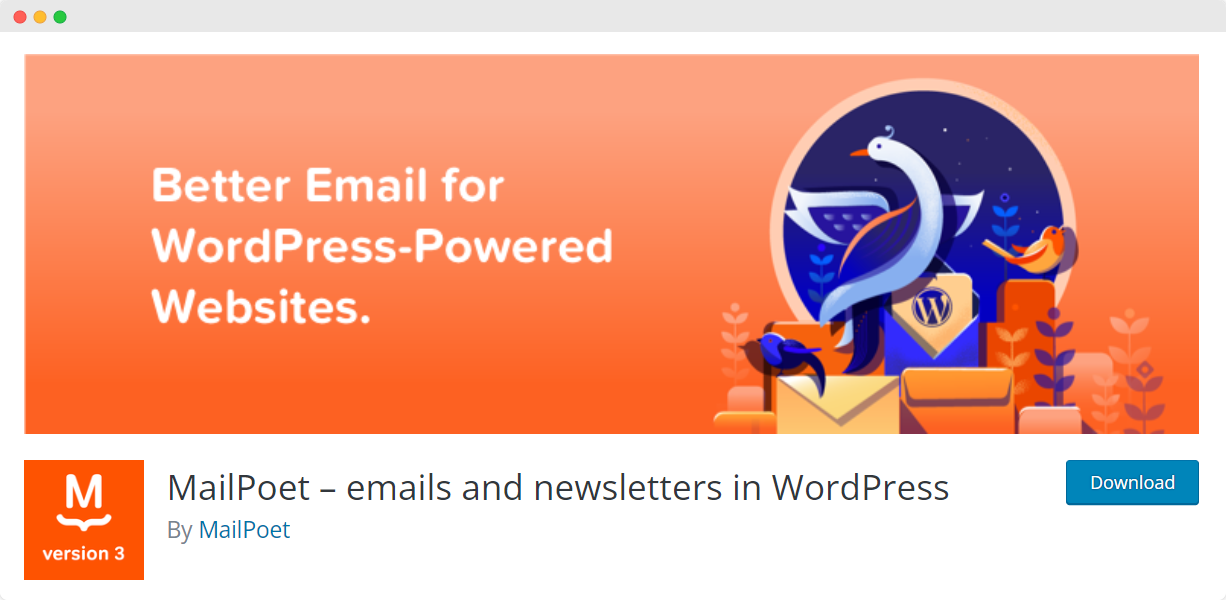 In the WordPress plugin market, MailPoet is another popular name for email marketing. With this free WordPress plugin, your audience can sign up to subscribe and help you to build your mailing list. You can easily collect those emails and use them to create free marketing promotional events.
The builder of this powerful plugin integrates with WordPress so perfectly and the editor world with drag and drop technique. You can easily create attractive emails by yourself. Or you can use their gorgeous pre-built templates which are very responsive and support all devices. 
Currently, MailPoet is offering its 3rd version of the series. Besides the free plugin which allows 20,000 subscribers, it offers two premium versions too for more exclusive features. The PRO features start only from $10 per month, so you really don't need to worry. 
4. SendinBlue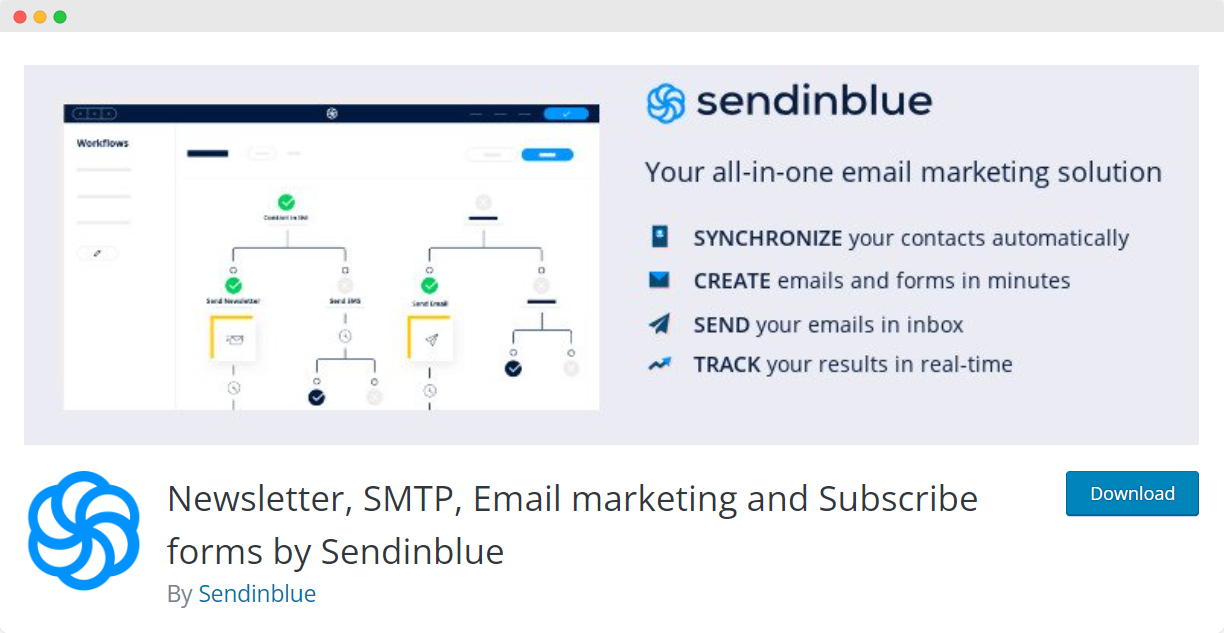 SendinBlue is one of the most popular WordPress email marketing plugins nowadays. This is one kind of all-in-one email solution, especially for small businesses. By using this free plugin, you can enjoy sending numerous emails through your WordPress website with no additional effort. 
The plugin features drag and drop email design tools and a number of custom fields so that you can create attractive emails for your target audience. In order to use SendinBlue, you will also need to use their email marketing service which is completely free. 
5. Newsletter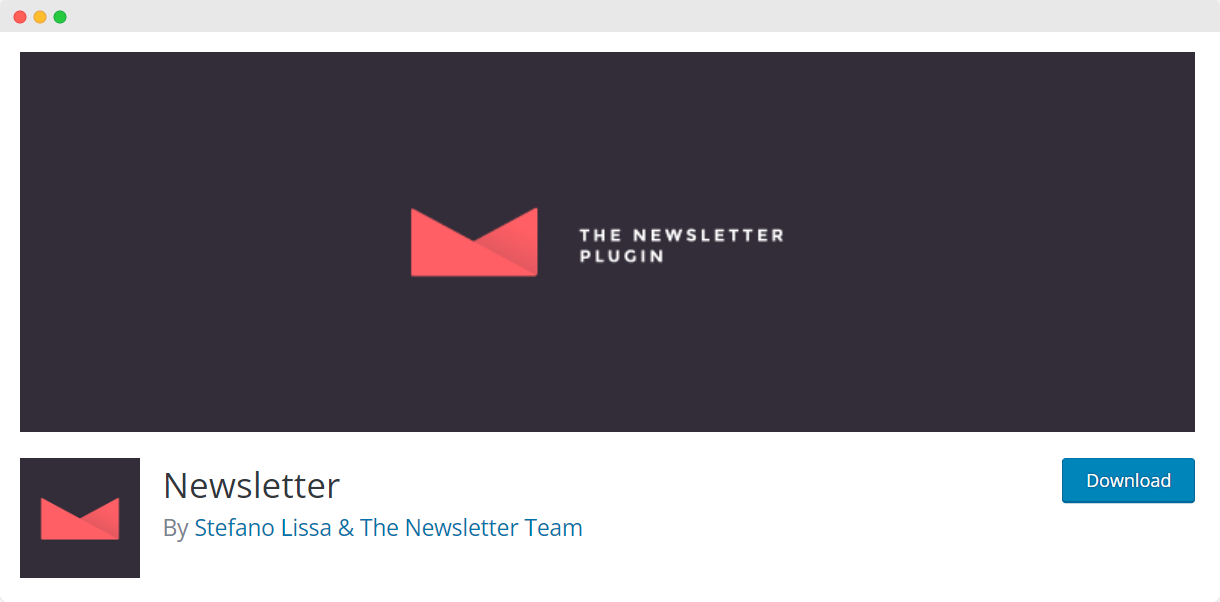 Another WordPress plugin for email marketing is Newsletter. It allows you to create a list and send emails directly from the WordPress dashboard. The plugin editor has a drag-and-drop email composer, an advanced tracking option, and a number of free extensions. Together all these help to enhance its functionality. 
Newsletter plugin has some beautiful and customizable email templates and subscription widgets. You can easily create emails, send them, and track those with ease. 
This free WordPress plugin is suitable for small websites. Besides the free version, there are two premium plans for the Newsletter plugin. These PRO plans offer more specific features and the price starts from $45 per month.
Comparison Of Top 5 WordPress Email Marketing Plugins
All of the mentioned plugins are good enough to support you in your email campaigns. But, of course, all are not the same. Each has different features and preferences. Let's have a look below to get a clear comparison among these 5 free email marketing plugins at a glance. 
Active
Installations 
Ratings 
Reviews
Performance
Free Plans
Premium Plan Starts

HubSpot

200,000

4.8

117+ 

97%

2000 Subscribers

$45

MailChimp

2+ Million

5

1237+

99%

2000+ Subscribers  12,000 email/month

$10

MailPoet

100,000

4.9 

771+

98%

2000 Subscribers

$10

SendinBlue

70,000

4.6

111+

97%

9000 emails/month

$25

Newsletter

300,000

4.7

773+

96%

2000 Subscribers

$45
Grow Your Email Subscriptions With NotificationX
Well, now you know about the top 5 email marketing plugins that you can integrate with your WordPress website without any cost. Now, let's tell you a nice way you can grow your email subscription with NotificationX. This is a bonus tip for you!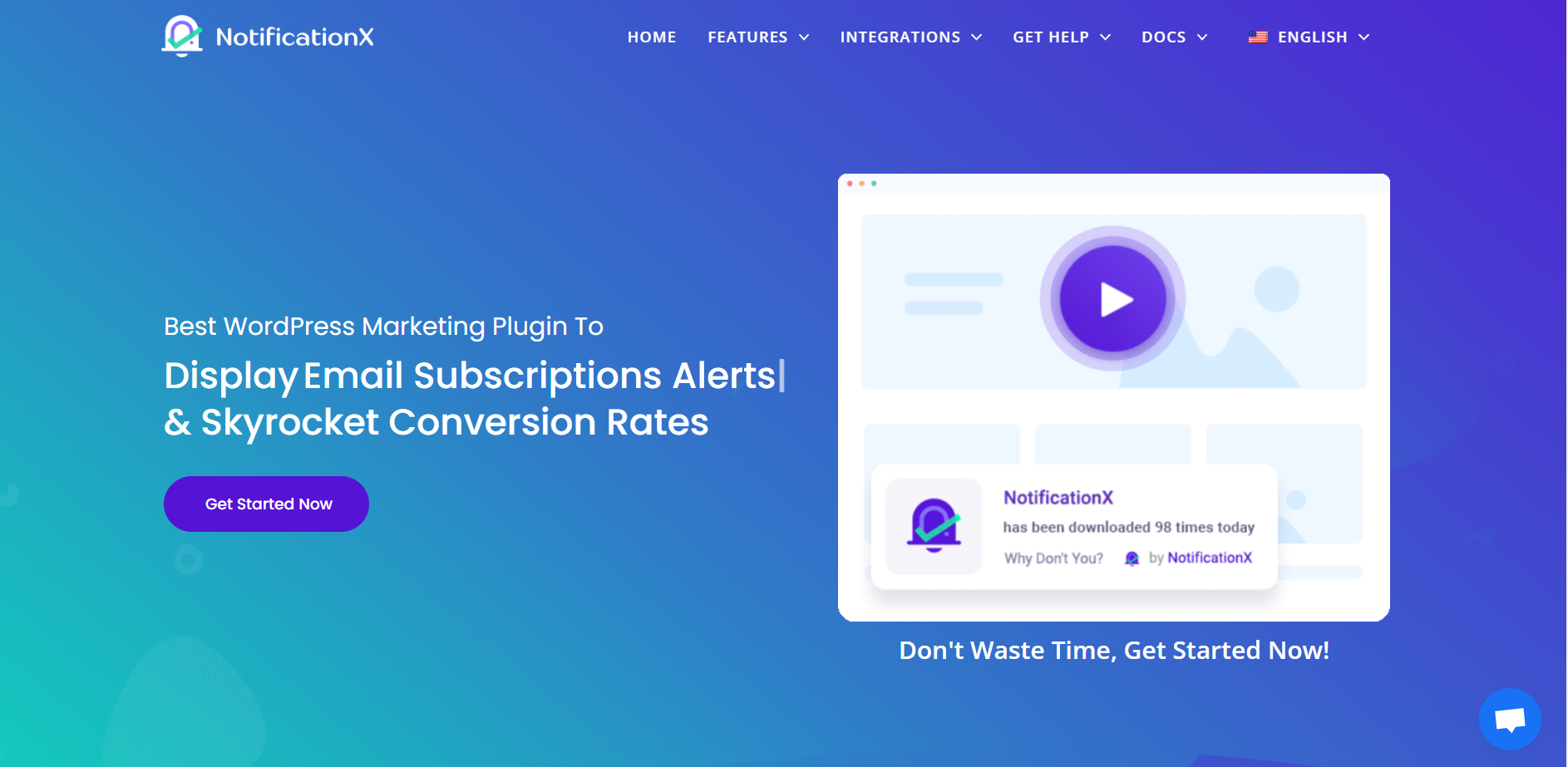 NotificationX is a well-known social proof solution that is used by 30,000+ businesses and website owners around the world. It lets you create eye-catching popup alerts for sales, reviews and email subscription alerts. Check out the video tutorial to see it in action. 
Effortlessly Skyrocket Your Conversions
Now it's your turn to select the best email marketing plugin for your business. Before choosing one, make sure you check out all of our suggested plugins that can skyrocket your sales. 
Do you think this blog is helpful? Don't forget to subscribe to our blog to read more tutorials and tips and tricks. Or, you can also join our Facebook community where you can connect with other marketers too.