Are you having trouble turning website visitors into paying customers? Increasing the conversion rate of their websites is an issue that many organizations encounter. Fortunately, you can increase your website's performance and grow your business with the correct tools. Discover the top 5 WordPress plugins for Conversion Rate Optimisation (CRO) in this post, which can assist you in reaching your objectives.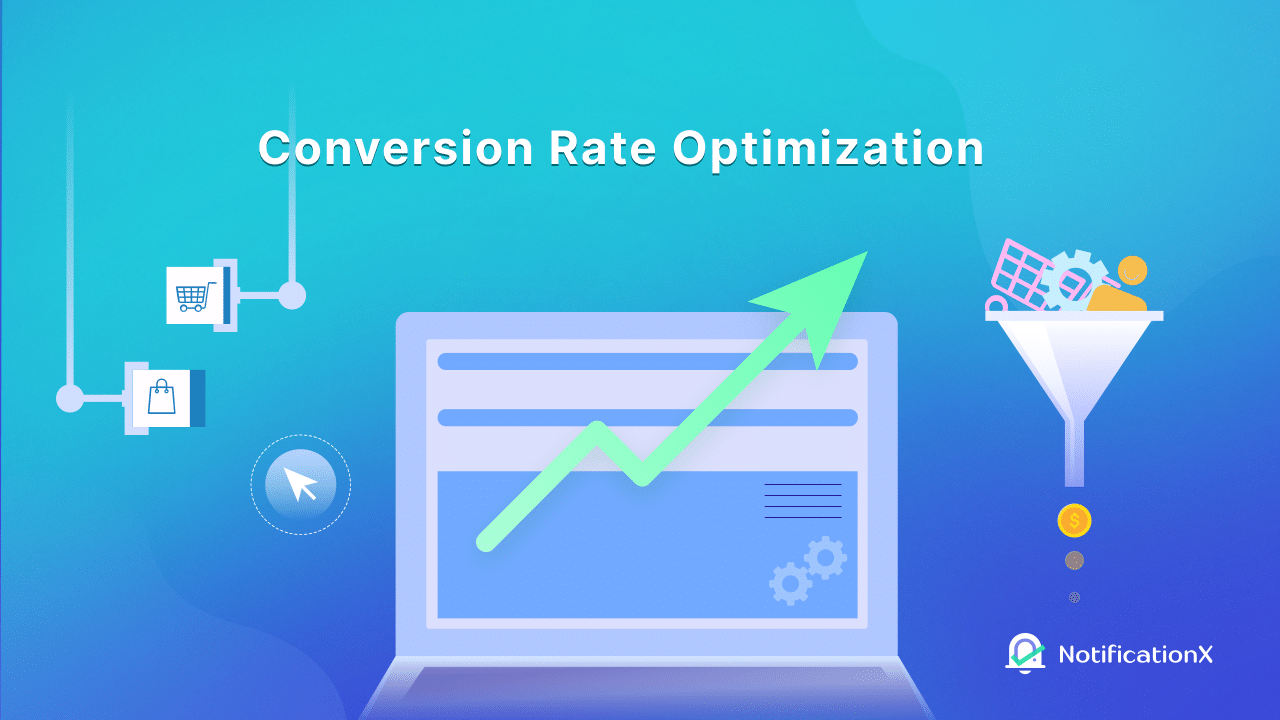 The Power Of Conversion Rate Optimization (CRO) For Business Growth
Getting people to visit your website is just the beginning. The actual difficulty is in turning that traffic into paying clients. Conversion Rate Optimisation (CRO) is important in this situation and has no real way of being understated.
The process of optimizing your website, landing pages, and marketing initiatives to increase the proportion of visitors that complete the intended action, such as making a purchase, subscribing to a newsletter, or asking for more information is known as conversion rate optimization or CRO. This is why CRO is so important to the expansion of your company:
1. Enhanced ROI:
Investing in CRO can provide a substantial return on investment (ROI). According to Web FX statistics, "73% is how much higher conversion rates are when marketers target leads based on their position in the sales funnel." So strategic conversion tactics can easily grow your business.
2. Improved Customer Acquisition:
Using CRO enables you to maximize the traffic that you already have. You can lessen the need to continuously draw in new people by turning a larger portion of your current visitors into paying clients.
3. Increased Revenue:
The impact of CRO on your bottom line cannot be underestimated. According to strong Web FX analysis, Poor user experience leads to people bouncing from your site, loss of revenue, and lack of conversions. This means even small incremental improvements in conversion rates can lead to substantial revenue growth.
4. Better User Experience:
CRO is about giving your visitors a better experience, not only about growing your audience. You may make your website more intuitive and user-friendly by optimizing it for conversions. Increased trust, more client pleasure, and more repeat business result from this. As to the American Customer Satisfaction Index, there exists a strong correlation between elevated conversion rates and customer satisfaction.
Top 5 WordPress Plugins For Conversion Rate Optimization (CRO)
Conversion Rate Optimization (CRO) is the key to maximizing your website's potential. It involves fine-tuning your site to increase the percentage of visitors who take desired actions. To make this process easier and more effective. Now check these top 5 WordPress plugins for conversion rate optimization (CRO).
These plugins offer a range of features to help you optimize, experiment, and achieve better results. Whether you run an online store, a blog, or a business, these plugins can revolutionize your website's performance and drive significant growth.
NotificationX – Best Social Proof & Fomo Marketing Solution

If you want to improve your website's engagement and conversion rate optimization (CRO), NotificationX is the best marketing solution for your business. This powerful WordPress plugin allows you to create eye-catching notifications that grab your visitors' attention and drive them to take action immediately. Best yet, top NotificationX integrations with more than 15 other powerful platforms make your marketing efforts even more effective and constant.
NotificationX Key Takeaways:
Create & design 10+ live alert notifications to grab your visitor's attention on the website to boost conversions and sales.
15+ Integrasi Berkuasa Like Zapier, ConvertKit, YouTube & more.
Makluman Pertumbuhan to display sales count, stock notification, and see instant sales
Flashing Browser Tab can help you win back lost visitors with an engaging comeback alert
Help you display the same social proof notification alert on multiple websites
BetterLinks – All-In-One Line Management Solution

BetterLinks is the all-in-one URL shortening, tracking, and redirection solution for WordPress users. You can now easily create WordPress short URLs, choose your preferred link redirection types, manage affiliates, and marketing campaigns, and more with this latest advanced link management solution BetterLinks.
BetterLinks Key Takeaways:
Create, customize & shorten any type of link with ease
Choose between affiliates or campaign links like no follow, sponsored, etc.
Set up link redirection with 302, 301, or other types as per your need
Manage links with separate categories, and tags & get Wildcards facility
Help to disable any bot links in advance & make your site link secure
Fetch data directly from JSON file & process in fast mode
Evaluate marketing campaigns with advanced UTM builder and a lot more
Peringkat Matematik

Rank Math SEO is the best AI plugin for WordPress to optimize your website SEO in advance. You can easily have the owner access to the SEO tools you require to enhance your SEO and increase your website traffic, conversion rate optimization (CRO), and many more.
Smush Image Compression & Optimization

Smush Image Compression and Optimization plugins can easily make your image compress, resize optimize, and others for your website or any other further usage. This will help you increase your website traffic, and conversion rate optimization to grow your business.
Smush Key Takeaways:
Turn on lazy load, resize, optimize images & compress images.
Bulk smush images and automatically optimize images.
Powerful features to improve Google page speed and a lot more.
W3 Total Cache – Remove Site Cache & Improve Site Performance

W3 Total Cache plugin can help you improve your WordPress site SEO and user experience. It helps to boost the site performance and reduce load times by leveraging all up-to-date features. This will help you to enhance your conversion rate optimization (CRO) and accordingly boost sales.
W3 Total Cache Key Takeaways:
Compatible with shared hosting, virtual private, or dedicated servers/clusters.
Get transparent content delivery network (CDN) management for the media library, theme files & WordPress.
Mobile support, Accelerated Mobile Pages (AMP) support, Secure Socket Layer (SSL) support, & a lot more.
Enhance Your Conversion Rate Optimization (CRO) And Grow Your Business
The top 5 WordPress plugins for conversion rate optimization (CRO) are useful solutions for expanding your company's reach online and increasing sales. Lead generation, analytics, SEO, and performance optimization help you to be used to build a website that not only draws in more visitors but also turns them into devoted clients.
Try out these plugins and adjust your CRO tactics based on your target audience and objectives for optimal outcomes. Purchasing CRO plugins is an investment in your company's future prosperity. Thus, begin improving your website right now and see a dramatic increase in conversion rates and business expansion.
Besides, please melanggan blog kami for more useful tips, tutorials, updates, and more. Don't hesitate to join our Komuniti Facebook to know more about us.