Adding a Countdown timer on your website to boost holiday sales is one of the most effective marketing strategies to start with. You can easily create urgency among your customers' minds and encourage them to grab their desired products before the offer runs out. This is one of the proven holiday sales tactics to go with. So don't wait! And take a deep dive into this blog to know how to create urgency with countdown timers to boost holiday sales.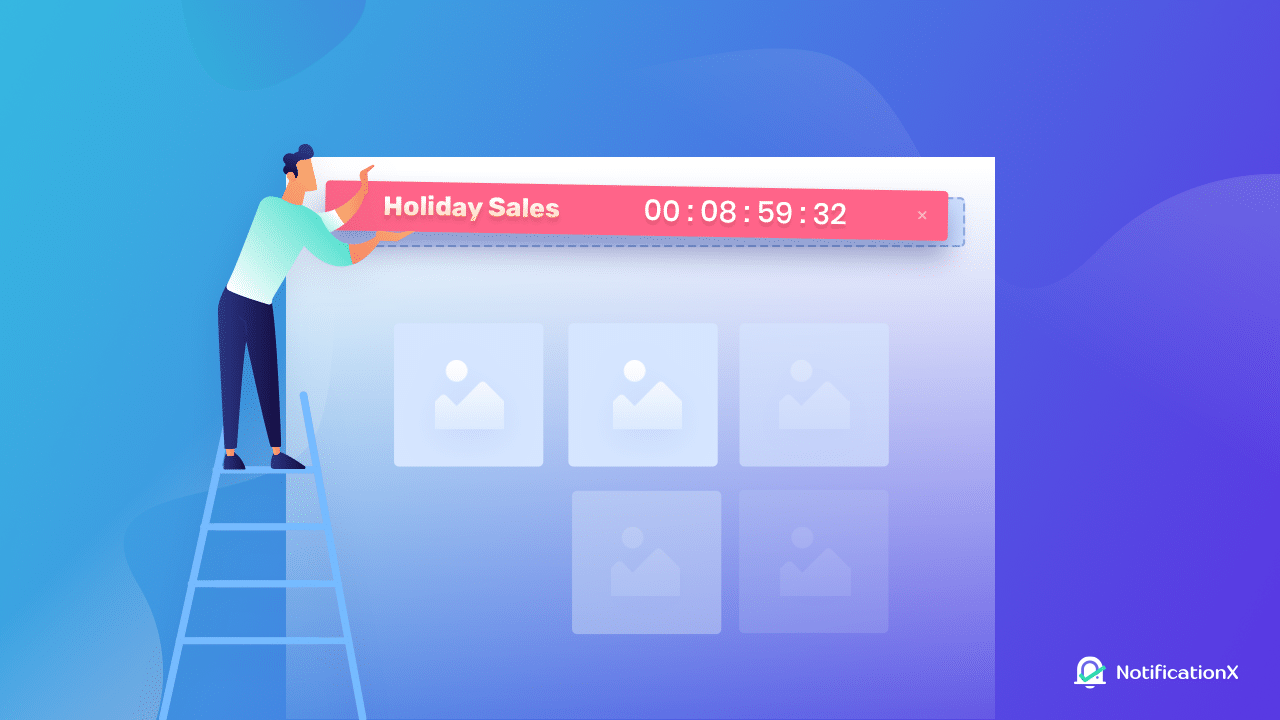 Some Early Predictions To This Year Holiday Sales
If you are running your business online, in 2023 holiday sales are going to create a great revenue stream on your year-end holiday sales. You can check out all the predictions that indicate increasing this year's holiday sales much more than previous.
👉Salesforce reveals 2020 was the Biggest Holiday Season Ever for Digital Sales, Up 50 Percent Year-Over-Year to $1.1 Trillion Globally.
👉According to forecasts from Bain, Deloitte, and Mastercard – This year holiday sales are expected to increase at least 7%-9% more compared to last year.
👉According to Forbes, "Leading Shopping Center Group Predicts 8.9% Boost In Holiday Sales"
👉NRF says 2020 holiday sales grew 8.3 percent despite the pandemic.
Why Use Countdown Timers & Create Urgency To Boost Holiday Sales?
Countdown timers are one of the powerful marketing strategies that work for influencing customers right away. It lets customers know where your holiday sales will start and end up at the beginning. At a glance, countdown timers help to create FOMO and create a great impact to make the purchase decision on the spot.
Moreover, from a business perspective, not all the time you are making the same amount of profit. So when your sales growth is low that time an instance sales offer with an interactive countdown timer works faster than anything.
Besides, customers are especially waiting for holiday sales. It could be for Halloween, Black Friday, Cyber Monday, year-end, or new year eve sales. In every specific holiday sale, you can easily boost up your revenue more than at any time.
On a seller end, you can create hype, and the buyer can get their desired products at discounts. Because it is also true that not all customer types can buy the product with the actual price. So they wait a long time for holiday sales to grab their preferred products or services. Some more pinpoints are mentioned below:
Interactive Sales Promotion On Website
If you want to make your holiday sales exclusive then before you should have included a countdown timer in an interactive popup option on the top of your website. When visitors reach out to your landing page, they can know about your huge sales and can easily redirect to your actual deal page. This is for when your customers land on your website they don't have to look for the sales promotion instead they get it right away to boost your sales.
Add Value To Your Product Sales
Countdown timers help customers to know when your sale is starting and ending. Accordingly, they can make up their mind and purchase their sales immediately. You can add value to your product sales without hassles.
Build Instant Interest On Customers
When customers see upcoming or running holiday sales announcements on an optin popup on a website, you can make your customers feel attracted to your deals on an instance. You just need to make it lightweight, so that countdown timers can load instantly on your customer end. This is all for providing a great customer experience.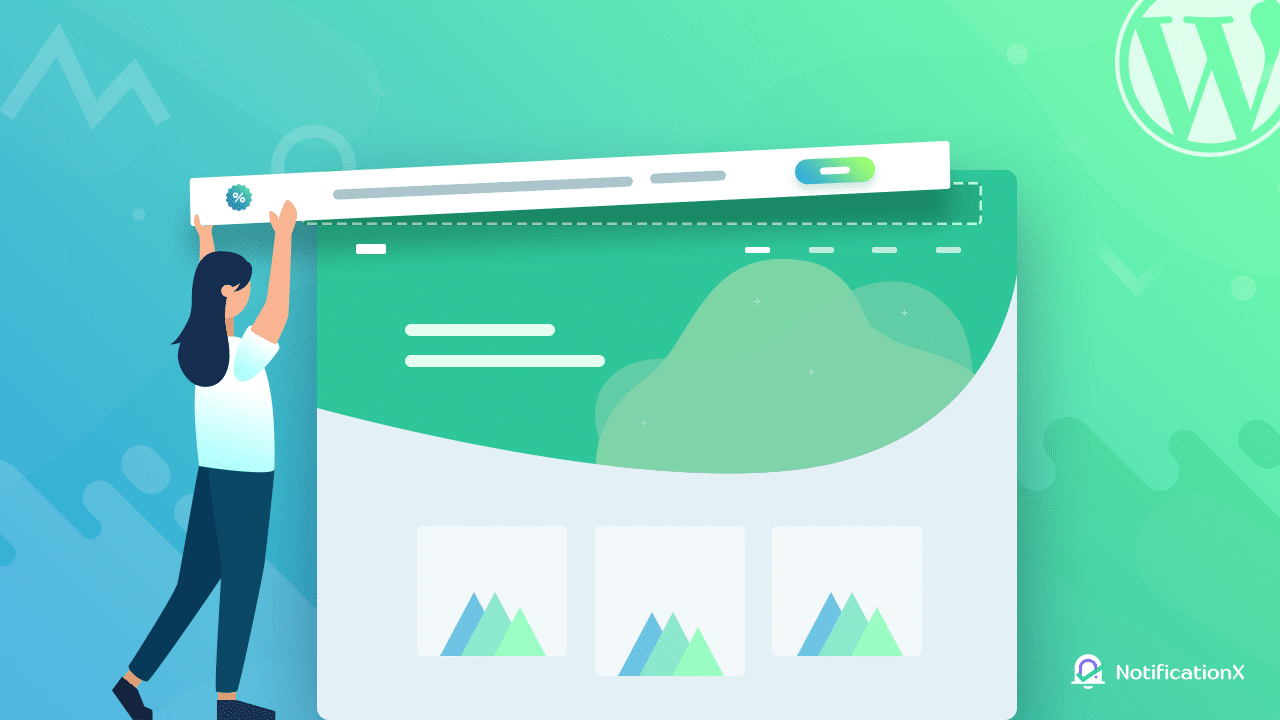 Best Ways To Create Interactive Countdown Timers With A Top Notification Bar
When you are planning to create an interactive countdown timer you should know the best ways to implement it on your website. Let's check out the best suggestions to create an interactive countdown timer:
🟢 First Decode The Types Of Your Countdown Timer
Make up your mind first what types of the countdown you want. There are two kinds you can create and both have their own genre of attraction. One is a static countdown timer and another one is dynamic.
Static Countdown Timers: Static countdown timers assure starting and finishing dates. And most of the time, this type of countdown timer is used for seasonal sales or product launches campaigns.
Dynamic Countdown Timer: Dynamic countdown timer is also known as the "Evergreen" countdown. It provides a separate preset of count-down time for each visitor. This is because Dynamic Countdown Timer uses browser cookies and each time it creates a unique countdown for every user.
All you have to do is to include the length of time like days, hours, minutes, and seconds without providing the ending time. You can use this for running any type of promotional activity. So make sure which type of promotional activities you want to learn and accordingly plan for it to execute.
🟢 Next Add Concise & Attractive Content To Influence Customers
Countdown timer content always comes with exciting and concise content to influence customers at the very first look. They can know what you are offering for products with discount coupons code and others in one place.
🟢 Now Design A Stunning Countdown Banner With CTA
A countdown timer is incomplete without a call to action (CTA) button. If you go with a trendy design including a CTA, half your work is done promoting holiday sales. The other half is depending on your customers to interact with your sales.
How To Create Urgency With Countdown Timers To Boost Holiday Sales
If you are a WordPress user, you can easily then include a countdown timer on your website. All you have to do is to get a complete solution that can make your website countdown interactive.
To make your work easier, NotificationX is the best marketing plugin for WordPress and comes with a Notification Bar feature that helps you to create a popup optin bar on your website. You can choose ready layouts to create urgency with countdown timers to boost holiday sales in an instance.
What NotificationX Offers You To Create Urgency With Countdown Timer?
NotificationX can help you showcase your live notification popups on the website and a separate Notification Bar feature to create optin banner with or without a countdown timer. It comes with ready layouts, advanced customization facility to make your popup bar the way you want with a countdown timer. You can even track your visitors' performance in advance. Check out more details below:
Create a stunning Notification Bar with ready layouts with a countdown timer.

Make your countdown timer stand out with a full customization facility.

Powerfully integrated with WordPress and Elementor.

Build both Static Countdown Timer & an Evergreen Timer without coding.

Track & analyze your customer performance in detail with in-built analytics.
Besides, you can have more than 10+ real-time user notifications on websites including showcase sales, reviews, downloads, and others to add credibility to the business.
Also, NotificationX is powerfully integrated with 16+ integrations to fuel up your online marketing strategies right away. And with lots of updates especially in NotificationX 2.0 latest updated features and advanced facilities instead.
You can manage your user roles, global queue management for notifications faster than any other social proof solution. Let's now find out how you can create urgency With countdown timers to boost holiday sales with NotificationX.
Guide: Create Urgency With NotificationX Notification Bar Countdown Timers
Before starting anything, make sure you have installed & activated NotificationX on your WordPress site. Now follow the instructions below to display holiday sales offers popup notification on the website to create urgency with Countdown Timers using NotificationX Notification Bar:
Step 1: Add New Notification
First, navigate to the WordPress dashboard → NotificationX →Add New option to create a notification to display your holiday sales with Notification Bar ready Countdown Timers offer.
You have to then add the title of your holiday sales offer notification and choose your 'Source' as 'Notification Bar' to go next.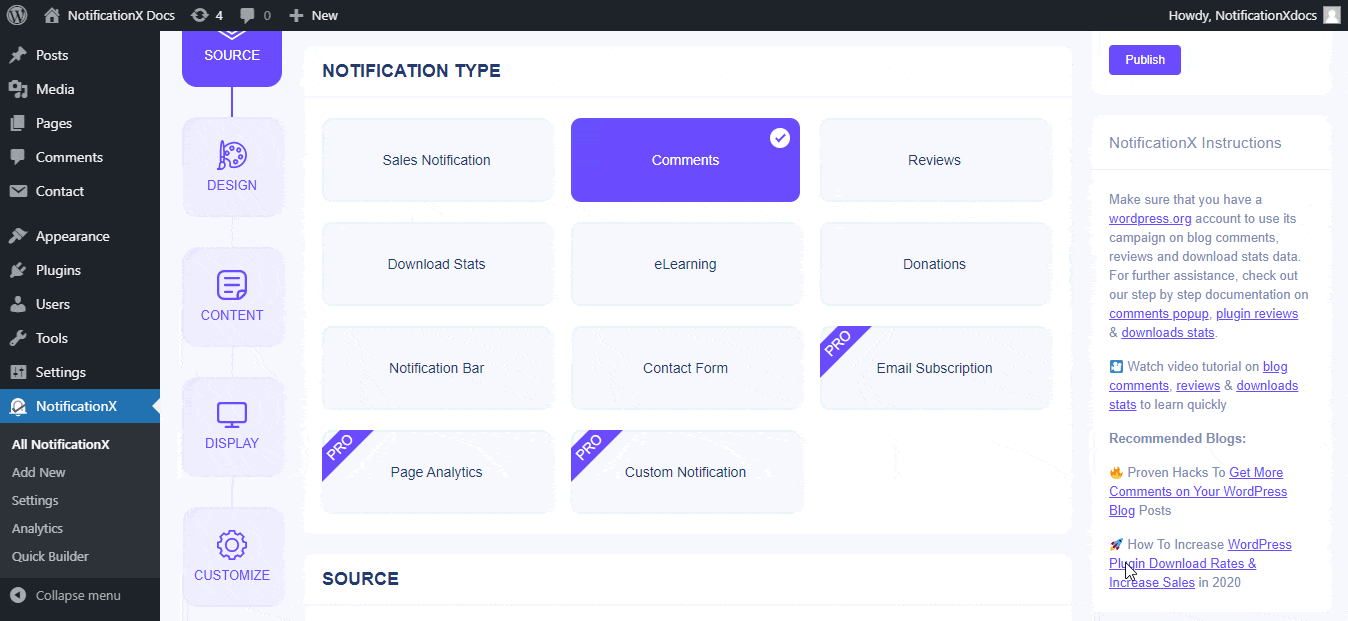 Step: Configure The Design Tab
Afterward, from the 'Design' tab, you have to pick your preferred ready template for your notification bar. If you want you can configure the Advanced Design tab to make your popup notification bar stand out.
Each ready notification bar template of NotificationX Notification Bar gets interactive calls to action buttons and countdown timers included. That's why visitors can easily go to the offer page directly from the notification bar. This will create a convenient situation for both the business owner and the customers.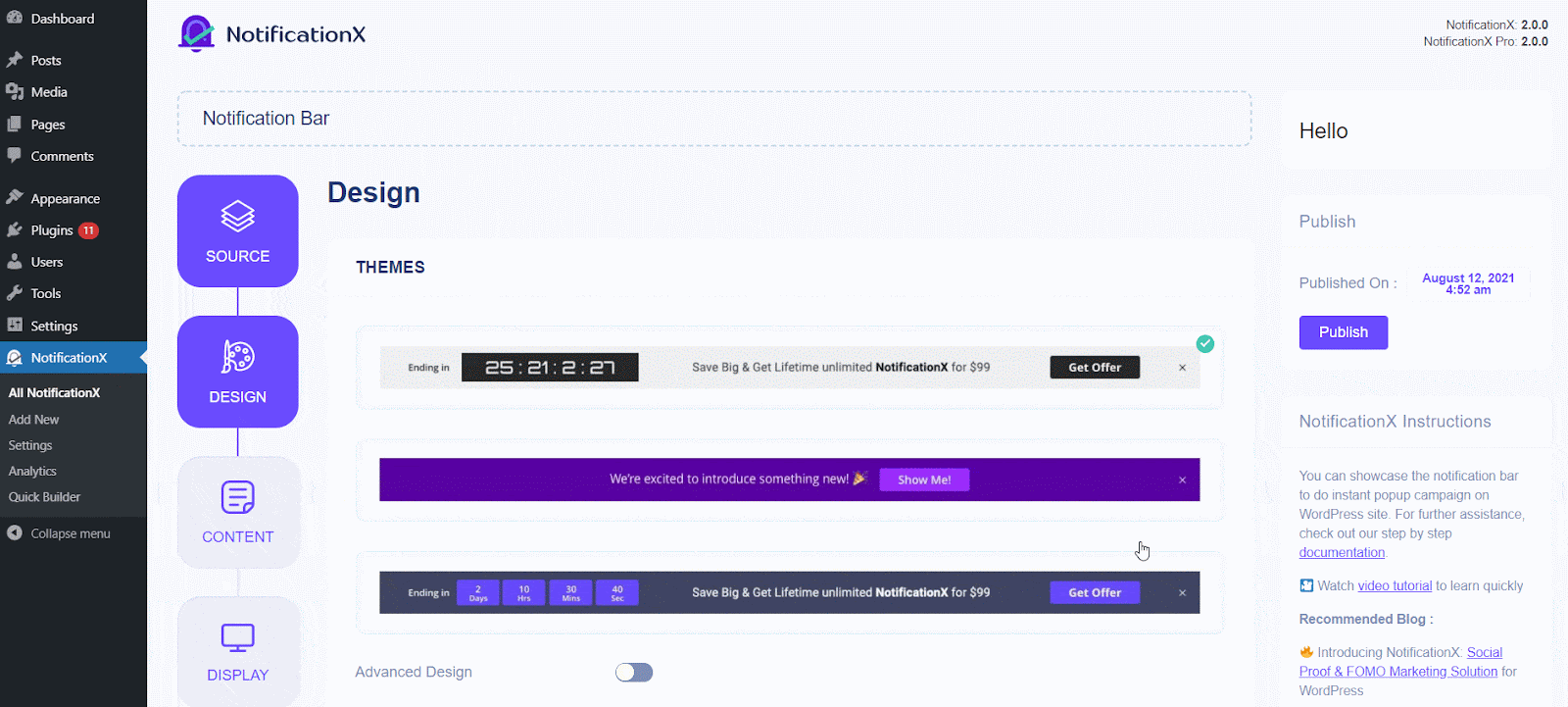 Besides, you can set your desired content, countdown timer, display, appearances, and more as per your preference by configuring the 'Content', 'Display', and 'Customize' tab.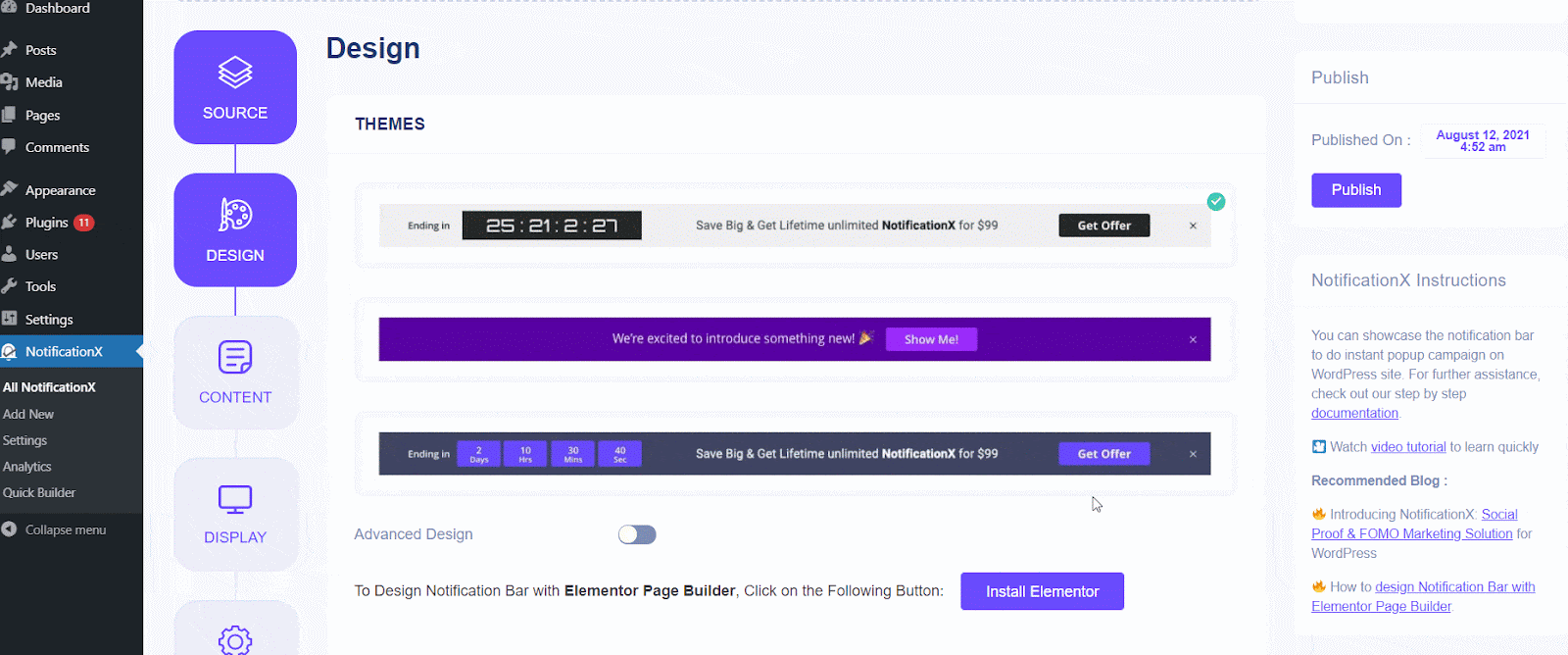 This will help you make your popup notification bar interactive for your potential customers. Except this, if you want to know more, check out our detailed documentation on Notification Bar.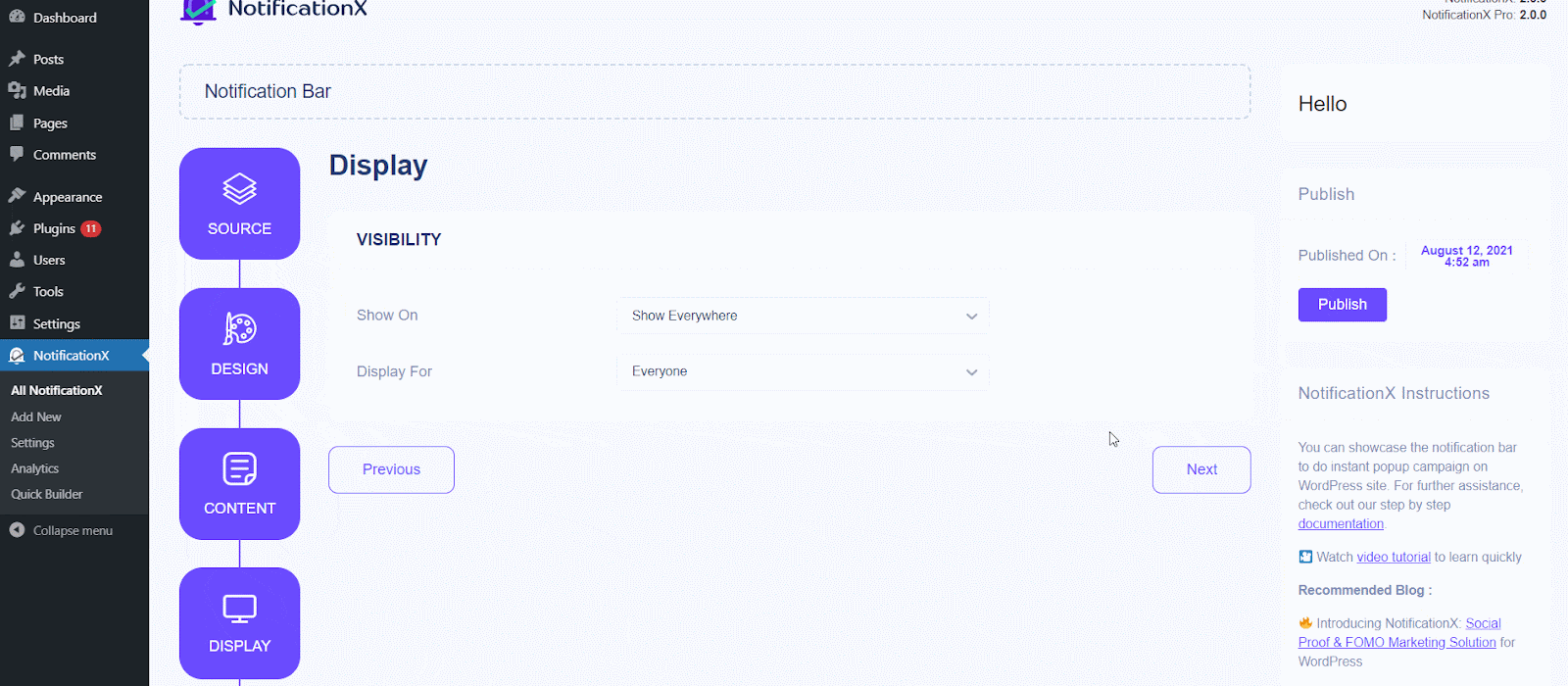 So after successfully making all the changes according to display holiday sales offer with NotificationX Notification Bar will look like this: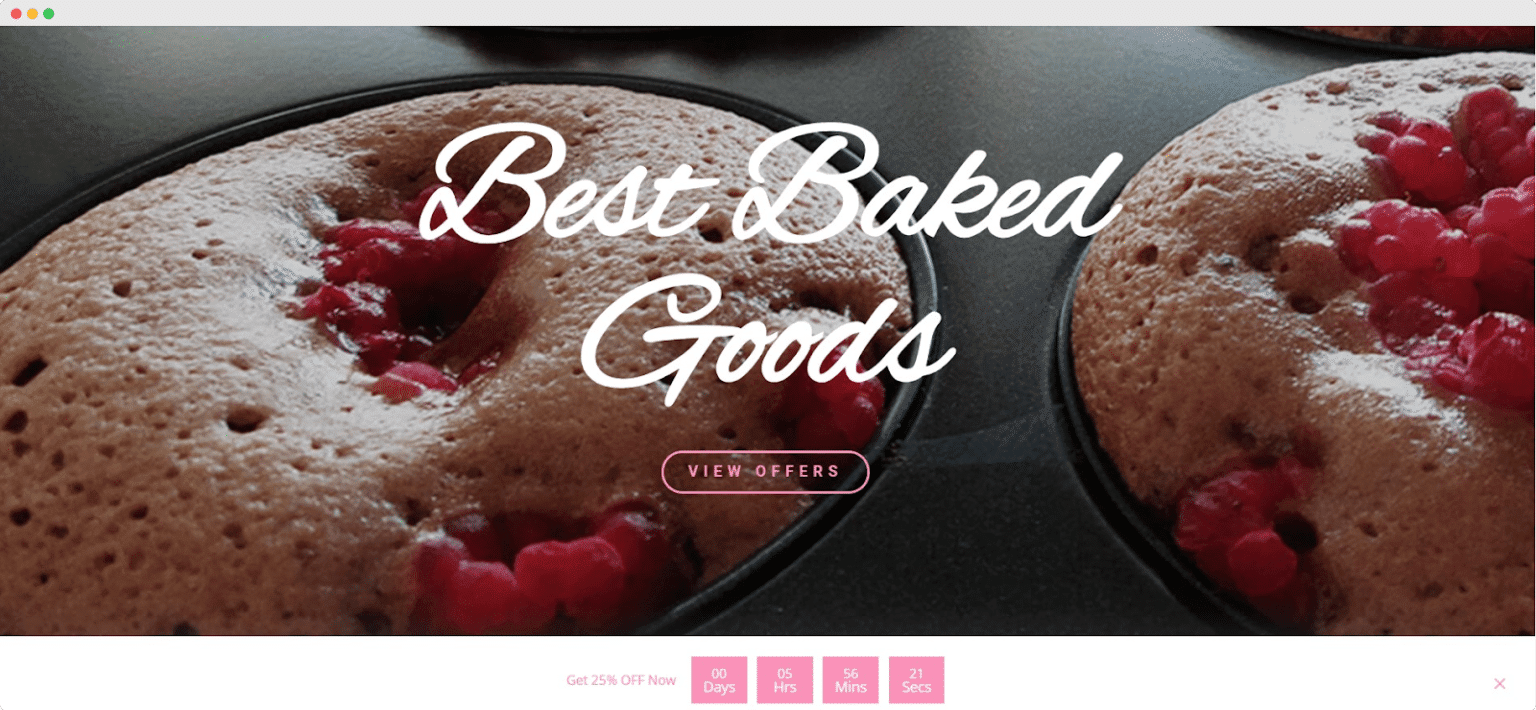 Configure NotificationX Evergreen Dynamic Notification Bar
NotificationX dynamic EverGreen Notification Bar provides dynamism in its countdown timer. As from the two of the NotificationX timers, you can use the fixed countdown timer or you can configure the evergreen dynamic timer of the NotificationX Notification Bar. It allows you to manage your countdown timer times by tracking potential visitors' cookies on the website and each time generating a unique countdown timer.
Step 1: Install & Activate NotificationX Pro
All you have to do is to install & activate NotificationX Pro to avail this dynamic evergreen timer advanced facility to smartly display holiday sales offer notifications on your website and create urgency with dynamic Countdown Timers. It will then be available for all your existing notifications.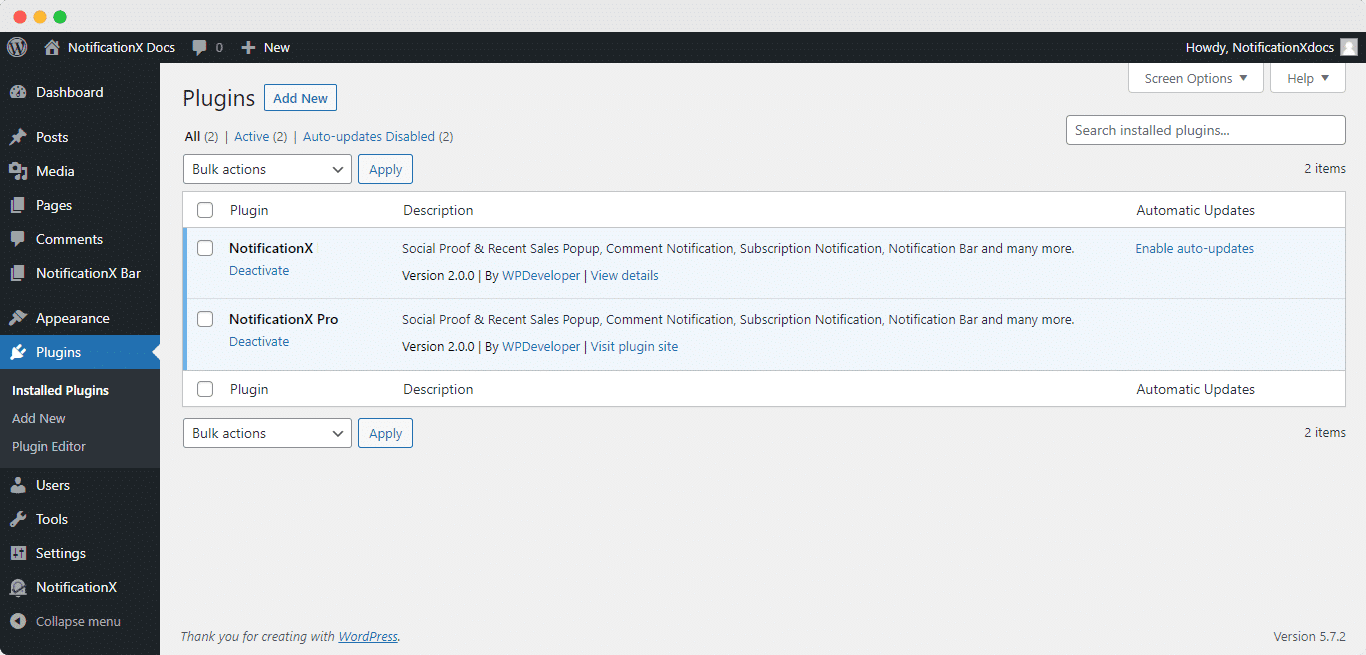 Step 2: Enable Dynamic EverGreen Timer
Now the only thing you need to open up your latest holiday sales offers notification by using the NotificationX Notification Bar or the desired ones. Afterward, click on the Content tab, and hit the square box thereof 'Countdown timer'. It will come up with the 'Evergreen Timer' option. You just have to toggle on this dynamic feature 'Evergreen Timer' of the notification bar.

You are now fully free to configure your evergreen countdown timer of NotificationX Notification Bar. You can choose the 'Time Rotation' or 'Randomize' option to run your notification bar holiday sales offer notification in a standout automotive process.
If you configure the Time Rotation feature, it will help you to select your preferred time period to display your holiday sales offer notification on your WordPress site. Suppose you have set 6 hours, so after passing this six hours from the activation, your holiday sales offer notification will disappear from your website.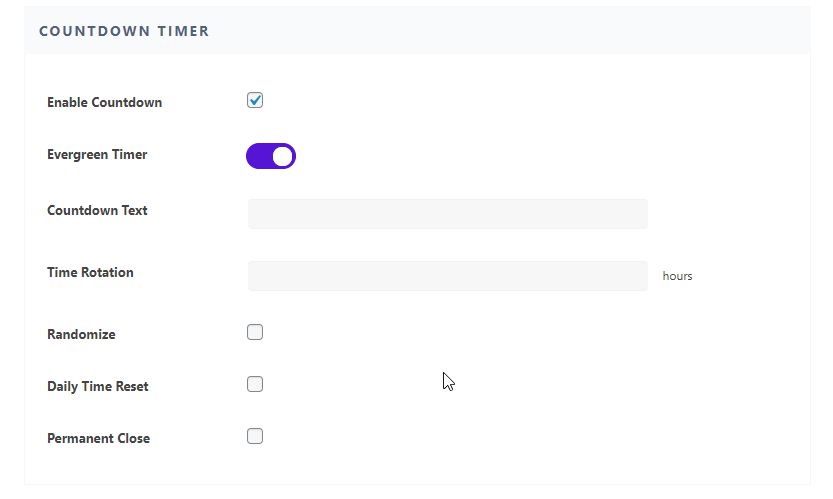 Besides, if you go with the 'Randomize' option, then the Time Rotation will disappear, and you have to set the time interval of your evergreen timer. For instance, if you have chosen between 3 to 6 hours, it will then randomize automatically within that timer period and show your site visitors that 3 hours are remaining to grab the holiday sales offer and create urgency.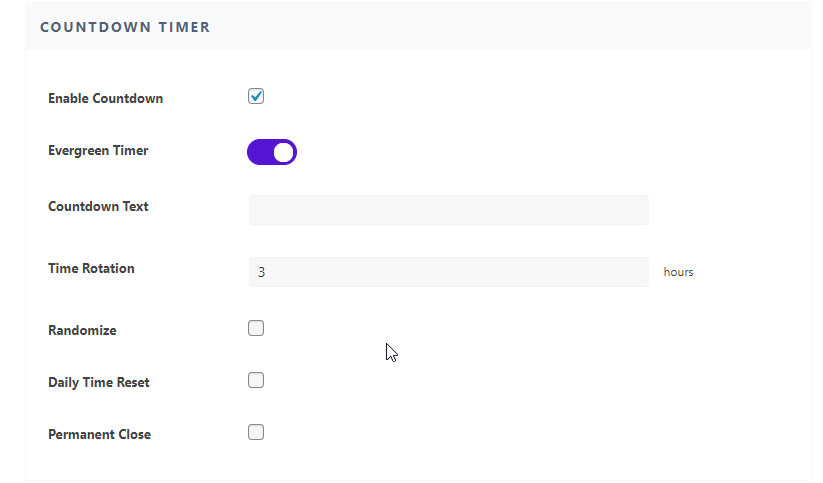 Without this, you will get 'Daily Time Reset' to reset your Evergreen Countdown notification for each day automatically you have already configured. Also, if in any case, you want to remove this evergreen timer anytime, just hit the 'Permanent Close' option and it will be permanently closed.
After configuring all of the above steps, your dynamic evergreen timer of Notification Bar countdown will look at the image below:

Design Stunning Pop Up Notification Bar Using Elementor
You can now design NotificationX Notification Bar on WordPress's most popular page builder Elementor. To enhance Elementor users' facility to the next level by applying the advanced FOMO tactics with the best marketing plugin of WordPress NotificationX. You can choose from its exclusive ready themes, and make it customized on Elementor Editor with full freedom.
You can add any Elementor elements on your popup Notification Bar and design it in advance to display holiday sales. Elementor site users now anytime display any kind of sales alert through the NotificationX popup notification bar without coding.
If you make all the changes on your NotificationX Notification Bar according to your need on Elementor Editor, the output will look something like the image below. You can even design better and beautiful for sure.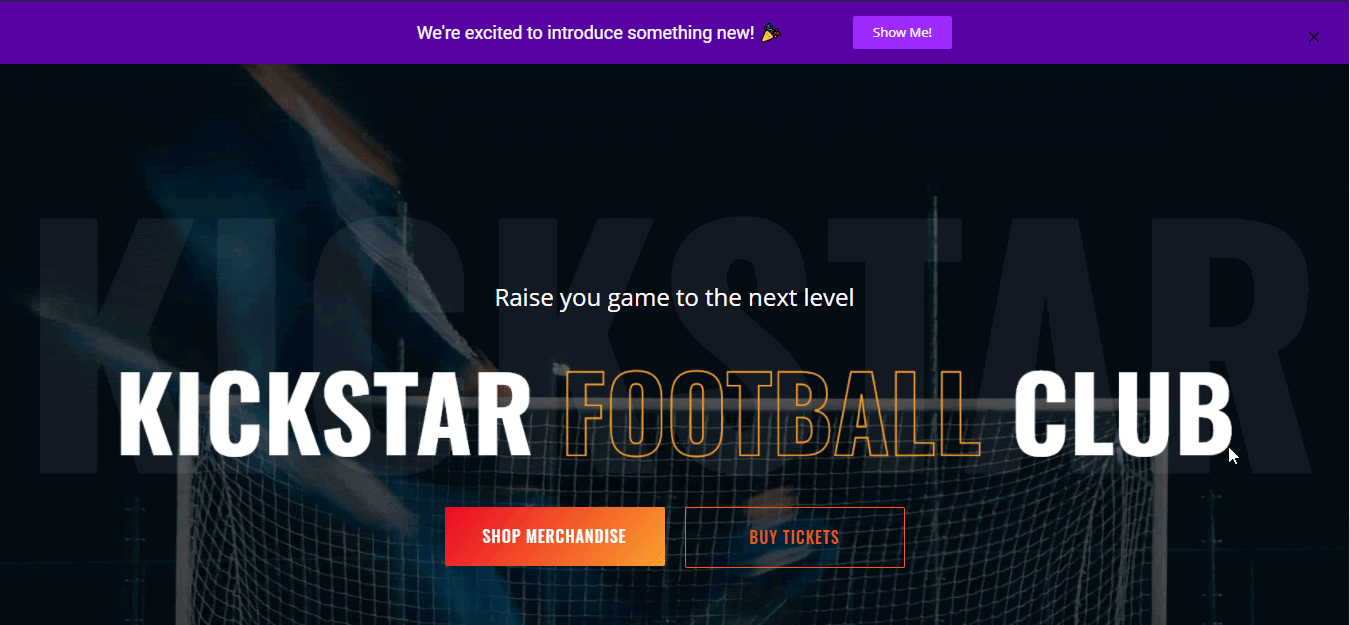 Boost Holiday Sales With NotificationX Countdown Timers
Online holiday sales deal success is depending on how innovatively you can think and come up with distinct approaches than before. So that you can easily grab your potential customers' interest on an instance.
Creating urgency with an interactive Notification Bar Countdown timer sounds cooler than anything, what's to say? It helps you to display your exclusive holiday sales deal on your website homepage or any other and instantly grab visitors' attention. Make them influence on the spot to buy your products.
Try out NotificationX and share your opinion by commenting below. To read more exciting blogs, tutorials, subscribe to our blog, and don't forget to join our Facebook Community.