Did you know you can easily display the same social proof notification alert on multiple websites with Cross Domain Notice feature? We are very excited to announce that NotificationX PRO brings you this exclusive feature to showcase cross-domain campaign notifications on all your websites with ease.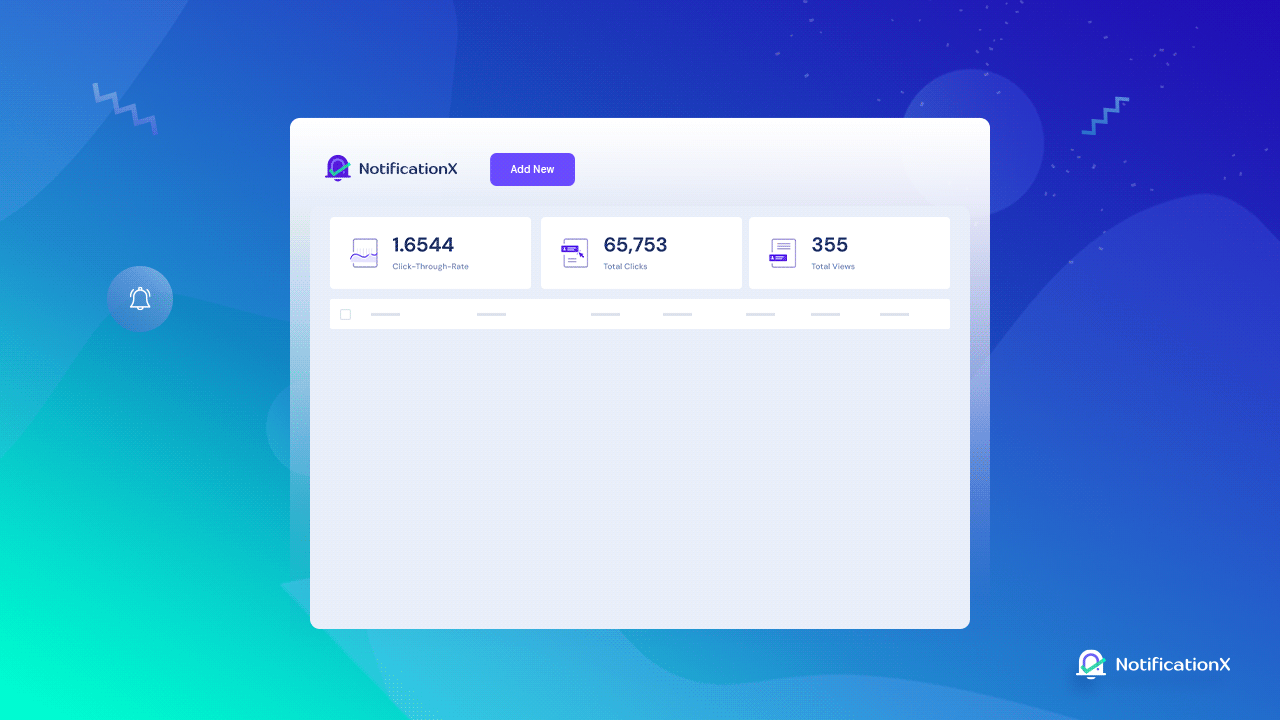 With its FOMO marketing strategies and notification alerts, NotificationX has always aimed to increase your website's growth. And with its latest update, NotificationX introduces the Cross Domain Notice feature. This feature will help you showcase social proof notifications enabled on your WordPress site to any other website you want, including non-WordPress websites. 
In this blog, we will guide you through the simple and easy steps to configure this unique, premium feature. But before we get into the process, let us understand how displaying cross domain notifications help to boost engagement and conversions across all your websites. 
Why You Would Like To Display Cross Domain Notices On All Your Websites?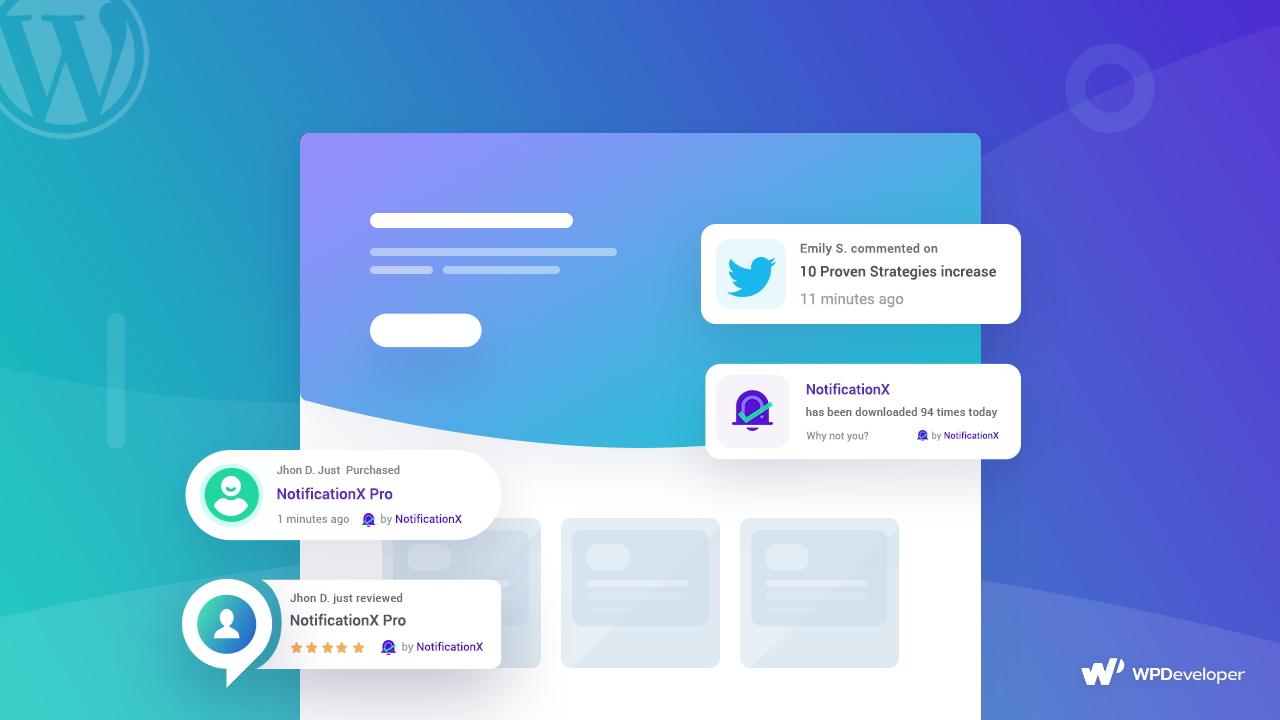 Before we get into a step-by-step guide on how to use this premium feature, let's try to understand why you should consider using the cross domain notice feature from NotificationX PRO: 
🎯 Suppose you have an online store where you sell different products or brands that you own. Needless to say, each of these brands may also have its own website. In this case, when a product is sold on your WooCommerce store, you can use this exclusive Cross Domain Notice feature to display the sales notification alert on the WooCommerce website, as well as on your product's individual website. And the best part is, by installing NotificationX PRO on only one website, you can display the same social proof notifications across all other websites as well. 
🎯 In another case scenario, suppose the WooCommerce website you own uses a redirect payment gateway option that redirects the customers to the brand website when he adds the product to his cart. The NotificationX Cross Domain Notice feature will help you display a sales notification alert for that product on both sites again if you simply enable the feature from NotificationX PRO on your brand website.
🎯 However, you must keep in mind that you can display many types of social proof notifications using NotificationX, not just for sales. So in a different use case, if you have an important announcement blog published on your WordPress store, you will be able to alert the users of any other website you own with no effort, using different notification alert types using the NotificationX Cross-Domain notice. 
This will instantly boost website traffic, along with sales and conversion using this exclusive feature.  Users will become more engaged and find the trust to purchase more from or conduct business with you and increase your site's credibility exponentially.  
Configure NotificationX Cross Domain Notice With Ease
To help you display stunning social proof notification alerts from your WordPress website onto other sites across all domains, NotificationX PRO brings you an exclusive new feature – Cross Domain Notices. 
This feature is perfect to help you show cross domain notification alerts generated on your WordPress website using NotificationX on any type of website – WordPress or otherwise – using just a few clicks. And the best part is, you do not need to code or even install NotificationX on your target website to use this feature. 
It will not only help to boost your website's engagement significantly but also increase credibility and enhance conversion by length. Follow the step-by-step guide below to learn how you can easily configure and use this amazing new feature. 
Note: Notification alerts must be published on your WordPress site using NotificationX to use this feature. If you have newly installed & activated NotificationX, check out this detailed documentation on how to create live notification popups.  
Step 1: Copy The NotificationX Cross Domain Notice Code
To start off the process of displaying stunning social proof notifications across many domains, you will need to retrieve the cross domain notice code. And to do so, you need to navigate to NotificationX → All Notifications from your WordPress website's dashboard.
If you want to display a single notification alert on your other websites, all you have to do is click on the 'Cross Domain Notice' option given alongside the published notification, as shown below, to copy the code.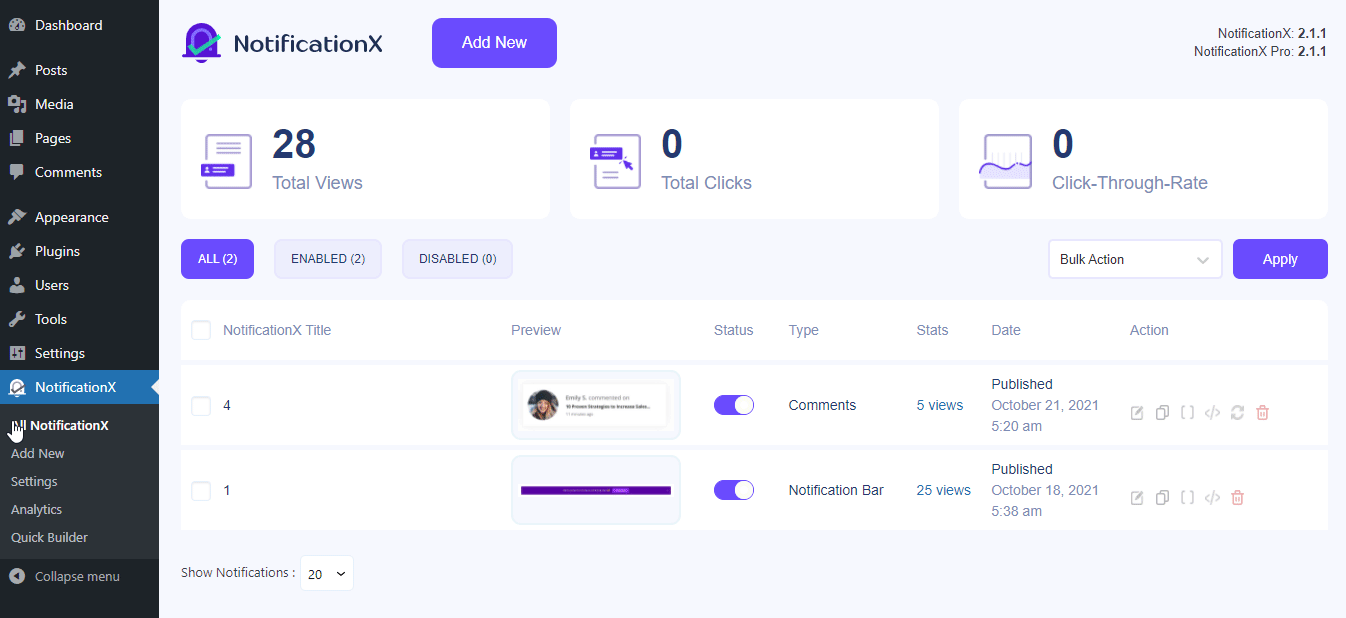 And if you want to display multiple notification alerts using the cross domain notice feature, you will have to select the alerts by clicking on the checkboxes. Then, from the 'Bulk Action' drop-down menu, choose 'Cross Domain Notice' and hit 'Apply'. The codes for all the notifications will be copied at once with ease.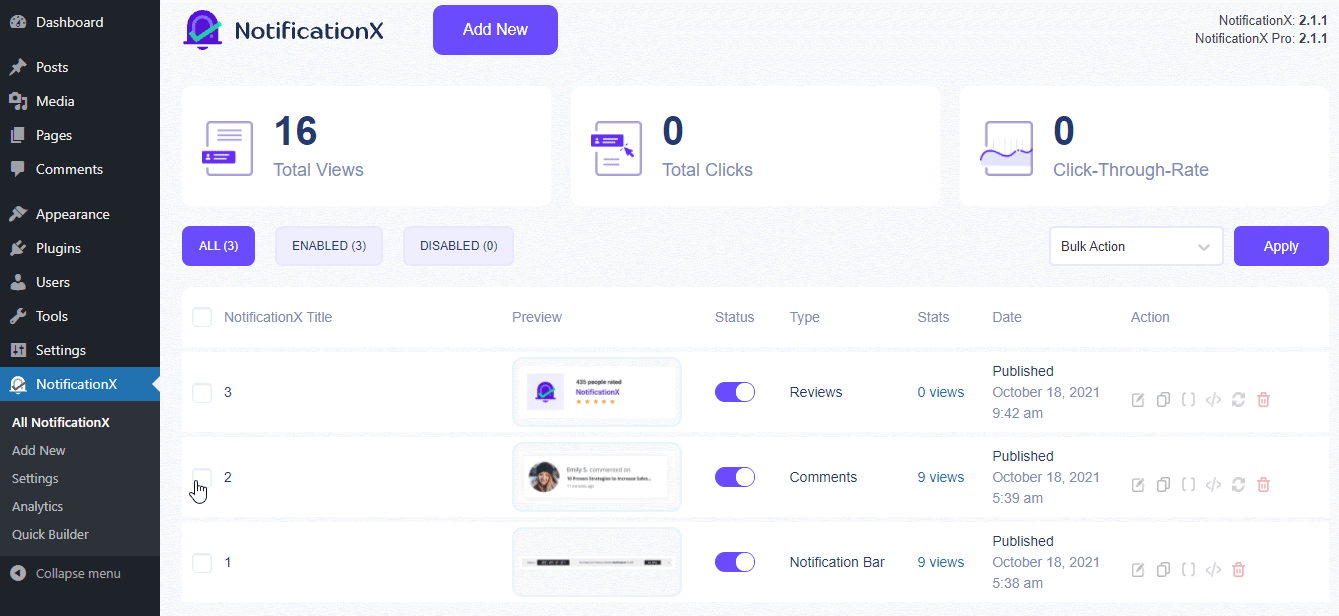 Besides this, you can also find the cross domain notice codes for 'all' of the notification alerts set on your website from the plugin settings. This time, simply navigate to NotificationX → Settings → Miscellaneous tab. Here, you will find a section dedicated to the exclusive, premium feature with the entire code. 
Hit the green 'Click To Copy' button, as shown, and the code will be instantly copied to help you display FOMO notification alerts on any website you prefer.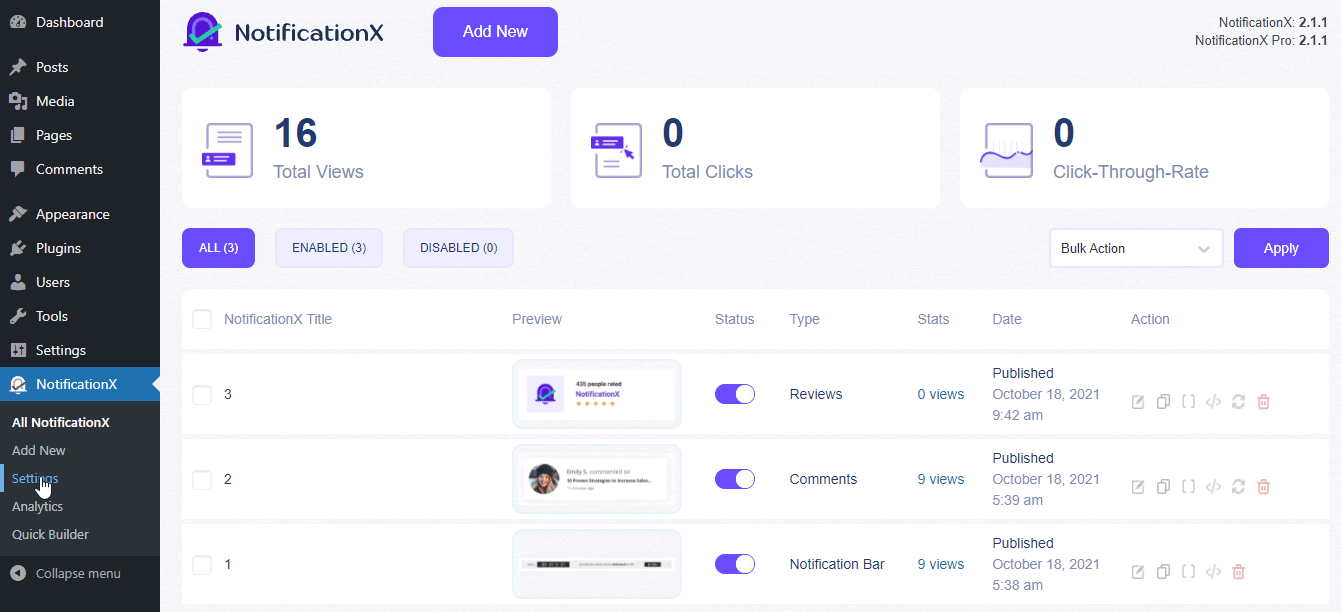 Step 2: Enable Cross Domain Notices On WordPress Site
Now that you have copied the code from NotificationX, you can simply embed it onto your other sites across domains to display the stunning notifications. If you choose another WordPress website, his outstanding FOMO marketing plugin brings you the easiest way to do so. 
First, you have to check if the installed theme on your WordPress website supports the 'Custom Code' adding facility. If it does, just paste this cross domain notice code directly onto your theme onto the custom code adding facility, like the image below.
However, if this facility is not available, then you can create a custom 'Child Theme' onto your WordPress website, or add it to the Appearance →Theme Editor section. You can also use a third-party plugin, such as Simple Custom CSS and JS, to add NotificationX code for Cross Domain Notice.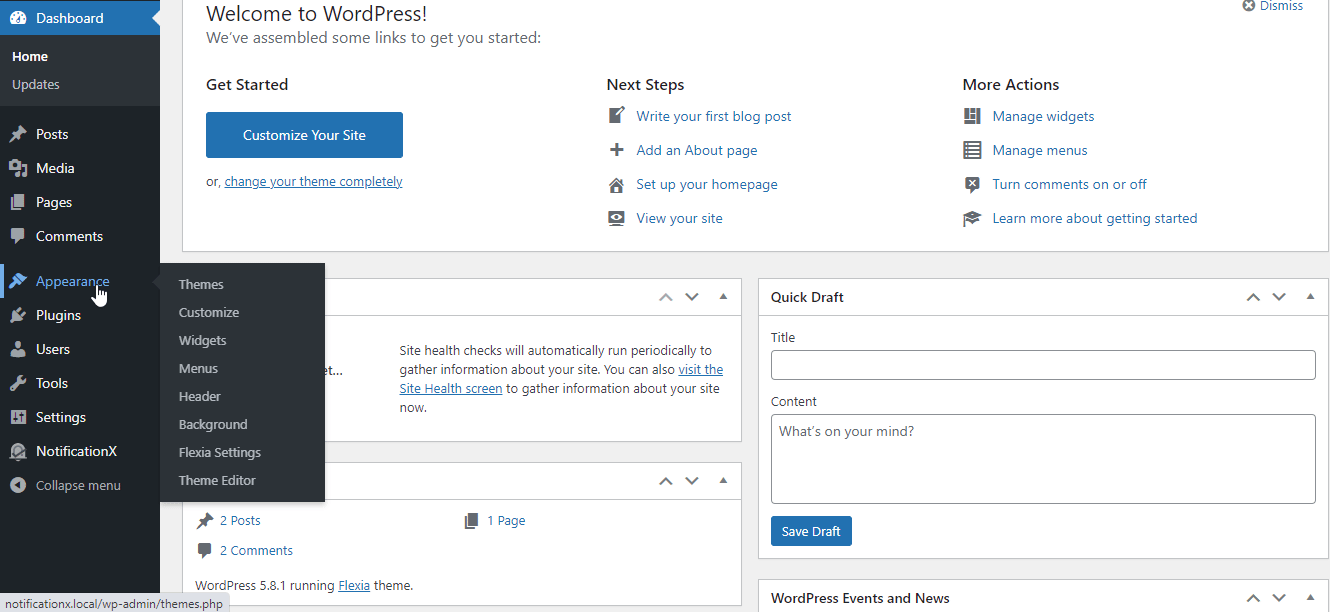 Step 3: Add Cross Domain Code On Other Website Types
Apart from displaying notification alerts on other WordPress sites, NotificationX Cross Domain Notice feature also helps you to boost engagement and conversion on other types of websites with ease. 
For this case, however, you cannot simply paste the copied Cross Domain Notice code onto your site's theme like you can for WordPress websites. To display stunning notification alerts from NotificationX on your non-WordPress site, you will have to add the code onto your website's script in the backend.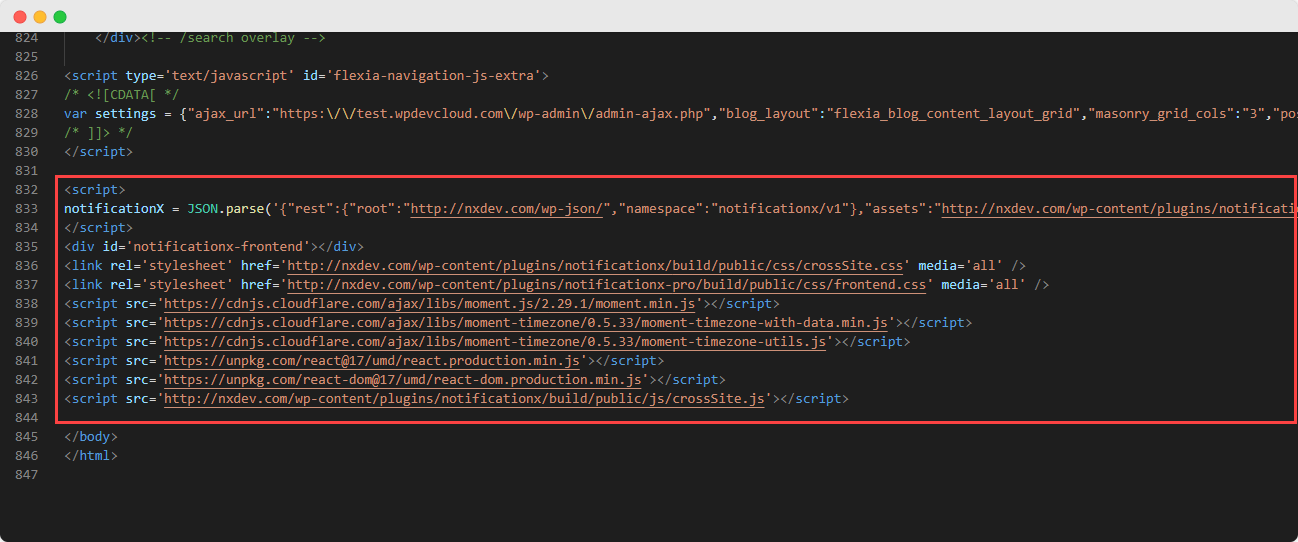 And that's it, with these simple and easy steps, NotificationX lets you display notifications on multiple websites across domains using its newest premium feature – the Cross Domain Notice. 
By following these steps mentioned above, single, multiple, or all your NotificationX notification alerts  will be displayed on any other website you want.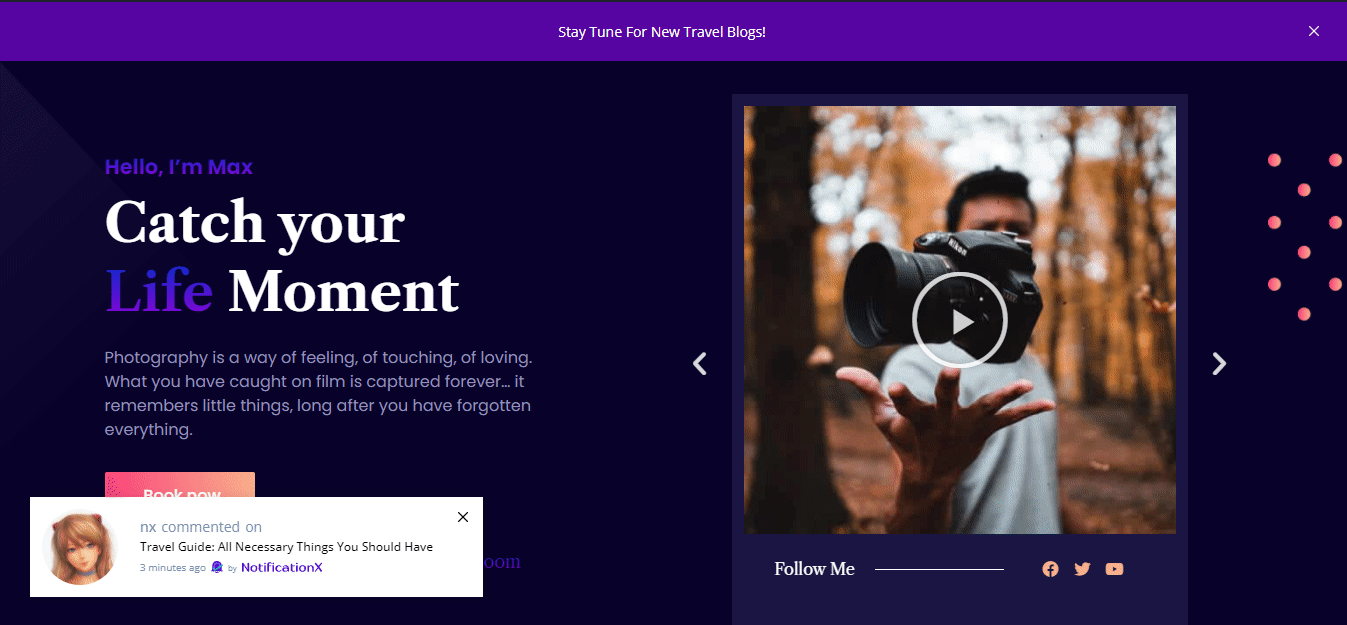 Other Latest Features Of NotificationX To Boost Social Proof
Here at NotificationX, we are constantly trying to help you boost social proof and conversion on your WordPress website with the latest updates and new features. And so, we have added many more exclusive features with the previous updates of NotificationX: 
Translate NotificationX Alerts To Any Language Using WPML
First up, we must mention that NotificationX is now 100% compatible with WPML, the best multilingual translation plugin for WordPress. Now, you can easily use this powerful social proof marketing tool in any language and translate any and all notification alerts with just a few clicks, boosting conversions for multilingual websites instantly.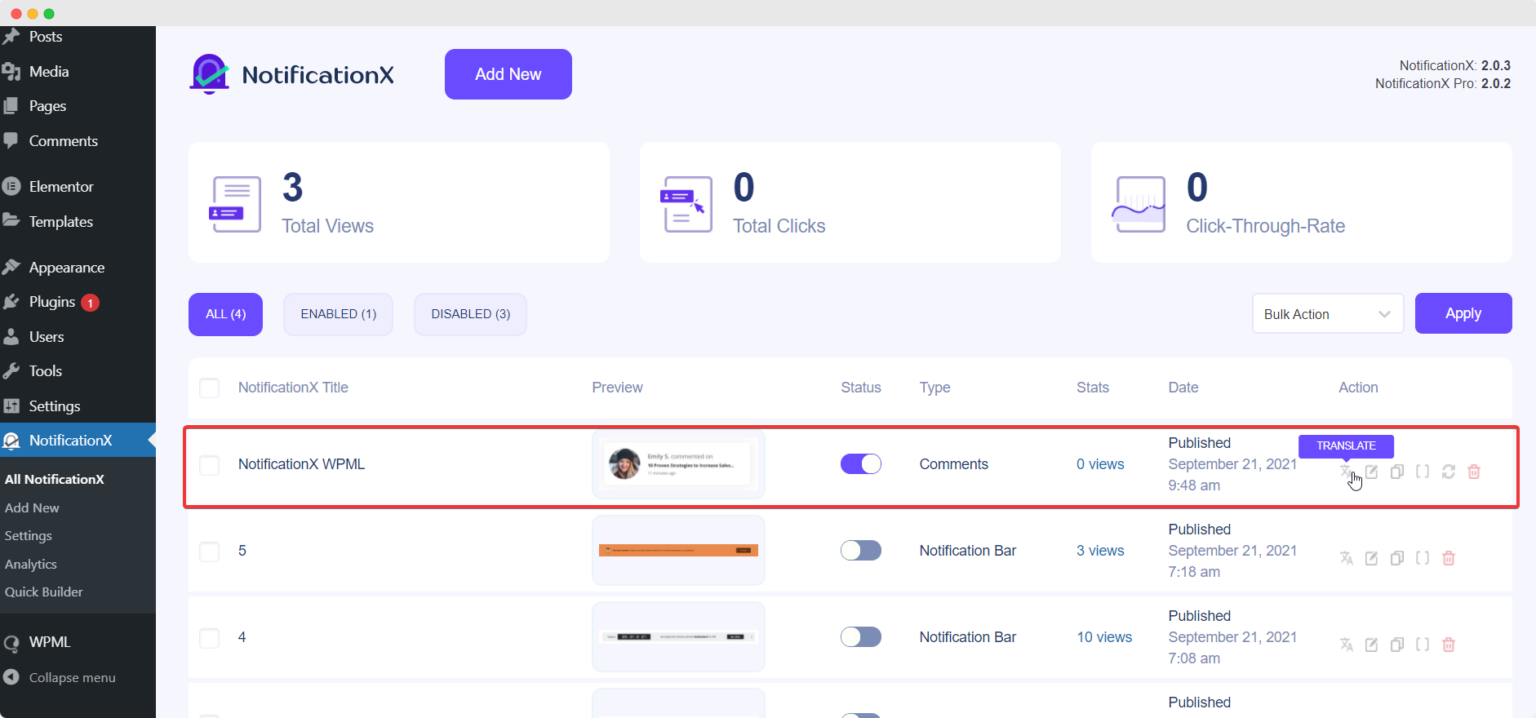 This excellent new feature is extremely helpful to reach a wider website audience around the globe and encourage them into taking part in your business or marketing campaigns. 
Increase Site Credibility Using Random Order Control In A Click
On the other hand, we have another new and extremely helpful feature from NotificationX PRO – the Random Order Control. If you have multiple notifications configured on your WordPress website, you can easily enable this feature to randomize the order in which the notifications are displayed.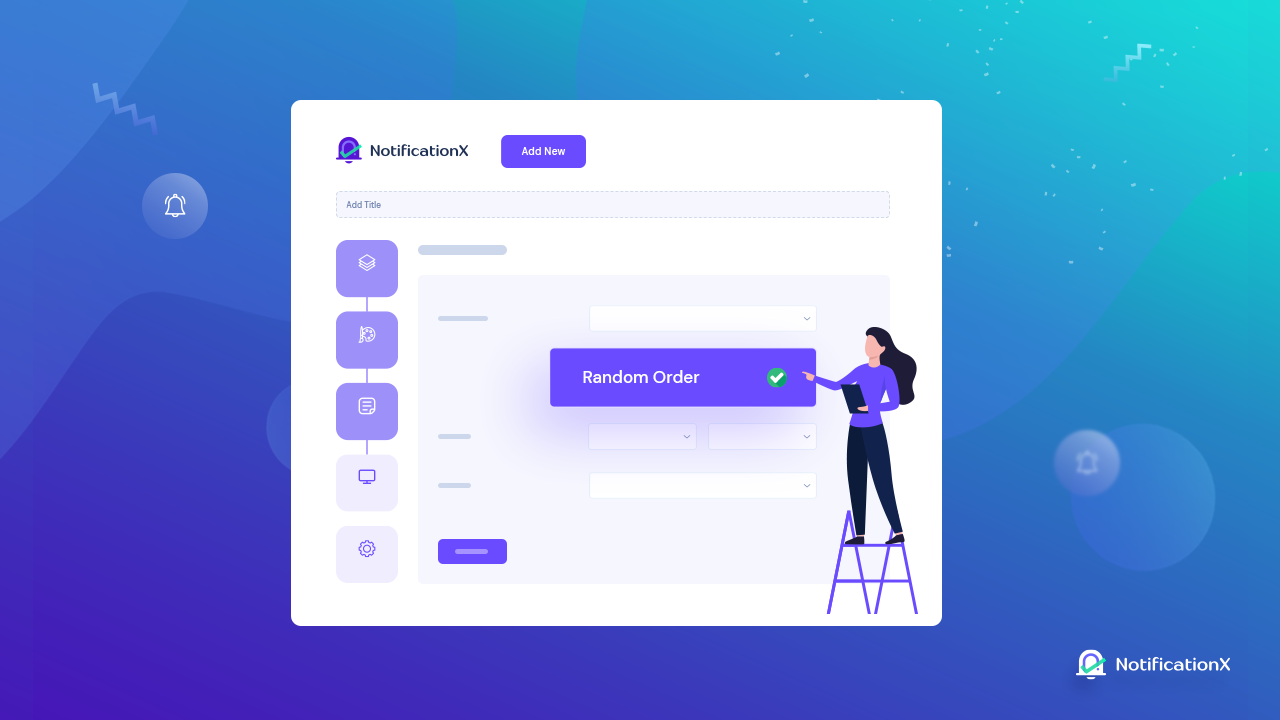 The Random Order Control feature helps to improve your website's credibility by displaying all social proof notifications in random order. When you keep displaying the same notifications on repeat, your site visitors may sometimes be doubtful of the alert's authenticity. And so, this exclusive feature randomizes notifications helping you to boost customers' trust.
There are many more advanced features and facilities that NotificationX has brought to help you increase social proof on your WordPress websites. If you want to learn more about this powerful plugin, check out this blog and take your business to the next level. 
Boost Conversion & Website Credibility Using NotificationX 
Get started with NotificationX today or update to the latest version to get your hands on all advanced features including the Cross Domain Notice. Show your real-time notification alerts to your website visitors and effortlessly skyrocket your conversions. 
If you have any queries about NotificationX, feel free to reach out to our support team or comment below to let us know what you think of this new feature. We will be delighted to get feedback from you. For more updates, or tips and tricks, subscribe to our blog or join our friendly Facebook community.