Are you using NotificationX for quite some time to increase your sales? To make your FOMO marketing more effective, 'NotificationX Random Order Control' option removes any biases while showing notifications to your website visitors. Let's see how it works and how you can start displaying your social proof notifications in random order on your website.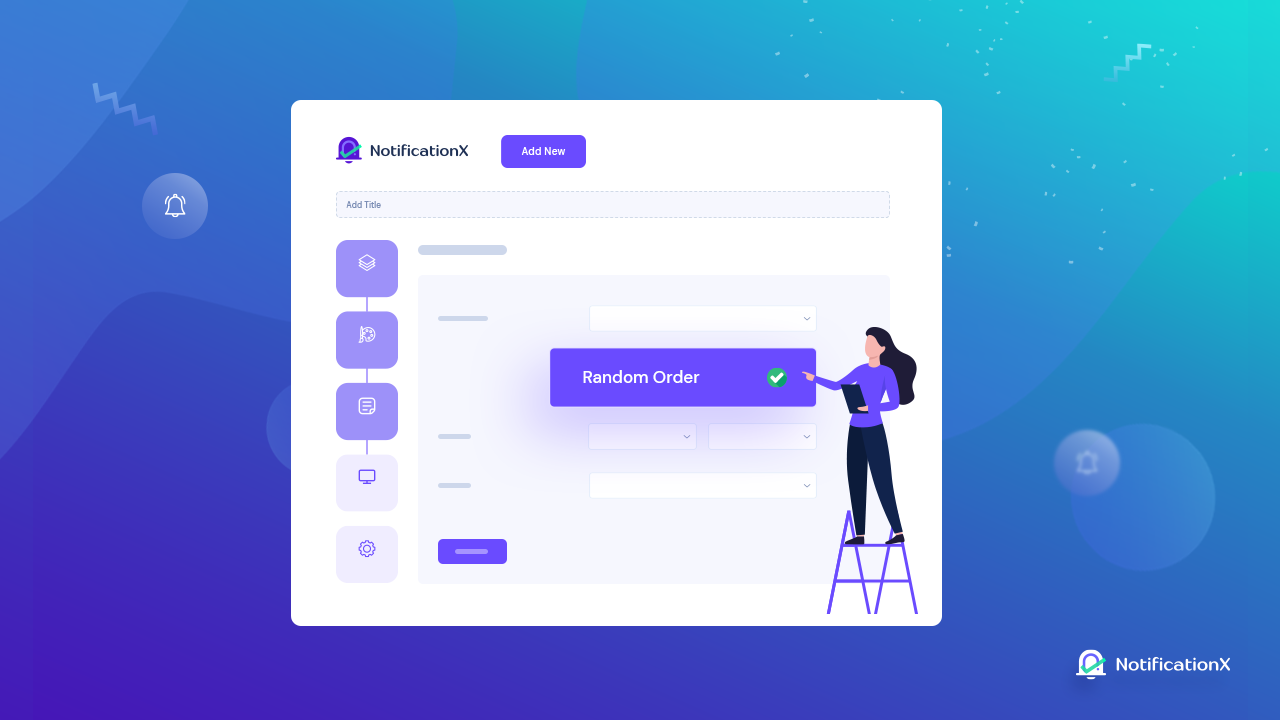 NotificationX Random Order Control option can help you to raise trustworthiness by randomizing all social proof notifications. When you keep displaying the same notifications on repeat, your site visitors may sometimes question your credibility and assume you're not completely trustworthy. That's why you need to be able to manage the order in which your social proof popup notifications are displayed. By randomizing these notifications, you can gain their trust more easily.
Let's find out in more detail how this feature works.
Why Should You Use NotificationX Random Order Control?
While you are using NotificationX on your website to successfully use social proof marketing, random order control can be a tool to show your website visitors that you are a genuine and reliable source. Suppose, a person lands on your website several times and sees the same loop of notification popups every time; then he might think these popups are not authentic. Eventually, he will not be convinced when he sees these same social proof and lose his trust in you. That's where you need to start managing the order of your NotificationX popups. 
To help you out, the Random Order Control option in NotificationX gives you the flexibility to implement your social proof marketing strategy in a better way. It will display both new and older notifications in a randomized order to help make your website seem more authentic to site visitors. That is why NotificationX Random Order Control option is a unique and beneficial feature for all business owners online.
How To Start Using NotificationX Random Order Control?
NotificationX 2.0 introduces the "Random Order Control" feature to help you randomize the order of your social proof popups. This goes for every notification type you have created in NotificationX. That means, not only the purchase popups but also other notifications can be shown using this feature. Update your plugin to NotificationX 2.0 and get your hands on more useful premium features just like this one. Let's find out how easily you can enable this simple yet useful feature to control random order and remove any type of partiality. 
Note: This feature is only exclusive to NotificationX PRO, so you must have both the free version of NotificationX and the premium version installed on your website. 
Step 1: Add A New Notification Using NotificationX 
First, you need to create a new notification or popup alert in NotificationX. To do this, click on the NotificationX plugin from the left sidebar from your WordPress dashboard. Click on the "Add New" button to create your social proof popup alert.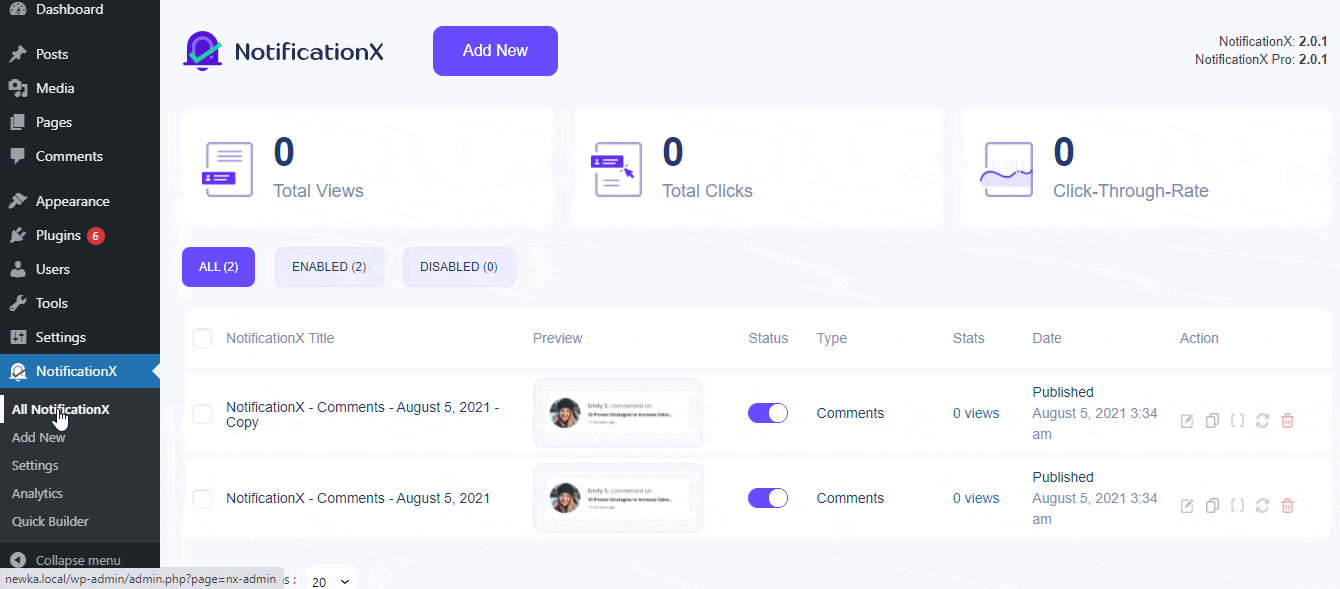 Step 2: Select The Source For Your Notification
From this point, you need to set the notification type and select the source for your notification alert. Choose any type of category from these given options. For this tutorial, we have set the notification type as 'Comments' to display comment popup alerts.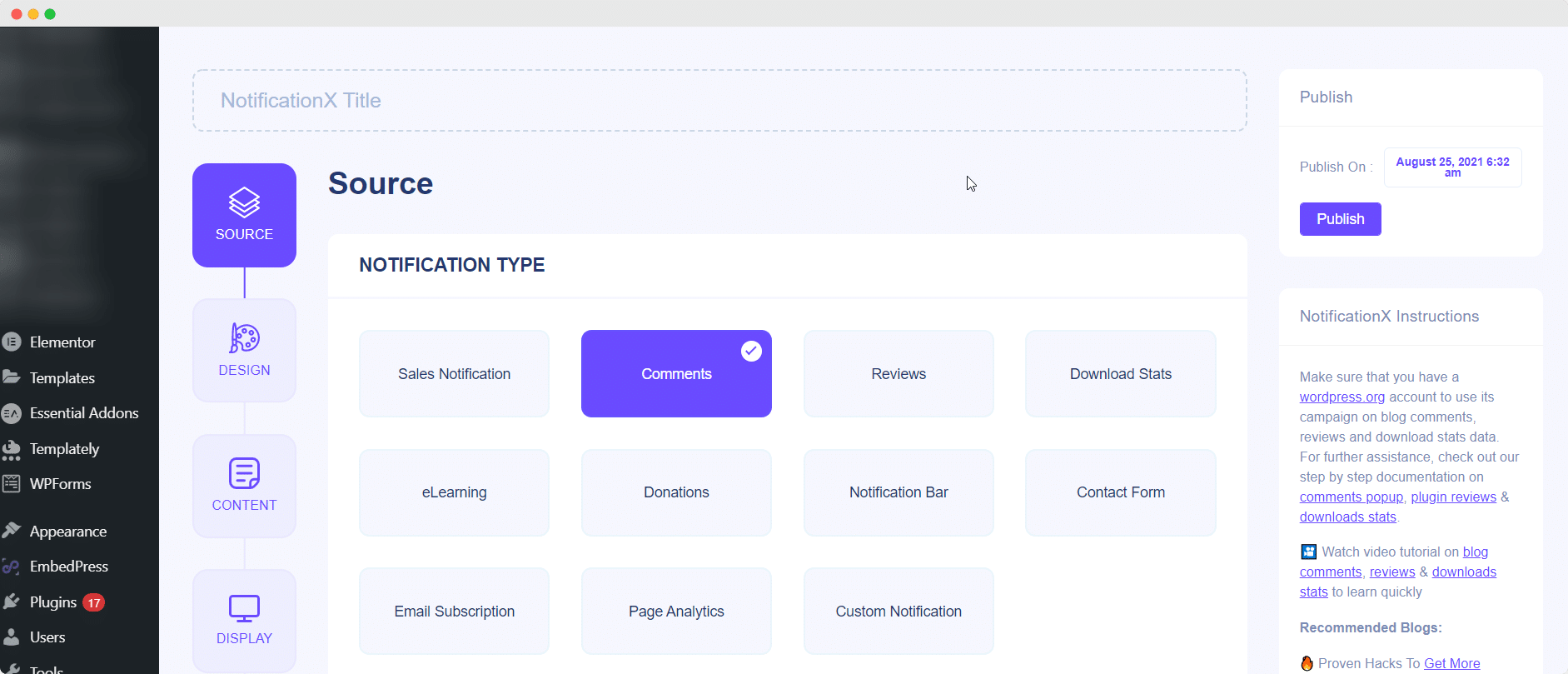 Step 3: Choose Any Suitable Design For Notification Pop Up
Next, you need to choose any preferable design for your notification. There are tons of different themes available for your notification alert. Select any type of style based on your choice. You can even toggle the "Advanced Design" option to customize your notification alert in more detail such as changing the typography, background color, borders and more.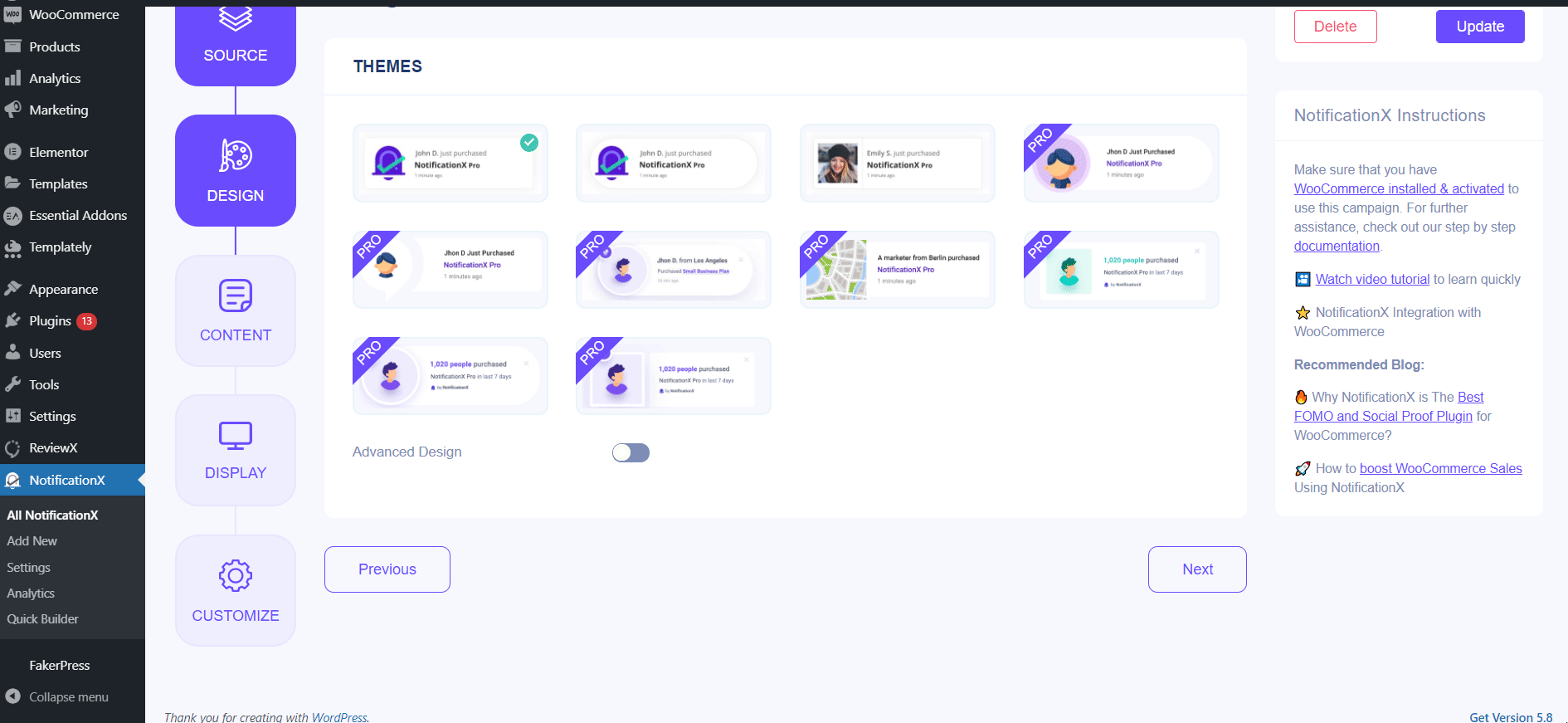 Step 4: Enable NotificationX Random Order Control Feature
Now head over to the "Content" tab and customize your 'Notification Template'. From here, you can also tick the check box beside "Random Order" option as shown below. Your progress will be saved automatically and you have just one step left to control random orders for notifications.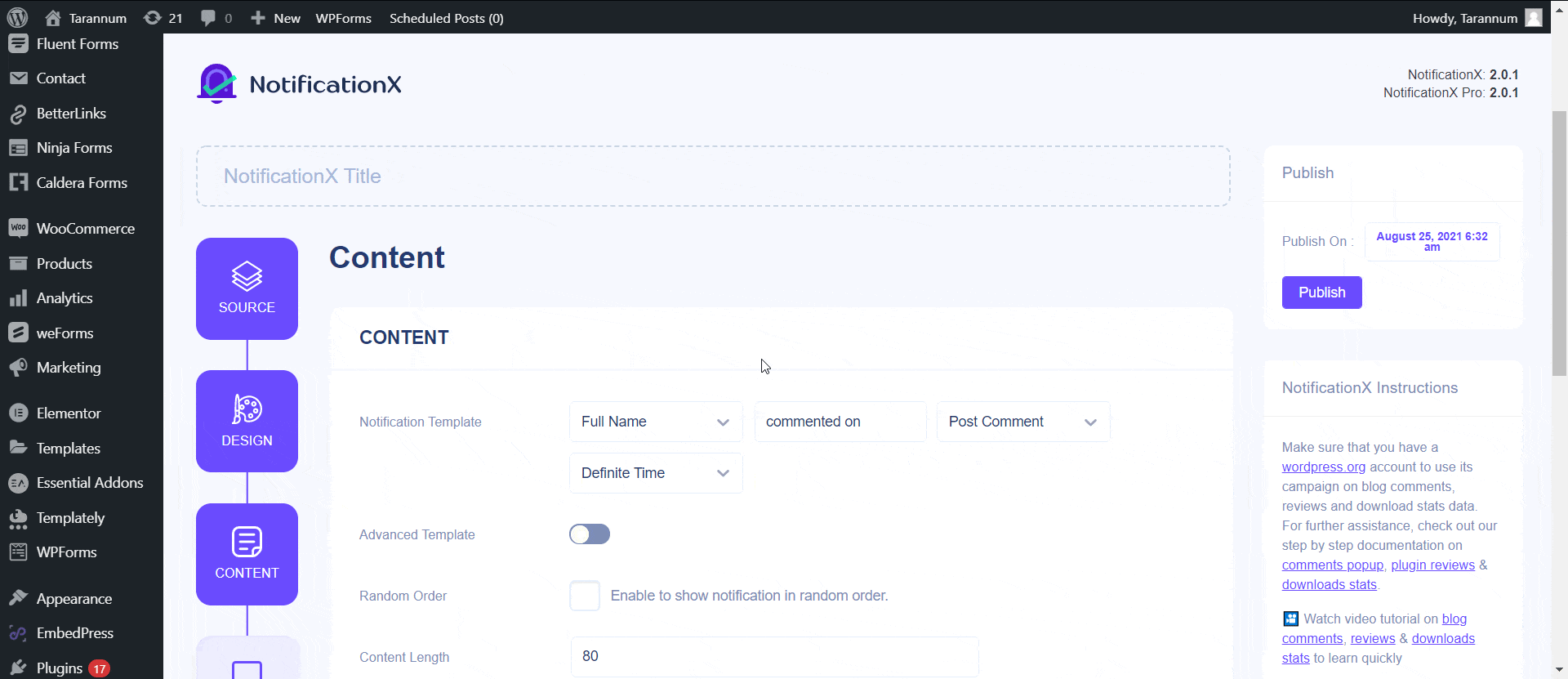 Step 5: Customize Your Notification Before Publishing
Now you can choose how to display your notifications on your website. Feel free to try around and see what suits you the best. You can choose if you want to show notifications to all of your website visitors or not. You can even customize the location of your social proof popups.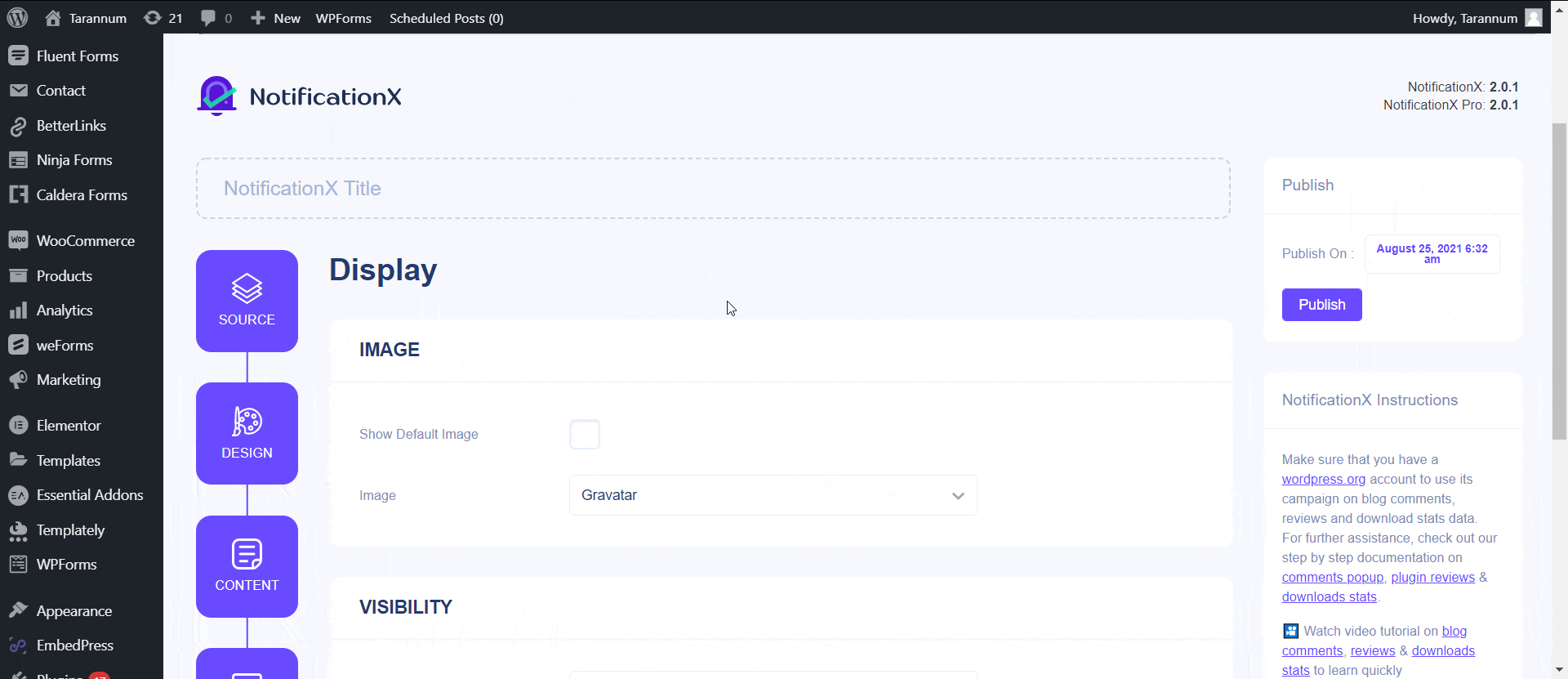 Now, you are ready to publish the notification on your website. Feel free to add as many social proof popups as you need to, and make sure to turn on "Random Order Control" for each of these social proof notification alerts. This way, you can randomize the order in which your notifications are displayed on your website and make them seem more authentic to website visitors. 
Boost Your Website Credibility Using NotificationX 
Ready to make your social proof alerts more authentic and gain credibility with NotificationX? Get started today or update your NotificationX plugin to the latest version to get your hands on all advanced features. Show your real-time notification alerts to your website visitors and see how easily you can skyrocket your conversions. 
If you have any queries about NotificationX, feel free to reach out to our support team. You can let us know what you think about this feature in the comment section below. We will be delighted to get feedback from you. For more updates, or tips and tricks, subscribe to our blog or join our friendly Facebook community to stay connected.