No matter what kind of e-Commerce business you are running, customer product reviews can have a significant impact on boosting sales of your WooCommerce store. If you can showcase positive WooCommerce product reviews on your website, then your potential customers will feel more confident purchasing your products.
This is one of the main concepts of social proof marketing. The idea is that if a potential customer sees that other people are giving positive product reviews, then new customers will also want to make a purchase. In this tutorial, we're going to show you how you can use social proof to boost sales by showcasing WooCommerce product reviews with NotifcationX.
Importance of WooCommerce Product Reviews
There are several reasons why WooCommerce product reviews are important for any business. Not only do product reviews drive sales, but they also help enhance your brand image, your business's reputation and even improve your SEO (Search Engine Optimization). Let's take a quick look at how WooCommerce product reviews can help you grow your business.
Leverage WooCommerce Product Reviews For Credibility: 
What other people are saying about your products is one of the factors that determines your business's credibility. Most potential customers will look at product reviews before they decide to buy anything. If a potential customer sees positive WooCommerce product reviews from other customers on your website, they will see you as a credible and trustworthy source.  So, by leveraging your positive WooCommerce product reviews, you can gain more credibility for your e-Commerce business.
Enhance Brand Image With WooCommerce Product Reviews
Detailed positive WooCommerce product reviews and ratings will help you enhance your brand image and let you distinguish your e-Commerce business as a reliable source for high quality products. This is especially useful as a good brand image can help you attract new customers while also encouraging previous customers to return to your store.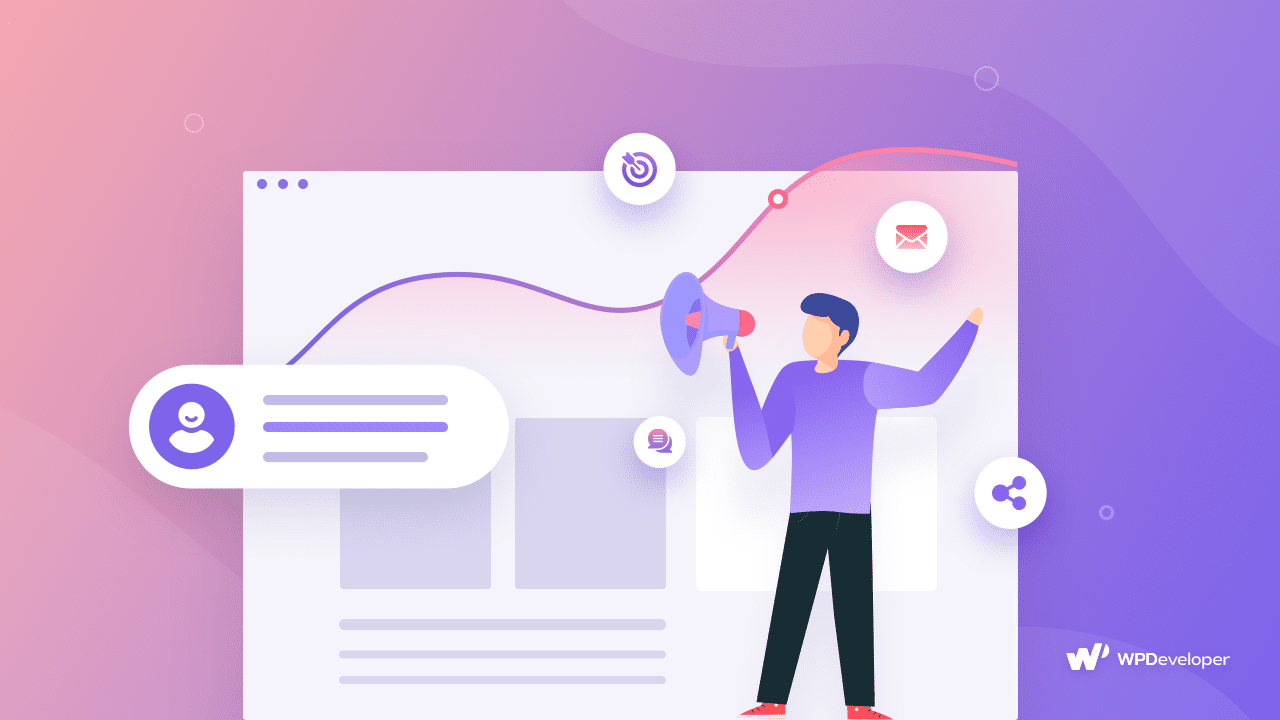 Make Your Products Stand Out With User-Generated Content 
Your site visitors won't just look at product reviews, they will also be looking at your product descriptions, and real-life images and videos of your products. This is where your WooCommerce product reviews can help you make your products stand out.
With the help of user-generated content in the form of customer's photos and videos of your products, you can help your potential buyers see what your product looks like in real life. This will assure your customers about the quality of your products and help them make their purchase decision much easier.
Improve SEO With WooCommerce Product Reviews
The more reviews you get, the more customers are talking about your product online and this can help you rank higher on the search engine results page in several ways. As more and more positive reviews are added, the more new content you get for your product page. This helps you rank higher because when someone searches for similar products Google will feature more information about your WooCommerce products including ratings, information about delivery timing, and much more in the search results page.
Skyrocket WooCommerce Sales At No Extra Cost Using Social Proof
Social proof marketing doesn't require you to spend extra money for promotions. One of the reasons why this strategy is so popular is because you can apply this strategy for free. All you have to do is find a way to creatively display your product reviews in a way that immediately catches your site visitors's attention.
This is where NotificationX comes in. With NotifcationX, you can create stunning, attractive notification alerts every time a customer reviews your WooCommerce products and display them anywhere on your website.
As of now, NotificationX is trusted & used by more than 20,000+ businesses and comes with powerful advanced integrations with more than 14 popular platforms. Besides this, creating beautiful notification alerts using NotificationX will only take less than 5 minutes, and you can do it without worrying about touching a single line of code.
How To Display WooCommerce Product Reviews With NotificationX
In this section, we're going to give you a quick and detailed walkthrough on how you can display WooCommerce product reviews with NotificationX. To get started, download the NotificationX plugin for WordPress and simply install and activate NotificationX on your website.
Step 1: Add New Notification Alert & Choose WooCommerce As Your Source
For the very first step, you need to choose WooCommerce as the source for your notification alerts. To do this, first navigate to NotificationX→ Add New from your WordPress Dashboard to create a new notification alert.
You will be redirected to the 'Source' tab  from where you have to choose the Notification Type for your new alert. First, select 'Reviews' as your Notification Type and then scroll down to choose WooCommerce as the 'Source' for your notification. 
Step 2: Select A Design Theme For Your Notification Alert
After you have successfully added a new notification alert for product reviews and selected WooCommerce as your source, you need to choose a design for your notification alert. From the 'Design' tab, select any of the design themes available.
Step 3: Configure The Content Of Your WooCommerce Review Alerts
After this, you have to configure the content of your notification alerts from the 'Content' tab. There are many options available here. For example, from the Notification Template drop down menu, you can choose to show 'User Name', 'Rated' or 'Custom'. 
Step 4: Customize The Display Options For Your Notifications
When you are done configuring the content of your notification alerts, you can start customizing how you want your notifications to be displayed on your website pages. 
Go to the 'Display' tab, and you will see options like the Image settings, where you can check the box to show a default image and choose what the default image will be for your notification alerts.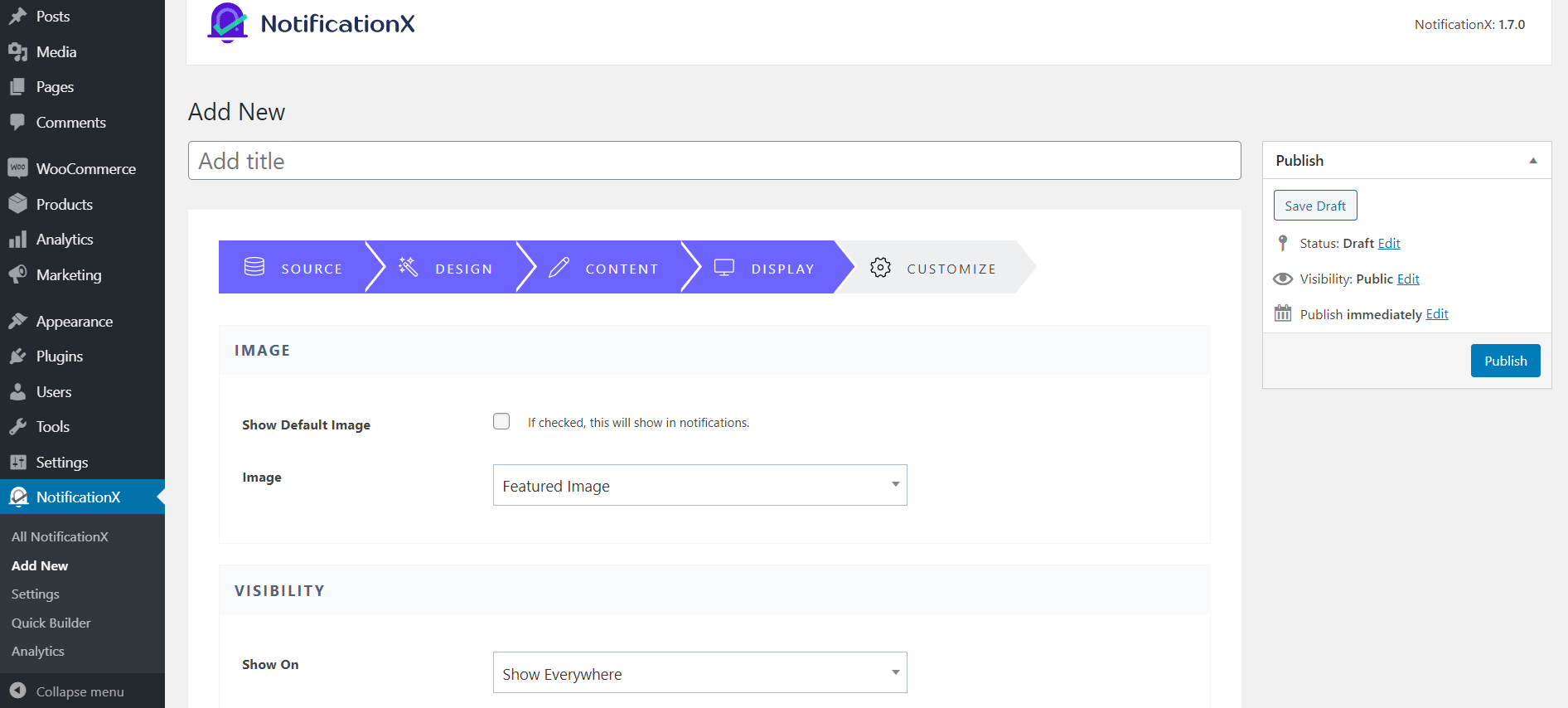 There are tons of more options under the 'Display' tab in NotificationX. You can learn more about how to adjust the display options for your notifications in our detailed documentation here.
Step 5: Style The Appearance Of Your Notification Alerts
Finally, you can make your notification alerts even more attractive by styling the appearance of your notifications from the 'Customize' tab. You can add sound alerts by toggling 'Enable Sound' option, choose the 'Position' of your notifications, display a close button, and much more. Adjust the settings however you want and until you are happy with how your notification alerts appear.
With these 5 simple steps, you can quickly and easily showcase WooCommerce product reviews using NotificationX. It only takes a few minutes to set everything up. You're now ready to boost sales on WooCommerce using this powerful social proof solution.
Explore More Advanced Integrations With WooCommerce From NotificationX To Grow Your Business
As we mentioned before, NotificationX gives you powerful, seamless integration with popular platforms. Using all of these integrations, you can start to grow your e-Commerce business by displaying sales notifications, email subscription alerts, and much more.
You can even use Google Analytics to display real-time visitor counts and geolocation based sales notifications. To find out more, check out our post on how to create successful marketing campaigns in WordPress using NotificationX.
More Tips & Tricks To Boost Sales With Social Proof & FOMO Marketing
Now that you know how you can showcase WooCommerce product reviews using NotificationX to get more sales, you might be interested in checking out our other blog posts on how to boost your e-Commerce sales in 2023 using social proof. You can also check out our 6 proven no cost FOMO marketing examples to boost your e-Commerce sales for more ideas.
Get Access to WooCommerce Template Pack for Elementor
Try out the EleShoply template pack from Templately to instantly design your WooCommerce store without any coding.
Get FREE Template
As you can see, leveraging WooCommerce product reviews to increase your sales is a relatively easy and cost-free strategy which you can use by displaying WooCommerce review alerts with NotificationX. 
We hope you found this post useful, and would love to hear your feedback. If you face any difficulties, feel free to contact our support team for further assistance, or join our Facebook community to connect with other WordPress users like yourself.