Nearly half of the world's population uses one social media platform or another. So, there's no alternative to social media marketing if you want to reach out to people and promote your business. Having expertise in social media marketing is important. Below are 10 free social media marketing courses that are useful for any social media marketer and you can enroll in.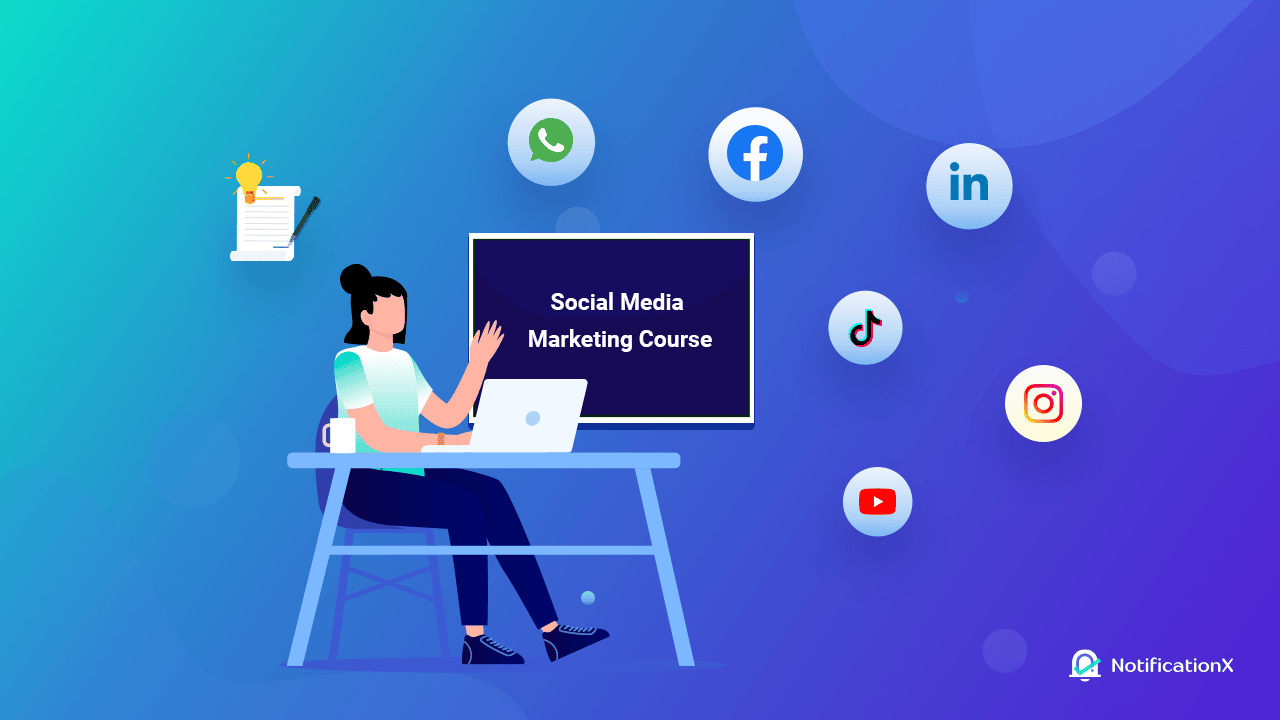 What Is Social Media Marketing And Why Is It Important?
Social media is now a buzzword and you will hardly find anyone who does not use at least one social media platform. It is one of the major channels to connect and communicate with people. So, social media marketers must not miss the enormous opportunity to reap the best benefits of social media marketing.
In this era of digital marketing, social media marketing encompasses a larger space that uses the power of popular social media platforms to promote your brand and achieve your business goals. Social media marketing is not just about opening business accounts and sharing anything you like, it is more than that. You need to have a dynamic approach and measurable objectives for social media marketing. Social media marketing involves,
👉🏻 Proper maintenance and optimization of your business's social media profile. You need to give time and effort to effectively manage your social media accounts.
👉🏻 Sharing content that promotes your business in the right manner. You need to post photos, videos, stories, and live videos that draw the attention of a relevant audience.
👉🏻 Acknowledging visitors' activities on your social profiles. You must monitor them and respond to comments, shares, and reactions properly.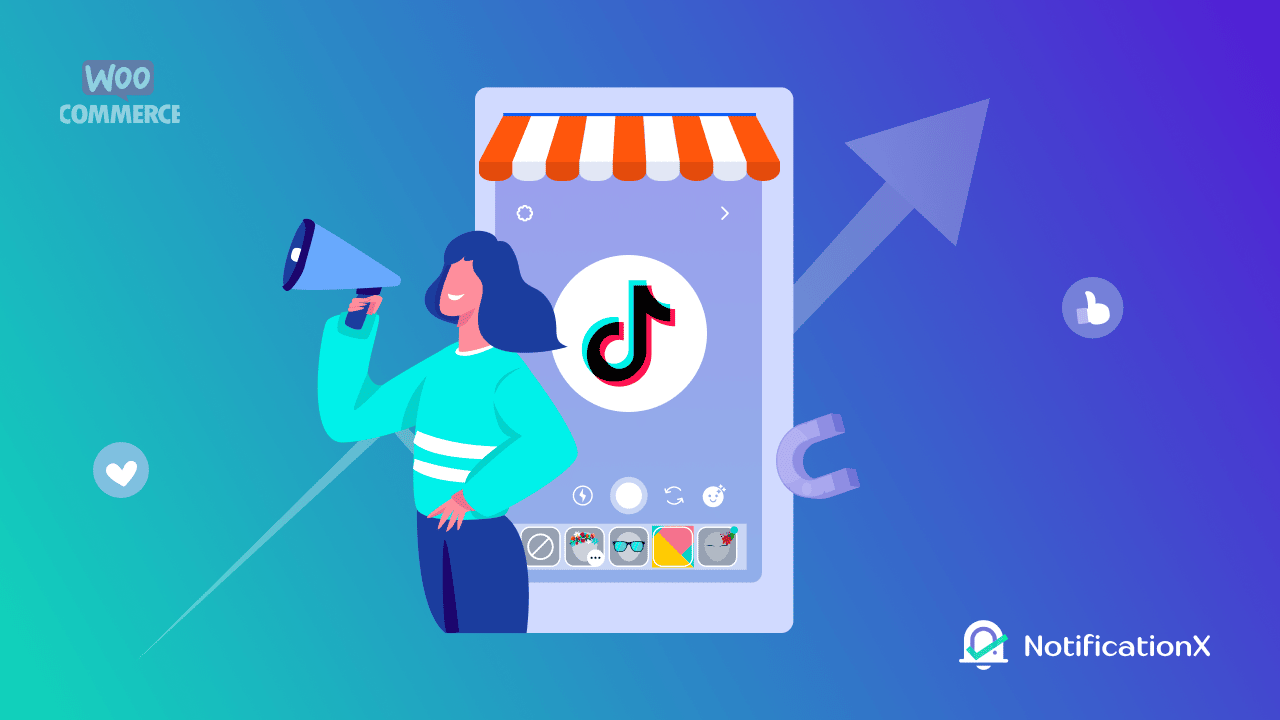 👉🏻 Regular interaction with customers and visitors. It is something you must take into account and should not ignore. Engaging with the customers is important to build a strong relationship with them. You must follow them properly to make your network stronger.
👉🏻 Paid social media advertising is another form of social media marketing where you need to pay to make your business visible in front of the right people who are truly interested to get engaged with you.
Social media is one of the most easily accessible and effective free marketing methods available today due to its extensive usage and versatility. The following are some advantages of social media marketing:
🔹 Social media marketing helps businesses build trust & connect more with the audience. As time passes, people are being more engaged in social media, whether it is to connect with others or to find the products they want. If they find something positive about you they are likely to trust you and feel connected to you. Gaining customer trust is something you need most to be successful in social media marketing.
🔹 Social media marketing is essential to drive traffic and engage more visitors to your site. If people find you credible on social media, they will feel encouraged to know more about your product or service. This will lead them to visit your website and drive more traffic to your site. And thus, social media marketing also aids in generating leads and customers.
🔹 Positive social media marketing can be a game changer in increasing brand awareness. If you want your business to be known, marketing through social media can help you a lot because it is probably the platform where your business will receive the most exposure.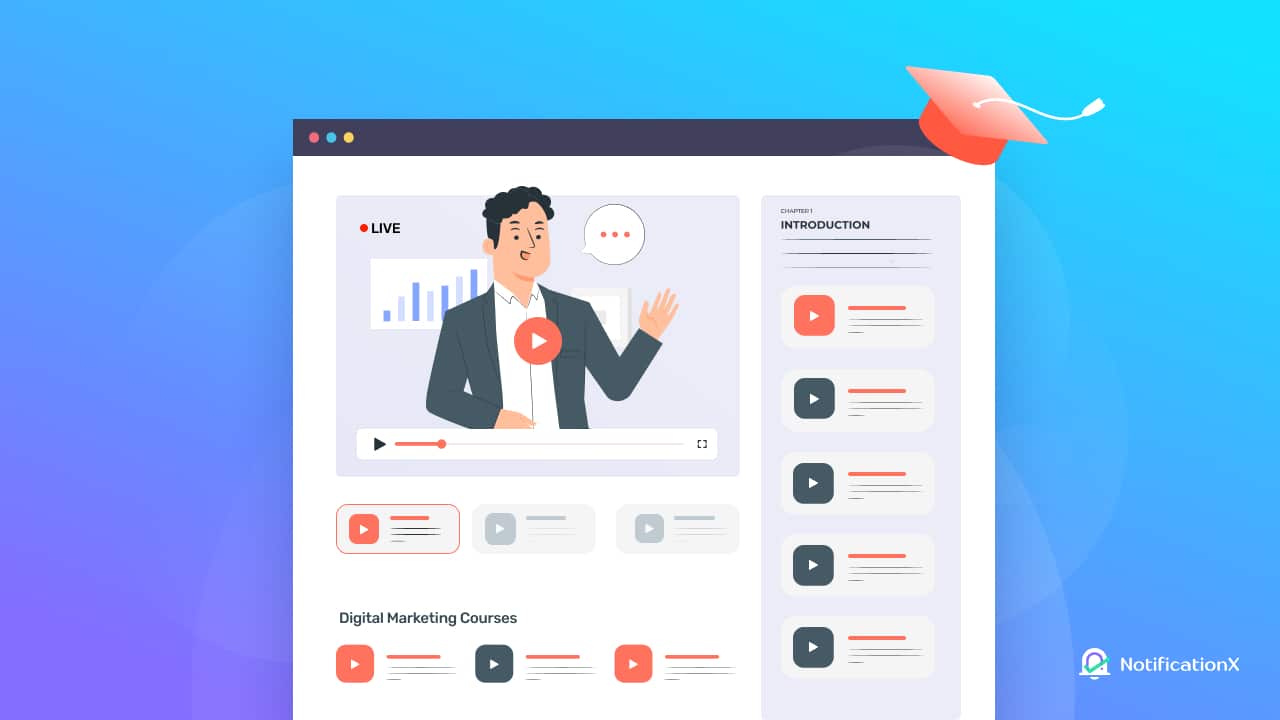 Social Media Marketing Stats You Will Be Surprised To Know
Don't simply take our word for it when it comes to the advantages of social media marketing mentioned above. Here are some social media marketing statistics that demonstrate its effectiveness:
The average US adult uses social media for 2.25 hours per day.
More than 70% of consumers who have a good experience with a company on social media will tell their networks about it.
On average, Facebook users click on 12 Facebook ads per month.
Instagram is used by 81% of users to find products and services.
When they receive a response to their tweet, about 80% of Twitter users have a more favorable opinion of the company.
On LinkedIn, 4 out of 5 users make business decisions.
46% of TikTok users use the app exclusively, without any other interruptions.
10 Free Social Media Marketing Courses You Can Enroll
Learning to effectively use social media marketing strategies is important to have expertise in this sphere and getting enrolled in social media marketing courses can be highly beneficial in this regard. Here are 10 free social media marketing courses that you can look forward to and decide which one you can pick for better learning.
HubSpot's Social Media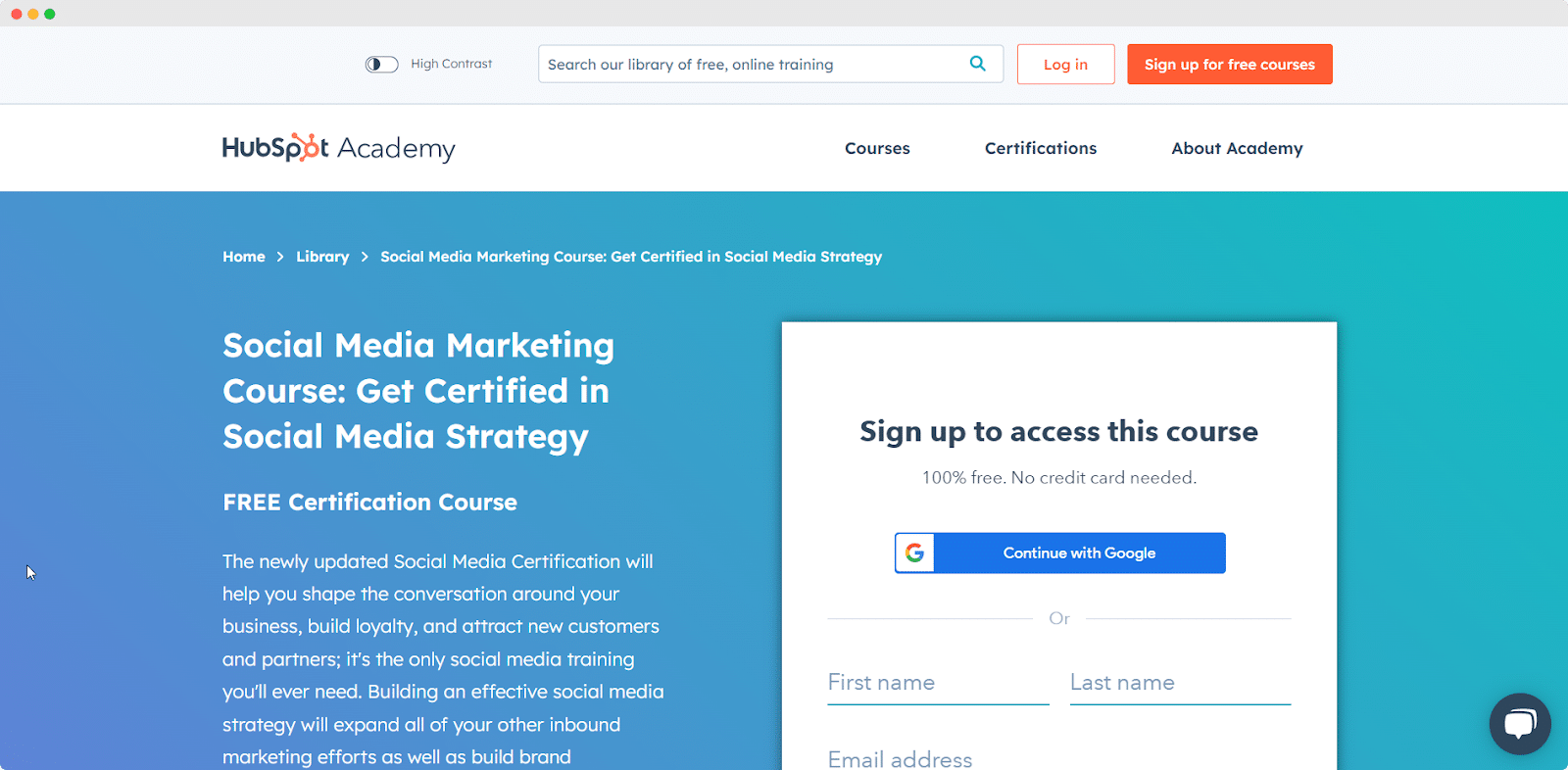 The HubSpot social media certification program will assist you in creating a strong social media strategy and enhancing your online presence. By the time this course is over, you will know how to:
Create a social media marketing plan.
Monitor activities on social media
Conduct social media content planning
Know how to use social media for advertising
Measure your social media marketing ROI
Fundamentals of social media marketing
Overall, it's a comprehensive course that entirely covers all you need to know to begin using social media for marketing purposes. This social media marketing course consists of 40 videos, 34 tests, and 9 lessons. It takes 4 hours and 39 minutes to finish, however, we advise taking additional time to fully comprehend each subject.
Social Media Marketing Certification By eMarketing Institute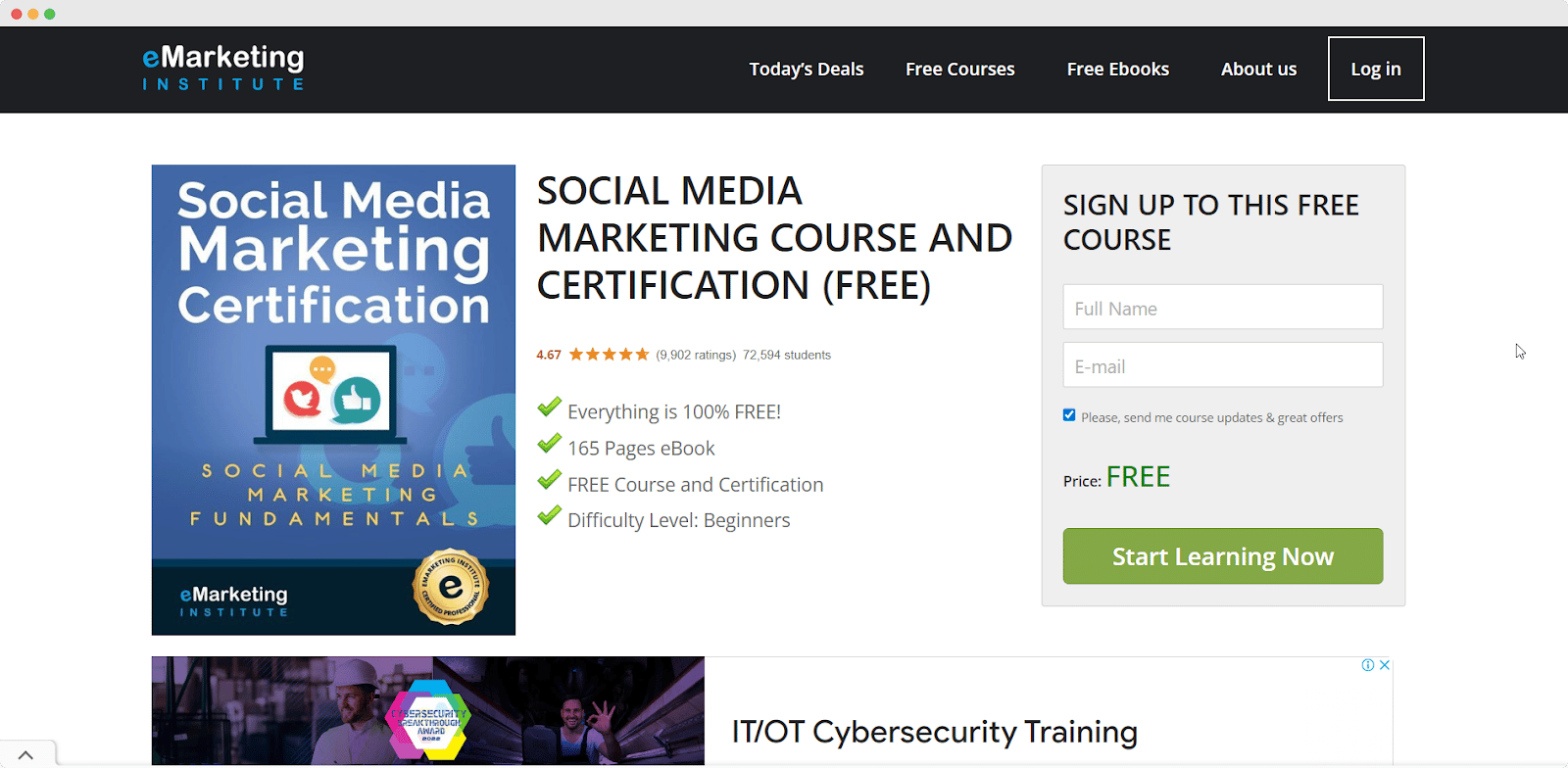 This social media certification course by eMarketing institute does not include any videos, visuals, or interactive components, in contrast to the majority of the others on this list. It is a 165-page ebook that covers all of the key aspects of social media marketing. You can sit for a test after reading all of the course material. You will receive a certification if you pass the exam, which you can add to your résumé.
The social media marketing course from the eMarketing institute includes fundamentals, various social media platforms, determining and defining your target audience, engaging your target audience, social media content sharing, using social media for marketing, and guidelines for using social media platforms are some of the topics covered in this course.
What Is Social By Coursera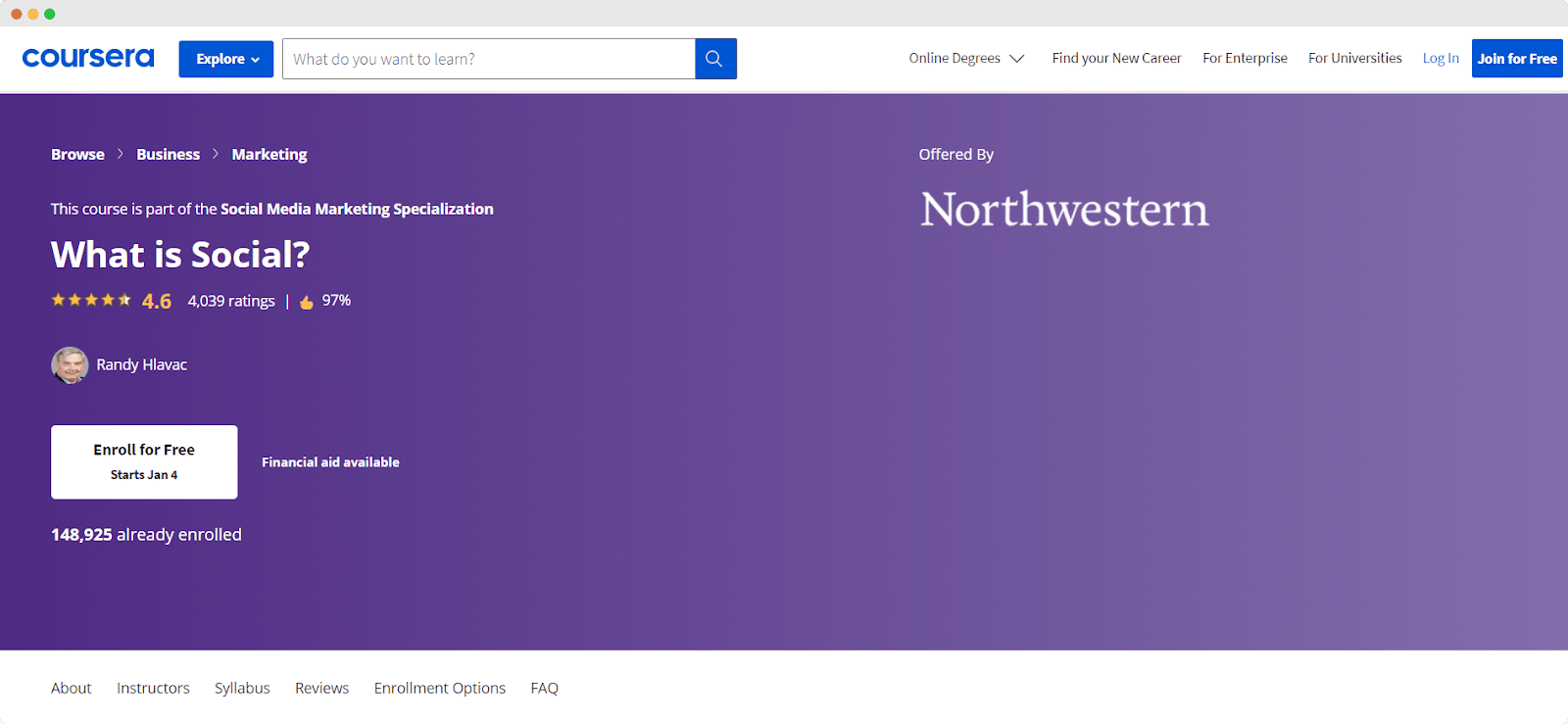 This social media marketing course is from Northwestern University which is accessible from Coursera that offers an introduction to social media marketing. Randy Hlavac, a professor at Northwestern University and the chief executive officer of Marketing Synergy, Inc., is the course tutor. A variety of visuals, videos, reading materials, tasks, and quizzes are provided in the course. You will learn the following things in this course:
The basics of social media marketing
Latest social media trends
How to use social media for your business marketing
The significance of big data and how social media dynamics are evolving
After successful completion of this social media marketing course module, you will receive a certificate which you may display on your CV or post on LinkedIn.
Social Marketing Training By Hootsuite Academy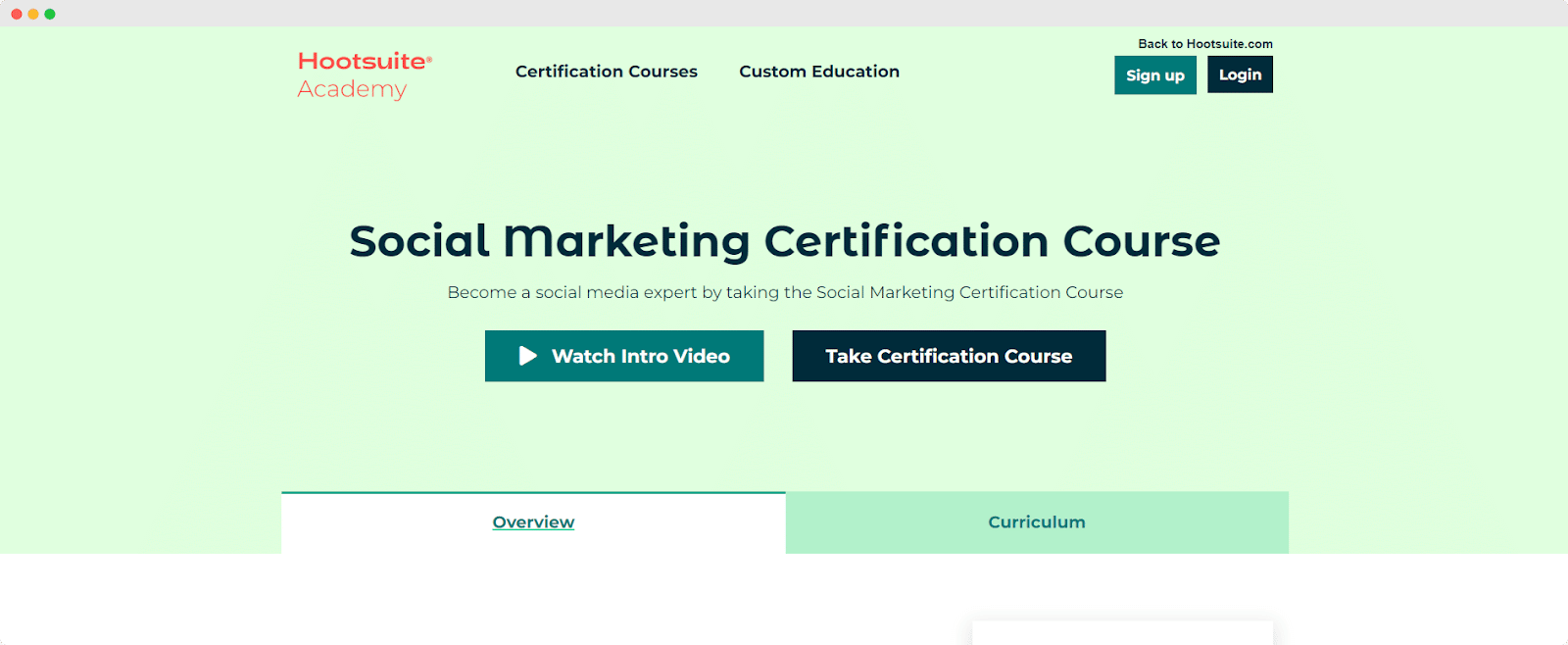 The Social Marketing Training Course from Hootsuite Academi is an industry-recognized course that takes 6 hours to finish. This social media marketing course is designed for beginners and those who are at the intermediate level. There are 6 chapters encompassing 80 lessons in this comprehensive social media marketing course. Those enrolling in this course will learn about optimization, social media marketing strategy, growth hacks, content, paid promotion, and more. By the end of this training course, you will be able to,
Learn social media marketing for individual platforms
Get an amazing user interface
Receive a certificate for your digital expertise
The following platforms covered in this course include Facebook, Twitter, LinkedIn, Instagram, YouTube, Snapchat, and Pinterest. You will get the lessons and reading materials for free but if you want a certification, you will have to pay.
The Business Of Social By Coursera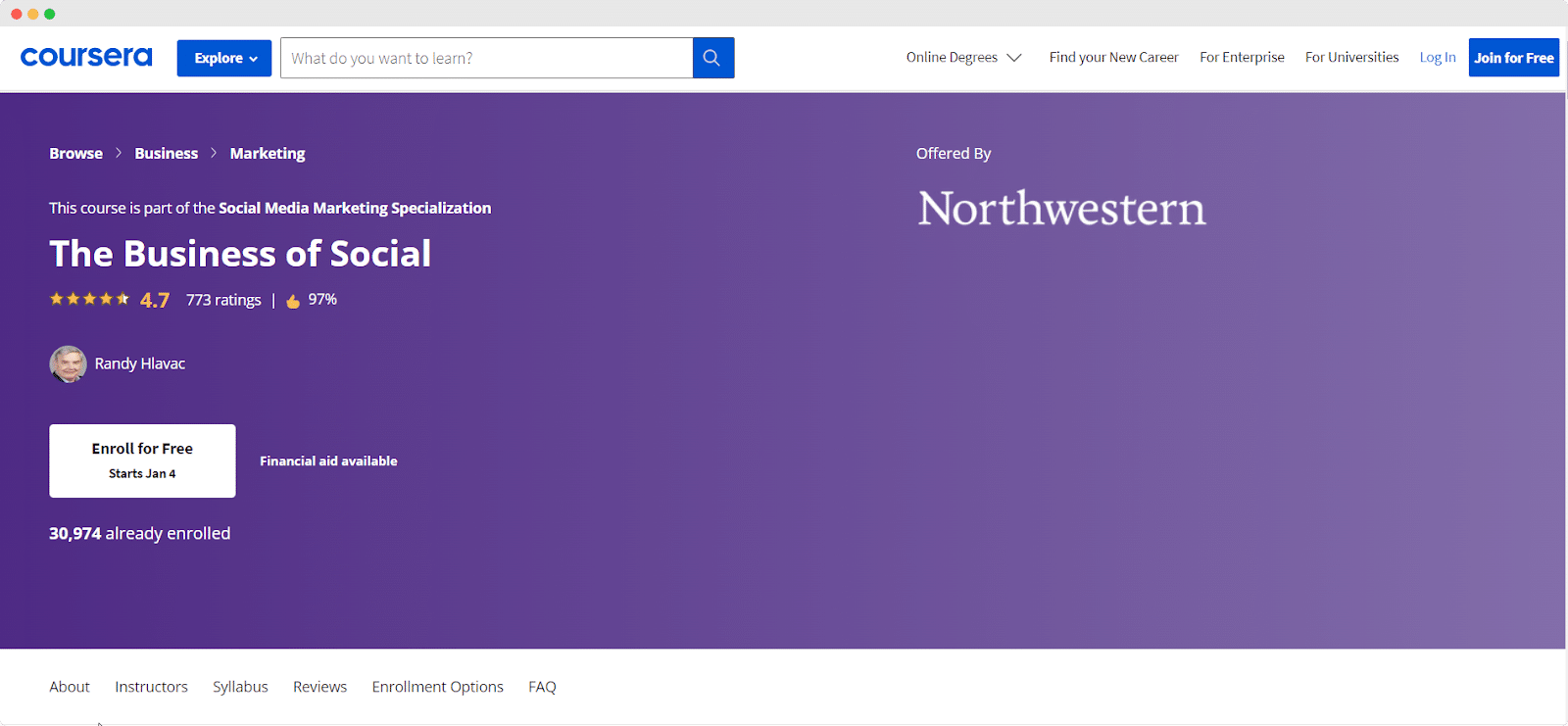 The Business Of Social by Coursera is an advanced social media marketing course that teaches you how to monitor the success of your social media campaigns and connect it to revenue and other business goals. Upon successful completion of this course, you will be able to,
know the legal factors that you must keep in mind when using social media platforms
utilize social media metrics to produce tangible commercial results
create a pilot program and establish its viability of it and
In this course, you will have more practical learnings which are effective. Different instructors teach this course and enlighten the students with their knowledge in their respective fields. This is a 5-hour course which is recommended to complete in 3-4 weeks.
Social Media Analytics Course by Quintly
If you want to know the basics of social media analytics, this social media marketing course is for you. It is a beginner-level course, for those who want to start with introductory knowledge. The course is broken down into modules, or phases, that range from generating analytics reports to analyzing your existing scenario. You can enroll in this introductory social media analytics course to refresh your knowledge or to learn the fundamentals. From the lessons, you will learn,
Competitor analysis
Situation analysis
Data collection from many social media outlets
Choosing KPIs to measure your objectives
Understanding metrics and analytics reports
Determining the target audience for various reports
Report Automation
The social media marketing course on social media analytics will be a fun learning experience as it consists of interactive videos, insightful reading materials, and interesting quizzes.
Social Media Monitoring (Udemy)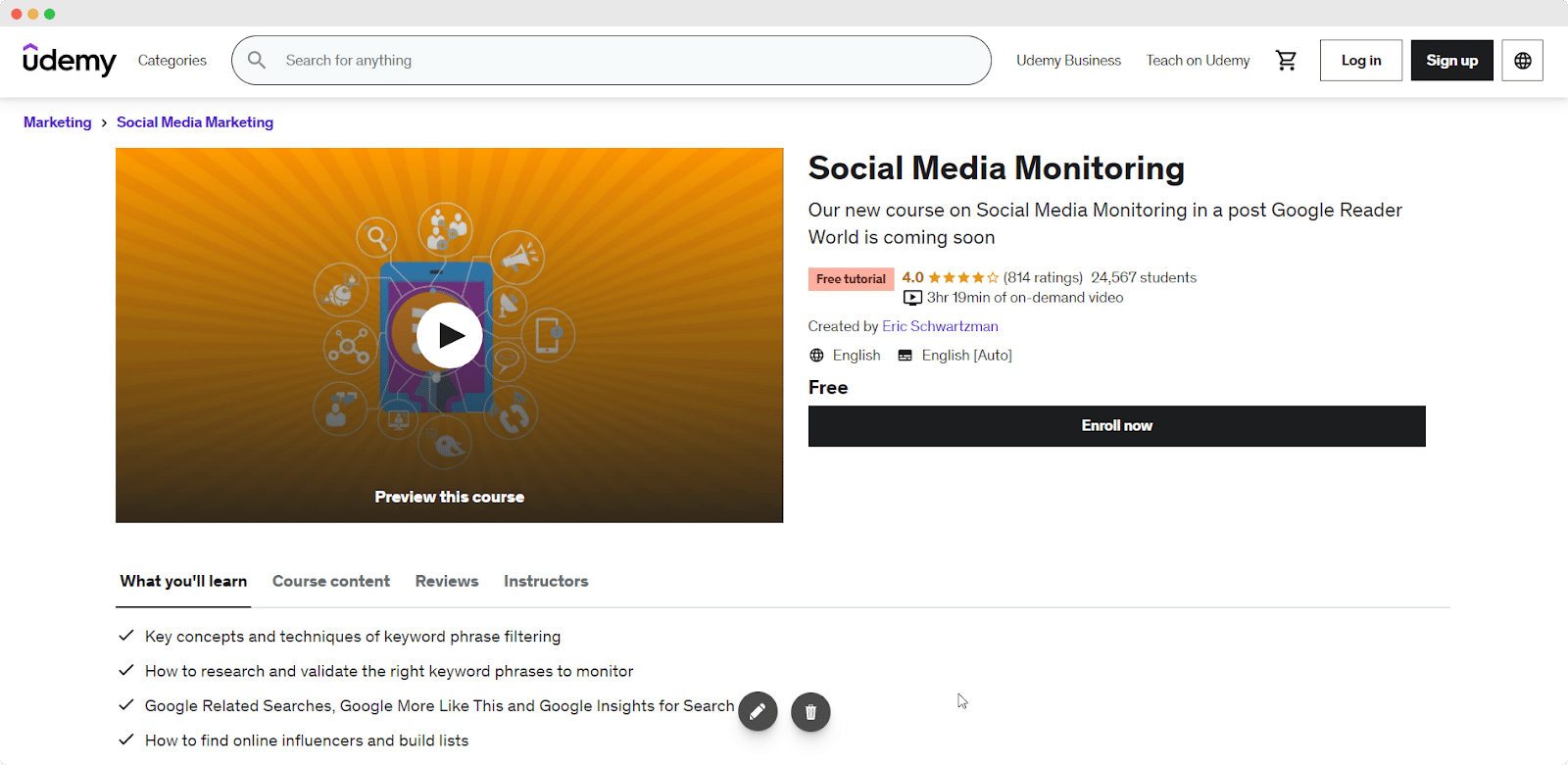 If you want to be enlightened with multiple aspects of monitoring social media, this social media marketing course on social media monitoring will guide you through this. The course covers the following topics,
Keyword phrase filtering techniques
Strategies for social media monitoring for various platforms
Content curation
Rich text analysis and its drawbacks
Apart from the topics mentioned above, this course offers insightful lessons using a mix of videos and reading materials. You can see the videos for free but if you want certification and more resources, you will have to pay.
Introduction To Social Media Strategy (Skillshare)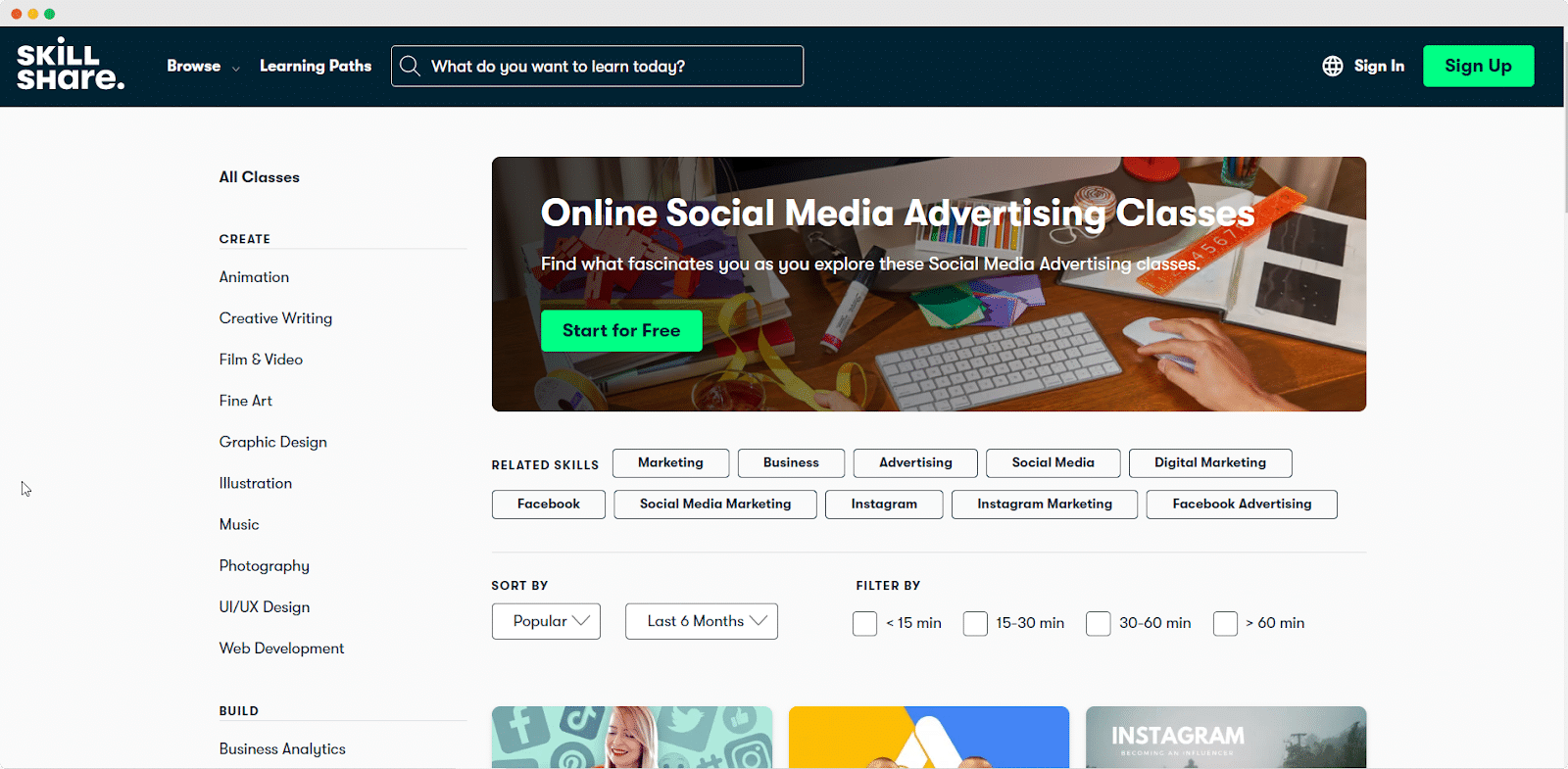 This introductory course on social media strategy offered by Skillshare is perfect for marketers, small business owners, brands, and everyone interested in creating and running their own campaigns. If you are interested in maximizing the potential of paid social media marketing, this social media marketing course is for you. Brian Peters from Buffer is the course instructor of this amazing course where you'll learn how to:
Determine, measure, and evaluate campaign goals
Target the right audience segment
Produce engaging copies and graphics
This course shows you the channel towards enhancing your skills and gives directions on what you need to do for that. You will know the basics of social media marketing very well from this course and also learn to measure the effectiveness of your marketing efforts.
Social Media Marketing (Oxford Home Study Center)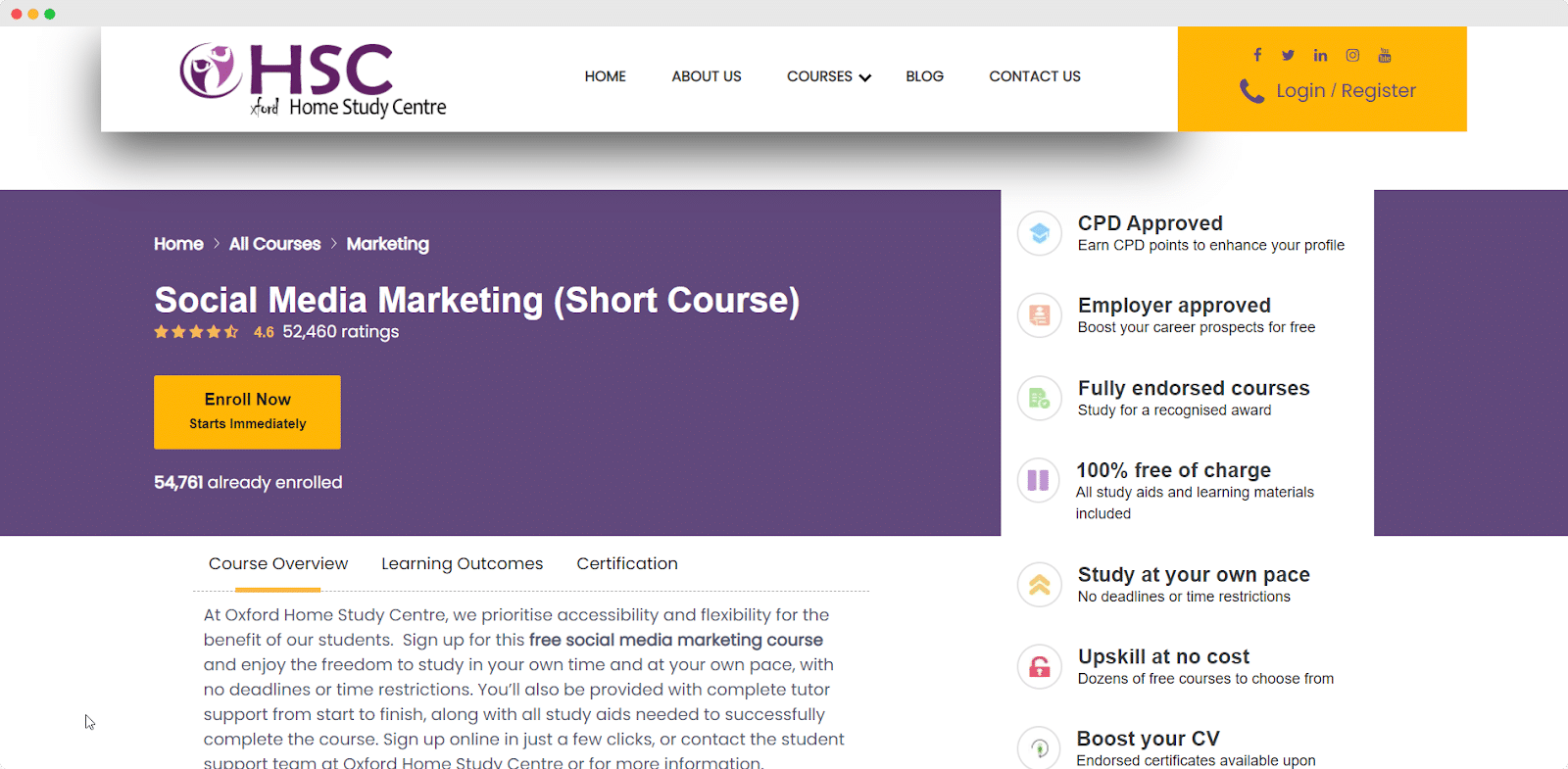 Beginners and other new users can get a basic introduction to social media and marketing on various platforms. With the help of this free online social media marketing course from Oxford Home Study Centre, you will learn about effective strategies and implement those properly. Once you finish the course successfully, you will receive a certificate. That's not all. You will also learn about,
The five P's of social media and their implementation
Enhance your digital presence and engage new followers
Develop social media plans
The best part of this course is that there is no rush to complete the exam and receive your certification and so, stress and burnout are reduced. Additionally, enrolling in the course and receiving full tutor support from beginning to end is really simple. You will have someone's support anytime you need it.
QuickSprout Social Media Courses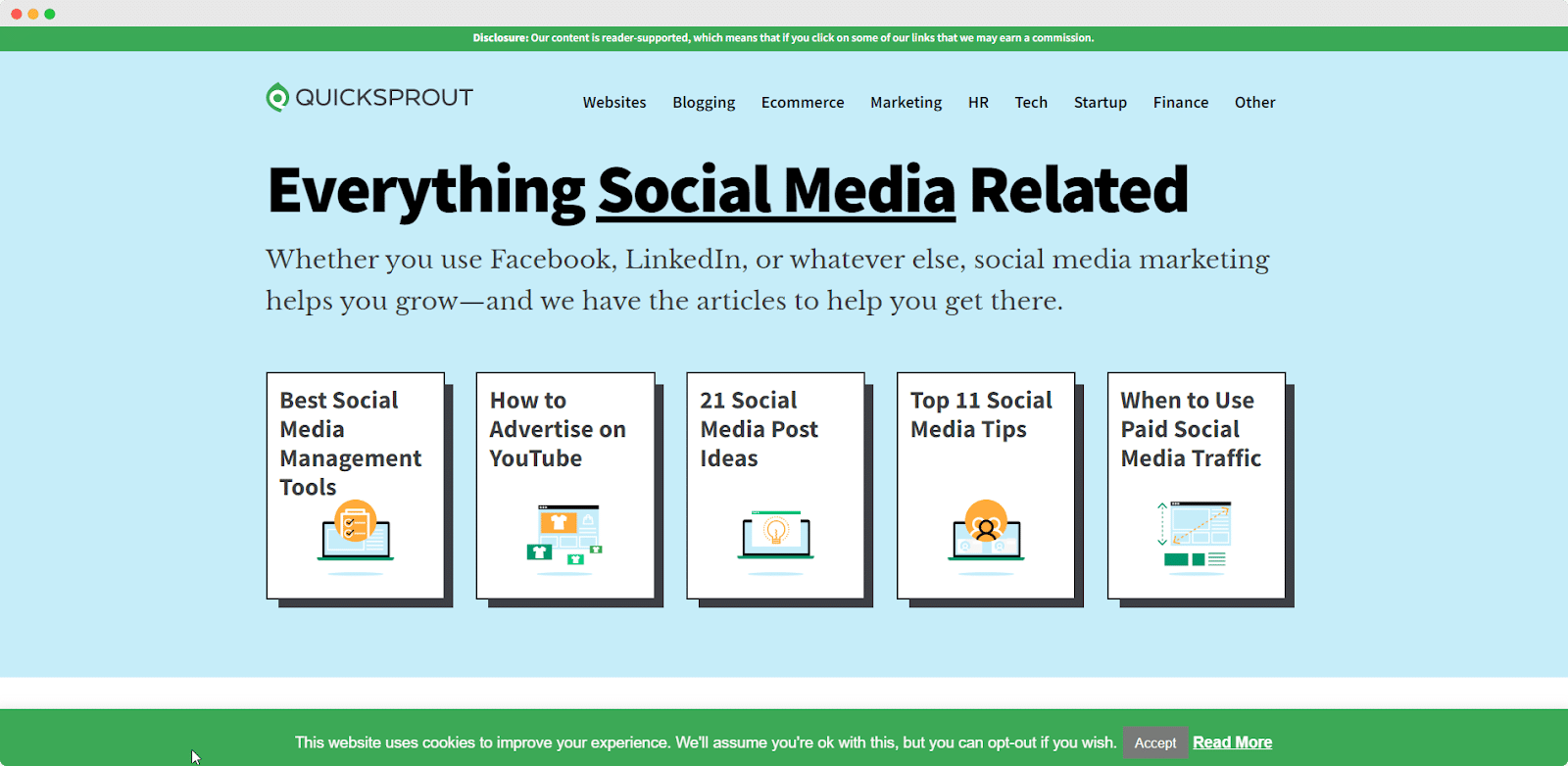 Anyone interested in social media marketing can enroll in this social media course by QuickSprout that offers plenty of useful, content-rich, and informative guides to gain knowledge about this. You will learn about how to generate leads and create content calendars. In addition to this, you will learn,
Comprehensive guide to using Hashtags
Basics of social SEO and implementing them effectively
Useful tips for social media marketing
This course is completely free and the most effective part is, you can bookmark the guides to social media marketing and visit them whenever you need.
You can enroll in these top free social media marketing courses to enhance your abilities or pick up new ones. Explore a handful of these courses without a doubt if you're new to this and want to start from scratch with your social media presence. Choose the ones that fascinate you most and give them a try.
Choose The Right Social Media Marketing Course To Get Better Marketing Insights
Social media marketing is ever-evolving and the trend in digital marketing is also changing. You always need to stay updated with the latest trends and know the strategies that best serve the purpose. And for that, there's no alternative to expanding your knowledge in this field, and these free social media marketing courses can be effective to start from the very beginning. Since they are all free, you may always switch to a social media marketing course that seems more effective and engaging to you if you don't like the materials or approach.
So, wrapping it up! Hope this blog was helpful to pick the right course for you. To get more easy-to-follow blogs like this, subscribe to our blogs and join our Facebook community for the latest updates.