Do you want to create your eLearning website to boost your course enrollment? Tutor LMS is one of the feature-rich and powerful WordPress plugins to create your online learning platform. But just creating your website is not enough to boost your site conversion. You need a proper marketing strategy to enrich your Tutor LMS course enrollment to maximize the profit.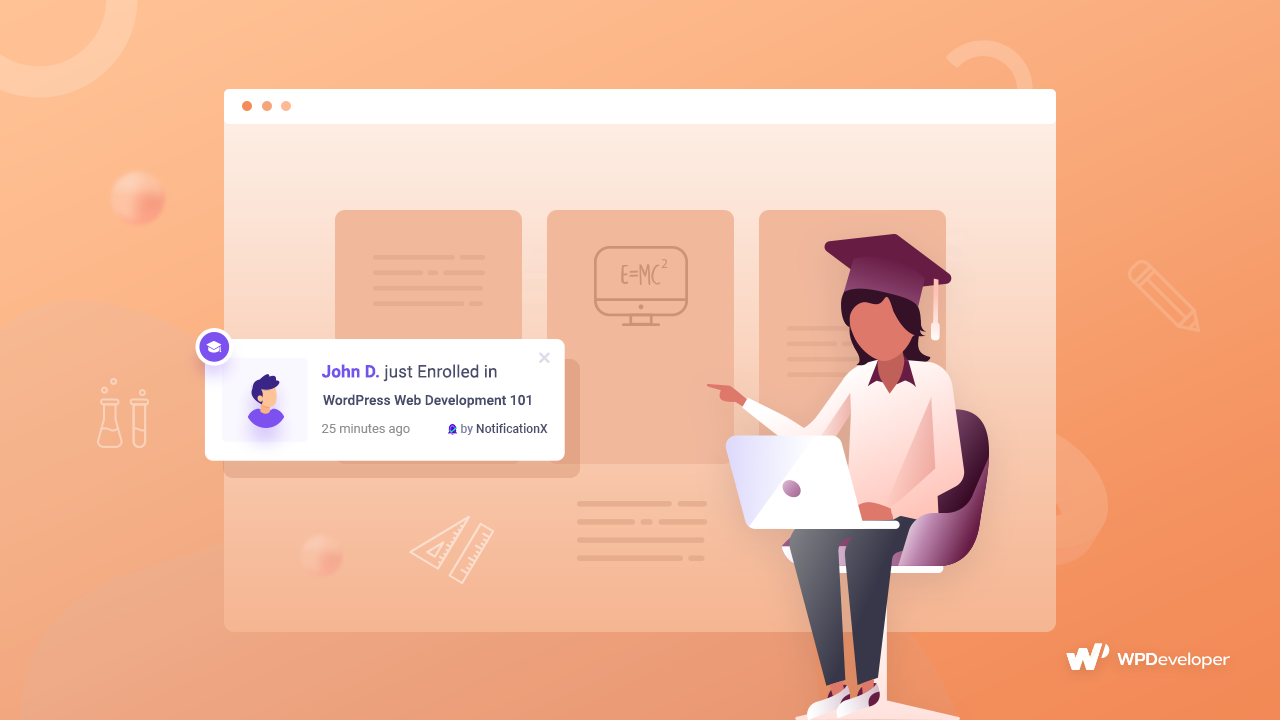 What if you are launching your eLearning website but not getting enough visitors to increase your site conversion. After promoting your eLearning platform, you need effective marketing tactics to convert your eLearning website's new visitors to be your customer. Think if you can display your latest course enroller information on the website with a beautiful notification pop-up template. Your visitors will surely get influenced and enrolled in a particular course right away.
Because people get affected by other people's responses. They feel like they are missing something very important. If you want to use that strategy then NotificationX is on your doorstep. It can help you to showcase the latest course subscriber news with an impressive notification alert and boost your site engagement right away.
This is influential because your new visitors will see that many students are enrolling and they will also feel that confidence to get enrolled. You can easily create instant trust among your audiences. Again you will be able to visualize your most purchased course to attract audiences to be the next enroller immediately. In this way, it will help you to showcase your latest course enrollment news with amazing notifications popup on the website and boost site conversion. Get amazed? Let's just check out all the details below!
How To Gain More Tutor LMS Course Enrollment With NotificationX?
NotificationX has empowered 30000+ online businesses by displaying live notification alerts of sales, course enrollments, downloads, reviews, comments, and a lot more. NotificationX is powerfully integrated with 16+ integrations, so all you have to do is just pick the right platform and start configuring your live notification alert type. This is completely similar to showcase Tutor LMS course enrollment notifications and customized accordingly. Follow all the step-by-step guides below and get all details.
Step 1: Select Source As Tutor LMS & Start Configuring
You can easily display your course enrollment notification on the website using NotificationX. This will help you to grab your audience's attention instantly with an amazing notification pop-up. At first, you need to select the 'Source' type as sales notification for Tutor LMS.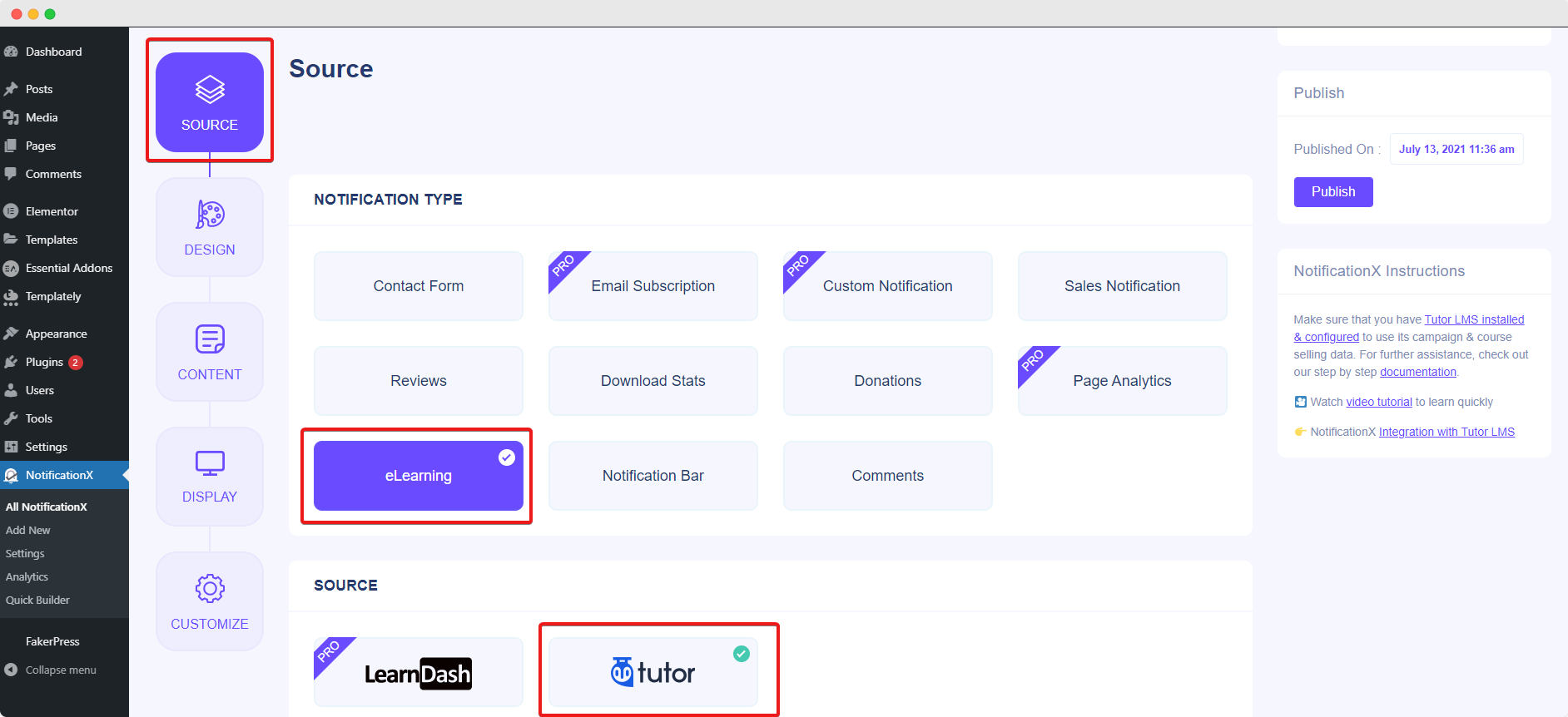 After that select your preferred theme from the Design tab notification and can get the flexibility to customize the design by configuring the 'Advanced Design' option as per your desire. Not only that, if you don't want to use the ready theme of NotificationX, you have the flexibility and customize the template as per your desire.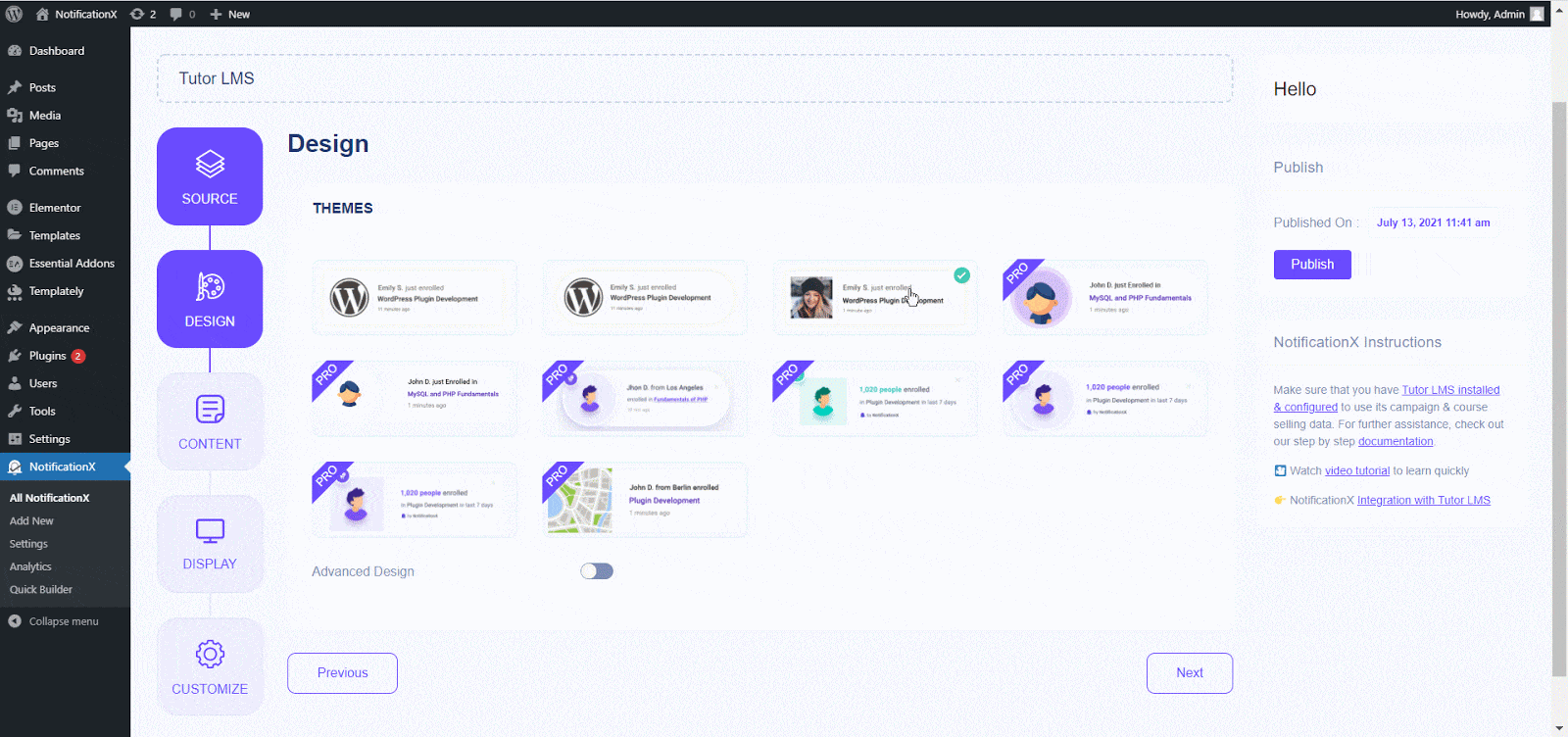 Step 2: Select Your Live Course Enrollment Alerts Content Type & Display Settings
On the other hand in the content tab, you can select the particular course notification display. You can customize the template text to purchase courses to enroll courses or anything of Tutor LMS that will be catchy to attract your customer.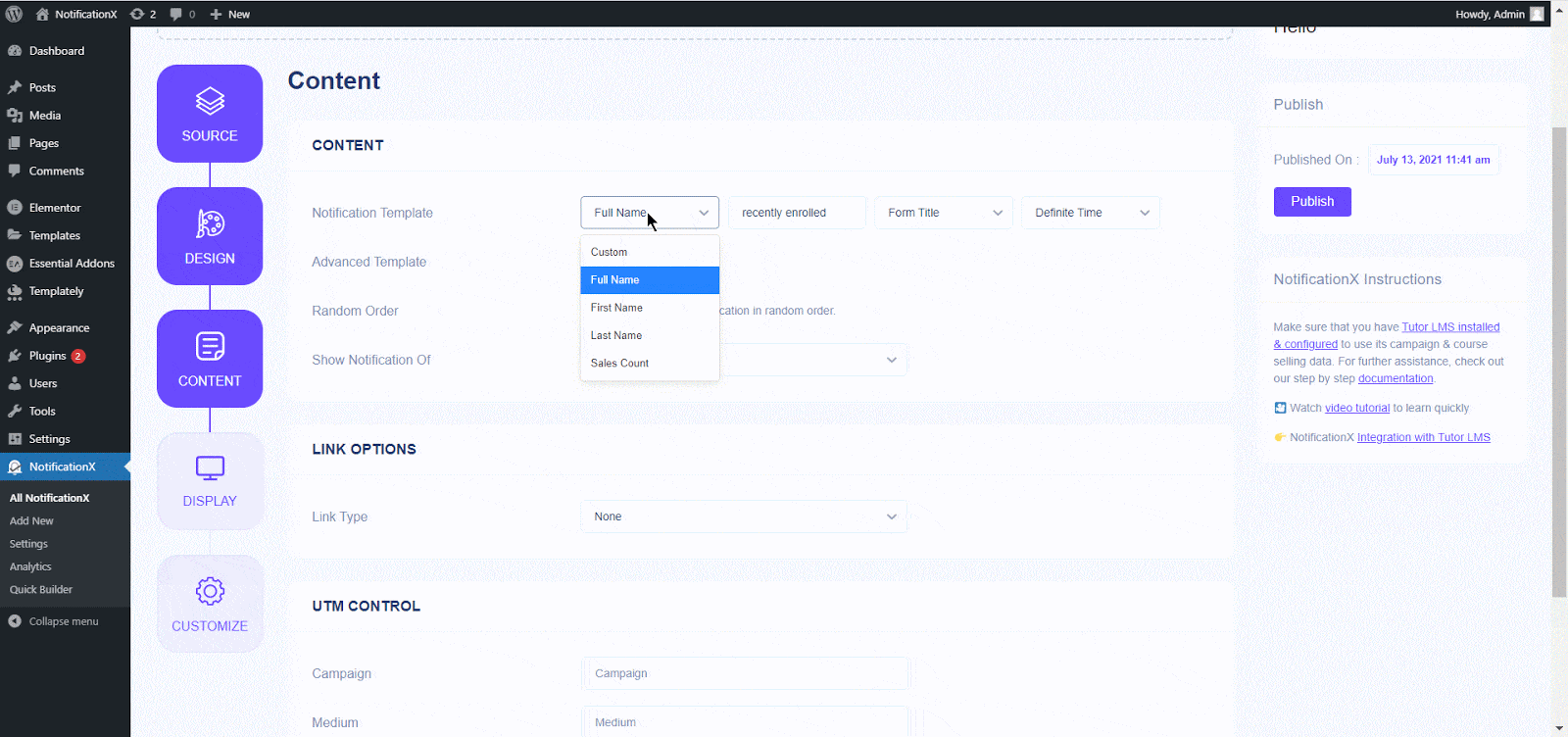 In the Display tab, you will get two available configuration sections: Image & Visibility. If you start with the 'Image' section, you can use the checkbox to display the default image where you will get some predefined images or the default image or an avatar in the notification popup.
And from 'Visibility' section, you can choose where to show your Tutor LMS Course Enrollment Notification alerts on the website. You also have the option to restrict the notification popup based on certain user roles. After you click on the 'Next' button, you will be redirected to the 'Customize' Tab.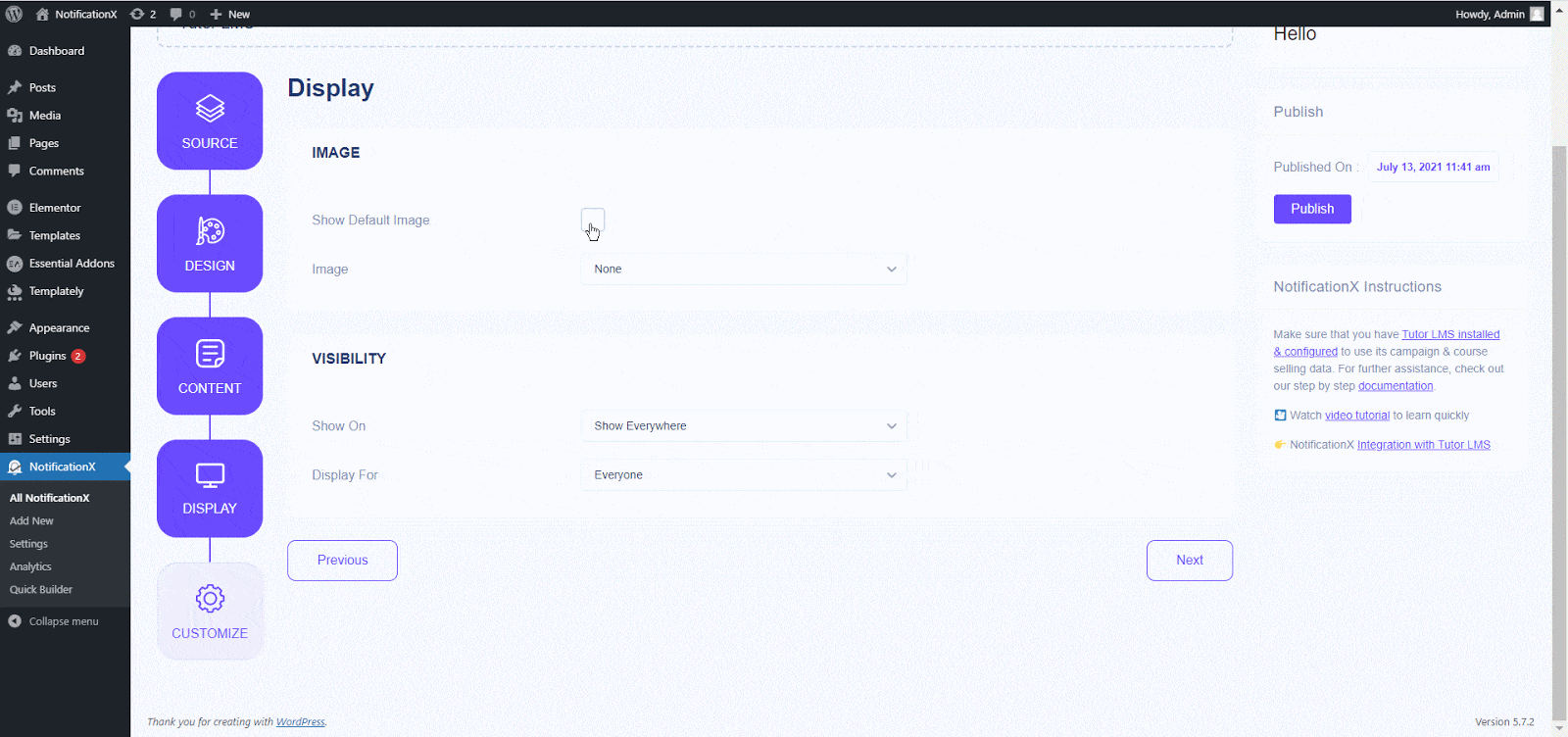 Step 3: Showcase Tutor LMS Course Enrollment Alerts On Website
In the Customize tab, you can select the total course enrollment for particular days. This will help you to show your fixed-time sales notification on the website. You can also enable notification sound and choose a particular place to display your notification alert. You can also check the detailed doc of NotificationX with Tutor LMS to know more.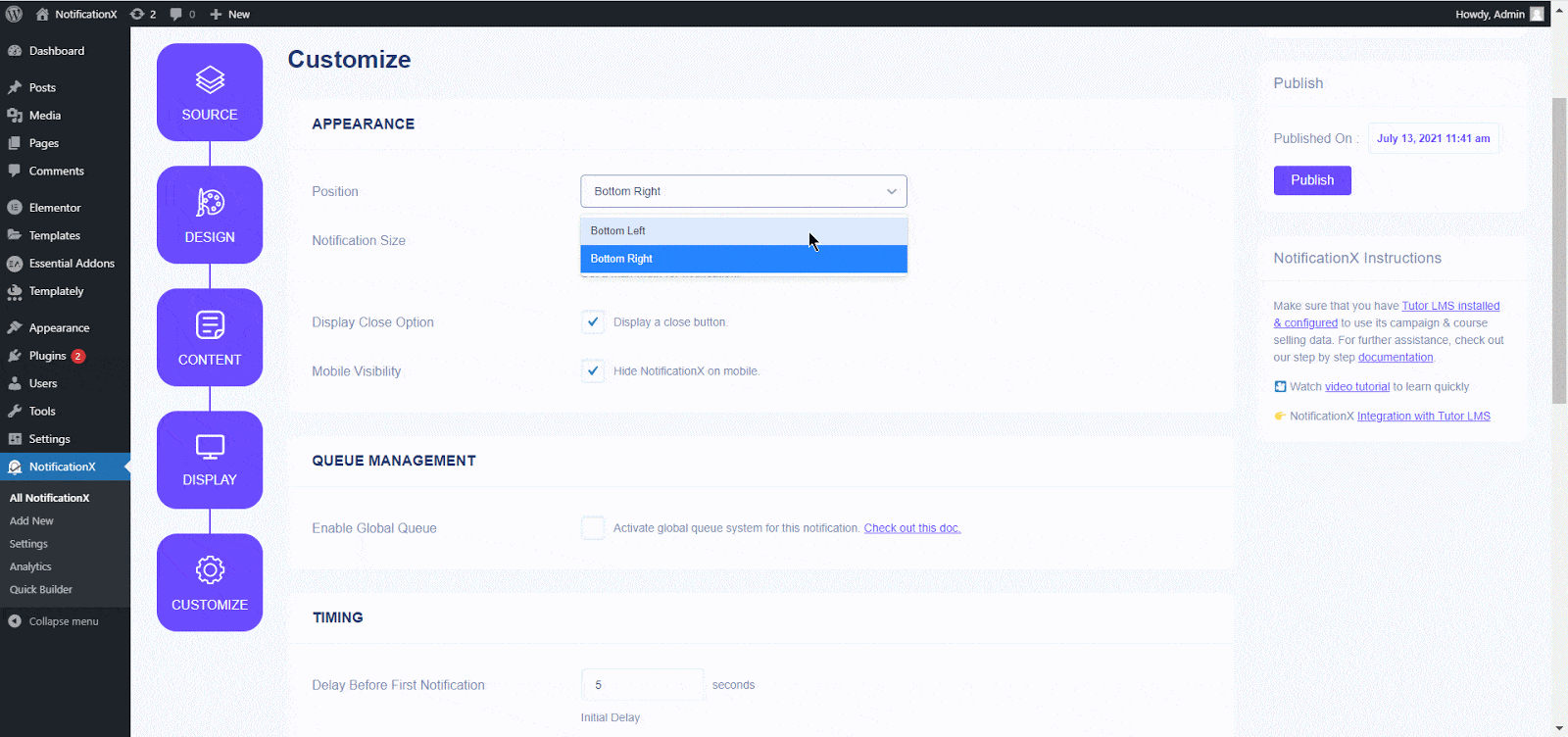 So after making all the changes, if you publish your live Tutor LMS course enrollment notifications on the website, it will look similar to the image below: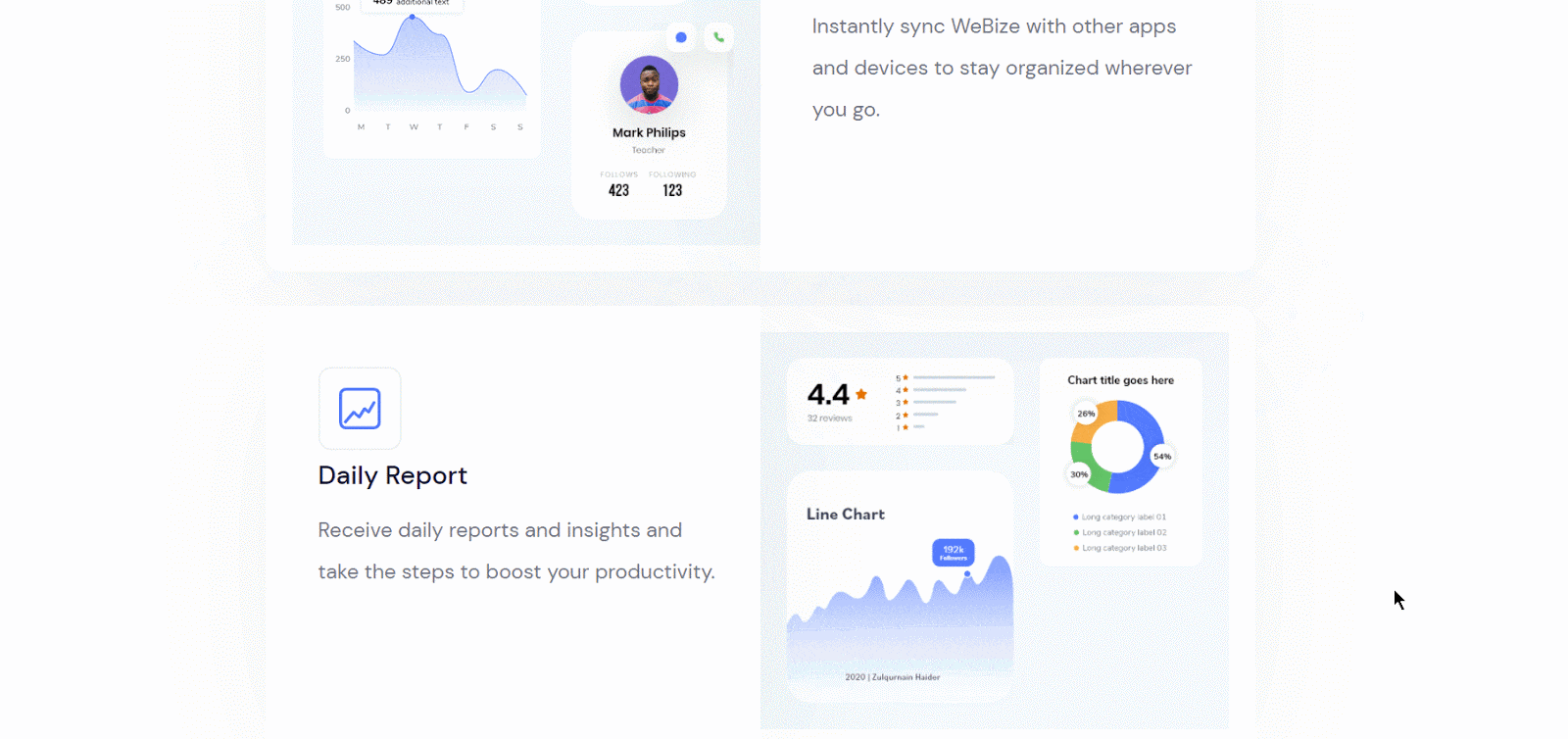 Display Tutor LMS Course Enrollment With NotificationX Now!
Nowadays implementing the right marketing tactic to grow your online business seems difficult to succeed. A unique strategy has to be there to influence your visitors to be your customers. And it's really hard for those who run the eLearning website to enhance the course enrollment to make a profit. So for this, you need to find out a perfect system to create and manage your online training site with an advanced marketing strategy.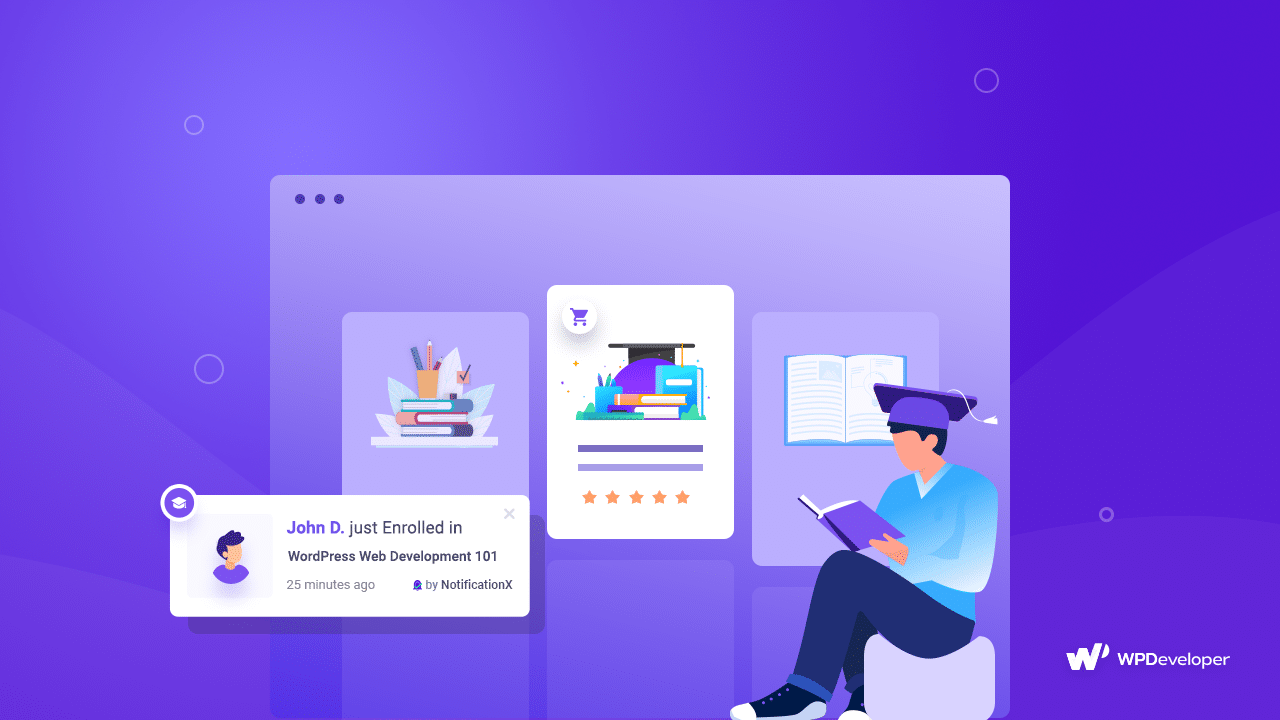 Now you will get the two best solutions NotificationX to integrate with Tutor LMS to boost your sales conversion and site engagement on the instance. Let us know your experience by commenting below, and also don't forget to join our friendly Facebook Community for further assistance.