A WordPress event plugin could be the best help for your website if you're starting an events company, want to boost the visibility of your events or utilize booking as part of your online operation.
However, choosing the best event plugin for WordPress from an extensive list requires time and effort. But we've made it simple for you by evaluating the features and flexibility of WordPress's best event plugin calendar. So, let's have a look at them.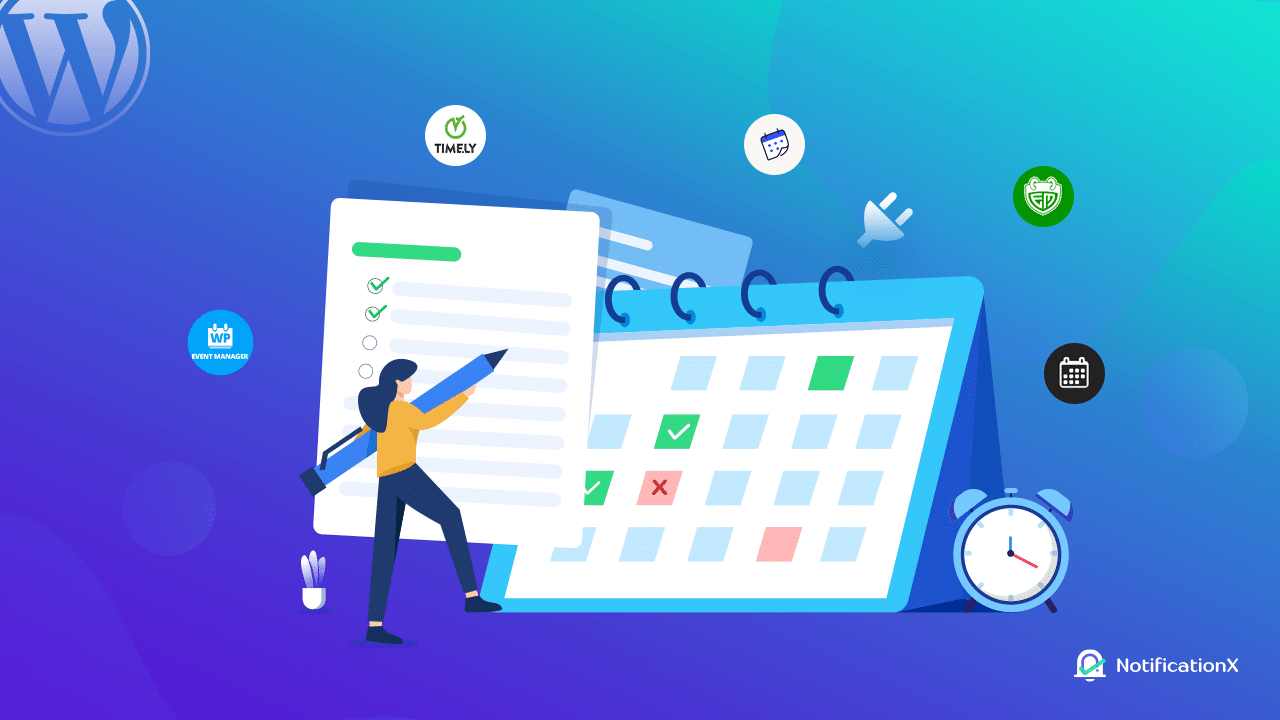 Although there is a default WordPress calendar for event planning in the dashboard, an external plugin can be more useful in event planning, RSVPs, tickets, guest management, automatic emails, and more.
Furthermore, the best WordPress event plugins will provide far more freedom, letting you organize and manage events directly from your WordPress dashboard.
How Do Event Plugins Help Promote A Website?
WordPress events plugins make it simple to add a calendar to your website to notify visitors of upcoming events, occasions, or something more feature-rich. It also allows you to create recurring events, sell tickets, manage attendees, and more.
Moreover, these plugins can simplify event management responsibilities and guarantee a successful event. For websites that don't need a comprehensive event management platform, these event plugins for WordPress can facilitate event planning at a far cheaper cost.
Here's how event plugins for WordPress can help promote a website:
⭐ Along with advertisements, onsite content, email outreach, and other tools, events can influence customers to participate in more interactive activities.
⭐ It makes event organizing much simpler by assisting you in listing and organizing single or multi-participating events on your website.
⭐ Event plugins for WordPress make creating and managing recurring events easier.
⭐ Event plugins offer a schedule of events that details scheduled gatherings.
⭐ Manage attendance and multi-speakers.
⭐ Make people aware of the event online, and encourage them to share it on social media and provide feedback.
How Can You Pick The Right WordPress Event Plugin?
There are multiple event plugins available. Consider what you'll be using the tool for and which duties it should assist with while looking for an appropriate WordPress plugin for your events.
Among other things, you should consider the following features in a WordPress event plugin:
Responsive design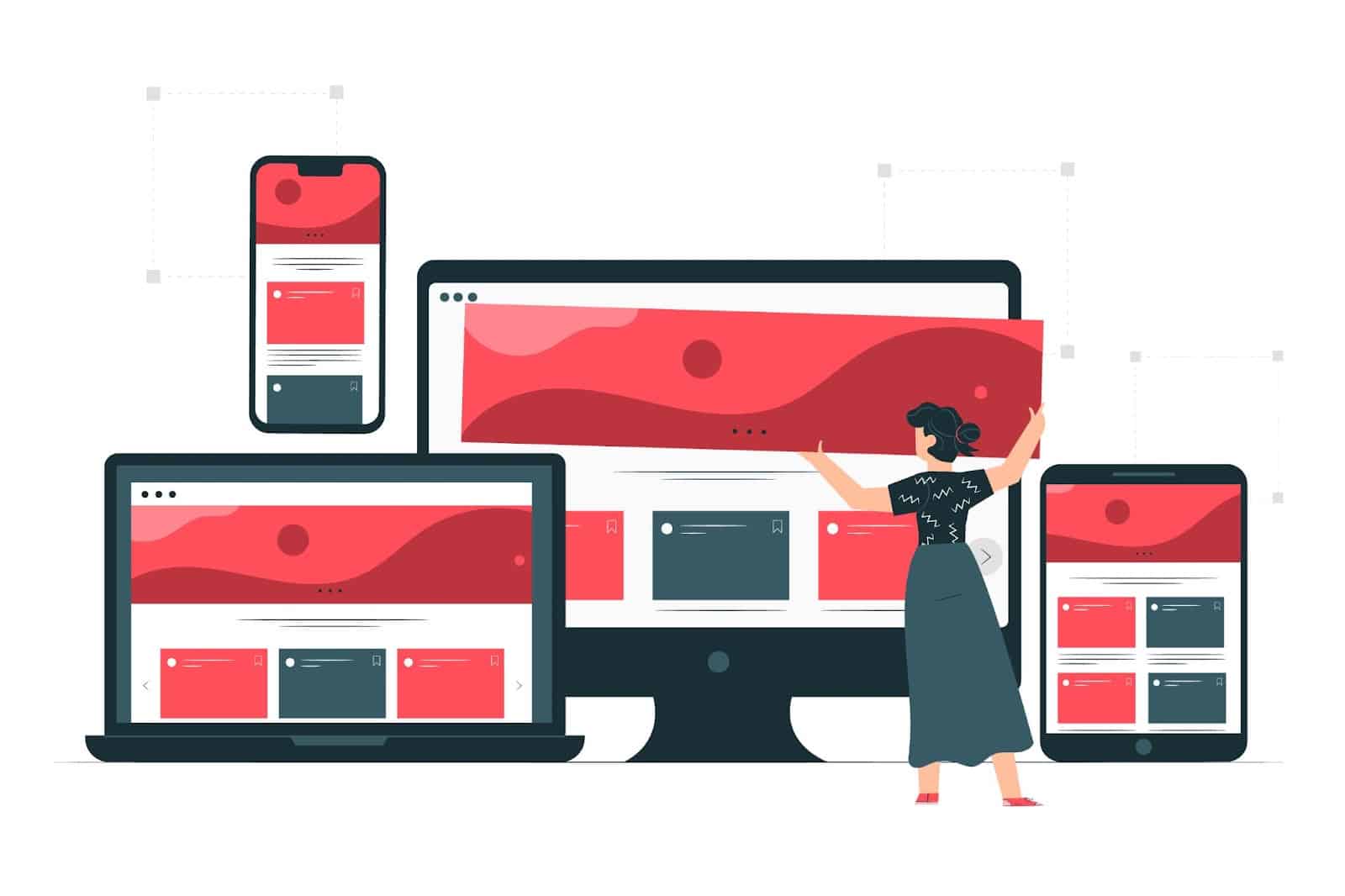 A responsive design is mandatory for organizing events using WordPress event plugins. You want to access your planner from any device at any time, and your visitors should be able to do the same. Bookings, overviews, planning, and other information should be available 24 hours a day, seven days a week, through a smartphone.
User-friendliness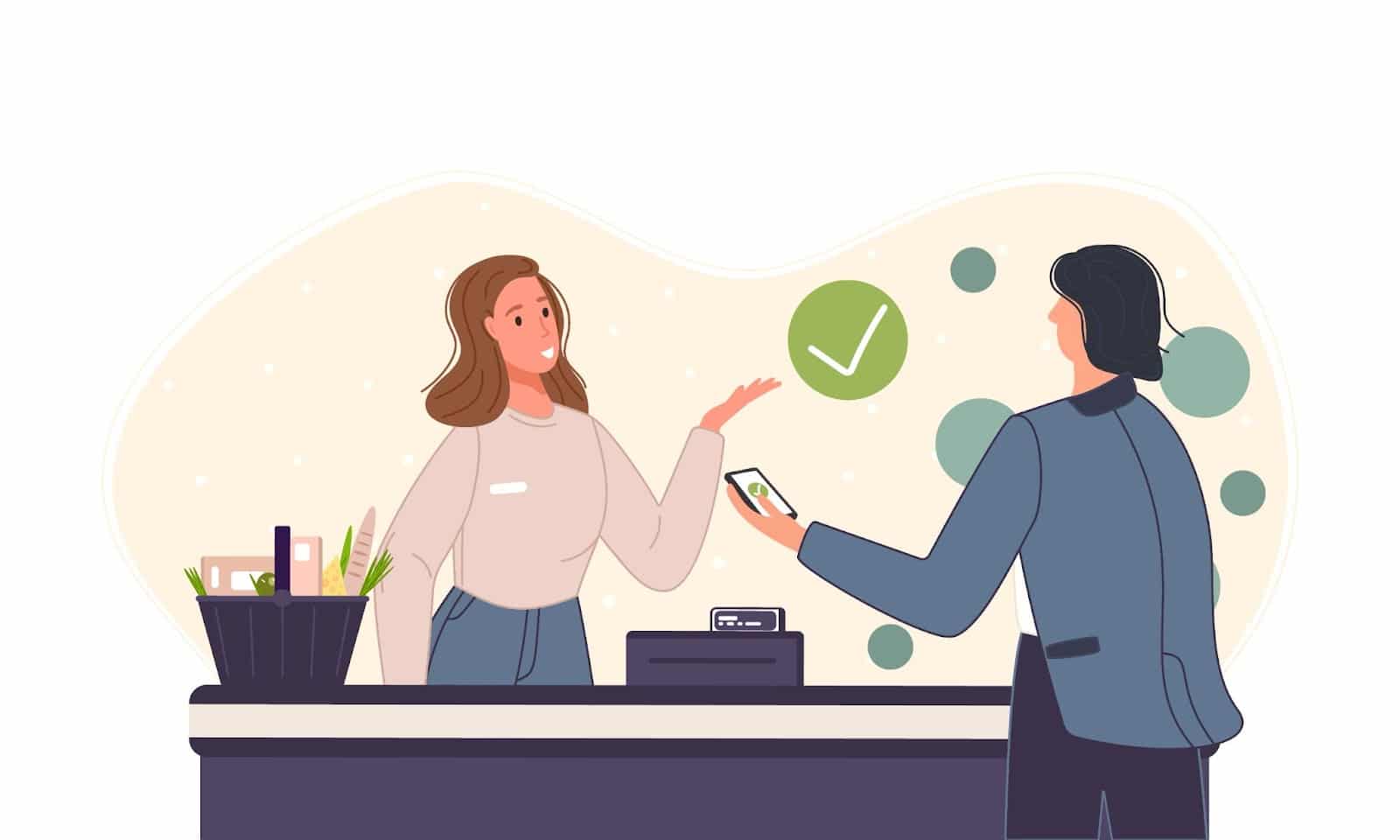 Complicated WordPress event plugins tend to kill time, and you will potentially lose your audience's attention. On the other hand, an excellent plugin maintains clarity and allows an easy booking procedure.
Options for integration
When combined with other tools, a WordPress event plugin performs effectively. While this is only sometimes essential, it does provide many benefits. Interaction with eCommerce systems, calendar features, or other technologies expands choices and simplifies event planning.
Drag-and-drop event creator
We all use drag-and-drop website builders because they simplify web creation. Any WordPress event plugin that uses a variation for events needs to be worth a look.
Five Best WordPress Event Plugins Compared
There are plenty of event plugins for WordPress on the marketplace with multiple features and tools available. So, it's a nut job picking the best that suits your needs.
However, comparing the essential features, flexibility, and popularity, we have listed the five best WordPress event plugins.
1. WP Event Manager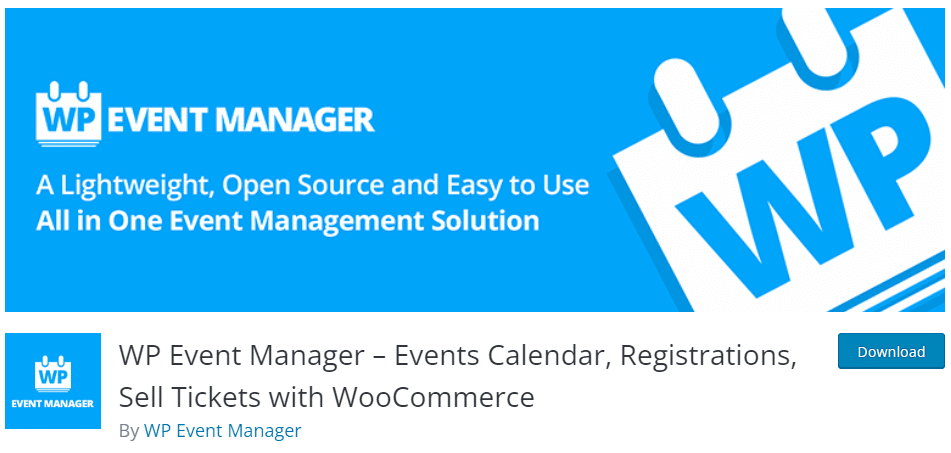 WP Event Organizer is a lightweight yet powerful WordPress event plugin to manage full-featured live and virtual events. Additionally, your users can see and filter events before registering for one via a front-end form.
This event plugin for WordPress is entirely customizable, mobile-friendly, and SEO-friendly. WP Event Manager also offers a robust Ajax search tool, which some other plugins lack.
Despite being comparatively new, this plugin is free and open-source, and it works with all major themes. As a result, it has become one of the most popular event plugins for WordPress. There are also addons available to enhance the functionality even further if necessary.
Thus, with fantastic user reviews and even better customer service, WP Event Manager has topped our list of the best WordPress event plugins.
Key Features of WP Event Manager:
⭐ Lightweight and great UI: It has a lightweight interface and a stunning user experience with a built-in cache module and a search module.
⭐ Frontend forms: Registered users and guests can submit and manage event listings.
⭐ The base plugin is free: This plugin does not require a monthly fee. It's set up in a way that you can start with the base plugin and then pay for some of the add-ons as needed.
⭐ Multilingual translation: It includes an internationalized multilingual translation capability that supports 40+ languages.
⭐ RSS links: Searches display RSS links to notify attendees of new events that meet their search criteria.
⭐ Multiple widgets: It includes widgets for current, upcoming, and featured events.
⭐ Ajax powered: The entire calendar area has been "AJAXified," resulting in one of the smoothest frontend browsing experiences.
2. Timely All-in-One Event Calendar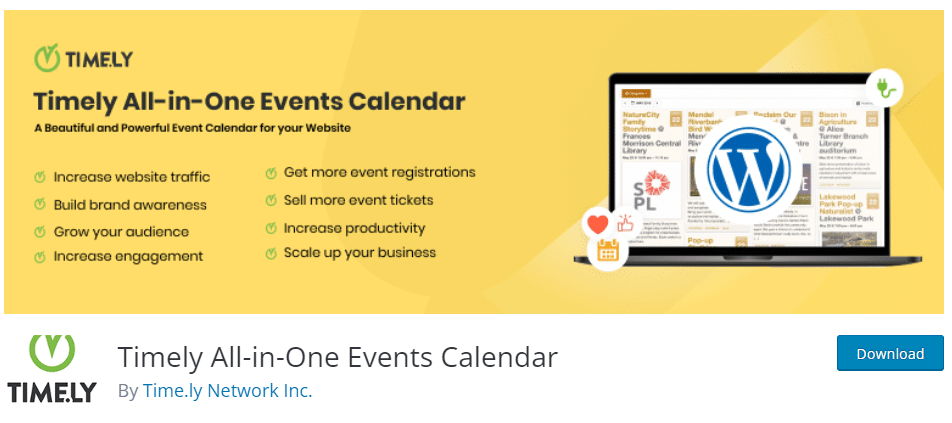 All-in-One Events Calendar by Timely is a design-focused WordPress event plugin to create many sorts of events and display the event calendar in a responsive manner. It offers enough functionality to get you started as an event organizer.
This event plugin for WordPress allows you to create recurring events and sort them by category, tags, venue, and organizer. You can also set various time zones for different events.
The ability to share events on Google Calendar, MS Outlook, Apple iCal, or other events on iCalendar feeds makes the All-in-One Events Calendar stand out. Furthermore, the free plugin includes capabilities such as Facebook event import, social sharing, location auto-saving, and recurring events.
If you become stuck in the middle of nowhere, you can contact their customer service for assistance through documents.
Key Features of All-in-One Events Calendar:
⭐ Free plugin: The plugin provides a free plan as well as monthly premium packages, offering you more payment alternatives than most other plugins.
⭐ Translation into several languages: Events can be translated into all major languages.
⭐ Recurring payment options: Because the recurring payments capability includes timing patterns, you can organize an event every three months.
⭐ Simple sharing: Simple integration with Google Calendar, Apple iCal, Microsoft Outlook, and any other system that supports iCalendar (.ics) feeds.
⭐ Excellent frontend: The frontend presentation is attractive and well-organized.
3. The Events Calendar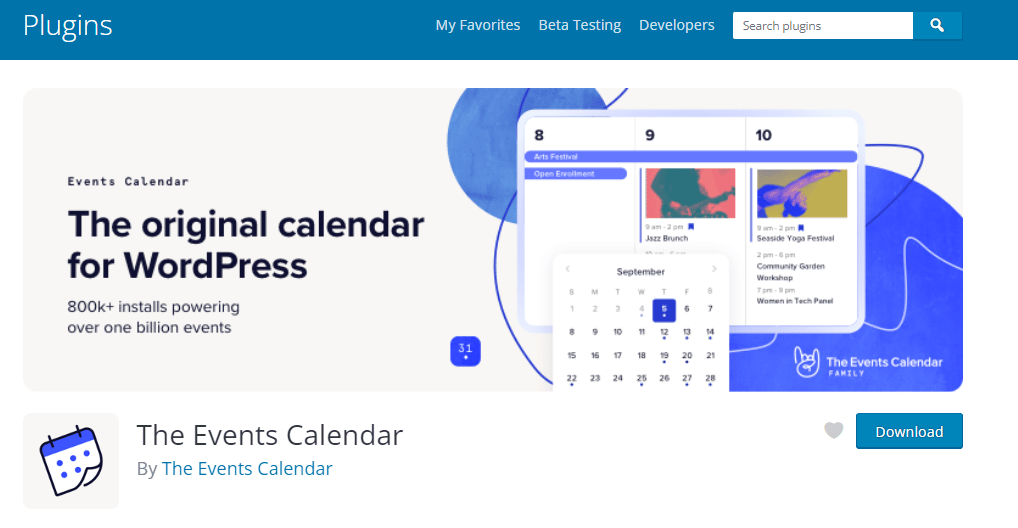 This is another WordPress plugin for event management. It allows you to create and handle events directly from the WordPress dashboard without needing specialized knowledge or skills.
The Events Calendar plugin is fully responsive and optimized for use on any device imaginable. In addition, it is entirely compatible with Avada, Divi, Enfold, and so on. On top of that, when using this plugin, you will also have access to a template library.
The Events Calendar offers its users an out-of-the-box experience by delivering the most intuitive interface for the device. With The Events Calendar, you can organize real-world or online gatherings just as quickly as you would with any other kind of event.
Key Features of The Events Calendar:
⭐ Free tickets and RSVPs: It allows you to manage them without cost.
⭐ Multiple form platforms: This event plugin for WordPress enables you to fill out forms from Meetup, Eventbrite, iCal, Google Calendar, and other websites.
⭐ Sort and categorize: It sorts your events by category, location, organizer, etc.
⭐ Organize multiple events in multiple languages: Using the Events Calendar, you can organize virtual and communal events translated into different languages.
4. Events Manager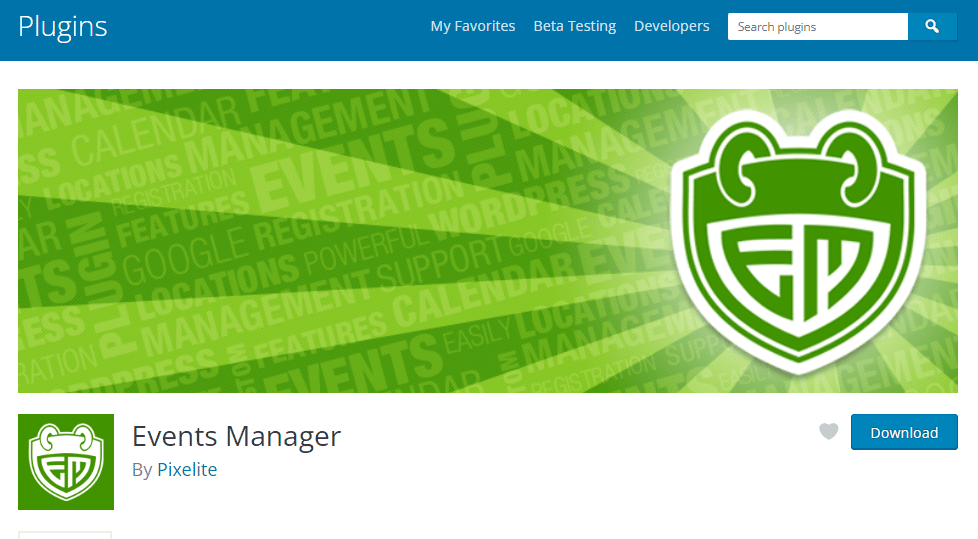 The WordPress Events Manager plugin is based on a calendar and has the added functionality of accepting reservations for individual events. The event plugin for WordPress is helpful, even in its free form, and can handle even the most important events with relative simplicity.
However, the premium plans offer you multiple payment choices, event emails, discounts and coupons, booking form customization, and more.
You might think of the plugin as a desktop calendar that's easy to use. Make a new event, give it a beginning and ending time, and decide whether or not it will repeat.
When ready, the plugin will let you turn on registration and take care of everything associated with it. It's also possible to have users submit their events. In a nutshell, Events Manager is a powerful WordPress event plugin that allows you to manage a packed schedule with no effort efficiently.
Key Features of Events Manager:
⭐ Create and share events: The free Events Manager plugin enables you to create and share events. You need to upgrade to allow payment support.
⭐ Recurring and multi-day events: The plugin supports recurring and multi-day event registrations, booking administration, and approvals and rejections.
⭐ BuddyPress Integration: The plugin can share BuddyPress events.
⭐ Easy single-day event management: The start and end times and essential event data make single-day event registration easy.
⭐ See events on Google Maps: As the plugin emphasizes localities, you can see events by location using Google Maps.
5. Event Organiser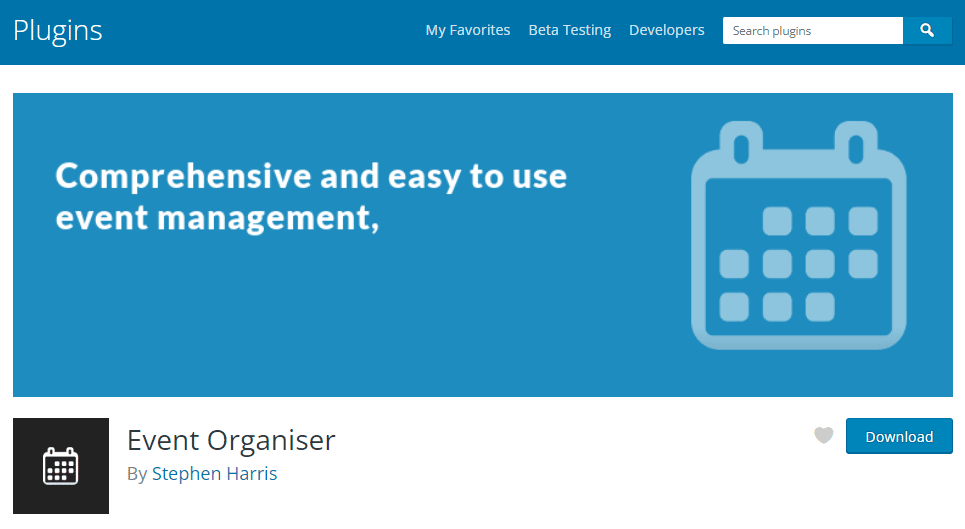 Another excellent WordPress event plugin is Event Organiser which includes several features that aim to be as adaptable and user-friendly as possible. The Event Organiser plugin is a calendar app with an intuitive interface and a monthly view.
The plugin lets you display events, sell tickets to those events, manage reservations, alter the booking form, send confirmation and follow-up emails, and accept payments via a number of different methods.
There is a paid version of the plugin in addition to the free one. The Pro plan is required for accepting money, selling tickets, and sending follow-up emails; the free plan just includes the calendar and the ability to schedule events. In both, you have complete control over how your calendar appears.
Key Features Of Event Organiser:
⭐ Works well with complex recurring: It works well with intricate recurring patterns.
⭐ Multiple languages: With this plugin for Event Organiser, you can publish your events in up to 40 languages. As a result, you may integrate many payment methods into your events.
⭐ Google shortcodes: It's possible to use Google shortcodes easily with Event Organiser. Plus, you can make your own shortcode, widget, or ICAL format templates.
Should You Pay For A WordPress Event Plugin?
Even though it's hard to argue with the value of something free, there are good reasons to pay for a premium WordPress events plugin. Some of the plugins for WordPress events are free to use.
Only a few free versions have payment gateways and other essential features. But good things are worth paying for. For example, some WordPress event plugins offer custom booking forms, QR codes, printable tickets, and more in their premium plans. 
On the other hand, customer support is an essential part of premium WordPress plugins people often overlook. Most developers only help a little with the free version but paying customers always come first.
The best-case scenario is that you never need help, but customer service is one of those things that you appreciate most when you need it the most.
Let's Wrap It Up!
WordPress plugins give almost endless chances to grow your reach and add new features, while WordPress event plugins provide both.
It is simpler to advertise events, share them, and enable others to share them than it is to use the finest WordPress event management plugins.
We have listed the features of some of the most popular WordPress event plugins. To make things easier, you may utilize event and conference-specific themes, or you can always use starting templates.
If you have found this blog helpful, subscribe to our blogs for valuable tutorials, guides, knowledge, tips, and the latest WordPress updates, or join our Facebook community.