Wishing you could manage and monitor all your affiliate campaigns and links from the same place with ease? Check out our ultimate list of the 5 best affiliate marketing plugins and tools that can help you not only create, but also manage, organize and monitor the performance of your affiliate campaigns with complete ease.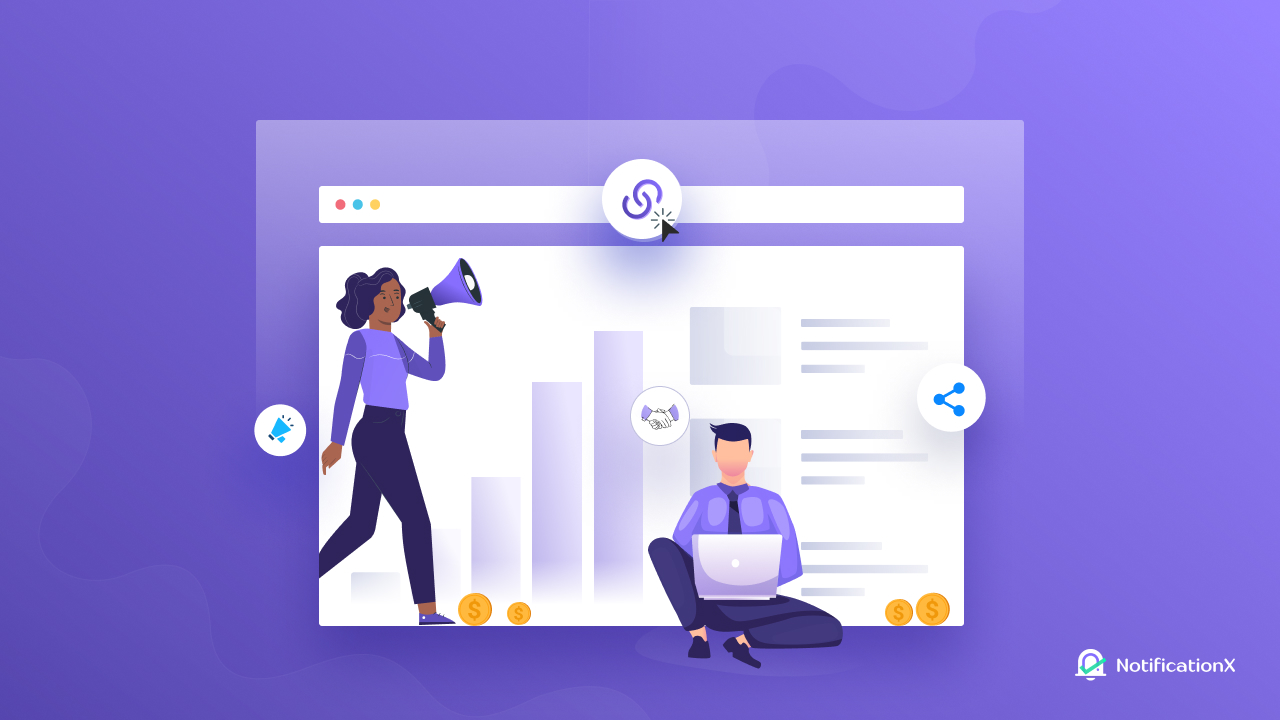 You no longer have to install a dozen different WordPress plugins and tools to manage different aspects of your affiliate marketing campaigns. With the affiliate marketing plugins mentioned in this blog, you will get all the facilities and features you need to create and track your campaigns. You'll also be able to effortlessly monetize your website through affiliate marketing and garner the best results.
Easily Manage Your Campaigns With The 5 Best Affiliate Marketing Plugins
Before we get into our ultimate list, let's take a quick look at the features that a perfect affiliate marketing tool should enable you to:
🔗 Create and shorten easily sharable affiliate links in a few steps
🔗 Effortlessly manage a large number of URLs
🔗 Redirect affiliate links in whichever type of redirection needed
🔗 Track the performance of all your affiliate campaigns
🔗 Provide you with complete, detailed reports, and much more.
That being said, let's take a look at the best affiliate marketing tools and plugins that help you grow your business.
1. Track Affiliate Link Analytics In Detail Using BetterLinks

First off, we have one of the newest affiliate marketing plugins for the WordPress community –  BetterLinks, the easiest link management solution. This all-in-one tool can help you create short, custom URLs for your affiliate campaigns, redirect them, manage them all from one place and track them using multiple analytics systems.
BetterLinks also helps to reduce link load time with optimized queries, monitor marketing campaigns with UTM Builder, prevent bot traffic and clicks with Bot Blocker and check for Broken Links – all from within the plugin user interface.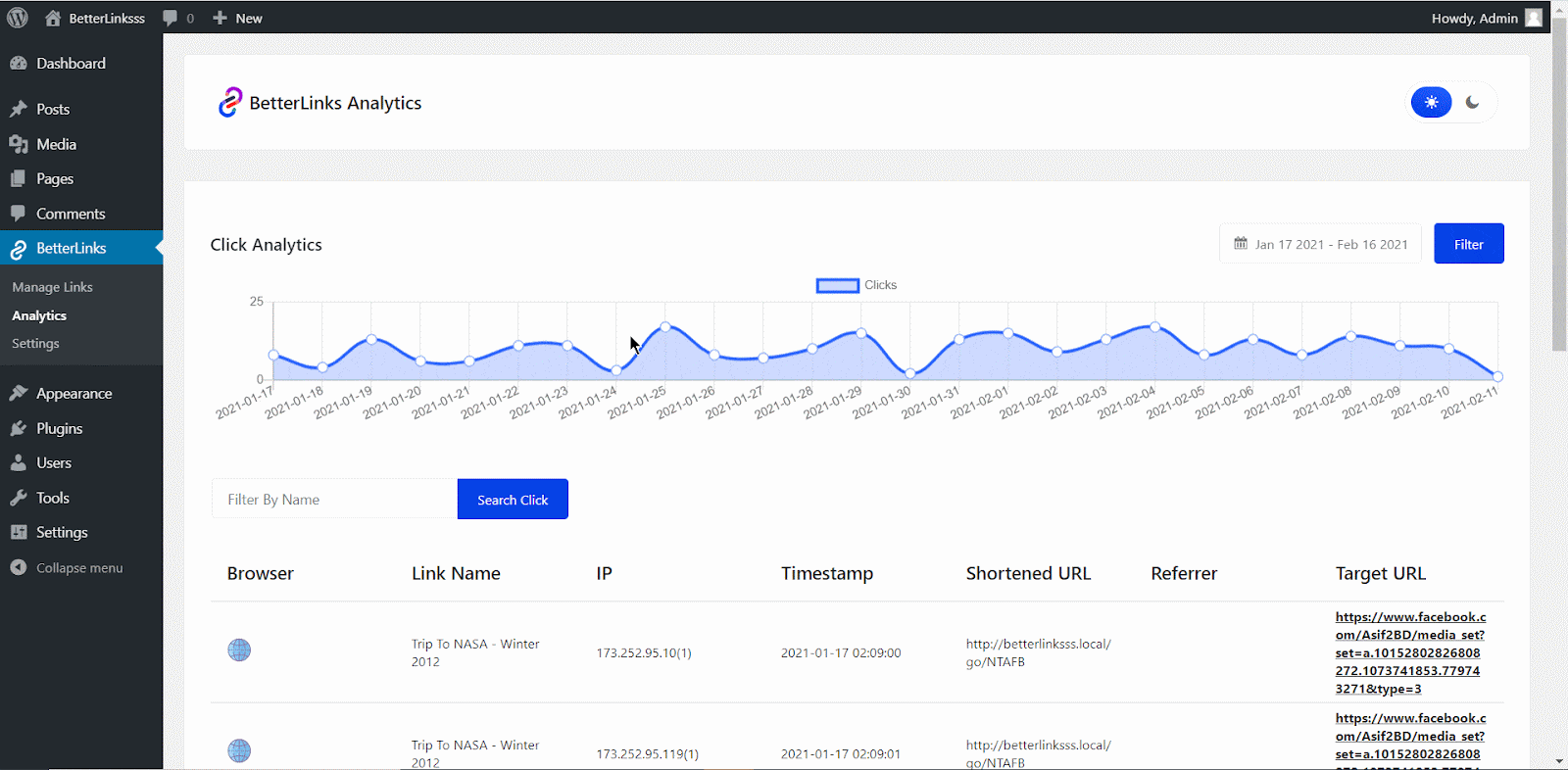 You will get an advanced built-in analytics tool with the free version of BetterLinks, that will give you insightful data about the performance of your links and help you manage your campaigns better. It lets you examine the performance of each campaign link by measuring click-through rates, and provides you with analytical data such as link name, referrer, target URLs, and much more.
But for further information, BetterLinks PRO enables you to connect and integrate with Google Analytics in just a few clicks from its user interface, or easily generate a UTM code with a built-in UTM builder that you can use to track your links and marketing campaigns through custom parameters.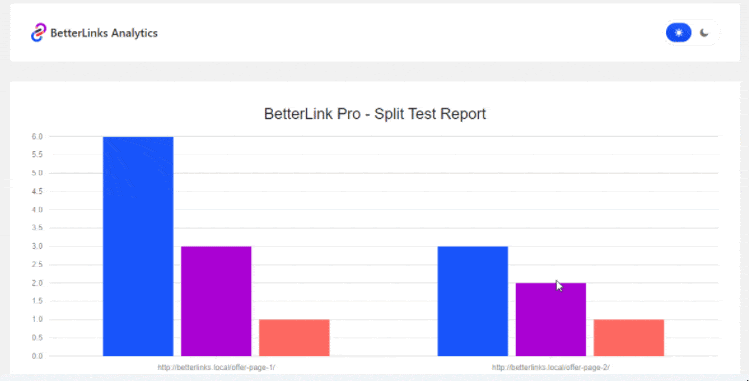 To take things a step further, BetterLinks PRO gives you an effortless process to carry out split testing using dynamic redirects and evaluate how your offer pages are performing. You will be able to view and analyze the results with the built-in BetterLinks analytics tool mentioned above and see the conversion rates and other reports for each of the offer pages in a beautiful graphical format.
And finally, you can easily heighten your affiliate link management procedures and make them more successful using BetterLinks' premium redirection feature that comes in many different types.
🌍 Geolocation Based Dynamic Redirection
💻 Device-Based Dynamic Redirection
⏰ Time-Based Dynamic Redirection
To top it off, this affiliate marketing plugin also allows you to manage all your affiliate marketing links along with your team by creating user roles with BetterLinks PRO. This will allow you to set up custom permissions for different user roles and give them access to different features of BetterLinks.
2. Use Pretty Links' Unique Features To Create & Track Affiliate Links

With over 300,000+ activate installations, the next best affiliate marketing plugin in the WordPress community is Pretty Links. This highly popular marketing tool can also be used to shrink, customize, track, manage and share any website URL with ease.
One of its major highlights is the unique feature that enables users and affiliate marketers, like you, to shorten any site link using a custom domain name of your own preference. But most importantly, you can easily track all your affiliate campaign links and monitor the performance of the campaigns with a full, detailed report.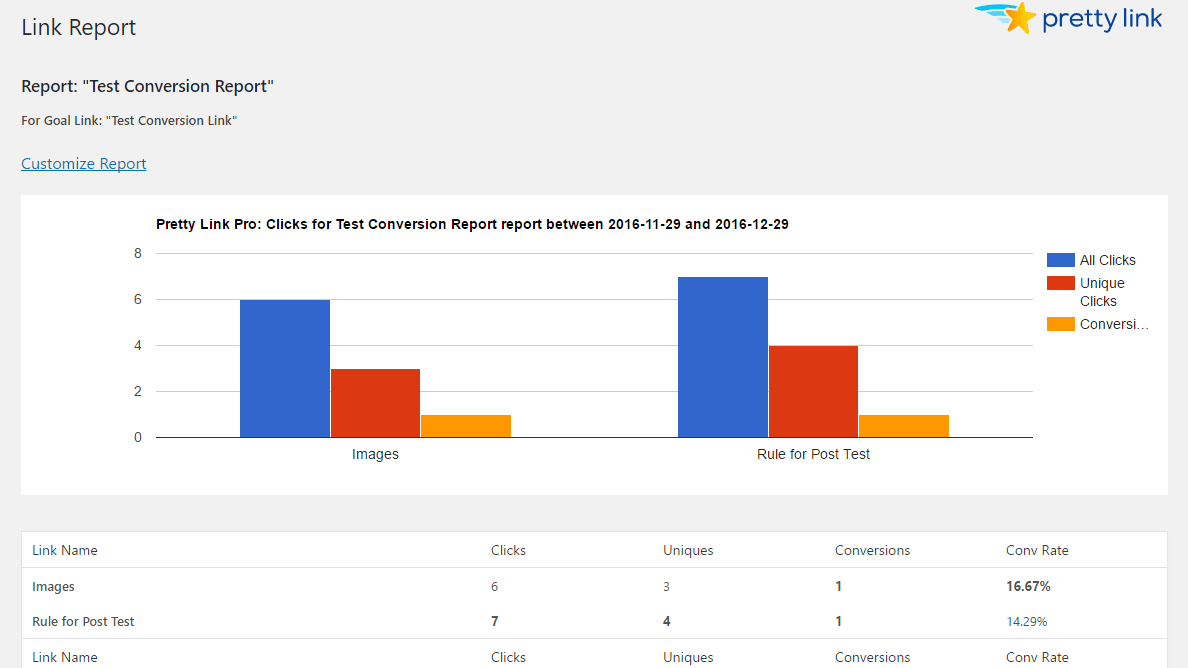 Its top features allow you to tracks the number of total and unique clicks per link and generate a reporting interface of a configurable chart of clicks per day. You can also view detailed information about the clicks including IP address, browser, operating system, and referring site – all of which are important data that you need to understand how well your marketing campaigns are doing. You can also download these reporting data in the form of CSV files, pass custom parameters to your scripts through this plugin, and still have full tracking ability.
Among many other outstanding features, you can also create no follow/no index links, and turn to track on / off on each link, redirect URLs using 301, 302, and 307 redirect types, and much more.
3. Cloak & Manage Affiliate Campaign Links With ThirstyAffiliates 

Next on our list, we have ThirstyAffiliates that gives bloggers and marketers the complete facility to monetize their WordPress website with affiliate marketing and consists of a huge community of 40,000 WordPress users.
As you can tell by the name, this affiliate marketing plugin was developed to help you manage your affiliate campaigns and links easily using all the essential features. It's a very simple plugin that enables you to easily search for the affiliate links you create earlier by name in a few clicks.
ThirstyAffiliates helps to add click tracking to your links to track every click and comes with a built-in reporting system so you can explore, over time, how much your affiliate links have been clicked and what is popular on your site.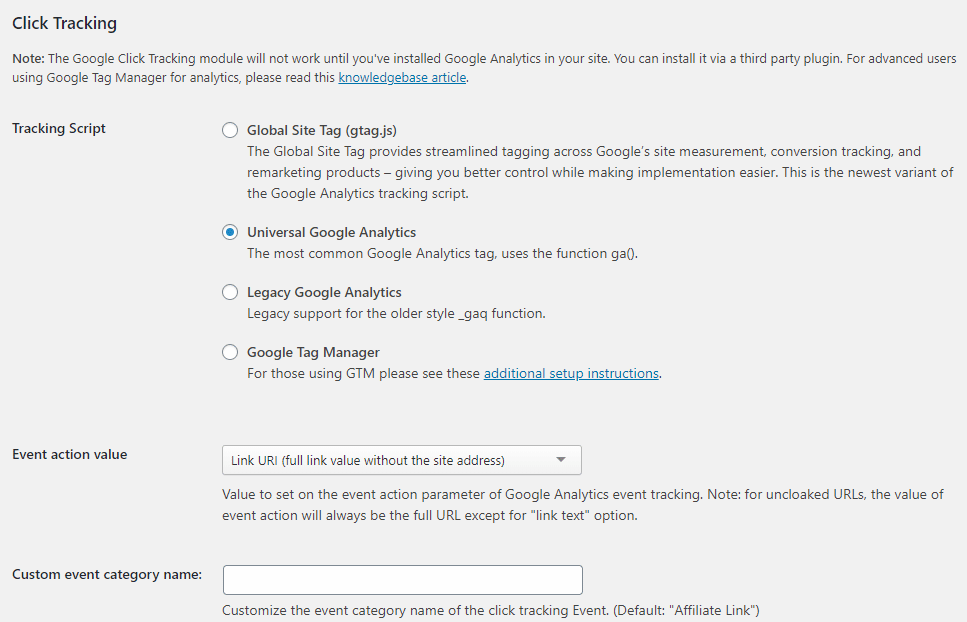 ThirstyAffiliates PRO adds tons of extra functionality to facilitate any advanced affiliate marketers and bloggers looking to automate parts of their affiliate marketing:
Use automatic keyword linking to boost up your affiliate income by automatically linking affiliate links to keywords throughout your site.
Get amazing advanced reports such as performance by category, performance over 24/hr periods, Geolocation reports, and others that can be easily generated in a few clicks.

Geotarget your visitors based on their country of origin and redirect them to geographically appropriate affiliate URLs.
Import and export affiliate links via CSV files type.
Automatically explores your affiliate links for 404's or broken links and will notify you when it detects problems
4. Manage Your Affiliate Programs With Ease Using Affiliates Manager 

Affiliates Manager (also known as WP Affiliates Manager) is another such great affiliate marketing plugin that you can look into if you want to start your own affiliate program for your WordPress website and recruit other people to promote your products. This popular affiliate management system enables you to register new affiliates and keep the entire process very organized with simple steps.
With this WordPress plugin, you will get complete control of everything – from affiliate registration to individual commissions and mass payments via PayPal. Moreso, it enables you to track an unlimited number of affiliates in real-time, create banner ads and creative content for your affiliates, integrate the plugin to MailChimp and WooCommerce, track ad impressions, and customize affiliate messages, and much more.
Affiliates Manager lets you choose whether to pay your affiliates at a flat rate per order, or as a percentage of every order they initiate. Each of your affiliates can be set to their own payout amount, individually, and make manual adjustments when needed.
To top it off, Affiliates Manager is translation ready which means you can easily translate the plugin in your own language for easier navigation and connect to affiliates from any part of the world.
5. Get A Solution To Track Every Aspect Of Your Campaigns In AffiliateWP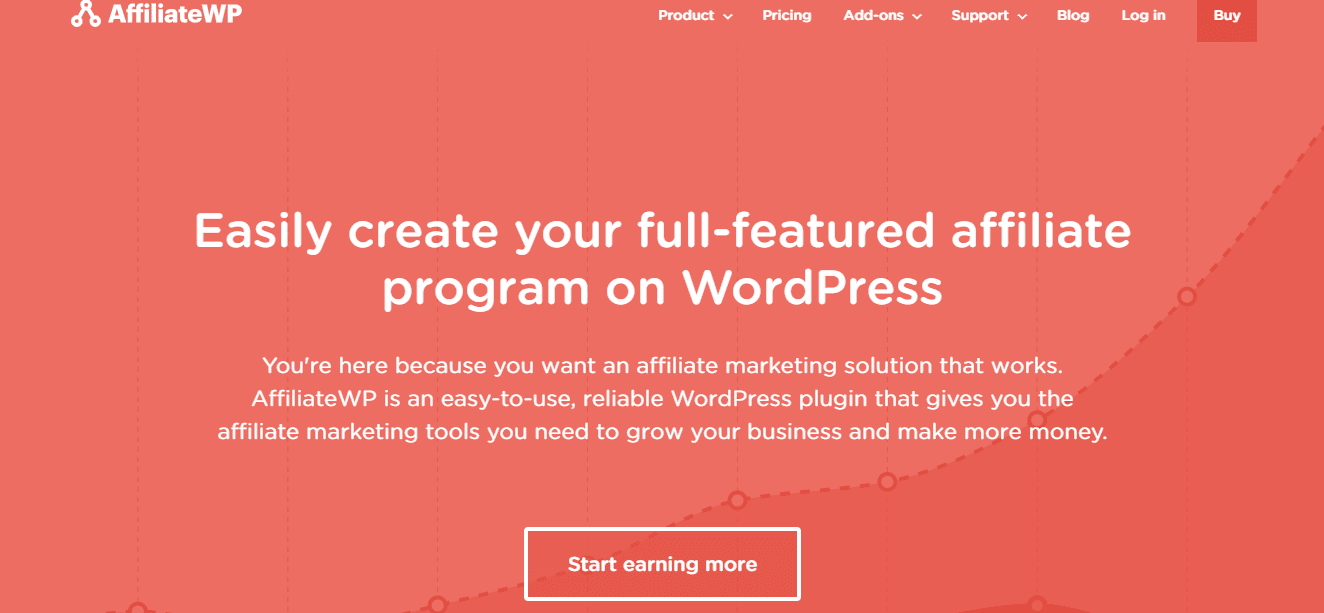 AffiliateWP is a full-fledged affiliate management system, that provides you easy procedures to manage your referral programs and monitor them at a glance with detailed reporting, real-time graphs, and an advanced affiliate dashboard to organize your affiliate programs.
It is a frequently used affiliate marketing plugin that helps you set up and manage all steps of your affiliate marketing campaigns and comes with complete integration with all major WordPress e-commerce and membership plugins.
AffiliateWP also includes options to manually add other affiliates and translations to your programs. You will be able to set up commission percentages, cookie duration, affiliate pages, and many more facilities with ease.
And with that, we conclude our ultimate list of the 5 best affiliate marketing plugins and tools for WordPress that can help you to easily manage every aspect of your campaigns and programs with ease.
Bonus: Boost Sales & Engagement Using Top Marketing Trends
While you're at it, if you want to boost conversion rates for your business or marketing campaigns and skyrocket engagement rates, you can also take a look at our list of the top 10+ marketing trends to promote products. This blog will provide an insight into all the top trends to follow and instantly attract audiences and potential clients.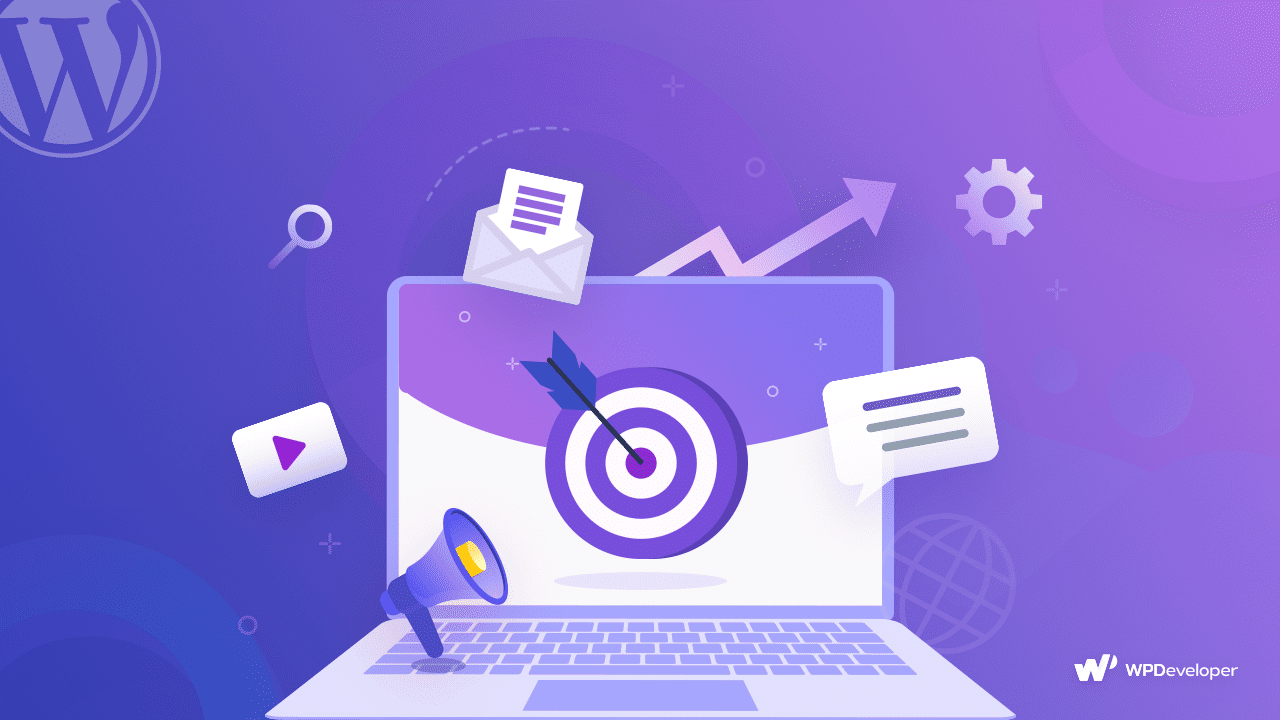 We hope this blog was helpful to you in deciding the perfect affiliate marketing plugin for your WordPress website and campaigns. Let us know which one you choose and about your experience with the plugin by commenting below; we would love to hear from you.
Join our Facebook group to communicate or subscribe to our blog for more useful guides, insightful tips and tricks, trending news, and the latest updates.