Looking for ways to grab your website visitors' attention, retain them, and skyrocket engagement rates in WordPress with ease? Introducing 'Flashing Browser Tab Notifications' – an exclusive, game-changing feature from NotificationX to make abandoning viewers revisit your website in the most interactive way possible! Find out all about this new feature and how to configure it from our comprehensive article below.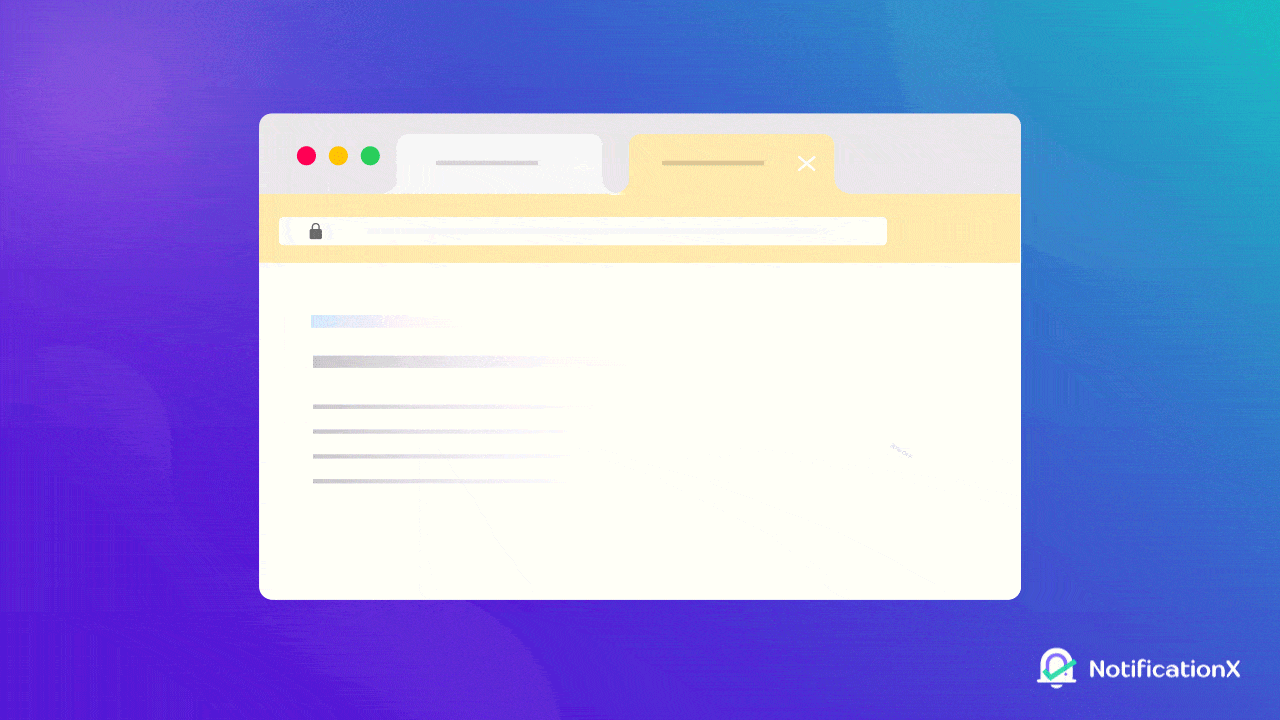 How Can Flashing Tab Notifications Benefit You: Attract Customers Back To Your Website
Imagine being lost in a sea of open browser tabs on your device while surfing the internet when suddenly, out of the corner of your eye, one tab starts blinking and calling you back to it. It can be a pulsating title or vibrant colors in the icon. Would it not grab your attention instantly? That is exactly what the magic of flashing browser tab notifications from Notification is – it can be the perfect tool to re-attract abandoning visitors to your website!
Flashing browser tab notifications, also known as blinking tab notifications or flashing tab alerts, are attention-grabbing messages that appear on – as you must have guessed by now – your browser tabs. To be more specific, usually, these are dynamic tab titles or icons dynamic that blink to give your website a more eye-catching look.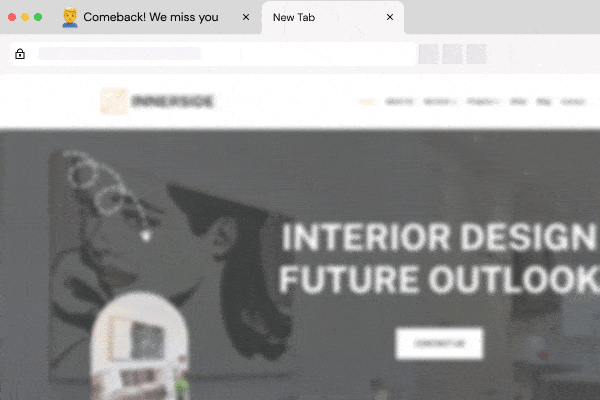 Let's discuss in what other ways this feature in your marketing arsenal can be a powerful weapon if you are still wondering, "Why are these notifications so useful for websites?":
🎯 Instant Attention
In today's fast-paced digital world, capturing your visitors' attention is crucial, especially if they have a tendency to abandon your site and switch to a different tab. Flashing browser tab notifications ensure that your website doesn't go unnoticed amidst the countless other tabs. It's like tapping them on the shoulder and saying, "Hey, come back and pay attention!"
🚀 Increased Engagement
Once you have your visitors' attention, it's time to make them stick around. Flashing tab alerts create a sense of urgency and curiosity, compelling users to click on your tab and explore what you have to offer. It's an effective way to drive traffic and engagement and keep visitors hooked to your content.
🏆 Brand Visibility
A blinking tab with your logo or a catchy message is also an excellent opportunity to reinforce your brand identity. It's like having a mini-billboard right on your visitors' browser tabs which sets your website apart from all the rest. By strategically flashing browser tab notifications, you can make your brand unforgettable.
🔘 Call-to-Action Boost
Flashing browser tab notifications are not just attention-grabbers; they also serve as powerful calls to action. Whether you want users to sign up for a newsletter, take advantage of a limited-time offer, or simply guide them to a specific page, a flashing tab alert can prompt action like no other.
In conclusion, flashing tab alerts on your website bring multiple benefits: attracting customers, enhancing user experience, and boosting conversions. With their engaging appeal, flashing tab alerts play a vital role in driving traffic, fostering engagement, and propelling the growth of your online business.
Latest From NotificationX: Your Ultimate Flashing Tab Alert Solution!
Now that you know the incredible power of blinking tabs, it's only natural to want to incorporate them into your website, right? But the question arises: which tool should you use to make it happen and to do it easily? You might have already guessed it, the ultimate WordPress FOMO marketing tool, NotificationX is the perfect solution to bring viewers and potential customers back to your website with captivating flashing browser tab notifications.

NotificationX offers a seamless and hassle-free solution for configuring flashing tab alerts on your WordPress site with no codes. With this powerful tool, you can effortlessly re-engage site abandoners by integrating compelling and personalized messages and attention-grabbing emojis right within your site's title.
While NotificationX grants you the freedom to customize your blinking tab alert text to your heart's content, it doesn't stop there. It goes the extra mile by offering a treasure trove of ready-made, unique design samples for you to explore. It's all about making your Flashing Tab Alerts shine and stand out from the crowd. Let's take a look at some of the thrilling possibilities of NotificationX's flashing browser tab notification:
Reel In Visitors With Flashing Tab Notifications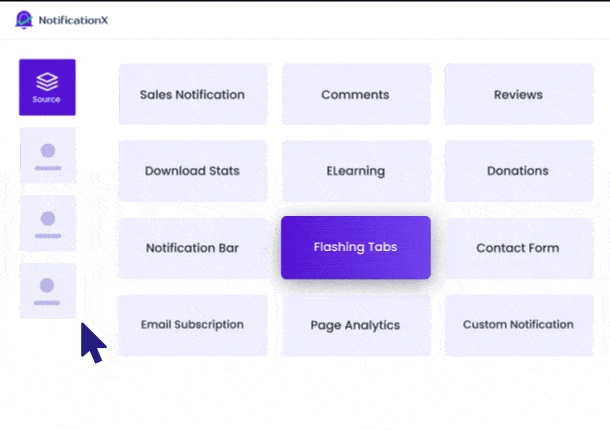 With NotificationX, you have the power to call your site visitors back with a personalized message that speaks directly to them. Craft to entice visitors to return with ready templates that allow full customization.
Your visitors won't be able to resist the allure of that flashing tab alert, guiding them back to explore what they've been missing out on. Unleash the full potential of NotificationX and witness the seamless transformation of curious passersby into loyal enthusiasts as they eagerly immerse themselves in the treasure trove that awaits them.
Win Back Lost Sales: Capture Attention with Flashing Tab Alerts
For WooCommerce stores, NotificationX offers a ready theme designed specifically to re-engage visitors who have visited your store and added items to their cart but forgot to purchase.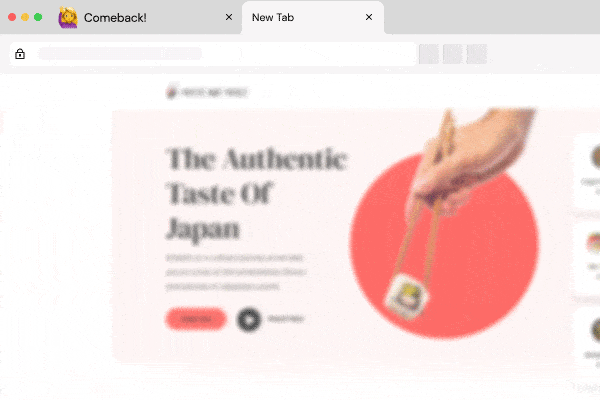 It's time to reignite their interest and remind them of the amazing products they were so close to acquiring. Simply select the dedicated theme, and let the flashing tab alerts work their magic.
Seal the Deal: Flashing Tab Alerts Highlight Cart Quantity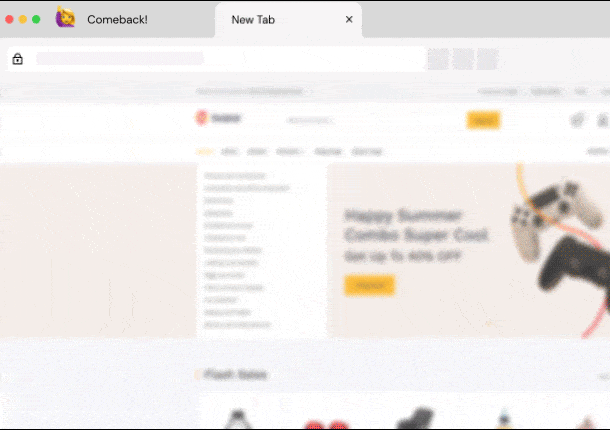 When it comes to your WooCommerce store, being specific can make a world of difference. NotificationX enables you to grab your visitors' attention by mentioning the number of items they have in their cart.
Picture this, "Comeback! You've got 4 items waiting in your cart!" It's a powerful way to create urgency, seal the deal, and guide them back to completing their purchase. Select the dedicated theme in NotificationX, and watch the magic happen!
In conclusion, NotificationX is the ultimate solution to unleash the full potential of flashing browser tab notifications on your WordPress site. Engage your visitors, boost your conversions, and leave a lasting impression. It's time to take your website to new heights with the captivating allure of blinking tabs.
How To Configure Flashing Tab Alerts Using NotificationX?
Ready to bring back those site abandoners effortlessly? Follow these simple steps to configure flashing tab alerts using NotificationX and watch the magic happen. But first, make sure to install and activate NotificationX PRO to unlock all the powerful features. Let's get started!
Step 1: Go To the 'Settings' From Dashboard
From your dashboard, navigate to 'NotificationX' → 'Settings'. Now turn on the 'Flashing Tab' toggle and then click on 'Save Settings'.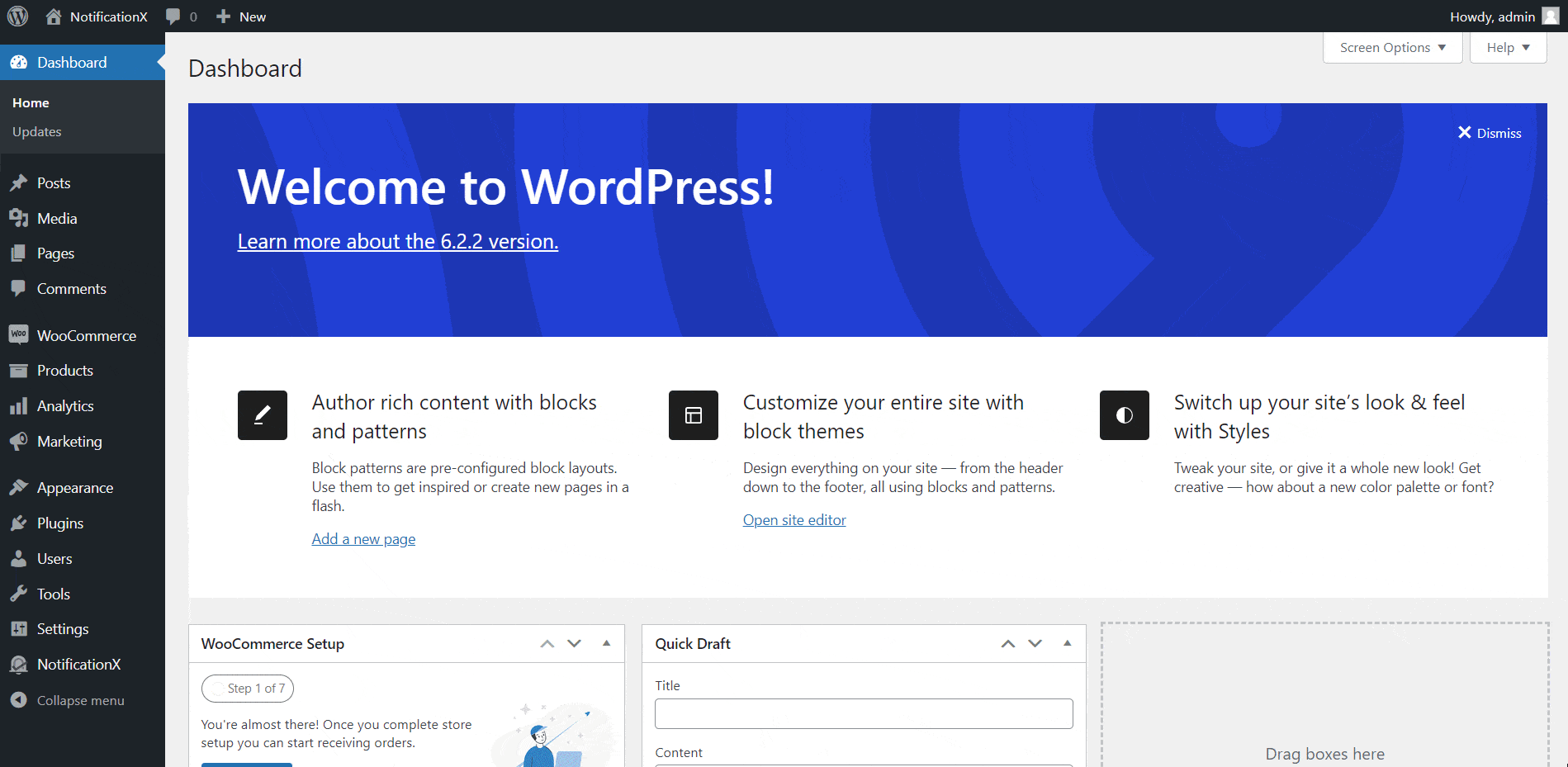 Step 2: Add Flashing Tab Notification Alert In NotificationX
Now you need to add alerts from the dashboard. Navigate to 'Notifications' → 'Add New'. Then click on the 'Flashing Tabs' to set it as your source. Then hit the '次' button to go to the next stage.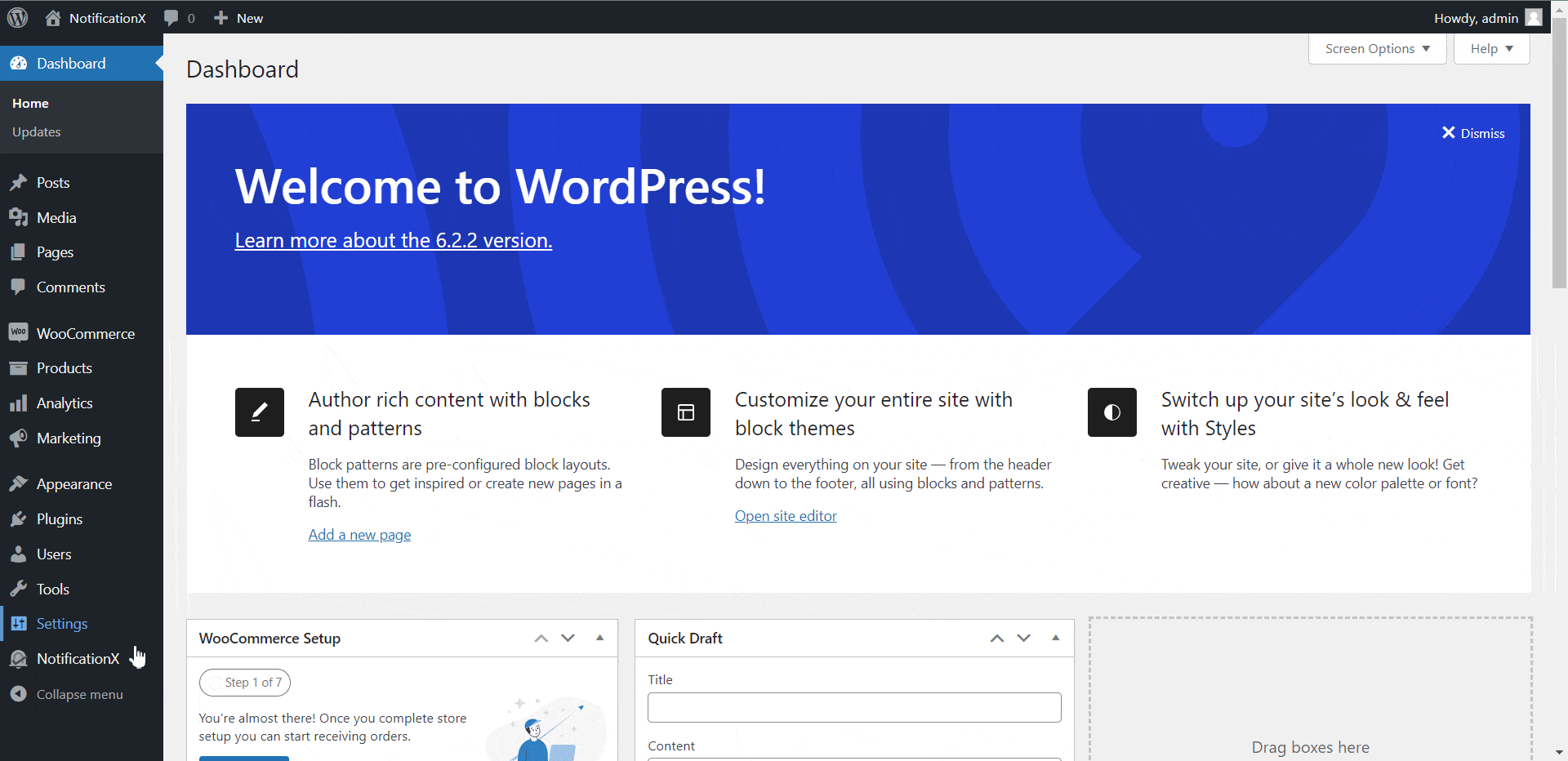 Step 3: Choose Notification Alert Design & Customize
Unlock your creative potential in the '設計' section with 4 distinct themes to choose from. The first two themes entice visitors to return, while the last two are specifically tailored for WooCommerce. Select the perfect theme that aligns with your goals and captivates your audience like never before. And then hit the '次' ボタン。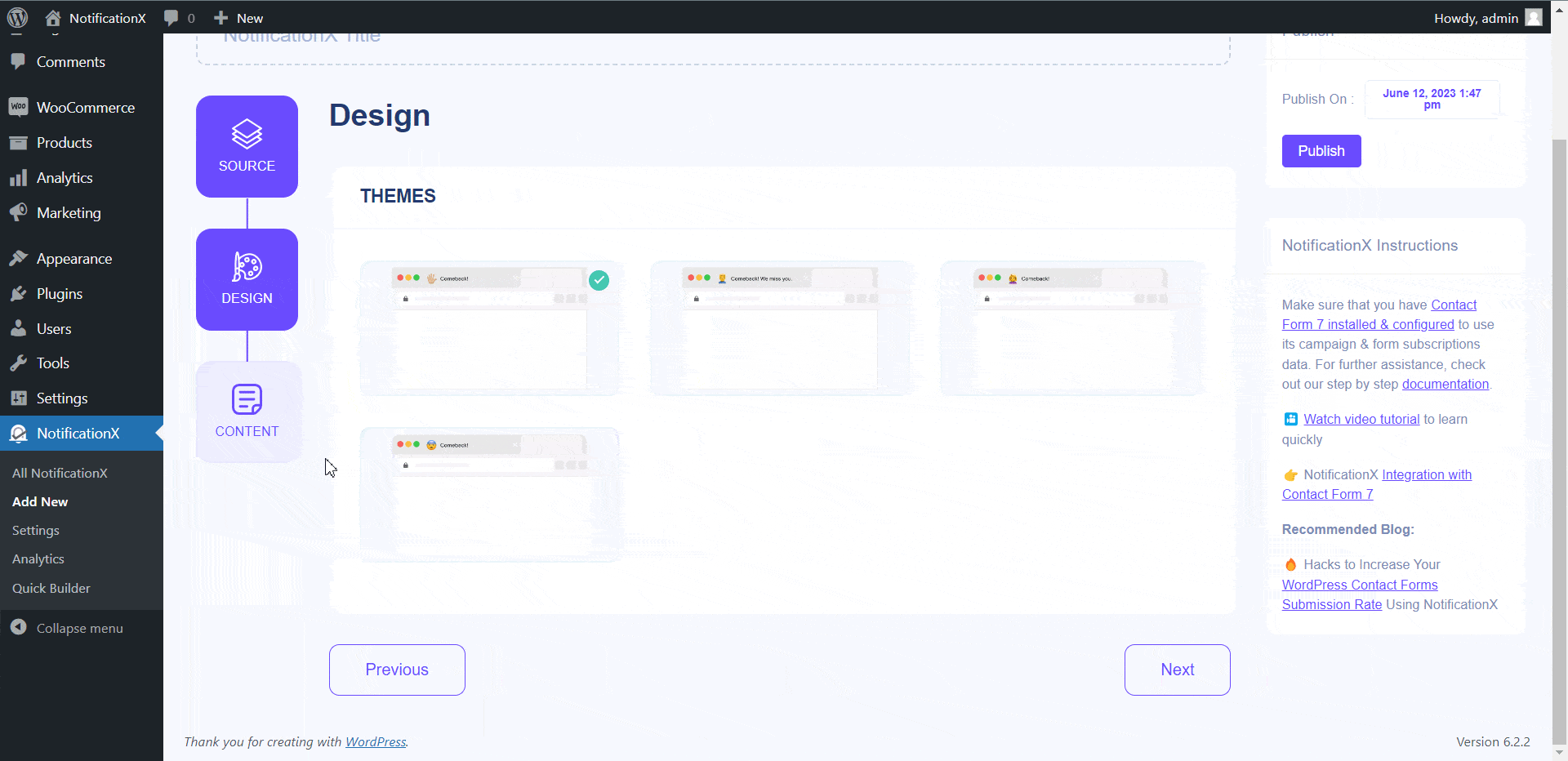 Step 4: Customize Your Flashing Browser Tab Notification
Selecting one of the design templates will lead you to the 'コンテンツ' section, where you can customize your flashing tab alert with captivating messages, icons, and timing configurations. Make it uniquely yours and stand out from the crowd!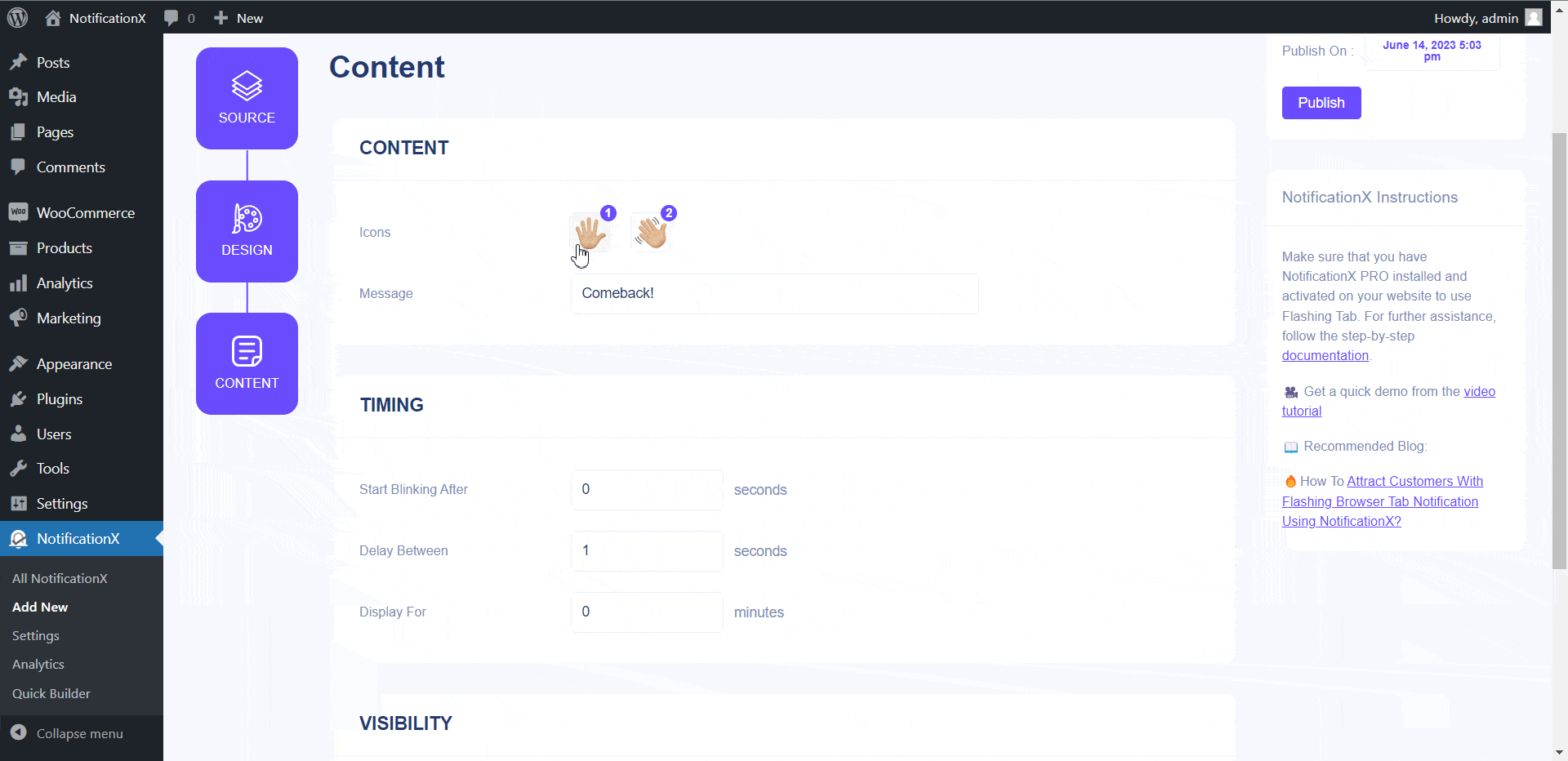 Step 5: Click On The 'Publish' Button And Enjoy The Fun
Once you've finished customizing your blinking tab alert message, it's time to take action! Simply click the 「公開」 button and enjoy the remarkable benefits of flashing tab alerts on your website. If you need more detailed information, visit the documentation on the flashing tab alert of NotificationX.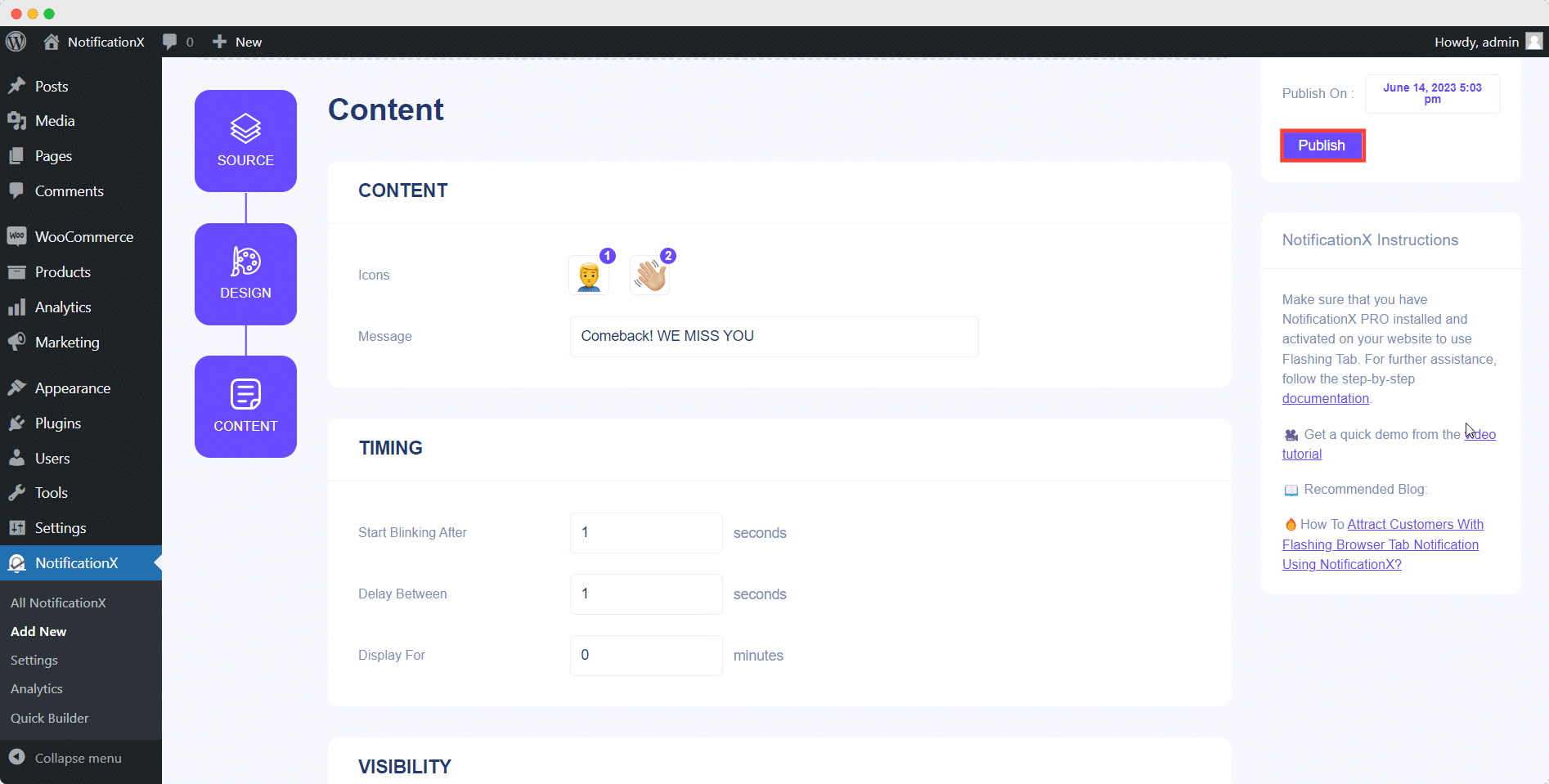 When your site is published, you'll see the completed notification alert in all its glory. This is how your final notification alert is going to look like.
🔥 Convince Abandoning Visitors To Return & Grow Conversion
Found this blog helpful? Subscribe to our blogs for more useful updates and join our vibrant Facebookコミュニティ to connect with like-minded individuals. Don't miss out on valuable content and engaging discussions – stay connected with us.