NotificationX turns 5! It seems like only a few years ago; team NotificationX started its journey with the aim of helping businesses and marketers boost their conversion rates. In just a few years, this WordPress marketing tool has become a powerhouse that helps more than 30,000+ users worldwide add credibility and social proof to all their marketing endeavors!
Today, as we celebrate this momentous occasion, let's take a walk down memory lane and see how NotifictaionX has gained popularity as one of the best WordPress marketing tools with an ever-growing user base. Join us, and you might even find an exclusive gift waiting for you at the end of our blog. 🥳🎁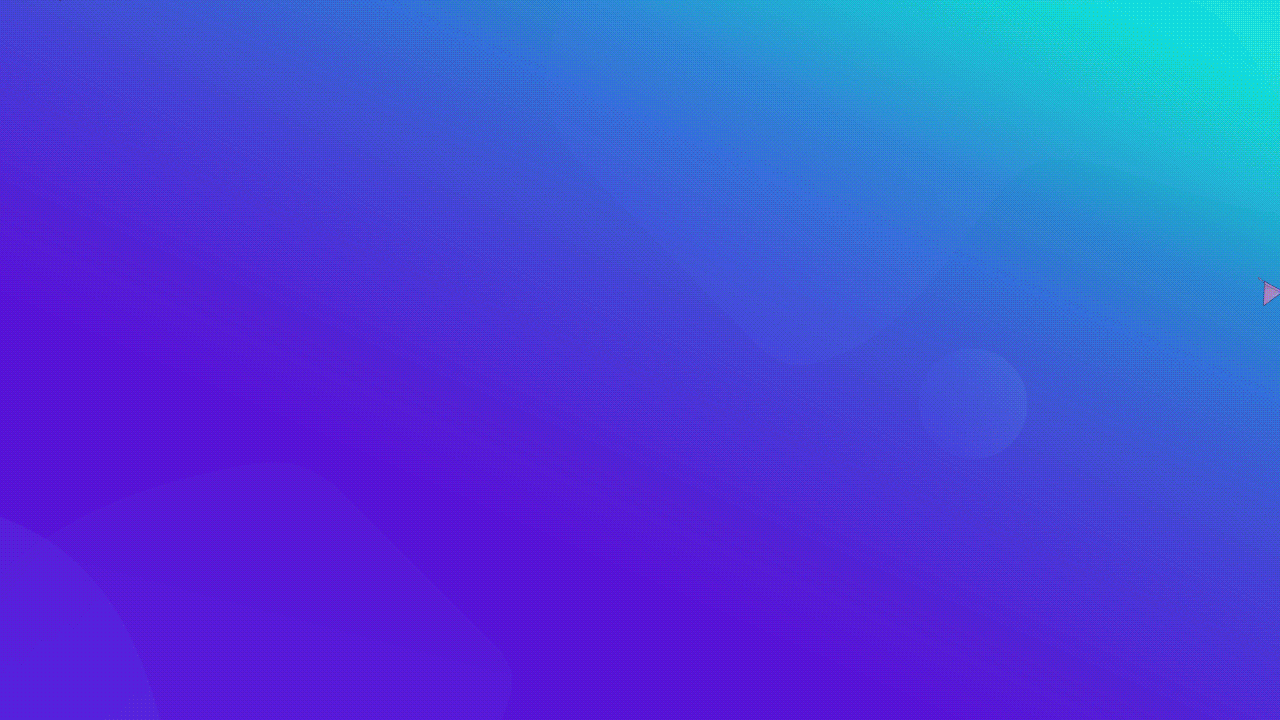 How It Started: NotificationX Sets Out To Become The Best WordPress Marketing Tool
Back in 2019, the digital landscape of WordPress marketing was buzzing with untapped potential, but WordPress site owners often found it challenging to make their marketing efforts more impactful. That's when we formed the idea of creating a powerful plugin with the vision to make marketing seamless, simple, and effective for all WordPress users out there.
Our mission has always been to break down traditional WordPress marketing barriers by leveraging social proof and urgency through FOMO — two proven psychological triggers — to boost conversion rates. With that in mind, we set out to offer a versatile tool that not only helps to feature real-time website engagements with data but also one that could be customized to fit any business's unique needs. And that is exactly how NotificationX came to be.
In the last half of a decade, this freemium WordPress marketing plugin has revolutionized social proof marketing strategies for thousands of businesses and marketers. From connecting to multiple powerful platforms through integration, to offering features to produce exclusive notification alerts for all the conversions happening on your website, to helping you analyze all these notifications' effectiveness with report – this marketing tool offers you everything you need to grow in your respective industries.
So, as we turn 5 years old and celebrate this milestone, we can't help but look back and appreciate how far we've come — from a vision to a product that now serves over 30,000 active users and unmatched popularity in the market. But this is just the beginning for NotificationX!
Tracking The Ascendancy: Unmatched Features & Major Milestones
Over the years, NotificationX has achieved recognition from many renowned publications and businesses for its achievements and milestones that have paved the way for its current success. With the aim to revolutionize the way WordPress users can strategize their marketing activities, NotificationX has continuously expanded its range of features to meet the ever-changing marketing demands.
⚡ Evolution Of Features Over The Years
Our initial offering of real-time sales and comment notifications has transformed into a multifaceted platform boasting 15+ notification types that now include YouTube channel activities, contact form subscriptions, and more. Over the years, we've also launched 40+ design templates to help users design any of the notification alerts according to their preference, making customization a breeze.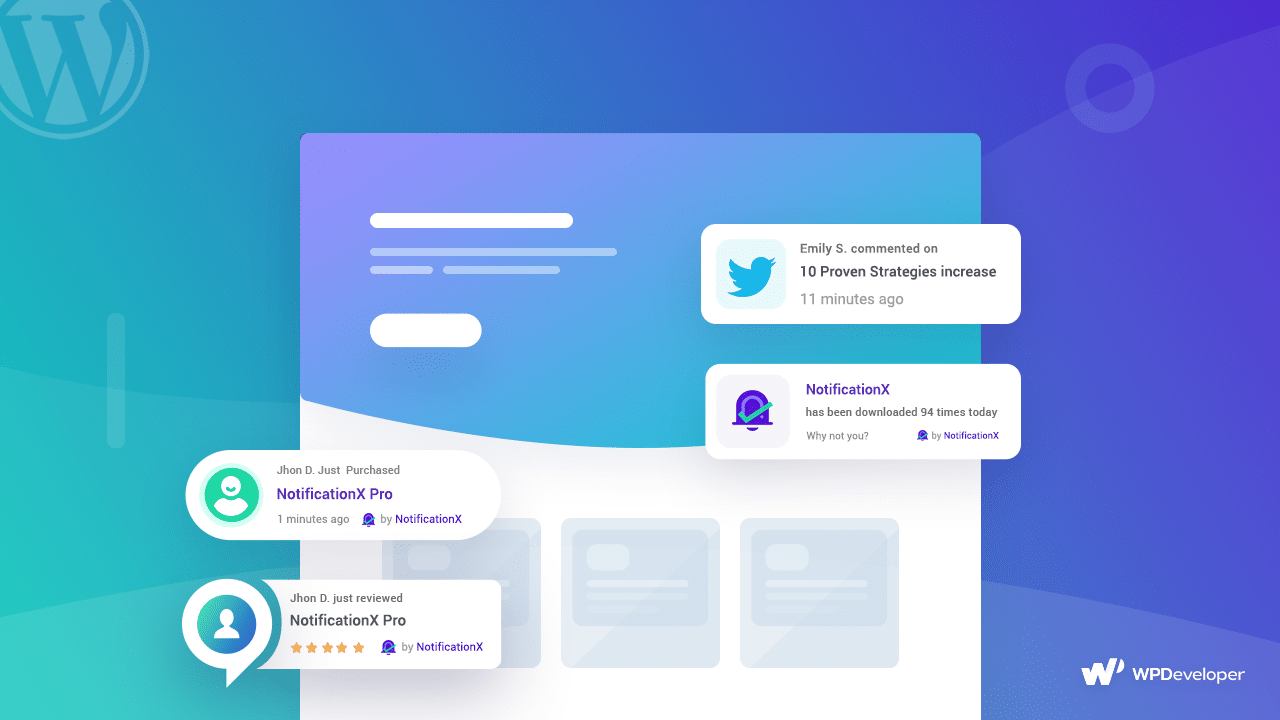 What truly set us apart were the innovative, dynamic, and data-driven features we have developed over the years. These include Flashing Tabs that re-engage visitors if they switch to a different browser tab, Alerte de croissance that helps boost sales instantly and effectively way more than simple sales alerts, Cross-domain Notice that can help show real-time notifications about conversions happening on different domains simultaneously, and more.
All are designed with one goal in mind: to make marketing not just easier but also more effective for our users. Let's take a look at the integrations and the latest features set to uplift your WordPress marketing.
🚀 Growth Alert To Increase The FOMO Effect
You can use NotificationX's alerte de croissance feature to display a notification to your website visitors informing them of the stock that is available for a specific product, encouraging them to take immediate action. Users will be reminded of how popular and quick-selling your products are, motivating them to buy them before they are sold out. This corresponding growth alert, in turn, can immediately make your customers feel the fear of missing out.
💻 Cross-Domain Notification To Engage All Your Domains Together
Suppose you run an eCommerce store selling different products from different brands you own. These brands also have websites of their own. NotificationX's Avis inter-domaines feature can help you display sales notification alerts on both the WooCommerce website and the corresponding brand website whenever a product is sold on either – engaging users from both sites.
⚡ Flashing Tab Notification To Win Back Customers
Think of yourself while you are browsing the internet and becoming lost in a sea of tabs opened on your device when, all of a sudden, one tab blinks and calls you back to it from the corner of your eye. This is what flashing tabs are all about.
Avec le Flashing Tab or Blinking Tab notification, you can encourage visitors or potential customers to take action & turn browsing into buying with the most engaging notification alert style.
🎬 YouTube Integration To Boost Your YouTube Engagement
The powerful marketing plugin NotificationX now has an integration with YouTube. With YouTube integrated with NotificationX, you can display popup notifications showing the number of subscribers of your YouTube channel and the number of viewers as well. You can also encourage the site visitors to subscribe to your YouTube channel.
⚙️ Powerful Integrations To Uplift The Marketing Game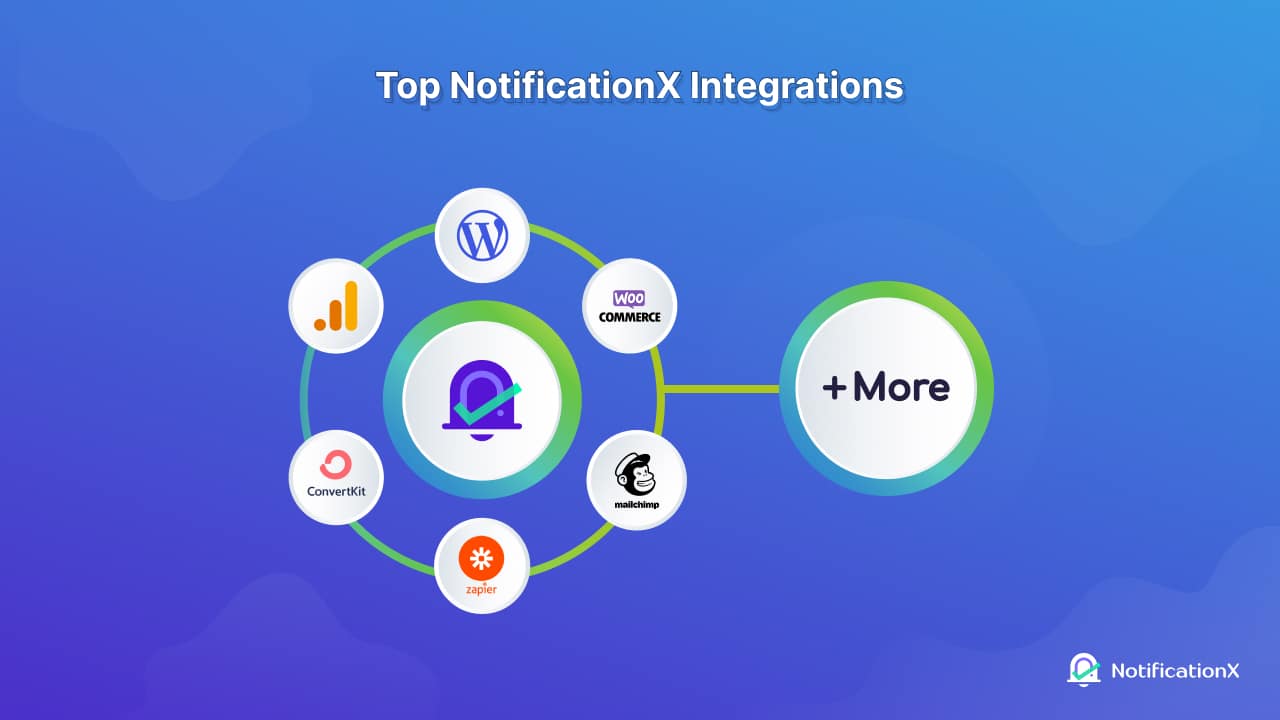 One of the biggest leaps forward has been in the area of integration. NotificationX now seamlessly integrates with 16+ powerful platforms, including WooCommerce, Zapier, MailChimp, YouTube, Google Reviews, etc. Once integrated with these platforms, you can effortlessly display notifications corresponding to the platform on your website. So when connected to Contact Form 7, you can show real-time subscription alerts on your website to interest other users!
These partnerships with such powerful platforms have expanded our ecosystem and enabled us to grow our WordPress marketing, offering even more targeted and actionable notifications to our users.
🚀 Celebrating Key Milestone Achievements
But are the features all? What's a journey without the people who've been part of it? From the first 10,000 users that gave us the initial confidence boost to cross the 20,000 mark that validated our mission and now serving over 30,000 active users — each milestone has been a testament to our value. The ease of use and impactful results have made WordPress marketing easier for many businesses, small and large alike.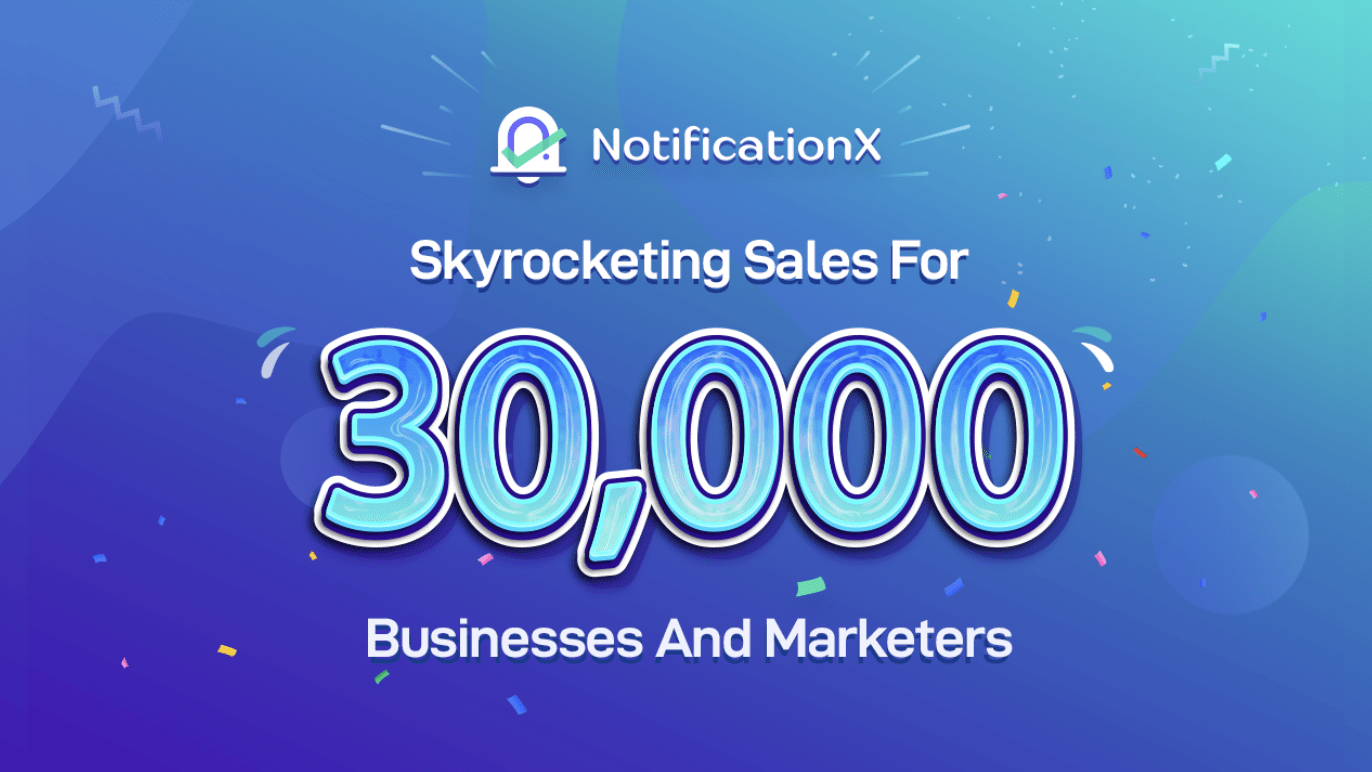 🤝 Trusted By 30,000 Business & Marketers Around The World
NotificationX has slowly but surely become one of the most popular WordPress marketing plugins. And we are truly grateful for the limitless love we have received from WordPress users from around the world. The positive reviews and customer success stories we've got over the years underscore the effectiveness and reliability of our product.
From Katie Keith of Barn2 mentioning how NotificationX offered features no other plugin could to Emilio Johann, an eCommerce consultant, praising the plugin's ease of setup and effectiveness—these narratives add a personal touch to our WordPress Marketing journey. As we celebrate, we do so with immense gratitude towards every user, partner, and team member who has been a part of this incredible journey.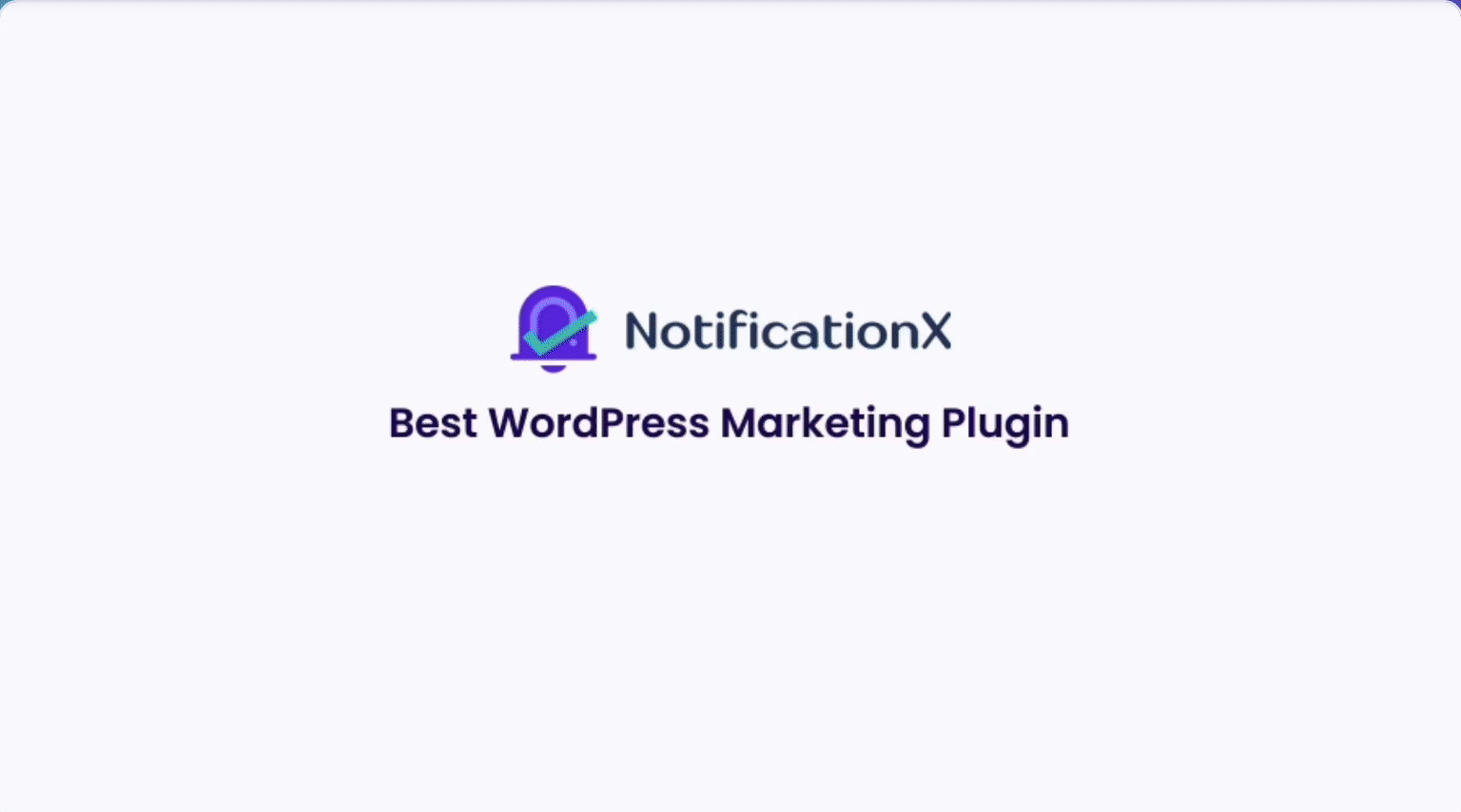 🏆 Journey Through The Years: Challenges Overcome & Lessons Learned
Every journey comes with its own set of challenges, and ours was no different. When we started creating NotificationX, we faced obstacles ranging from technological limitations to market competition. But what made these challenges surmountable were our experiences and the valuable conversations we had, not just within our team but also with our users.
Scaling up from a few users to more than 30,000 active ones presented another set of complexities, especially in maintaining speed and performance. Lessons were learned, sometimes the hard way, but each challenge became a stepping stone to make a better product. Implementing powerful security features was a considerable hurdle, given the sensitive nature of user data. But we persevered, continually improving and strengthening our security measures.
Another concern was keeping up with the rapidly evolving marketing landscape. However, our back-and-forth communication with the customers and market experts kept us updated, enabling us to adapt swiftly and incorporate new features that our users actually needed.
🎯 Giving Back: Our Commitment To WordPress & Open Source
We have always aimed to revolutionize the way WordPress users strategize their marketing campaigns with unique features based on social proof and urgency. But is that all? Having built NotificationX as a WordPress marketing tool, it is only fitting that we give back to the community that's been foundational to our growth.
With NotificationX, we're not just offering quality features and a smoother user experience, but we're also contributing to making WordPress an even better platform for everyone. Our team has a strong commitment to the community and regularly contributes to giving back to the WordPress community. Whether it's through the creation of free plugins, contributing code to the WordPress core, or participating in community events, we are actively involved in fostering the ecosystem.
So it's a dual mission: to enrich our product while also enriching the community that made our product possible. Our commitment to WordPress and open source remains stronger than ever.
🔔 Looking Ahead: What's Next For NotificationX?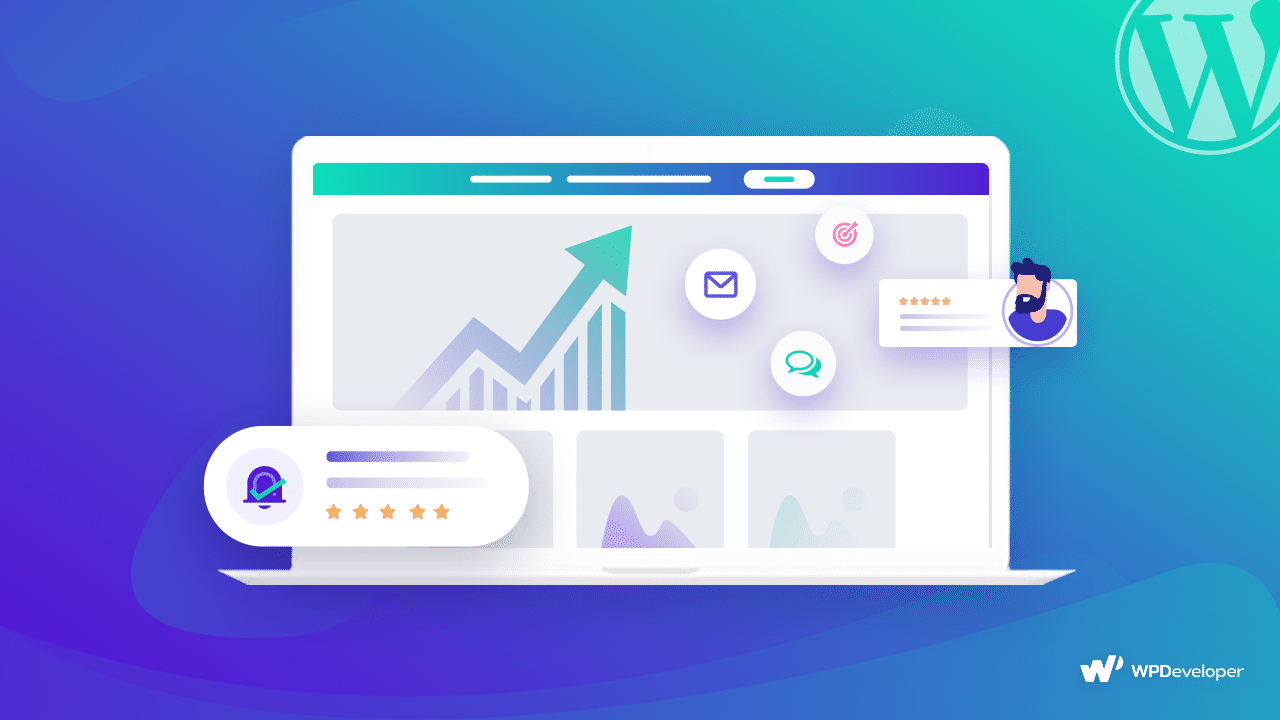 As we celebrate our five-year milestone, we're equally excited about our next endeavors. We have several amazing features lined up to enhance your WordPress marketing experience and drive your conversions further.
Imagine the power of SureCart Integration or the authenticity that Facebook Reviews could bring to your website. But that's not all; stay tuned for the introduction of captivating Offer Announcement popups and highly efficient Abonnement par courrier électronique alerts. These are just a glimpse of what's to come. Be prepared to experience more.
🎁 Special Birthday Offer: Token Of Gratitude For Our Valued Users
As we commemorate our fifth anniversary, we are filled with profound gratitude. We extend our heartfelt thanks to you, our valued user community, for your unwavering support throughout this significant journey. You have been the backbone of our success, and it's time to say a heartfelt thank you.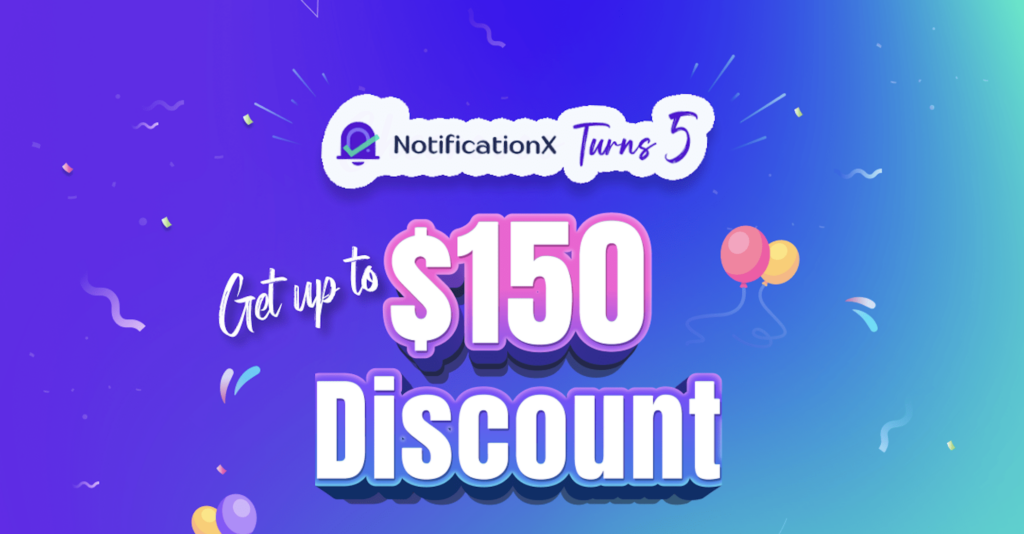 To make this milestone even more special, we're thrilled to announce a winning birthday discount: up to $150 off on our premium plans! This offer is more than just a discount; it's our way of inviting you to continue being an essential part of our journey. To avail of the advanced premium features at a winning price, you can grab this offer right away.
Join Our Journey: Engage & Get Involved With NotificationX
As we wrap up this special blog post, our hearts are full of appreciation for each one of you. Whether you joined us initially or just discovered us recently, you are a valued community member. We invite you to join our Facebook group, where you can connect with other users, share your experiences, and get direct insights from our team.
We're also excited to hear the story from you, who have seen tangible benefits from using NotificationX to share their stories. Your feedback drives us to do better, and we'd love to hear from you if you are interested in being a brand ambassador. For any of these opportunities or more information, please reach out to us via email at marketing@wpdeveloper.com.
Together, we've accomplished so much, but the journey is far from over. We look forward to scaling new heights with you by our side. Thank you for making these past five years incredible, and here's to many more years of success, innovation, and community.