Contact forms let visitors send their feedback, submit support tickets, ask questions, and more without leaving the website. As a popular WordPress form builder, Fluent Forms provides intuitive and easy ways to build a form in no time. If you want to know how to display the Fluent Forms submission alert on your website, NotificationX has got you covered.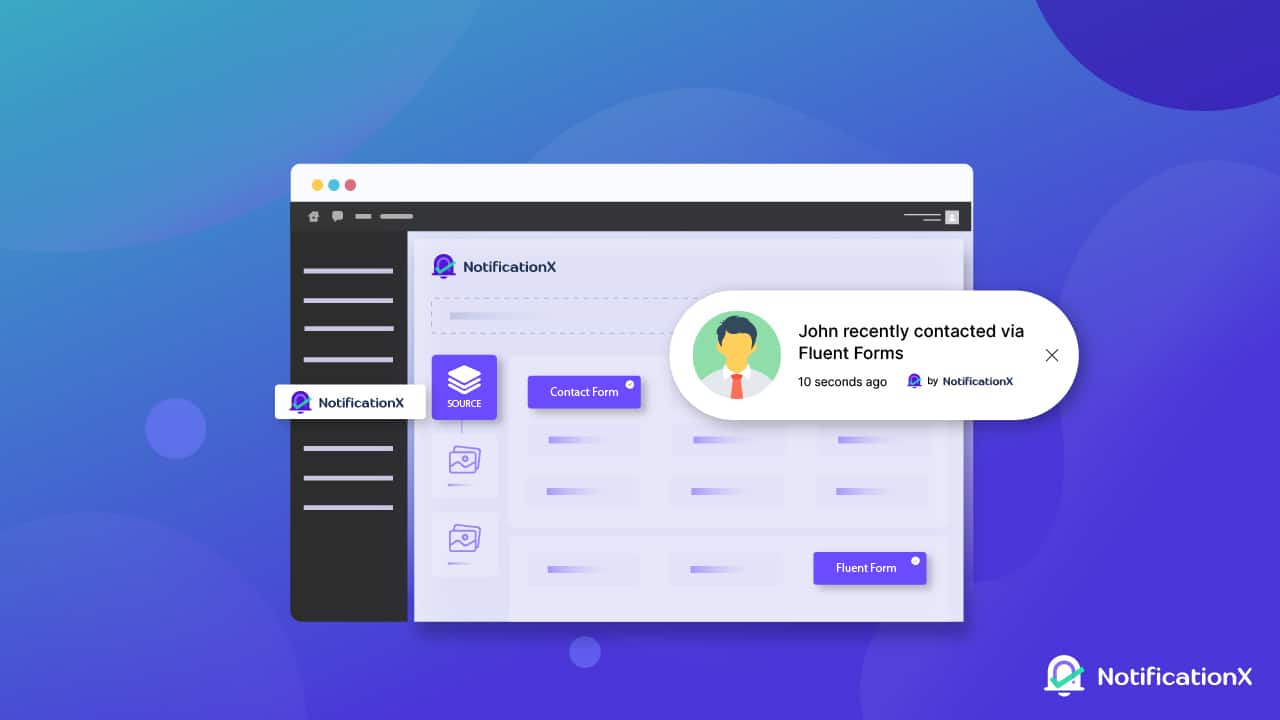 With Fluent Forms submission notifications, you can add credibility by showing recent form submissions by users. Meanwhile, as the best FOMO marketing solution, NotificationX makes showcasing these WordPress form builder submissions a bliss.
💡 Why Add A Fluent Forms Submission Alert To Your Website?
Curious as to why you should add Fluent Forms submission alerts to your website? Having a contact form on your website makes it easy for site visitors to get in touch with you. The use of Fluent Forms on your website's landing page or contact page can increase your email marketing output significantly.
And what are the advantages of integrating the popular Fluent Forms submission notifications into your website? Let's find out.
🤝 Boost Visitors' Confidence
Gaining the confidence of your visitors is essential to generating leads. Your website audience will likely trust your products and services even more when they see the form submission alerts live.
📃 Keep A Record Of Your Visitors
When you know what your visitors are up to, you can quickly make changes wherever needed to improve your services. Contact forms like Fluent Forms give users the ability to send feedback quite easily, and you can get notified instantly. That way, you keep track of what's on their mind.
📨 Enhance Email Marketing Strategies
If you want to reach your audience and bring in new customers, email is the way to go. Developing an effective email list is the first step. Submitting forms is a great way to get things started in that direction.
💬 Be More Conversational
When it comes to conversational forms, Fluent Forms is among the most powerful options out there. Conversational forms make it simple to create fantastic, high-conversion forms. You can also add payment options, coupons, file uploads, and tick off many grid choices with full access to the keyboard.
📊 Analyze Data From The Web
With the in-built data visualization feature in Fluent Forms, you can analyze the data collected through your online and contact forms in a variety of visual formats, including pie charts, bar graphs, and tabular displays. Plus, you can even display the provided data directly on the front end.
🤔 Make Enticing Quizzes
Using Fluent Forms in the WordPress dashboard area, you can create eye-catching quizzes that will encourage more user participation. You may make any kind of quiz using the quiz maker, from surveys to games to personality tests to trivia games. In addition, you may rate each question and provide immediate or email feedback to participants.
📝 66+ Premade Form Templates
Fluent Forms has 66+ pre-built form templates for contact, support, event registration, vendor contact, patient intake, and more. So, you don't need to build from scratch. Select the appropriate template and get to work immediately.
📣 NotificationX: Why Choose This FOMO Tool For Fluent Form Submission Alerts?
Increasing a company's market share and subscriber base is much easier with a steady stream of quality leads. When you have an ongoing flow of leads coming in and a good percentage of them turning into customers, it's easy to increase your income with focused marketing efforts.
Therefore, website visitors play a crucial role in generating leads and sales when they submit questions or comments. To increase conversions, it is crucial for companies to showcase form submissions from recent users.
NotificationX, the best FOMO marketing plugin, has robust subscription alert options to help you get more leads. You get a stunning popup alert on your site in real-time whenever a new form submission is received. Furthermore, it's one of the best ways to get them to fill out your form by offering them a good deal with the fear of missing out (FOMO) strategy.
📋 Display Fluent Forms Submission Alert with NotificationX: A Step-By-Step Guide
NotificationX can help you show Fluent Forms Submission Alerts on your website with seamless integration and get more people to sign up for your form. Check out the step-by-step guide below to learn how easily you can do this on any WordPress site. Before you start, make sure that both the NotificationX et Fluent Forms plugins have been installed and activated on your website.
Step 1: Add The Fluent Form Notification
Adding Fluent Forms submission alerts is quite simple from the WordPress dashboard. You can start by adding the source for the Fluent Forms submission in NotificationX. Choose 'Fluent Forms' as the source of your contact forms in the NotificationX dashboard.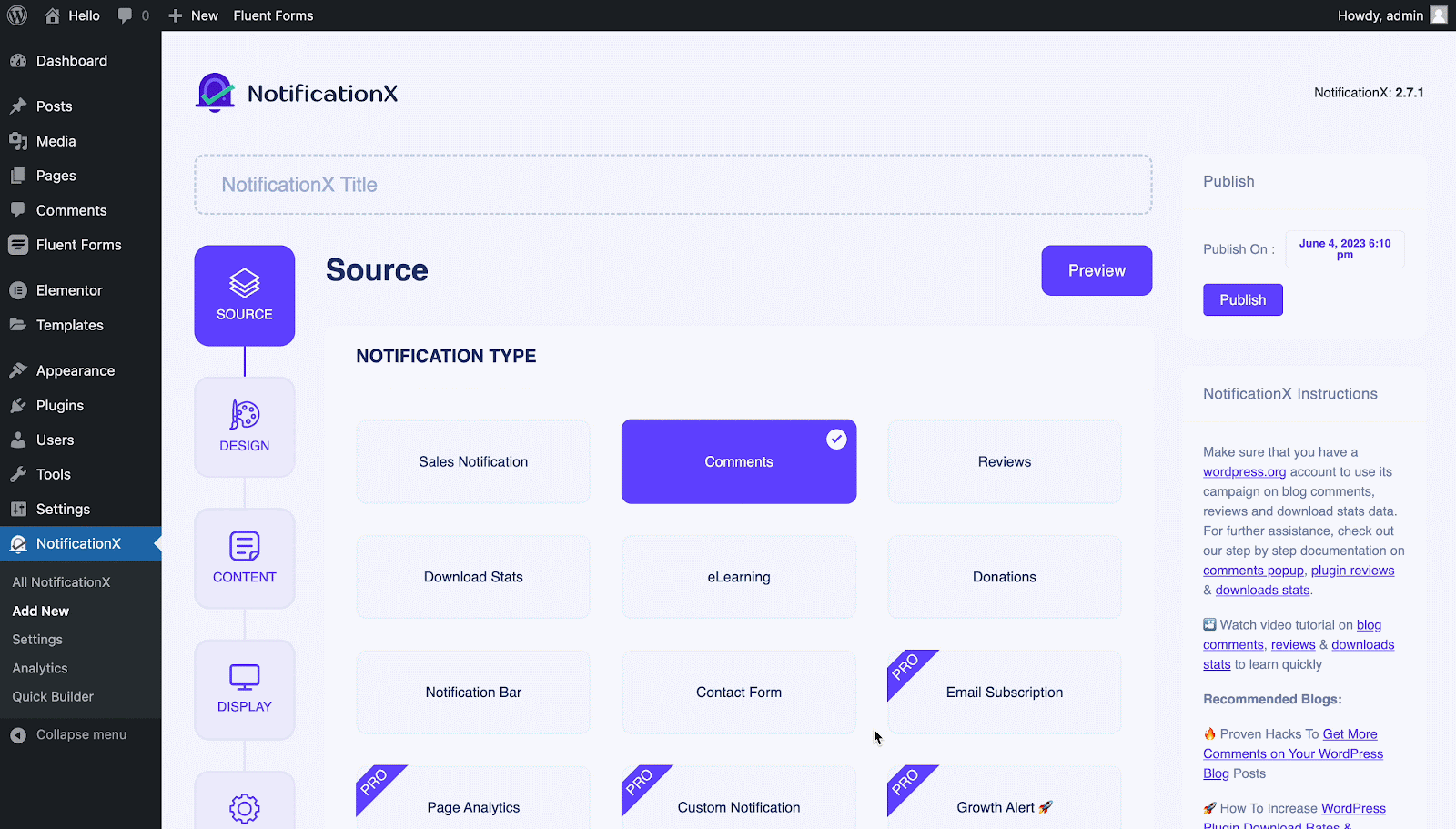 Step 2: Customize Your Notification
Once you add the notification source, it's time to customize it so it matches your website design and reflects your brand. Choose a theme from the «Thèmes» section to pick a layout for your submission alert. Plus, you can use the 'Conception avancée' section for further design customization in styling, image appearance, and typography.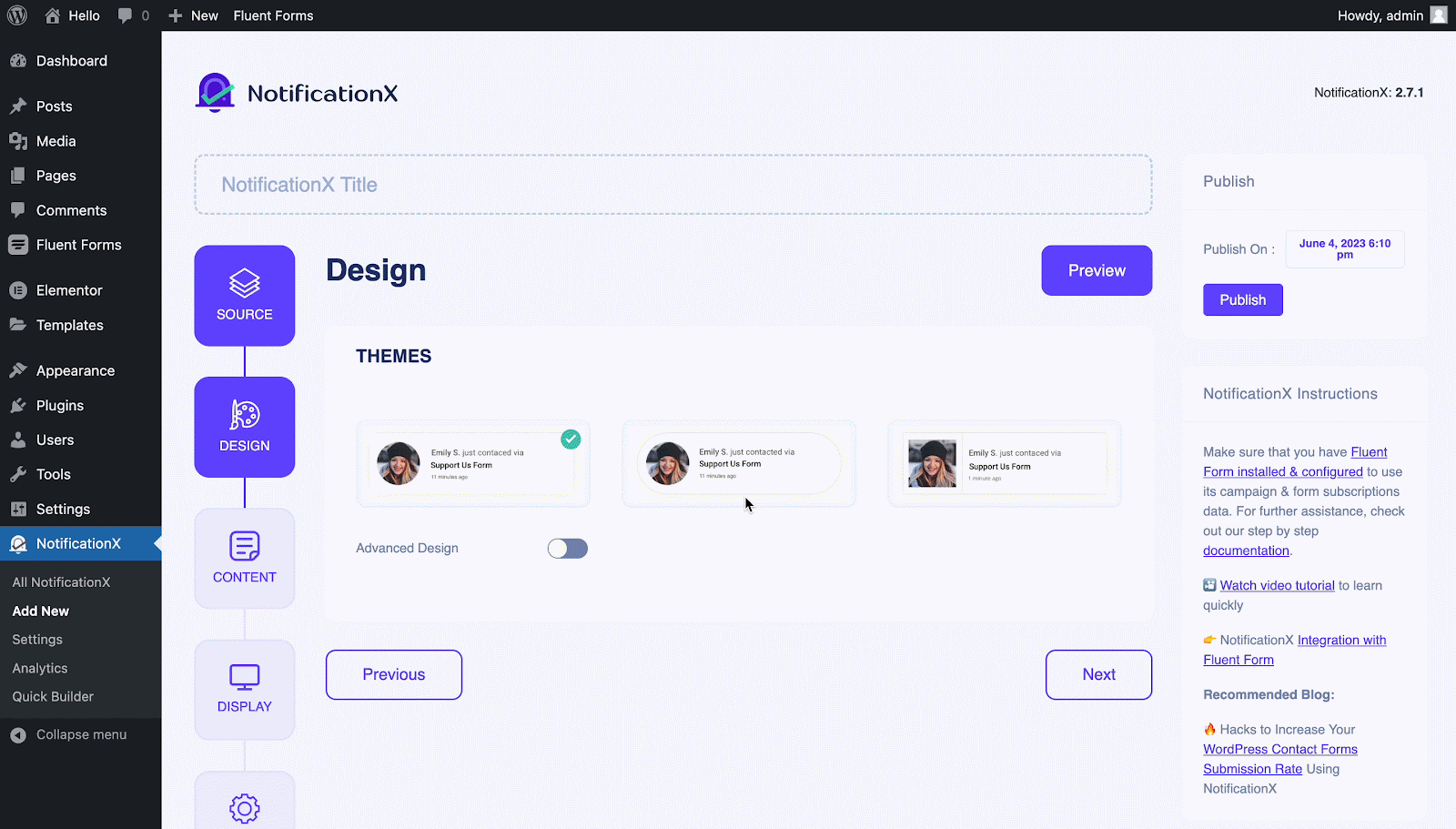 Alongside the design customizations, NotificationX offers multiple options to modify your 'Modèle de notification ' and add your preferred content text. What's more, you can choose what to display in the alert, such as a form submitter's name, email address, and more.
Now, are you wondering if you can choose to display images with the notification popup to make it look more interactive? Well, the NotificationX team had the same thought and didn't think twice about adding the feature.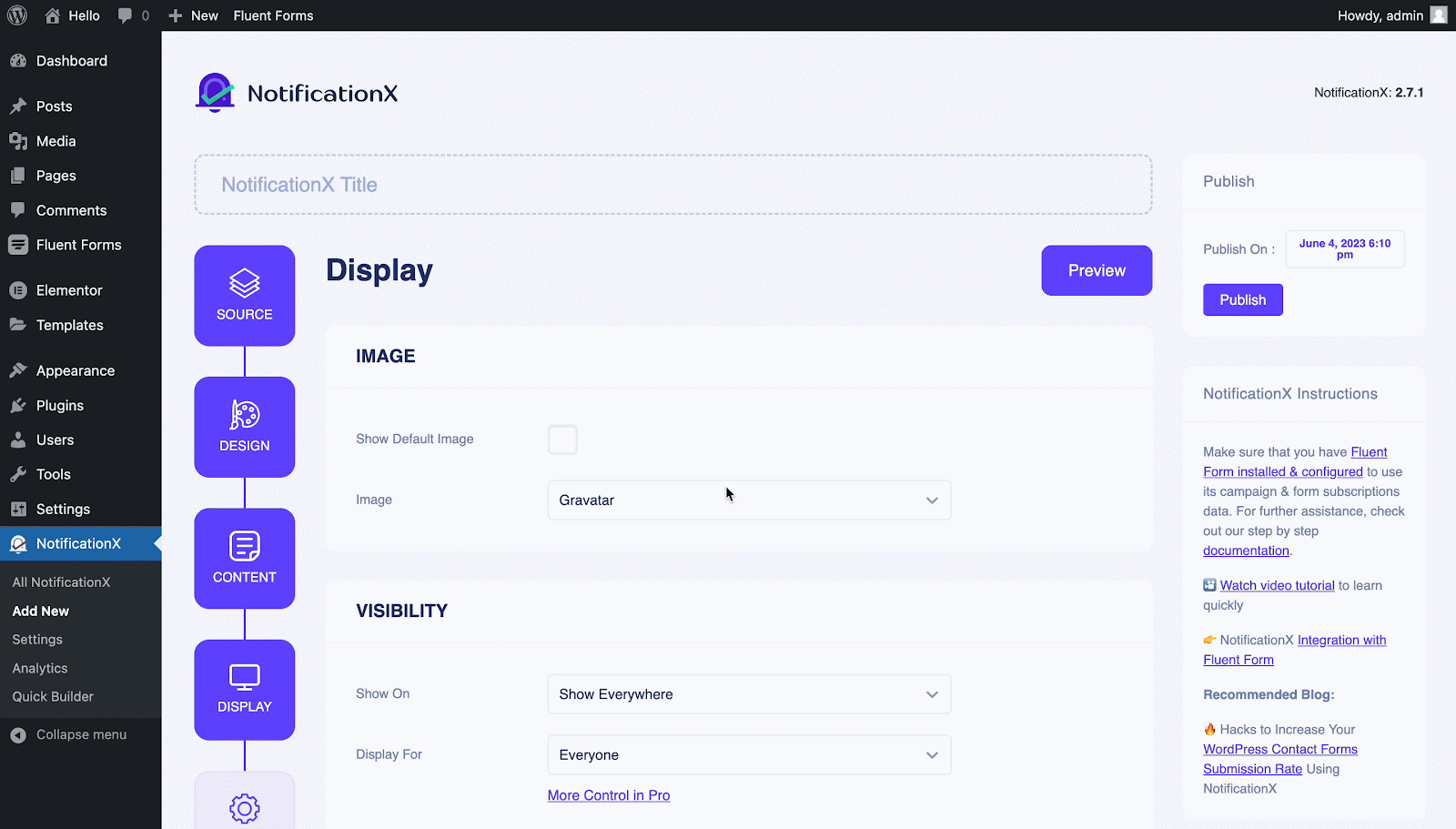 That's not the end yet. Tired of the customization features? Well, don't be, because the cool appearance and behavioral options can eliminate the traditional weariness of your website. You can set a position for your Fluent Forms submission alert and adjust the display timing, behavior, and sound settings to further polish your alert.
Step 3: Publish Your Fluent Forms Notification
En cliquant sur le 'Preview' option, you can now get a preview of how the notification of your Fluent Forms submission will look. You can even explore how this pop-up will look on various screens. After that, click the 'Publier' button to make the notification live. If you want to learn more thoroughly about adding Fluent Forms submission notifications to your website, please see our documentation on this feature.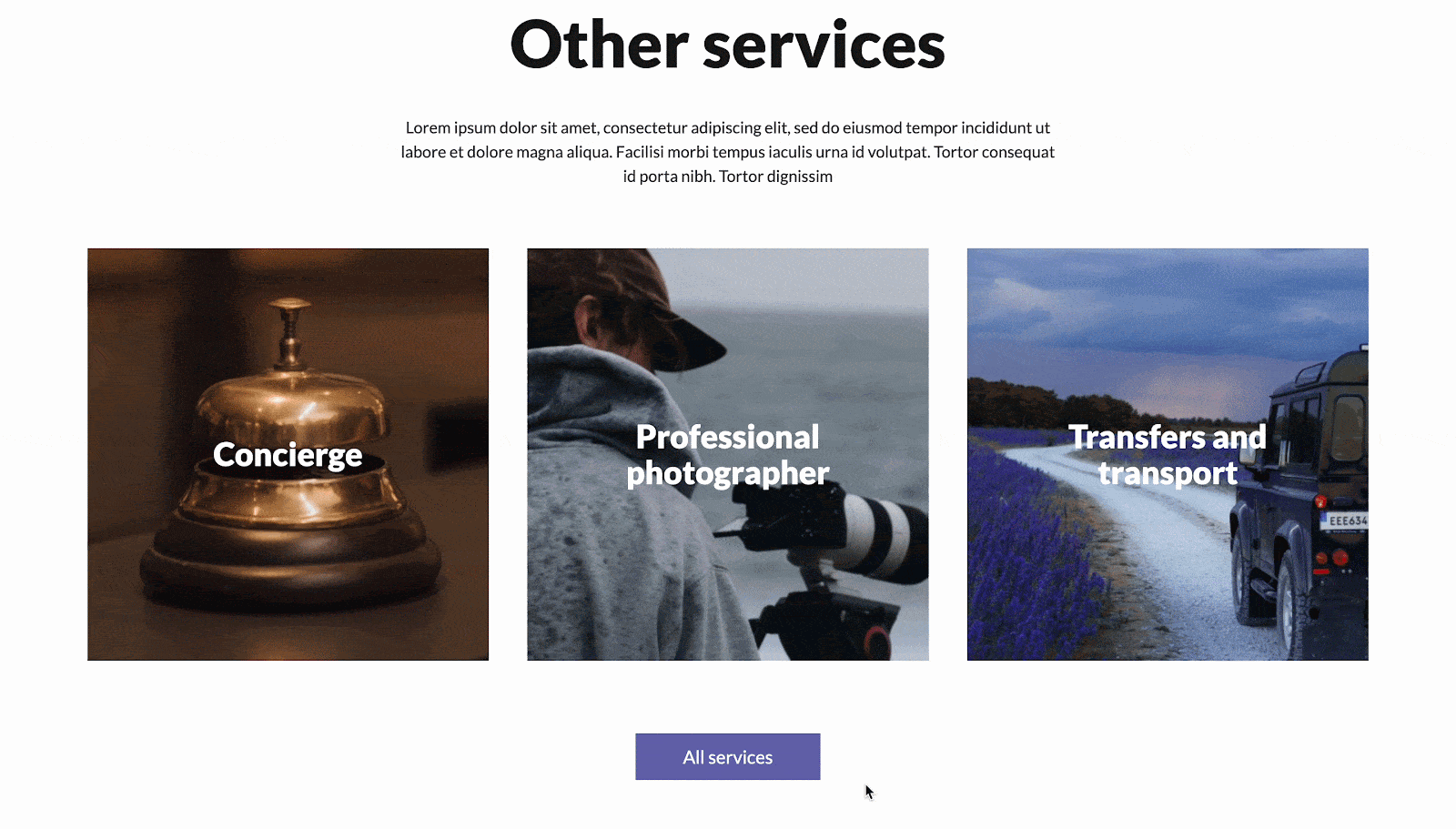 🎉 Display Fluent Form Submissions Alerts & Generate Leads!
With the ultimate FOMO marketing tool, NotificationX, displaying Fluent Forms submission alerts is a whole lot easier than whatever method you can think of. So, why don't you try NotificationX today and configure your Fluent Forms alerts quite easily? Plus, for limitless customization options with multiple other notification sources, upgrade to NotificationX PRO.
If you have found this blog helpful, share your opinion with our Communauté Facebook. You can abonnez-vous à nos blogs for valuable tutorials, guides, knowledge, tips, and the latest WordPress updates.