You can improve your website's user experience & interactiveness by up to 300% by simply adding a search bar. And it's not difficult to implement, you can easily add a search bar in WordPress without coding. Feeling astonished? Then, let's go over a beginner's tutorial on how to put a search bar on any WordPress website instantly.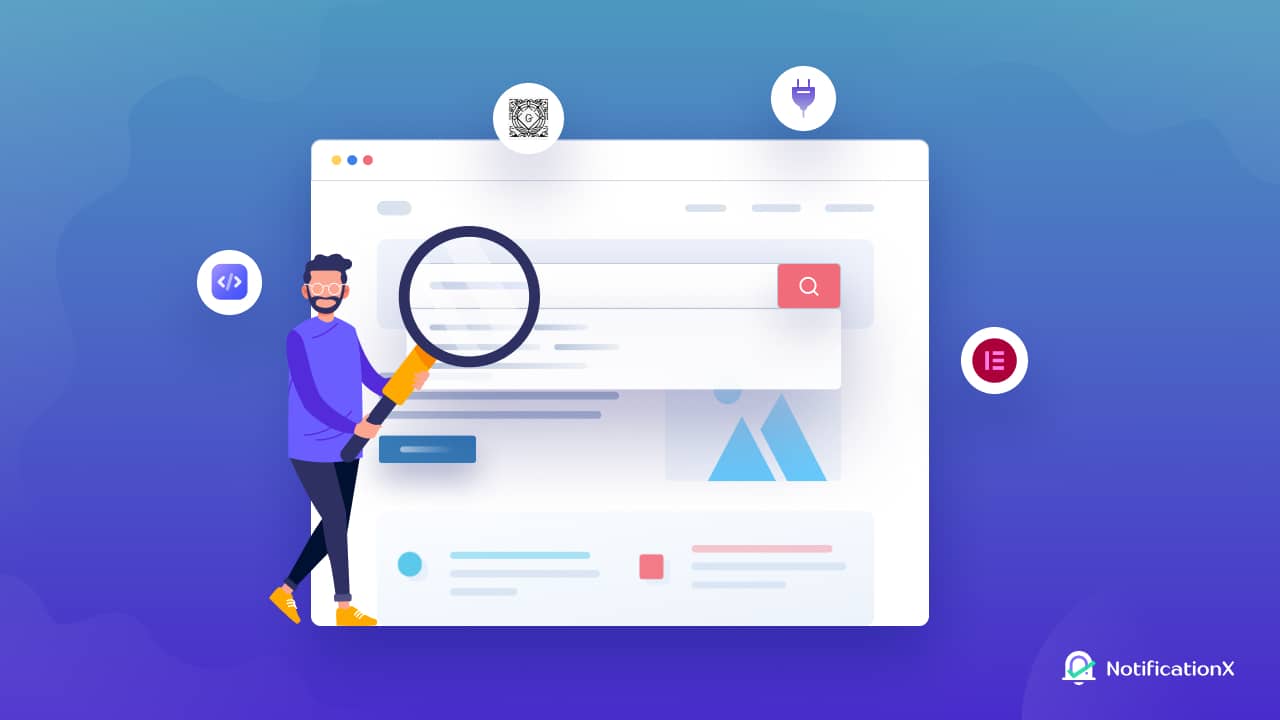 Importance Of A Search Bar In Marketing Context
Having a search bar for your website really helps to upscale user experience. Whoever lands on your website, can easily navigate to their desired web page or content using the search bar of your website. But not only for easy navigation, but a search bar also contains great potential in marketing context as well. Let's explore them.
Target Your Niche Audience
Consumers or potential customers are the best targets for search bars. Think in the way: your audience is about to make a purchase or is looking for information. A quick search would improve your sales or conversion funnel; and in this scenario, a search bar would be a suitable option. 
However, whether your ideal audience is best served with efficiency from a search bar or with a regulated user journey pathway depends on the content of your website, your sort of business and services, etc. For example, if you consider eCommerce (consumer-focused) pages – search bars, for instance, rarely lead to a better user experience on B2B websites.
Reduces The Pressure On Customer Support
In today's marketing perspective, customer service plays an important role. And customer support plays a vital part. Usually, if you go through your support tickets, then you will see that, most of the questions are 'How to's' and 'Where to's'. Basically most of the time all important information is given to a website. But not being well-known on your website, customers get lost and create these kinds of tickets in the customers' support. 
Simply implementing a search bar on your website can help out your customers to redirect to the exact place where they want to be. And reduces the pressure on your customer support seamlessly. 
Reevaluate Your Website's Goals
Search bar might help you tip the scales in either direction, depending on what you're attempting to achieve with your website. A search bar on your website is undoubtedly practical if your goal is to enhance user experience. Users may have a good experience with it (if properly coded) thanks in part to the quick and precise search results.
Your goal with search should be simplicity, and you should use auto-suggest and/or AI-programmed search results to achieve this. A negative user experience can be caused by only one bad search. Your user may have been looking for a gold mine, and adding filter choices or some contextual resource kinds just might be it.
Your Search Engine In WordPress Should've 3 Effective Features
After realizing the importance of having a search bar on your website, you must get one. But how should you design your website search bar? How to make it more effective and user-friendly? Here's presenting some tested and proven functionalities that your website search bar should have. Have a glance from here. 
🔎 Keep a search button with your search field. By customizing the search bar control, you can set it to show search results by entering any keyboard key, though to make it more visible, you must add an icon or text along with the search field. The most popular practice is to use '🔎' or 'Search' text in the search button.
🔎 Add a default text in the search field. Usually, a website contains too many input fields, if you can a default text on the search bar, it will be more understandable by your customers. You can either go for basic texts like 'Search', 'Find here', or mention top keywords like 'shoe, dress, …'. 
🔎 Make your website search bar functional with keywords, tags, categories, etc. So that no matter what your customers' type, they can redirect to their desired place instantly. So make your search bar works this way.
🔎 Show the most searched keywords below the search bar. This is highly efficient for your eCommerce websites. With this kind of exclusive feature, you can trigger your customers with the most search products or services easily.
🔎 Integrate Analytics with your search bar. It will be more helpful for you than your customers. If you can easily check out the most searched things on your website, you can improve your site more and revamp it based on real customer data.
Beginner's Guide: How To Add A Search Bar In WordPress
WordPress is the most user-friendly website creating platform. From tech-savvy to no coding experience people, everyone can build a website in WordPress. The coolest thing is, without writing a single line of code, you can add a search bar to your website and make it functional.
We have hand-picked the best ways to add a search bar in WordPress. Let's check them out.
Method 1: Configure The Default WordPress Search Bar From Dashboard
Yes, WordPress comes with a default search bar. You can enable it for your pages, posts, products, or an entire website. If you're a beginner, you can start by configuring your WordPress site's appearance using the Twenty Twenty Two default theme or by purchasing a flexible, adaptable theme like Flexia. 
And if you've already set up your WordPress site theme, you can simply follow a few steps to set up the WordPress search bar. Follow each of the straightforward steps below:
Log in to your WordPress dashboard. Then navigate to

Appearance → Editor

.
It will directly take you to the site editor. From there, click on the

'+'

icon and search for the

'Search'

block. Drag and drop the search block on your site. That's it! Now customize it and give a stunning appearance to your website search bar.
Method 2: Go For A WordPress Search Plugin
What if you wish to alter the default WordPress search bar's appearance to suit your preferences? Then, you can use one of these four top search plugins on your website to immediately progress the scratch bar for site visitors. And you know what? There is not a single line of code that must be added. Prior to taking any action, you must be familiar with the following fundamental steps for adding a new WordPress plugin to your website:
Étape 1: Log in to your WordPress dashboard. Navigate to Plugins → Add New.

Step 2: Search for a WordPress search plugin. Then install and activate the plugin.
Étape 3: Configure all the settings of the search bar, customize the appearance and make it live. 
That's it! This is how easily you can add a search bar in WordPress. 
3 Best Search Plugins For WordPress Websites
Creating a search bar with a WordPress plugin is super easy and time saving. But it's hard to choose the best plugin among thousands. To help you out, we have hand-picked the 3 best WordPress search plugins to create a smooth search bar on your website. 
BetterDocs Knowledge Base Plugin With Advanced Search
BetterDocs is a widely popular knowledge base plugin that is helping almost 50,000+ users in creating and managing documentation. You will be glad to know that it also provides an Advanced Search feature. By enabling this feature your site users can easily search for what they are looking for and navigate there easily. Moreover, you can search by tags, categories, most search words, etc.
Need to mention that BetterDocs Advanced Search comes with advanced customization and control options. You can easily change the color, search the icon, add a title, display most search words, etc. In spite of the fact that BetterDocs Advanced Search can only be used on your knowledge base, it is still worth getting for your WordPress website and upscaling the user experience.
Ivory Search: WordPress Search Plugin
le Ivory Search plugin was created specifically to create and change the look of the search bar on your WordPress website. On any page, in the header, footer, sidebar, navigation menu, or in any other necessary location, you may easily build and implement search engines. It enables you to search for images, files, and many other things while creating an advanced search for WooCommerce products.
You can use a customizer, such as Ajax search and many more, to alter the search at any time. Additionally, you may keep track of searches using analytics and effective integration tools like WPML. For WordPress users, this search plugin is completely free.
ACF: Better Search Plugin For WordPress
Another WordPress search plugin, ACF: Better Search, combines with the built-in WordPress search engine to allow users to look up information in a few specific fields of the Advanced Custom Fields plugin.
Visitors can access advanced custom field results or custom fields with custom fields on an instance. Instead, anyone can search using a single word, a whole phrase, or other methods. It is useful and available for WordPress without charge.
💡 Bonus For Elementor Users: Build A Search Bar Without Any Coding
Elementor website builder was introduced to WordPress users with the motive to provide a coding-less experience in creating websites. So, if you own a WordPress website and have less knowledge in coding, but still want to add a search bar all by yourself, this section is for you. 
Elementor's most popular widget library, Addons essentiels comes with a super cool addon, Advanced Search. 
Get The Ultimate Tutorial Here
With this amazing widget, you can easily add a search bar in WordPress within minutes. Using this advanced element, you can facilitate the search for content by using popular docs categories, keywords, and more.
Check Out How To Add A Search Bar In Elementor
You Are 1-Step Away From Making Your Website Experience Smoother!
Hopefully, you have got in-depth knowledge of why you should keep a search bar on your WordPress website.  Nowadays, adding a search bar on a website has become a kind of mandatory. This simple functionality has truly amazing results. 
Simply by following the above methods you can add a search bar without coding and upscale the website experience.
Have you found this tutorial helpful? Then don't forget to share with others to help them out. Also, abonnez-vous à notre blog to get more of these kinds of user experience tips regularly.