When you have kicked off your startup, being in contact with a graphic design service provider may help you tremendously. For many businesses, having the luxury of hiring an in-house graphic designer might not be feasible. However, there's a more practical solution: graphic design agencies.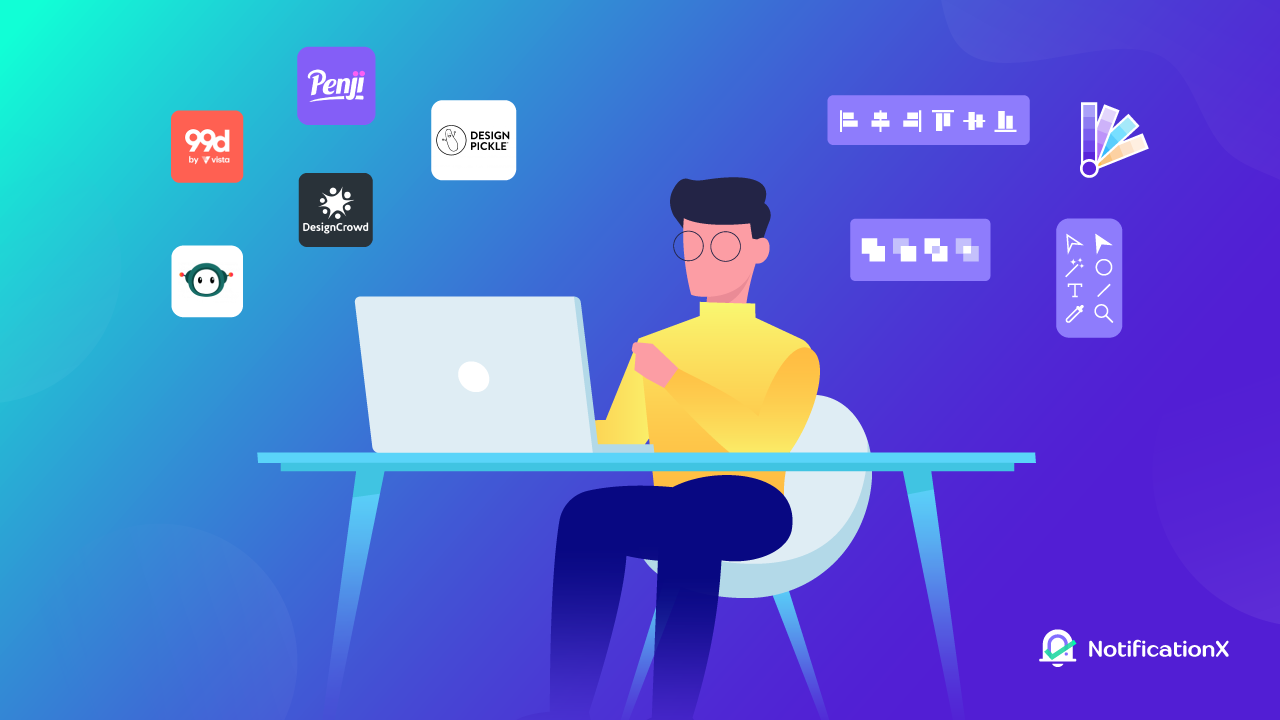 But which design agency will be suitable for your startup? In this article, we will present a curated list of top-notch graphic design agencies that excel at meeting diverse graphic design requirements. Whether you have occasional design projects or prefer a more cost-effective approach, these skilled agencies are well-equipped to fulfill your graphic design needs.
Why Should Startups Hire A Graphic Design Agency?
Startups should hire a graphic design agency for several compelling reasons. Graphic design plays a crucial role in shaping a startup's brand identity and overall success; agencies that practice and specialize in graphic design can be very helpful. Here are some key reasons why startups should consider hiring a graphic design agency:
🔥 Has Expertise In Different Design Areas
Graphic design agencies usually offer a wide range of services, including web design, logo design, packaging design, and more. Startups can benefit from having access to a full suite of design services from a single agency.
🔥 Creates Professional Branding For The Startup
A graphic design agency can help create a professional and consistent brand identity for the startup. This includes designing a unique logo, selecting appropriate colors and fonts, and developing a cohesive visual language that resonates with the target audience. A strong brand identity sets the foundation for effective marketing and brand recognition.
🔥 Helps To Make The Right First Impressions
In the competitive startup landscape, first impressions are vital. High-quality and visually appealing design elements can make a lasting impression on potential customers and investors. A professional graphic design agency ensures that all visual materials, from websites to marketing, are visually engaging and effectively represent the startup's values.
🔥 Makes All Design Aspects Time and Cost-Efficient
Hiring a graphic design agency can save time and money in the long run. Startups can focus on their core activities while leaving the design work to the professionals. Additionally, outsourcing design work eliminates the need to hire an in-house design team, saving on recruitment and training costs.
🔥 Improves Startup Scalability In The Long Term
As startups grow, their design needs may evolve. A graphic design agency can scale its services to meet the changing demands of the startup. Whether it's creating new marketing materials or redesigning the website, the agency can adapt to the startup's requirements.
Hiring a graphic design agency can provide startups with a competitive advantage, a professional brand image, and the ability to stand out in a crowded market. It is a worthwhile investment that can lead to increased brand recognition, customer engagement, and overall business success.
Top 5 Graphic Design Service Providers For Startups
To help your startup choose the right graphics design service provider, we've hand-picked the best ones for you. These listed graphic design service providers are already well-known and have assisted numerous startups in expanding and strengthening their businesses. Let's check them now.
1. Penji – Provider Of Unlimited Graphic Designs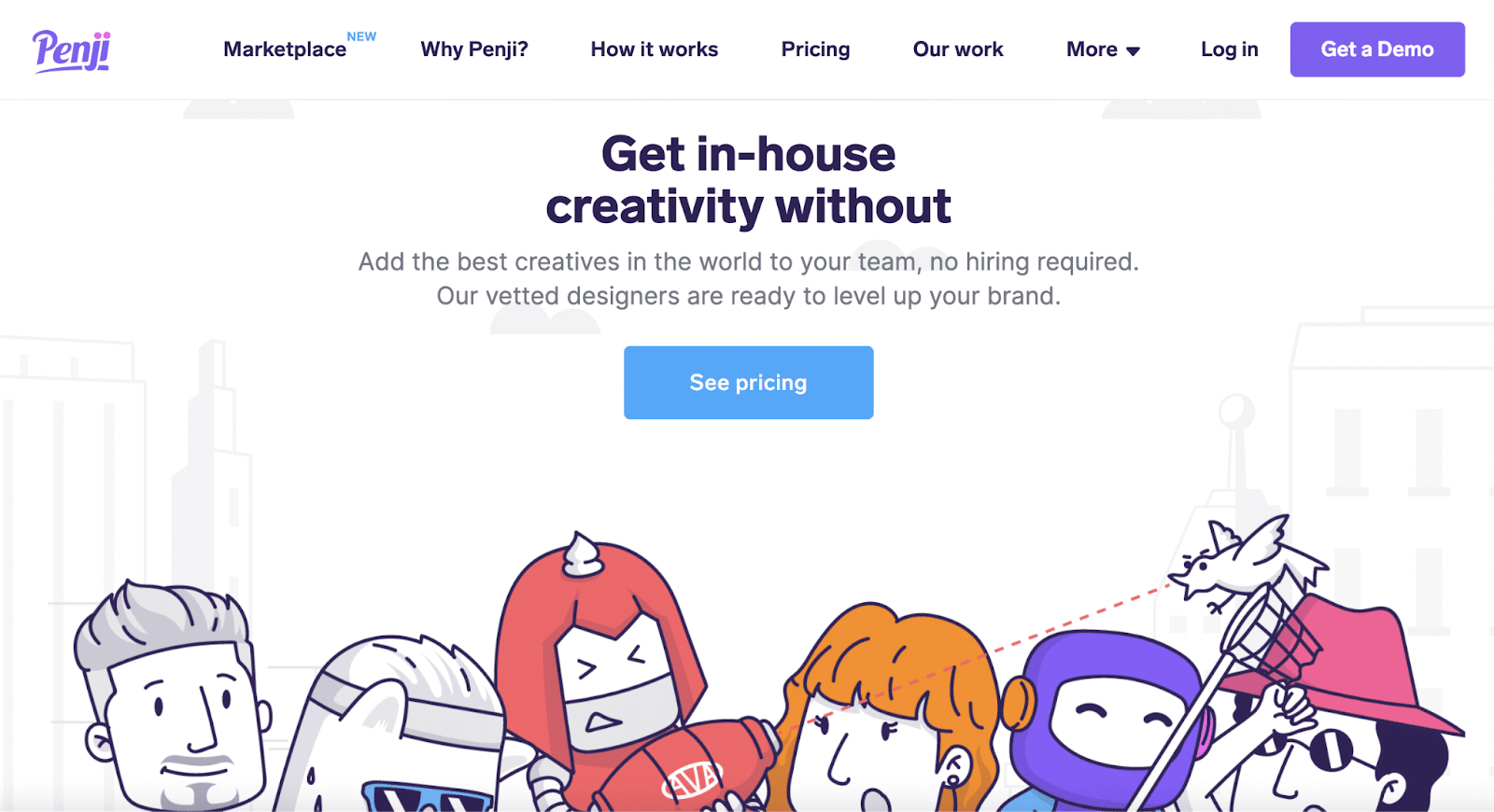 Penji is a leading graphic design service provider that stands out for its innovative and customer-centric approach. What sets Penji apart is its unique subscription-based model, which allows clients to access unlimited design projects at a fixed monthly rate. This structure provides exceptional value and flexibility for startups and businesses with varying design needs.
Penji Holdboasts a team of talented and experienced designers specializing in various design areas, ensuring top-notch results for every project. Their streamlined communication platform makes collaboration seamless and efficient, leading to quick turnaround times without compromising on quality. With Penji, clients can enjoy professional graphic design services without the burden of hiring an in-house designer, making them an excellent choice for startups and small businesses seeking cost-effective yet high-quality design solutions.
2. 99Designs – Marketplace For Graphic Resources
99Designs is another renowned graphic design service provider known for its crowdsourcing platform, which sets them apart from traditional design agencies. What makes 99Designs unique is its ability to connect clients with a vast community of talented designers from around the world.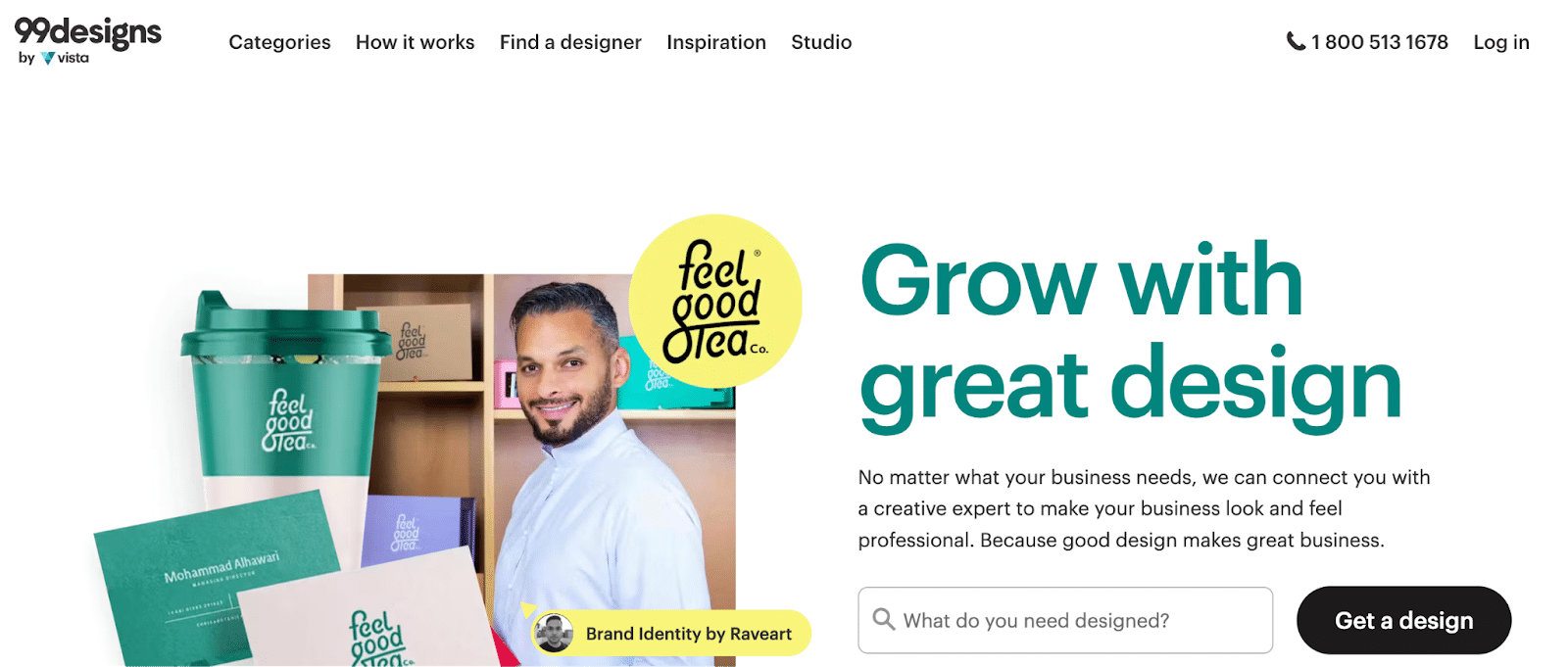 Clients can launch design contests, specify their requirements, and receive a variety of design submissions from multiple designers. This process allows for a diverse range of creative ideas and styles, ensuring clients find the perfect design that matches their vision.
Additionally, 99designs offers one-on-one design projects for clients who prefer a more personalized approach. Their platform is user-friendly, and the competitive nature of design contests ensures affordable pricing options for startups and businesses of all sizes. With 99designs, clients gain access to a global pool of design talent, making them an excellent choice for those seeking fresh and innovative design solutions.
3. DesignCrowd – Best Place For Custom Design
Up next, we have DesignCrowd, a leading graphic design service provider that is also well-known for its innovative crowdsourcing model, setting them apart in the design industry. The platform allows clients to launch design contests and receive custom design submissions from a global community of talented designers.

What makes DesignCrowd unique is the sheer volume of creative ideas clients can access. With thousands of designers participating in each contest, clients benefit from an extensive range of design concepts and styles to choose from. This diversity ensures that clients find the perfect design that aligns with their vision and brand identity.
Additionally, DesignCrowd offers a user-friendly interface, streamlined communication tools, and competitive pricing, making their services accessible and efficient for businesses of all sizes. Whether it's logos, websites, or marketing materials, DesignCrowd's crowdsourcing approach guarantees an array of quality designs, making them a top choice for those seeking a fresh and diverse pool of creative talent.
Trusted Customers Of This Stunning Graphic Design Company
HTC, Microsoft, Virgin, Absolute Vodka, etc popular and established companies use DesignCrowd.
4. Graphically – Unlimited Graphic Design Service
Graphically is a leading graphic design company dedicated to delivering high-quality, visually stunning designs to businesses worldwide. They have a team of talented and experienced graphic designers, we take pride in our ability to transform ideas into captivating visuals that effectively communicate our clients' messages.

At Graphically, they try to follow this motto: The power of graphic design to make a lasting impression. Whether it's creating a logo, designing marketing materials, or developing a brand identity, they strive to exceed our clients' expectations by delivering designs that are not only visually appealing but also aligned with their brand values and goals.
What sets them apart is their attention to detail and commitment to producing innovative designs that stand out from the crowd. Their main mantra is a well-designed graphic can elevate a brand and enhance its perceived value. With a deep understanding of design principles and current industry trends, their team ensures that each design we create is visually pleasing, engaging, and speaks directly to the target audience.
Trusted Customers Of This Stunning Graphic Design Company
Forbes, USA Today, BuzzFeed, Monday, etc are well-recognized organized companies that take graphic design services from Graphically.
5. Design Pickle – Graphic Design Service Within Reach
Design Pickle is a prominent graphic design service provider that offers a unique and innovative approach to meeting design needs. Their standout feature is their flat-rate subscription model, which allows clients to access unlimited graphic design requests for a fixed monthly fee.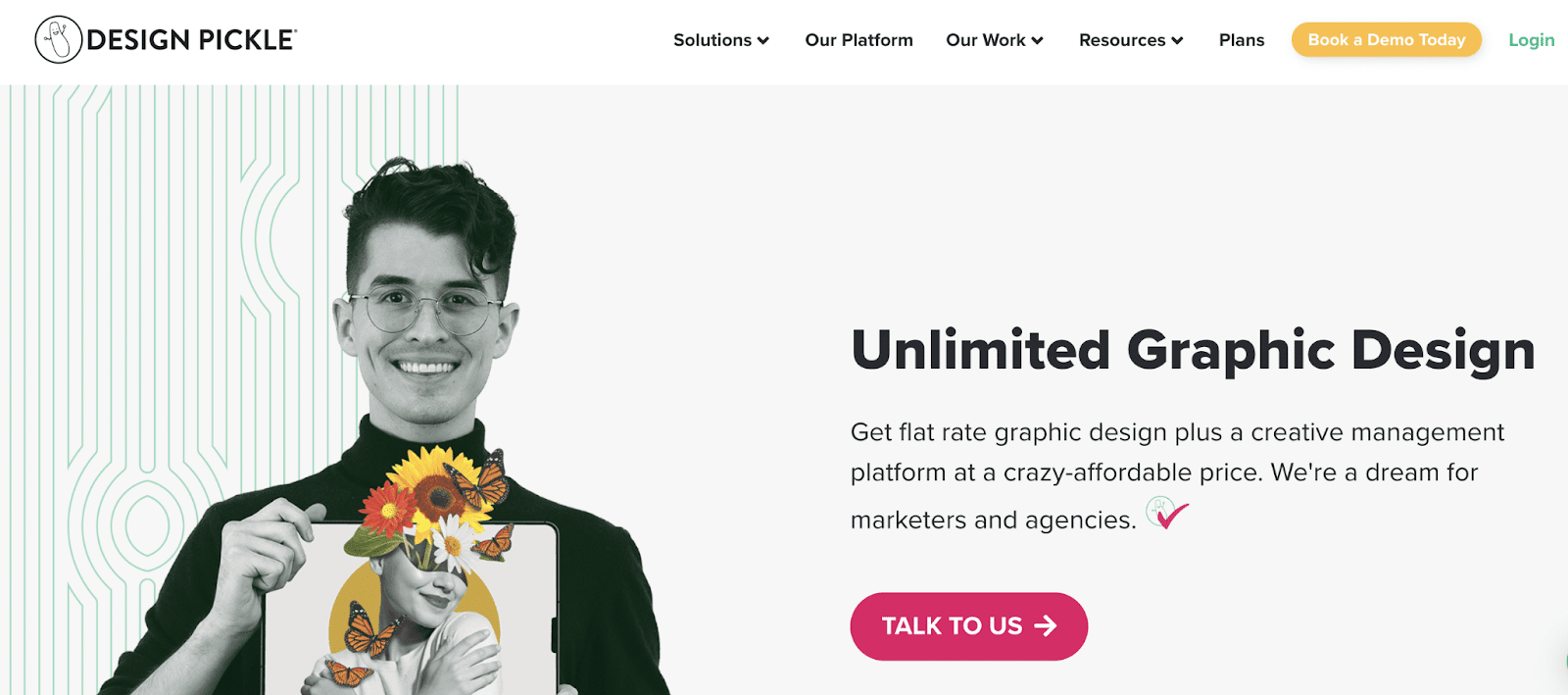 This subscription-based system provides businesses with a cost-effective and flexible solution, eliminating the hassle of negotiating individual project prices. Moreover, Design Pickle's platform streamlines the design process, ensuring quick turnaround times and efficient communication with their team of skilled designers.
Their commitment to providing high-quality designs promptly and affordably has earned them a strong reputation in the industry, making Design Pickle a top choice for businesses seeking a reliable and on-demand graphic design service.
Trusted Customers Of This Stunning Graphic Design Company
Seven-Eleven, Yahoo, Amazon, SalesSoft, etc. are popular companies that take service from Design Pickle.
Skyrocket Your Startup With Popular Graphic Design Firms 🚀
So, there you have it, the most prominent names in the design industry. Whether you seek a graphic design agency, a graphic design studio, or a freelance graphic designer, having access to a professional talent pool is crucial for achieving outstanding results. Whether you are rebranding or embarking on a new venture, begin with a remarkable logo and branding design, expertly crafted by our global community of talented designers.
If you found this article helpful, then share it with others so that all startups can benefit. Also, আমাদের ব্লগে সাবস্ক্রাইব করুন to get these kinds of blogs, tips, and tricks.