Are you looking for tools that can help your new and growing business automate its marketing process with ease? Not to worry because we have your back. In this blog, we will bring you a complete list of 5+ best marketing automation tools that your business needs for any type of marketing strategy.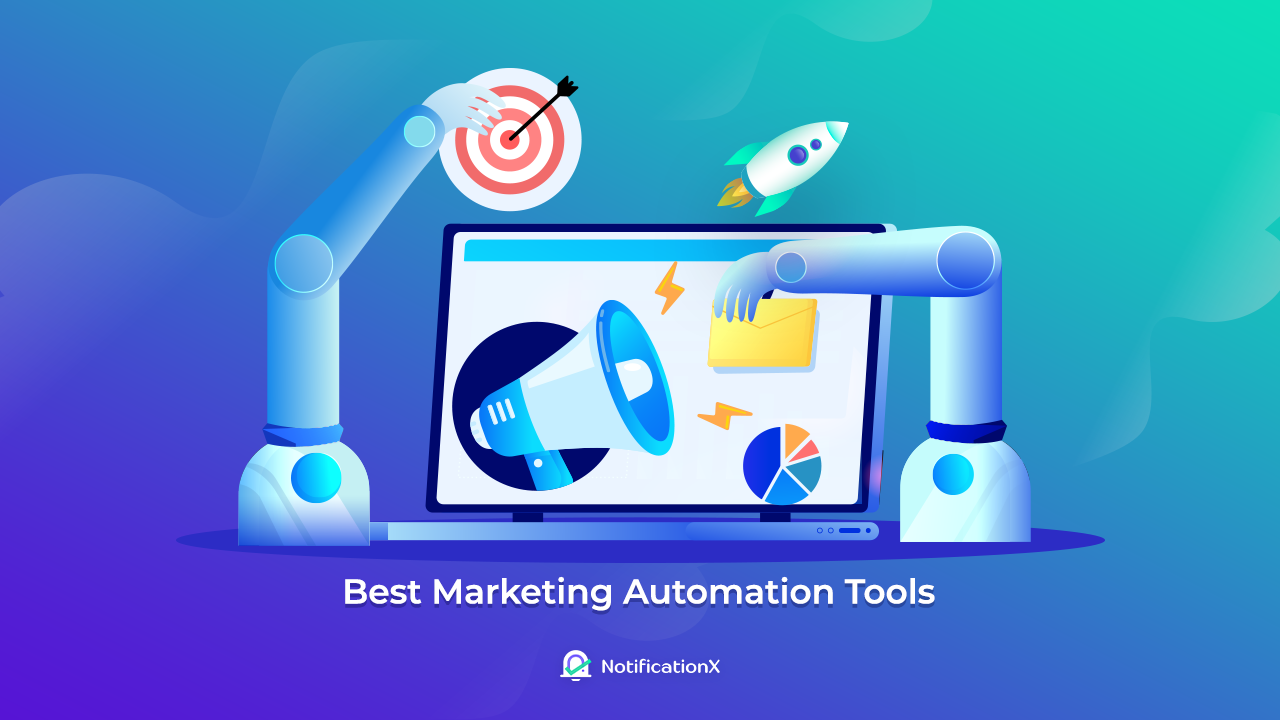 Why Marketing Automation Tools Are A Must Have For Small Businesses? 
Without a better marketing tactic, you will never be able to reach out to your targeted audience. Without a powerful marketing strategy, you will not be able to boost conversion even if you have quality content and superb product. And if that strategy is optimized to the max with digital automation, you can easily reach the heights of success using your company's full potential.
Therefore, before we get into our list of the best marketing automation tools you can find for your small business, let's try to understand why such automation is essential for your company to grow. Marketing automation can help streamline your marketing strategies and provide you with many benefits: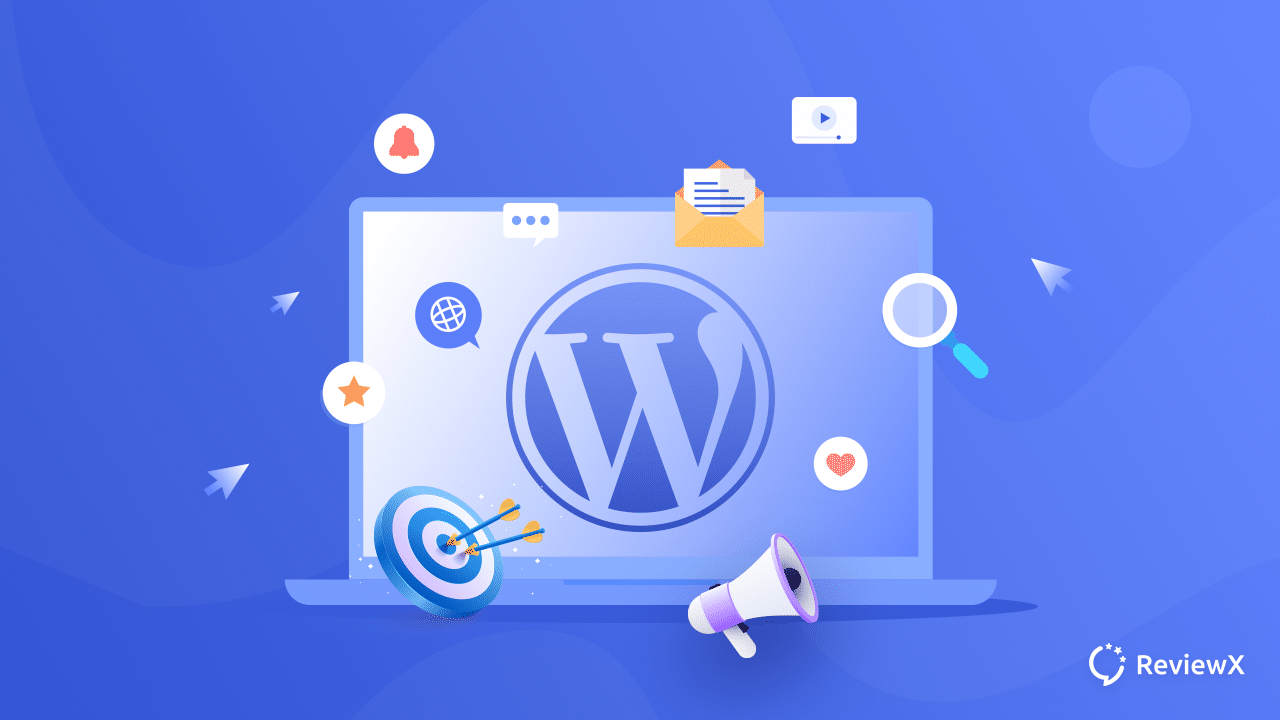 🎯 Generate better leads 
🎯 Marketing and sales alignment
🎯 Boost Work Efficiency
🎯 Increase Conversion Rate
🎯 Personalized Marketing Strategy
🎯 Customized customer experience
🎯 Nurturing customer relationships
🎯 Accurate Data management
Top 5+ Best Marketing Automation Tools For Rising Businesses
Today, we bring you the ultimate list of 5+ best marketing automation tools for any small but quickly rising business. And to help you understand which tool would be the best for your needs, we have tried to separate the marketing automation into 4 categories: 
💌 Email Marketing 
⌨️ Content Marketing 
💻 Onsite Marketing
📢 Social Media Marketing 
So, without further ado, let's get into the list of the best marketing automation tools in the market.
💌 Optimize Email Marketing With The Best Automation Tools
One of the most effective types of marketing for any business, regardless of how long they have been in the market, is email marketing. It is the perfect means of communication between a company and its customers. But as the number of subscribers increases, it becomes more and more difficult for any business to ensure the newsletters and emails reach all the right customers at the correct times. And so, we bring you a list of must-have email marketing automation tools to make the process effortless for your small business. 
Seamlessly Automate Email Marketing With MailChimp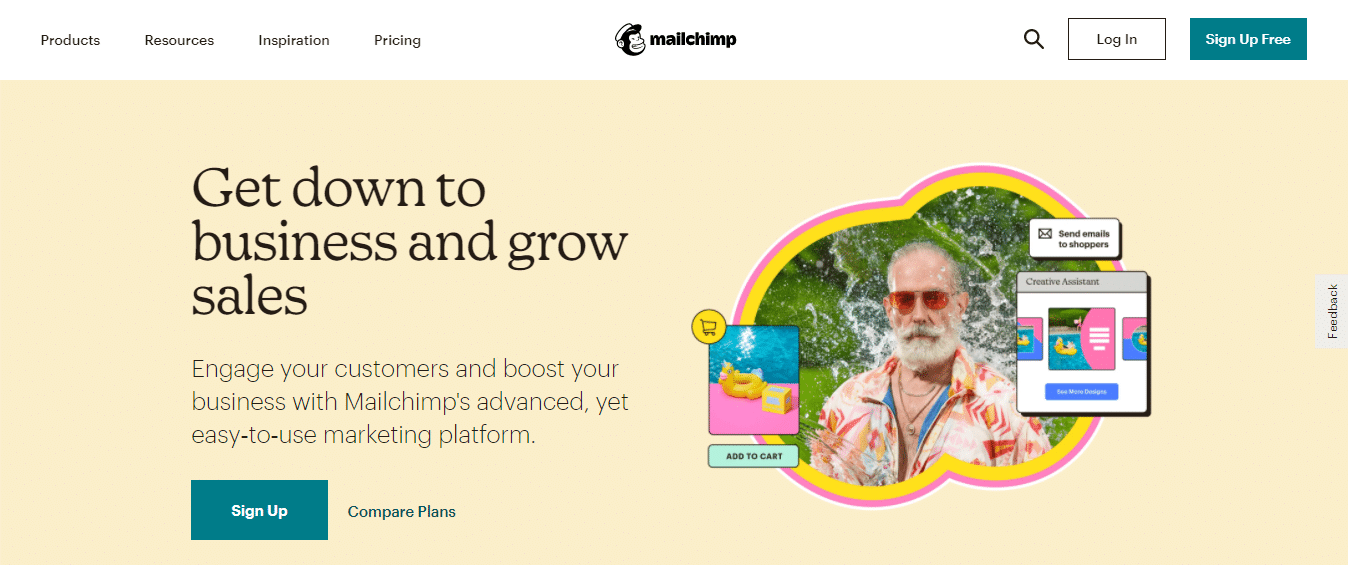 When talking about email marketing automation, we must mention MailChimp at the very start. With almost 1 million active installations and 17 million users worldwide, MailChimp is one of the most popular tools for email marketing services, ideal for small and rising businesses that are on the lookout for their budget. 
Famed for its 'all-in-one' email marketing automation facilities, MailChimp comes with many automation features for customizable workflows, trigger-based messaging, scheduling emails, and more. It also offers you several powerful integrations with other marketing platforms, HubSpot, Zoho, Nimble, etc., to provide seamless automated communication with your newsletter and product subscribers. And the best part? You will get almost all the email marketing automation features you need for a seamless workflow even with the completely free package from MailChimp. 
Get An All-In-One Emails Marketing Solution With SendinBlue

Next, on our list, we have Sendinblue – one of the best email newsletter plugins in the WordPress market with over 80,000 active installations. It offers a complete package of several digital marketing tools and features to help you automate your email marketing strategy with ease. From generating leads to creating a fully custom automation workflow to send out emails automatically – this powerful plugin enables you to communicate with all your email subscribers effectively. 
With this all-in-one marketing automation plugin, you will be able to send targeted messages to your website users automatically. You can even configure Sendinblue to analyze a contact's behavior and trigger preset emails – for example, you will be able to send automated reminder emails if a customer fails to checkout, or send transactional emails to subscribers instantly after they complete their purchase of your products or services. 
To top things off, this outstanding and highly affordable tool lets you create completely automated email campaigns whenever needed and comes with many powerful integrations.
⌨️ Make Content Marketing More Effective With Automation
We all know content marketing is an essential field of marketing for brand building and nurturing relationships for any growing business. And automating this process enables you to put together every aspect of your content marketing strategy to maximize conversion rates, annual revenue growth, and more. 
Therefore, in this section of the blog, we bring you a list of some of the best content marketing automation tools available in the market: 
Integrate Different Content Marketing App Together With Zapier

Zapier is one of the best automation tools for helping you automate your content marketing strategy. It has been created as a multi-level cross-over solution to assist organizations in connecting over 1000 web apps, allowing you to create and publish content from various software in a seamless automated procedure.
You can automatically track leads from content marketing sites like Facebook and Twitter with a Zap—the word for the automated procedures you produce and track leads from content marketing platforms like Facebook and Twitter. You may also automate the posting of content to social media, add new leads to a database or spreadsheet, and more.
💻 Market To Site Visitors Directly With Onsite Marketing Tools
As important as email marketing is, it is also essential to promote and market your products, services, or even blog posts to your website visitors. And so we bring you the best onsite marketing automation tools that will help to grow engagement, lead, and conversion automatically.  
Grow Conversion With FOMO Marketing Plugin NotificationX

For our list of onsite marketing automation tools, first up, we have NotificationX – the ultimate FOMO and social proof marketing tool for WordPress websites. With over 30,000 active users, this growing plugin helps businesses and marketers convert website visitors into paying customers with ease.  Using no coding at all, you can create stunning social proof popup alerts for different types of notifications types – sales, blog comments, product reviews, download counts, and many more.
You can also configure optin notification bars and evergreen timers to generate leads, drive traffic to your products or campaigns, subscribe to newsletters by adding social proof and credibility. An exclusive, must mention feature this plugin brings to skyrocket your business is its new premium feature 'Cross Domain Notices', which lets you promote your social proof notifications across many domains. Check out more about this feature and the plugin from this blog. 
Automatically Connect To Customers With Tidio Chatbot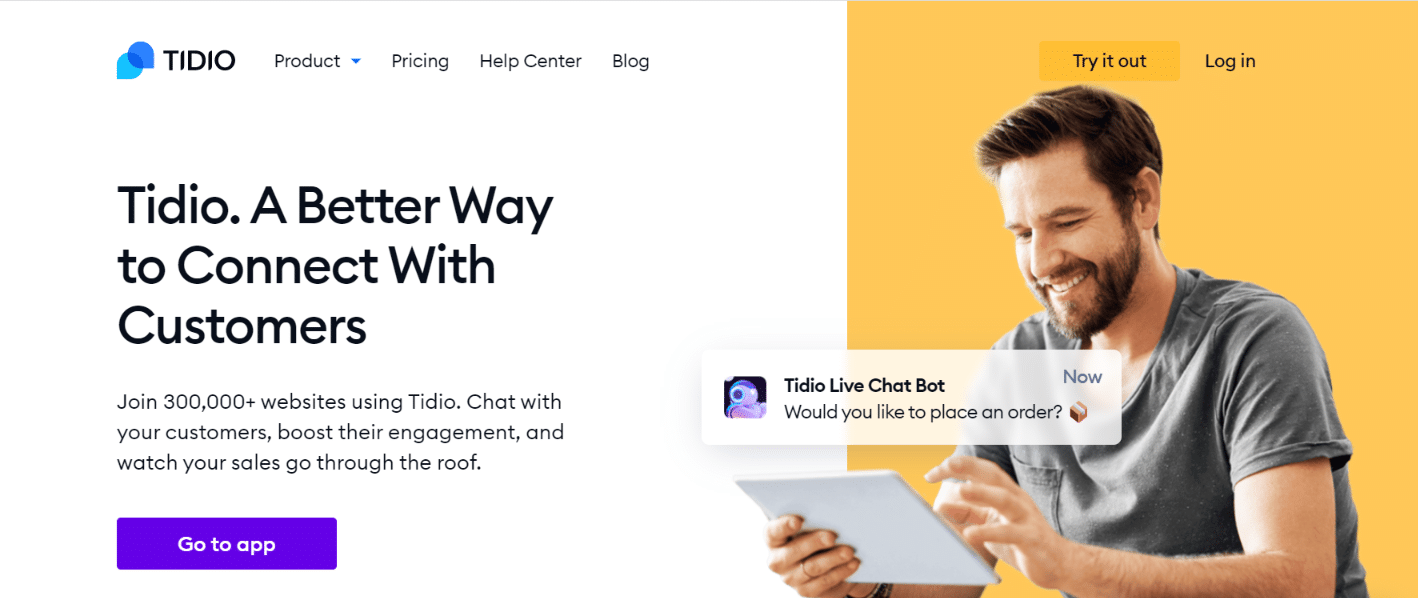 Tidio Customer Service Chatbot is one of the best live and automated chat tools that any new business can effortlessly use for exceptional automated customer services for any new business. It's both very efficient and budget-friendly and allows you to create automated chatbots that answer users' questions at any time of the day. As you can already tell, this excellent tool automatically handles customer services so even when your customer support or service agent is absent, increasing a customer's purchase intent by personalizing replies based on his preferences and queries.
It engages and converts customers with real-time recommendations and suggestions, all the while allowing you to focus on other business strategies with ease. Even with the free plan of Tidio, you will get access to 3 chat operators and 100 unique reachable visitors. You can also create custom chatbots or use prebuilt templates like bots for any possible scenario. And the best part is, this chatbot comes with natural language processing, ensuring no customer leaves unsatisfied. 
📢 Post On Several Platforms With Social Media Marketing Tools
Now that you know what tools to use for content and on-site marketing, it's time we get into our list of the top social media marketing automation tools, that will help you reach a larger audience with ease. 
Manage Automated Social Media Shares With Ease Using HootSuite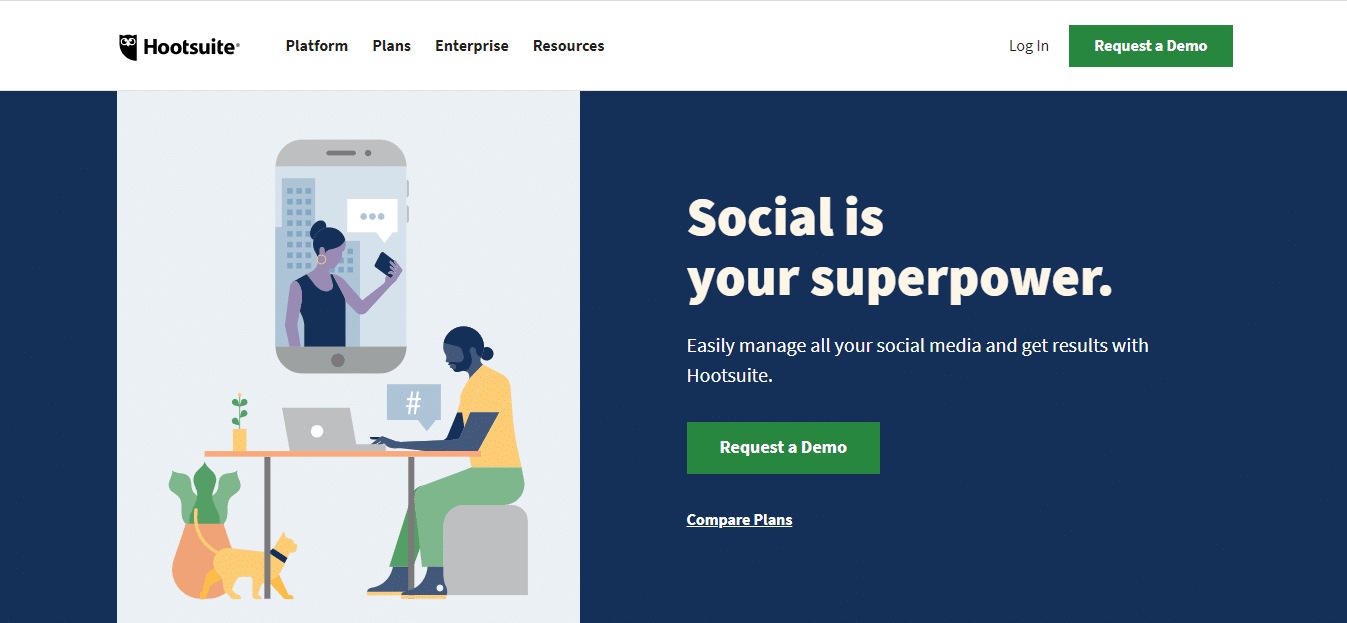 To automize your social media marketing strategy, you can check out HootSuite, a renowned social media management software. It allows you to combine all of your social media content into one app, where you can automatically plan posts ahead of time, monitor public channels and private messages over 35 social platforms.
Among significant features, you will get access to Hootsuite's social analytics dashboard where you can check detailed reports about how your posts are performing across different networks. And to help you manage work more efficiently, you can set custom roles for your social media marketing team in just a few clicks.  Hootsuite also offers you a wide range of pricing packages to allow you to choose just the right one for you depending on your team size. 
Schedule Automated Timely Social Shares With SchedulePress

Or you can also check out SchedulePress – automatic scheduling and sharing plugin for blog posts from WordPress websites to all your social media platforms, as your next best alternative. With facilities to schedule individual social shares automatically or manually according to your preferences, this brilliant tool is perfect to boost your business' work efficiency and productivity. 
It comes with a very user-friendly, easy drag and drop editorial calendar with which you can schedule hundreds of posts at once as your company grows with time and you have more content to publish. It also allows you to manage multiple authors from one place, send them email alerts about blog status, auto-publish missed schedule posts, and much more ensuring you can market your blog posts and content with absolute ease. 
🎉 Bonus: Get All Marketing Automation Features You Need With HubSpot

And finally, we conclude this in-depth list of the very best marketing automation tools with HubSpot, a suite of all-in-one digital marketing software that brings along an outstanding CRM tool to help you organize your content effortlessly. Afterward, you will be able to check your entire sales funnel in an easy-to-use, user-friendly visual dashboard. 
You may organize your connections based on the number of sales deals won or lost,  appointments scheduled, specific time period filters, and more. The CRM integration can be used to plan automatic emails, live chat, and a lot more. HubSpot also allows you to automate your live chat marketing with chatbots. 
And with that, we want to conclude our ultimate list of 5+ best marketing automation tools for your small business. We hope this blog was helpful to you in deciding the perfect automation plugin for your website and campaigns.
Let us know which one you choose and about your experience with the plugin by commenting below; we would love to hear from you. Join our Facebook group to communicate or subscribe to our blog for more useful guides, insightful tips and tricks, trending news, and the latest updates.